Skip to main content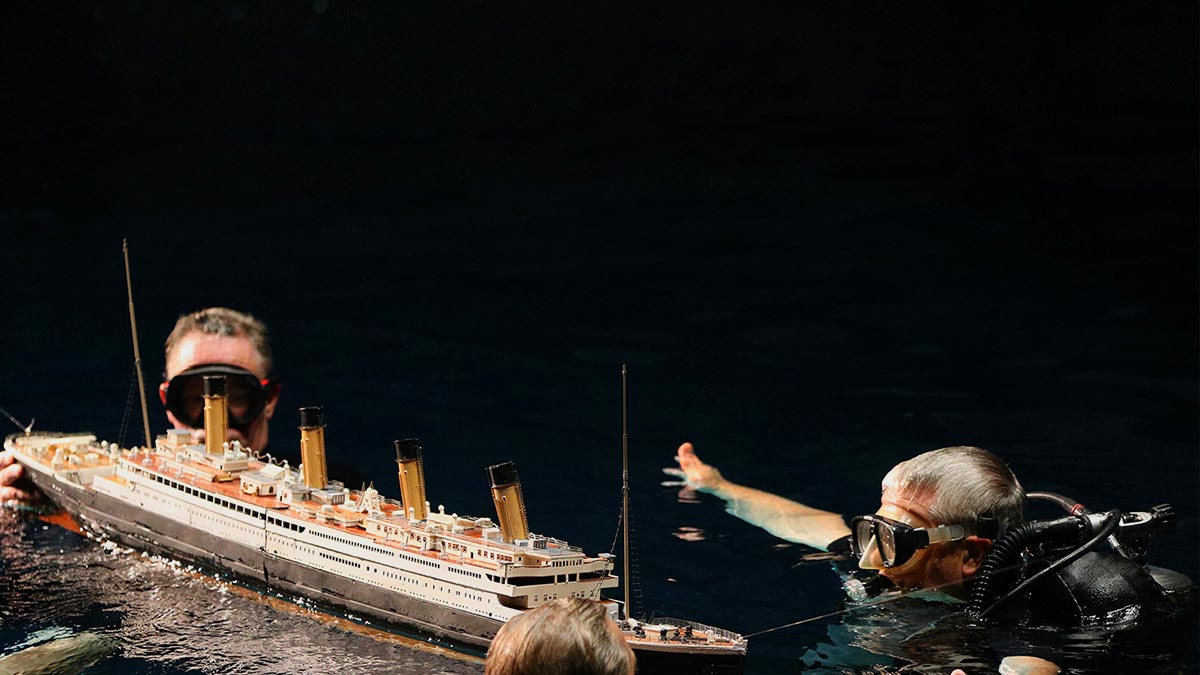 After more than a century, the mournful tale of the Titanic still holds an enduring fascination – thanks in large part to the vision and drive of filmmaker James Cameron
Titanic: 20 Years Later With James Cameron, Saturday 16 December, 9pm, National Geographic/HD (CH 266/268). Also available for 30 days in Catch Up > Channels > National Geographic
In 1997, Cameron's wildly ambitious three-hour blockbuster wove the fictional story of Jack (Leonardo DiCaprio) and Rose (Kate Winslet) into a meticulously researched factual fabric.
As well as employing leading experts in all things Titanic, the director dived to the shipwreck himself to shoot footage, and his attention to detail and determination to create an accurate "living history" of events gave the film added power – helping it to bag box office receipts of over $1 billion as well as 11 Oscars.
Now, 20 years after the film's release, he has reunited the same crew to examine what they got right and – as new evidence in the intervening years has shown – wrong, as they study the final hours before the vessel met its fate. In honour of their efforts, we have assembled a top scientific team of our own (well, sort of) to discover a boatload of famous facts and myths about to the Titanic.
1. Caution: wet paint!
When boarding commenced on RMS Titanic, on 10 April 1912, the ship was so new some of the paint was still wet.
2. Untold luxury
The liner boasted a Turkish bath, gym, squash court and the world's first heated swimming pool on a vessel.
3. It really was ginormous
At 269 metres long, the ship was the largest man-made moving object on Earth. It cost £1.5 million (around £162 million in today's money) to build, and there were almost exactly three years between the first keel being laid and the launch.
4. Not so fast!
There's a popular perception that the Titanic was travelling at full tilt to win the Blue Riband for the fastest Atlantic crossing. It's not true. It wasn't even taking the shortest route, and was sailing at a stately speed to ensure a smooth and luxurious crossing for passengers.
5. The last supper
The final meal served to the passengers travelling in first class was a meagre little snack of ten courses – or 11 if you count the fruits and cheeses available at the end.
6. "Iceberg, right ahead!"
Just before 11.40pm on 14 April, crewman Frederick Fleet spotted the iceberg and issued the famous cry. Although evasive action was attempted, the berg was less than half a mile away, and collision was inevitable.
7. Safety first
White Star, the firm that built the Titanic, did not ignore regulations about how many lifeboats it should provide. In fact it went beyond legal requirements, providing 1,178 lifeboat places rather than the obligatory 1,060. Lifeboat provision was based on tonnage, not (bizarrely) passenger and crew capacity.
8. Less than a boatload
The lifeboat shortage was exacerbated by the fact that many of the boats were launched while half full or even less. For example, boat number one, with a capacity of 40, was launched with seven crew and only five passengers.
9. The Captain's final crossing?
According to legend, Captain Edward Smith, known as the Millionaires' Captain because of his glorious career and many salubrious commands, meant the crossing to be his last before retirement. In fact, he had signalled his intention to sail the Titanic until a new, larger ship was built. He never got the chance, and was last seen alone on the bridge as the ship went down.
10. The curious case of William Sloper
After the disaster, it was alleged that a man called William Thompson Sloper gained access to a lifeboat by dressing as a woman. This was almost certainly cooked up by an overexcited reporter: Sloper wanted to tell his story to his hometown newspaper, the New Britain Herald, and the accusation first appeared in the snubbed New York Herald – no eyewitness ever corroborated it. Nevertheless, Sloper, who became known by the pejorative nickname "Skirts", spent his life denying the story.
11. Locked out?
The question of whether the third-class passengers were locked below is much disputed. Consensus seems to be that initially they were confined below decks to prevent them accessing first-class areas, but when the severity of the problem became clear, they were allowed out. Sadly, by this point it was too late for many.
12. Definitely too soon
Among the passengers was John Jacob Astor IV, one of the world's richest men. After the collision, he is alleged to have remarked to a waiter, "I asked for ice, but this is ridiculous." He placed his pregnant wife in a lifeboat, and went down with the ship.
13. The last toast
Another not-stony-broke passenger was Benjamin Guggenheim who, along with his valet, changed back into evening wear in order to die "like gentlemen". The two were last seen on deckchairs, drinking brandy and smoking cigars.
14. The Unsinkable Molly Brown
The enduring and celebrated tale of "the Unsinkable Molly Brown" is, happily, true. This society lady helped row her lifeboat for seven hours solid, and begged the crew to turn back and rescue those in the water. When they did, she organised a relief effort for the third-class passengers. The only wrong detail? Margaret Brown was known as "Maggie" during her lifetime; it was thanks to the Broadway musical and subsequent film that people came to call her "Molly".
15. A close call
Alfred Gwynne Vanderbilt – grandson of multi-millionaire transport magnate Cornelius Vanderbilt – had a berth booked on the Titanic but, by a stroke of good fortune, did not take it up. Less fortunately, he died when the Lusitania was sunk three years later.
16. The SS California
This was the nearest ship to the Titanic. However, crew mistook the distress flares for fireworks, and the frantic SOS messages were never received because the California's radio operator had gone to bed.
17. Thank you for the music
One of the most famous Titanic stories is of the band who played on. It is absolutely true. Led by violinist Wallace Hartley, the eight musicians played for more than two hours amid the chaos, with the avowed intent of maintaining passenger calm. None survived.
18. You've (not) got mail
As well as being a passenger ship, the Titanic was a Royal Mail Ship (hence RMS), with a post office on board. It carried down to the depths over seven million items of mail.
19. A tragic total
It's not known exactly how many people died in the sinking of the Titanic – some who were on the manifest did not board the ship, while other casualties were travelling under aliases and may have been counted twice – but the figure usually given is 1,517, although it may have been as many as 1,635. Only around 300 bodies were recovered, while there were 706 survivors.
20. The doctor's discovery
RMS Titanic lay undisturbed in the murky depths for 73 years, until it was discovered during an expedition led by maritime archaeologist Dr Robert Ballard in 1985. He didn't, sad to report, have an old lady called Rose with him.
Titanic: 20 Years Later With James Cameron, Saturday 16 December, 9pm, National Geographic/HD (CH 266/268). Also available for 30 days in Catch Up > Channels > National Geographic
HD: HD TV required to view HD channels. Number of inclusive HD channels depends on package.
On Demand included with TV M+ and above. Content available to view depends on TV package. Time limits apply for viewing chargeable On Demand content – see virgimedia.com. Once purchased, all chargeable On Demand content must be viewed within 48 hours. Premium channels and upgrades must be kept for at least 30 days.
Image credits: Titanic: 20 Years Later With James Cameron © 2017 by Mark Fellman