Skip to main content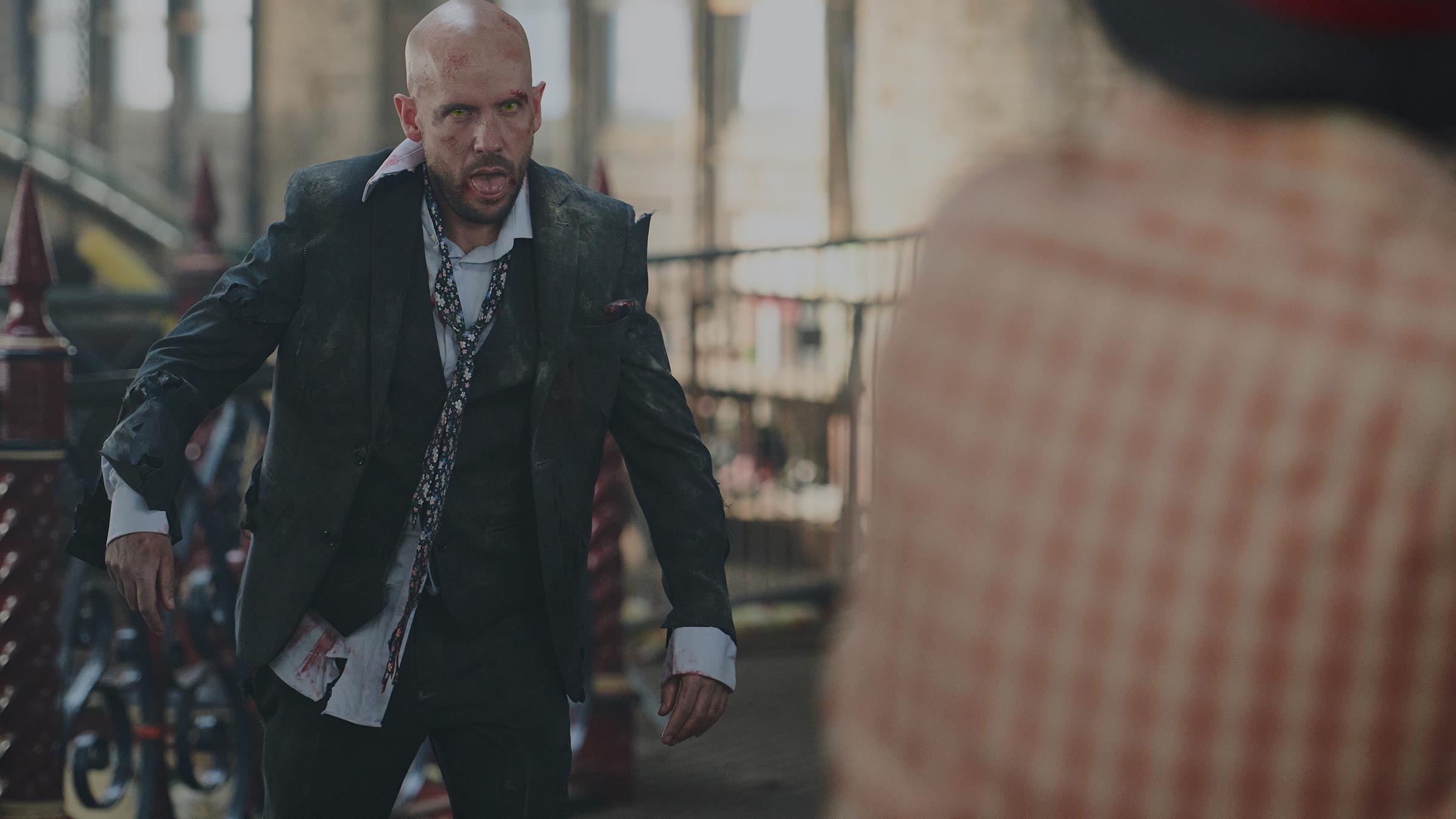 As series 3 of There's Something About Movies airs on Sky One, Tom Allen talks about flying, his "bezzie mate" and fellow comedian Suzi Ruffell, and "pig crisps"
By Laura Rutkowski, Staff Writer
There are worse ways to spend a Friday night than talking to Tom Allen, yet he's apologising for it. "I'm sorry if we're a bit late, especially on a Friday. That must be so annoying, I'm sorry," he says. It's not at all. Truth be told, talking to Tom is a bit like talking to an old friend. He chats at a million miles a minute, like he can't get the words out quickly enough.
The language he uses is polite and refined, like that of a dandy, which has become somewhat part of his act, and his voice has an energetic cadence to it, especially while discussing his return to There's Something About Movies.
The chat show is hosted by Alan Carr, with Jennifer Saunders and Michael Sheen as team captains, and features celebrity guests, film trivia and insights. "You get to hear stories about Joanna Lumley feeling nervous about kissing Leonardo DiCaprio [in The Wolf Of Wall Street]," Tom reveals. "Joanna Lumley's one of the most beautiful women in the world, so you would never think that. Then you get Rafe Spall talking about how he was invited to dinner at Madonna's house."

As well as the "human stories behind the movies", the hilarious re-enactments are truly show-stealing. Up for grabs this time are films including The Wizard Of Oz, Misery and Toy Story. Tom teases, "I may or may not fly," which can only mean one thing – Buzz Lightyear! "Literally no expense is spared on the show – it's incredible. They go to such trouble to recreate every detail of a movie and we've got all these amazing props and accent coaches, and Alan and I are just sat there p***ing ourselves," Tom adds. "We all love films so much, we just love making fun of them."


Tom has already taken on the roles of Aladdin's Princess Jasmine, The Lion King's Simba and the Beast from Beauty And The Beast, but for this series, it's a more serious film that tickled his funny bone – Frost/Nixon. "Michael [Sheen] is a very serious, well-respected actor who played that role [of David Frost] and then Alan looks like he's the area manager of Boots and I've got this combover wig on and we look ridiculous," Tom says. "Sometimes I'm about to go to sleep and I think of that day and start laughing."
Before you tune in for the show, which Tom hopes will feel like a "big dinner party without the dinner, where the people at home are the extra people at the table", here's one of everything from the entertainment world that he's loving right now…
TV show: Broad City
Find seasons 1-5 in Apps & Games > Prime Video
For anybody who doesn't know, it's a sitcom about two flatmates in New York and their madcap adventures, but it's funnier than that. I've described it really badly, but it's really great!

Box Set: Parks And Recreation
Find seasons 1-7 in Apps & Games > Prime Video
Another sitcom. I'd only watched occasional episodes, but it was great to watch them all from beginning to end. Such a lovely show – the most soothing, happy show.

Film: North By Northwest
Find it in Apps & Games > BBC iPlayer
It's almost camp in the way it's so stylised and also so performative. People will probably tell me off for saying Hitchcock is camp. I love Cary Grant so much and he's such a great comedy actor. There's something about the way he brings together his effortless elegance and gentlemanliness with great drama. I also love Bringing Up Baby. That's one of my favourite films with him and Katharine Hepburn.

Friend you always call: Suzi Ruffell

We've been bezzie mates for years. When you have a friend who understands your insecurities and you have a shorthand, it's so great. We have a similar sense of humour, so we laugh through the good times and the bad.
We met 10 to 12 years ago after doing a charity gig where we both died because we went on after a drag queen who'd gotten everybody to sing. Once that's happened, you can't then go on and be like, "Oh, I've got a story for you."

Podcast: BBC Radio 4
When people ask what's my favourite podcast, I always want to say BBC Radio 4. That's what Radio 4's been doing literally forever. They have a show about everything.
I have my own, Like Minded Friends, that I do with Suzi. Suzi also has one called Out, which is fun, but also sad, where people tell their stories about how they came out. I was a guest on there, so again, I'm referencing something I'm in, but if I have to do something I'm not connected to, I would say This American Life.

Guilty pleasure: Pig crisps/Barefoot Contessa
I love bacon crisps, Frazzles, pub snacks, pork scratchings. They are disgusting essentially. Ohh, what's my entertainment guilty pleasure? Everyone else is putting Sex And The City and I'm like, "pig crisps." It's probably watching reruns of Frasier in the morning or Barefoot Contessa on the Food Network.
It's such a treat at 11 o'clock in the morning to watch this lady pad around her enormous house in the Hamptons and just roast a chicken for her husband Jeffrey. It doesn't feel like it's what I should be doing in the middle of the working day.

App: Pinterest
It's not about comparison to other people, it's not about other people's opinions and thoughts – it's all about my fantasy kitchen and my favourite type of… patio door. I don't have my own house, so the only place I have my own home is on Pinterest. It's like a Sims world, isn't it?

Instagram: @mralistairgreen

There's a stand-up called Alistair Green. He's so funny. He has an uncanny ear of tuning into how people are and spoofing it very sharply, like people interacting with the pandemic. Lots of comics have tweeted about him. He's a comedian's comedian maybe, but people should get on board with him.

When is Sky One's There's Something About Movies on TV?
There's Something About Movies airs on Sky One/HD (CH 110/109) on Wednesdays at 9pm, with the first episode screening on October 21st. It is also available for 30 days in Catch Up > Channels > Sky One.
The series will subsequently air every week until Wednesday 18 November. The sixth and final episode, the show's first ever Christmas special, will air at a later date.
TV channels: Channels, content and features available depend on your chosen package. Channel line-ups and content are subject to change at any time and to regional variations.
HD: HD TV set, V HD Box, TiVo box or Virgin TV V6 connected with HDMI cables required for HD channels. Number of inclusive HD channels depends on package.
Catch Up TV: Catch Up TV content available for up to 7 days or up to 30 days after broadcast, depending on content.
Interviews: Any opinions expressed in interviews are those of the interview subject and not those of Virgin Media.