Skip to main content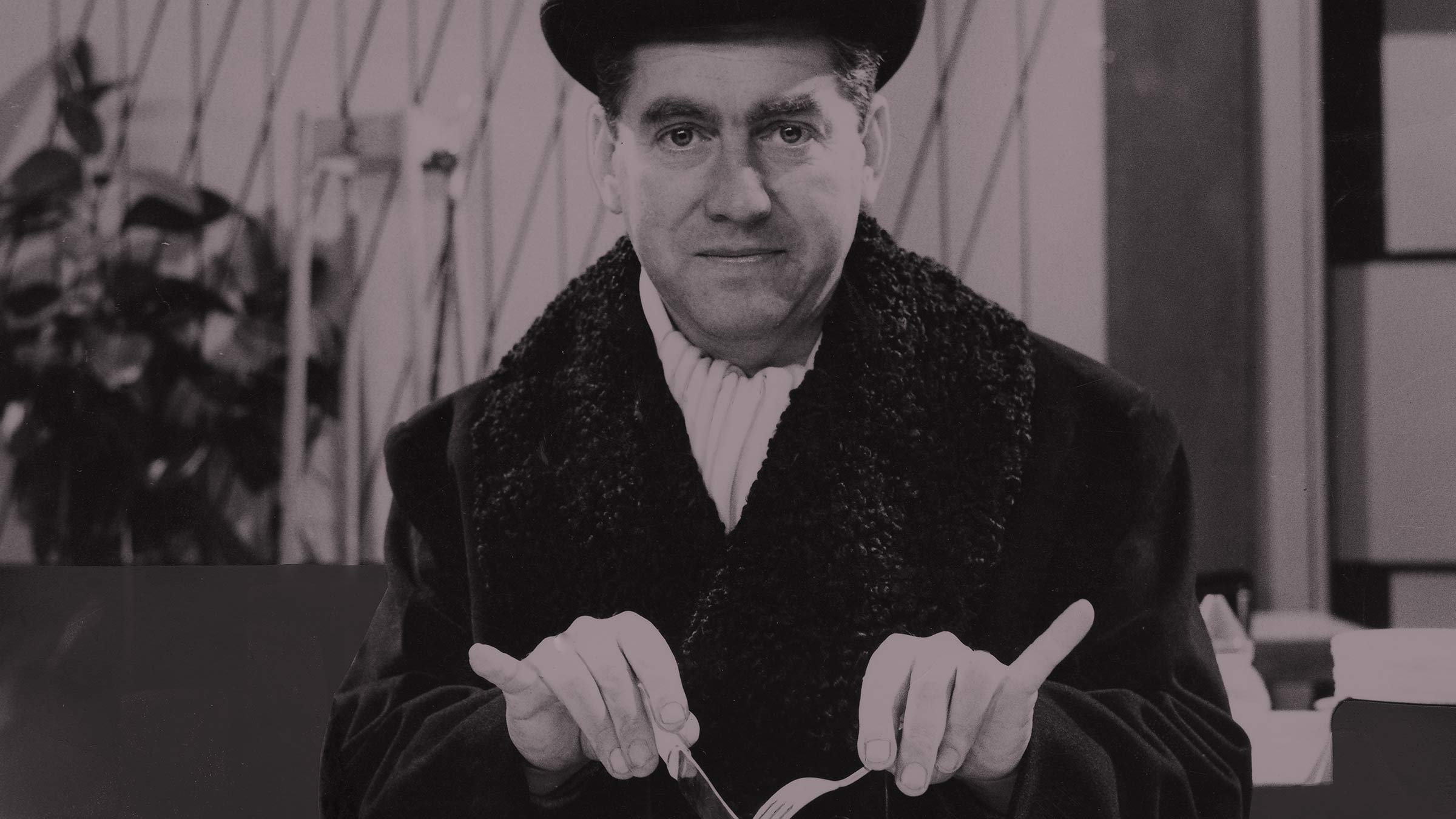 A new documentary on GOLD explores Tony Hancock's life and legacy using previously unseen personal archives. We look at why he is still such a fascinating figure
By Chris Miller, Writer
To say Tony Hancock is an influential figure in British comedy is a huge understatement. With Hancock's Half Hour, he – along with legendary writers Ray Galton and Alan Simpson – more or less invented the sitcom, hauling comedy out of its traditions of music hall and light entertainment and into a recognisably modern form.
Hancock also helped establish an enduring character type: the self-deluding buffoon who thinks everyone around them is wrong and they are the only sane one. Alan Partridge, David Brent, even Homer Simpson – you can trace them all back to Hancock. And of course, most importantly, he was head-smackingly funny, creating shows that still make us laugh today more than 50 years after his death.
As the purveyor of classic comedy to UK viewers, GOLD knows this very well – which is why it has an evening of Tony Hancock coming your way on Saturday 14 January. First there's an in-depth documentary, Very Nearly An Armful, featuring previously unseen personal items including photos, scripts, scrapbooks and letters that illustrate the great man's life in vivid detail. It also has clips from Hancock's 1963 ATV series, unbroadcast for over 50 years.
This is followed by two of the most cherished episodes of his sitcom, "The Blood Donor" and "Twelve Angry Men" – newly colourised using the latest digital technology.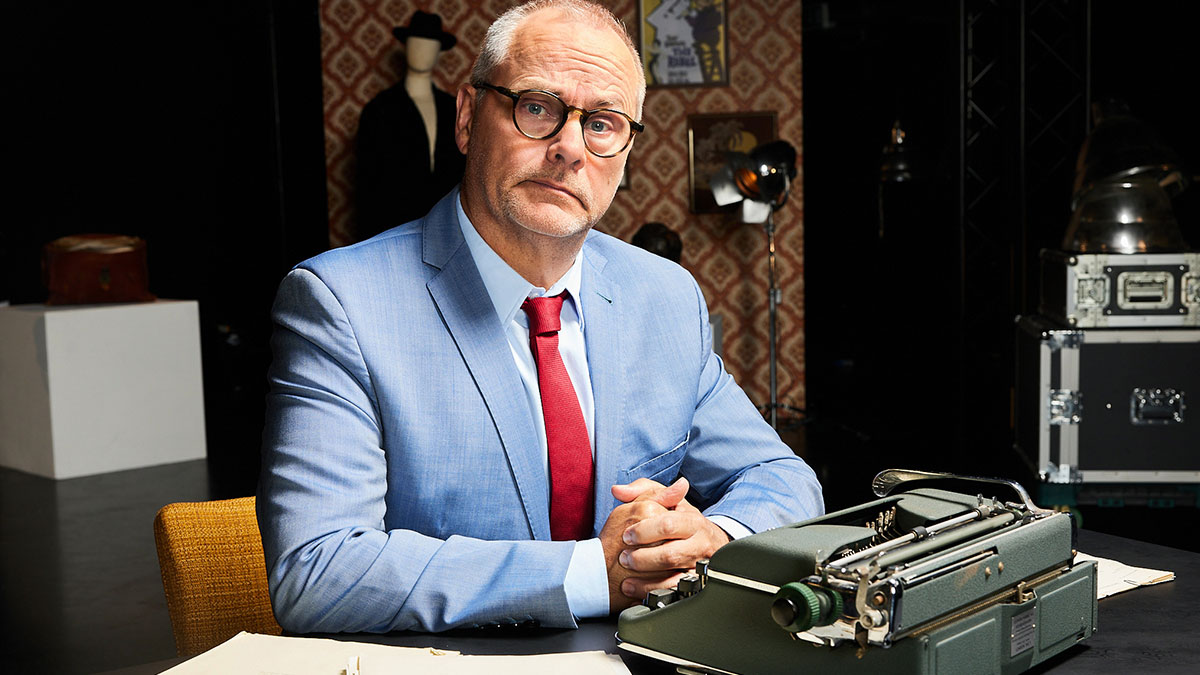 "His whole comedy persona and voice comes from a place of trying to belong, trying to be respected, trying to succeed, and having ambition that is often beyond the grasp of your ability," says comedian Jack Dee, who presents Very Nearly An Armful and whose Noughties sitcom Lead Balloon was decidedly Hancockian. "I've often found that level of self-delusion is a great comedy catalyst; it's very funny when people fool themselves."
Contributors to the documentary include celebrated comedians and comic actors including Eddie Izzard, Diane Morgan, Lucy Porter and Clive Anderson, as well as Pirates Of The Caribbean star Kevin McNally, who took on Hancock's role in a BBC radio re-staging of some of the classic scripts in 2014. Lucy Hancock, Tony's great-niece who compiled much of his archive in a book published in 2022, guides viewers through the treasure trove of documents and objects.
"You can't help seeing these writings as missing bits of a jigsaw," Dee says. "Little lines in a letter, for instance, seem to have now revealed more about him as a person than was intended when they were written. I liked seeing the scripts with his notes in the margins and having glimpses into how he was reading a script and what he took from it. You were able to have a visceral sense of him from reading that material."
Dee says it's not as if Hancock is some unfairly overlooked or forgotten figure – he calls him "a consistent reference in comedy" – but it is always worth revisiting the work and persona of someone so culturally significant. "I hope people will watch the documentary and see there's an inherited importance that we owe to Hancock," he says. "If you love British comedy it's interesting to watch his work and see how he provided the building blocks for modern British television sitcoms."
There are numerous shows, lines and moments that made Hancock a titan in the history of comedy. Below we present our pick of them.
When is GOLD's Tony Hancock: Very Nearly An Armful on TV?
You can see Tony Hancock: Very Nearly An Armful on Saturday 14 January at 8pm on GOLD HD (CH 124). The colourised episodes follow, with "The Blood Donor" at 10.05pm and "Twelve Angry Men" at 10.45pm.


You know what comes next… Has anyone in Britain ever donated blood without this much-quoted dialogue, from which the GOLD documentary takes its name, running through their head? It's a superb line, delivered superbly, and the moment that precedes it is one of the best summaries of Hancock's persona. "A pint? Have you gone raving mad?" Self-deluded, Hancockian characters almost always assume that everyone else has gone raving mad and they are the lone voice of sanity. Wrongly.


Musician Pete Doherty, who also appears in Very Nearly An Armful, is a huge Hancock fan – in fact his band the Libertines took their name of their first album Up The Bracket from a phrase Hancock used repeatedly, especially in the original radio version of Hancock's Half Hour. Other variations included "A punch up the bracket is not the panacea for all ills" and "A good punch up the bracket never hurt anybody". An old cockney term meaning a punch to the throat, when delivered with Hancock's trademark frustrated petulance it's a mark of the turmoil bubbling under his character's surface.


This line from "Twelve Angry Men", one of the episodes showing in colour on GOLD, is a great gag in itself – but it's also a perceptive and telling line, the kind that has been heard from many memorable comic characters in the decades since. The type who are certain they know everything, until they open their mouths and prove their ignorance. David Brent's Dostoyevsky lecture springs to mind.


Hancock's 1961 film The Rebel – written, like much of his most popular work, by Galton and Simpson – offered a twist on his usual persona, although one no less deluded. Hancock's prosaic office clerk (also named Tony) gets the idea that he is an artistic genius and, after finding his art limited by his workaday surroundings, moves to Paris to mix with the bohemians. When a genuine artist asks Tony to comment on his work, he produces this profound-seeming but meaningless criticism, encapsulating the film's skewering of both bohemian and bourgeois culture. The film is packed with other terrific gags: when Tony informs his landlady that a certain work is a self-portrait, she responds, "Who of?"


The Hancock's Half Hour episode "The Missing Page" is like a template for every sitcom that followed. Hancock reaches the final page of a mystery novel called Lady, Don't Fall Backwards and is eager for the murderer to be revealed, only to be confronted with an advert encouraging skinny men to bulk up. Much to the amusement of flatmate Sid (Sid James), he embarks on his own investigation to find the missing page, interrogating the librarian, the book's previous borrower and the publisher as his vexation rises in a crescendo – right up until the point where the whole thing proves completely futile. You could easily drop, say, Larry David straight into this classic half-hour of TV.
When is GOLD's Tony Hancock: Very Nearly An Armful on TV?
You can see Tony Hancock: Very Nearly An Armful on Saturday 14 January at 8pm on GOLD HD (CH 124). The colourised episodes follow, with "The Blood Donor" at 10.05pm and "Twelve Angry Men" at 10.45pm.
TV channels: Channels, content and features available depend on your chosen package. Channel line-ups and content are subject to change at any time and to regional variations.
HD: HD TV set, V HD Box, TiVo box, Virgin TV V6 box or Virgin TV 360 box connected with HDMI cables required for HD channels. Number of inclusive HD channels depends on package.
Interviews: Any opinions expressed in interviews are those of the interview subject and not those of Virgin Media.
Image credit: © UKTV/Jack Margerison