Skip to main content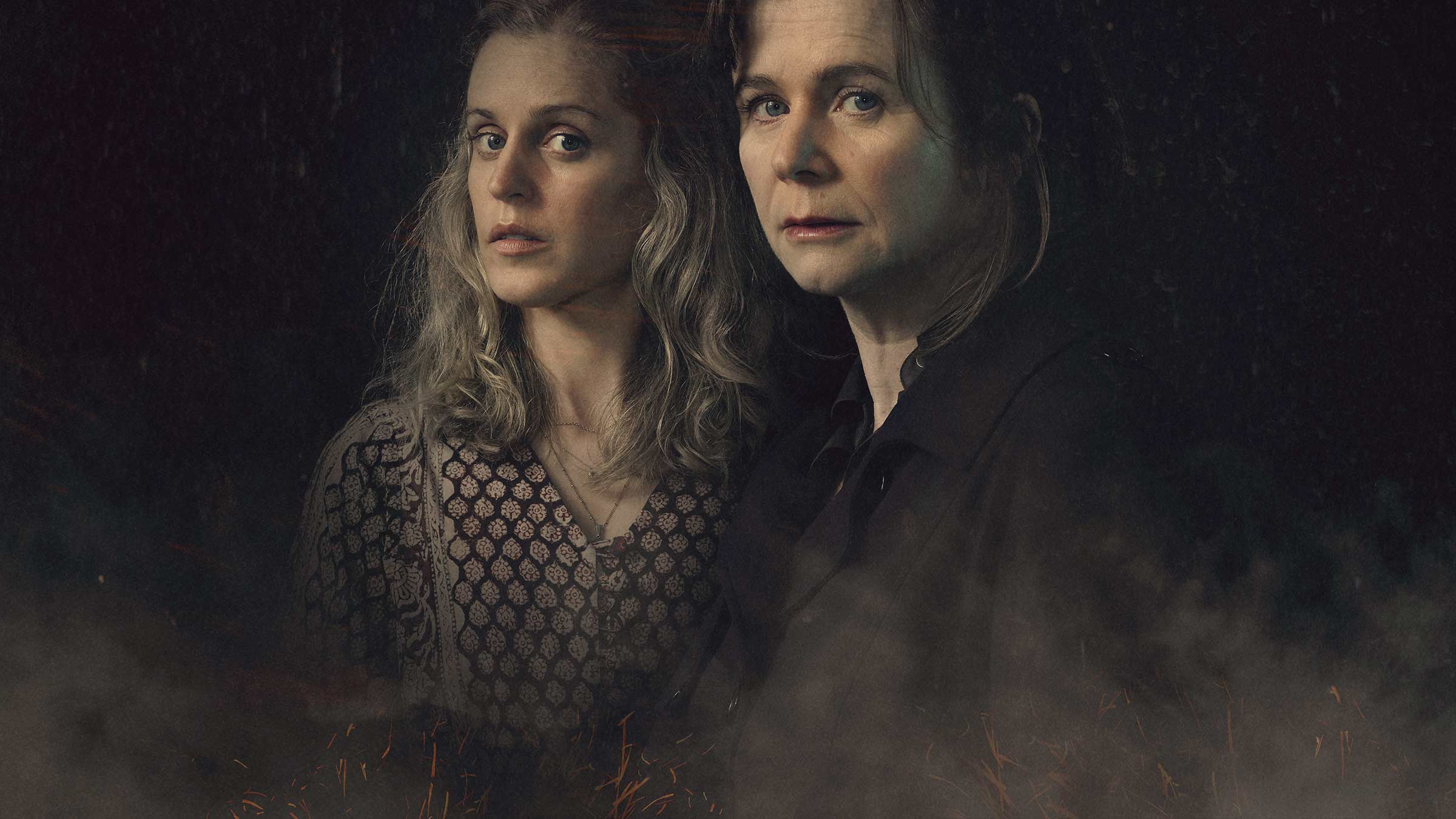 As Emily Watson and Denise Gough discuss their characters, whose side will you be on in the new ITV miniseries? Therapy is now in session…

By Laura Rutkowski, Staff Writer
Watson (Chernobyl) and Gough (Colette) lead this female-dominated psychological drama, where everyone from the writer, creative director and director, to the producers and director of photography is female.
Although this wasn't intentional, Clara Salaman, who adapted her novel of the same name (penned under the pseudonym Natalie Daniels), says the two main stars had to be women. On a Zoom Q&A, she reveals, "This is about being a mother."

But, that word, that role, can mean many different things, with many different pressures attached to it. "You lose yourself pretty much from the moment of conception," Salaman says.
That's why the first scene in Too Close is all the more shocking and distressing, precisely because Connie Mortensen (Gough) is doing something so extremely unmaternal and unnatural to our basic human instincts.
We see Connie driving her car off a bridge into the River Thames, with her own daughter and her friend Vanessa's daughter inside. "This ultimate act of creativity turns into the ultimate act of self-destruction, of trying to kill the thing you've created," Salaman says.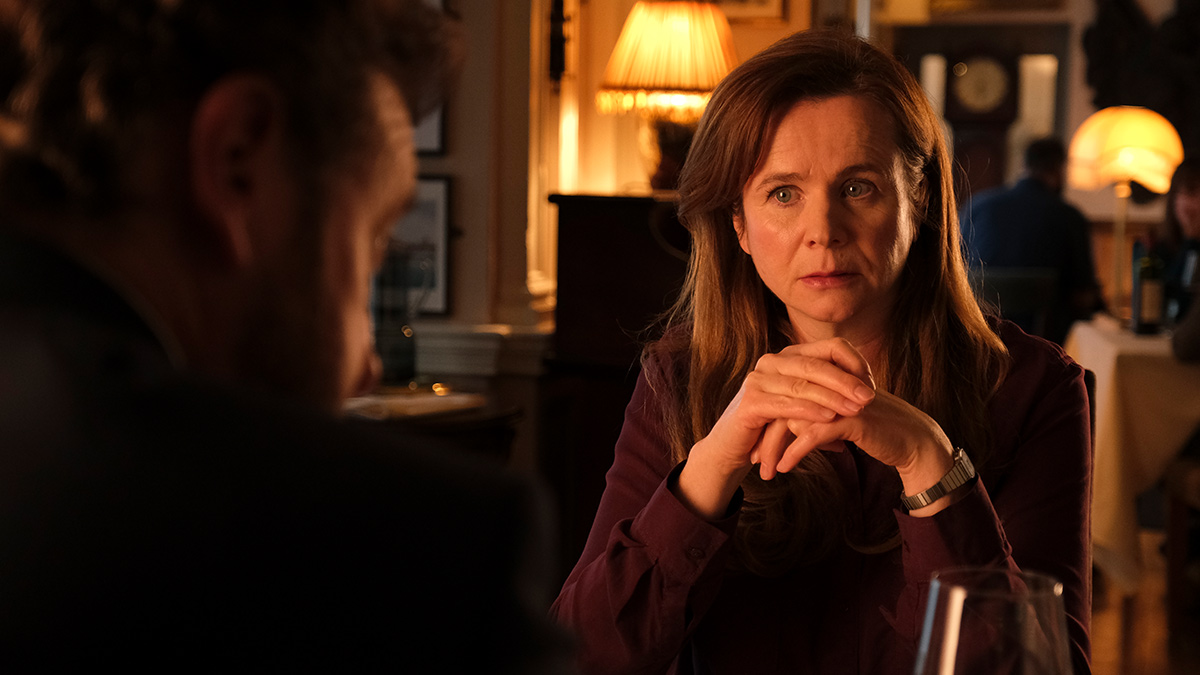 As well as treating Connie Mortensen, Dr Emma Robertson (Emily Watson) has her home life to worry about

It's up to forensic psychiatrist Dr Emma Robertson (Watson) to unpick Connie's mental state, but Connie says she can't remember anything about the traumatic event.
Connie's marriage to Karl (Jamie Sives, Guilt), with whom she has two children, is strained, and her friendship with Vanessa "Ness" Jones (Thalissa Teixeira, Trigonometry) is complicated, but when did it all begin to go wrong?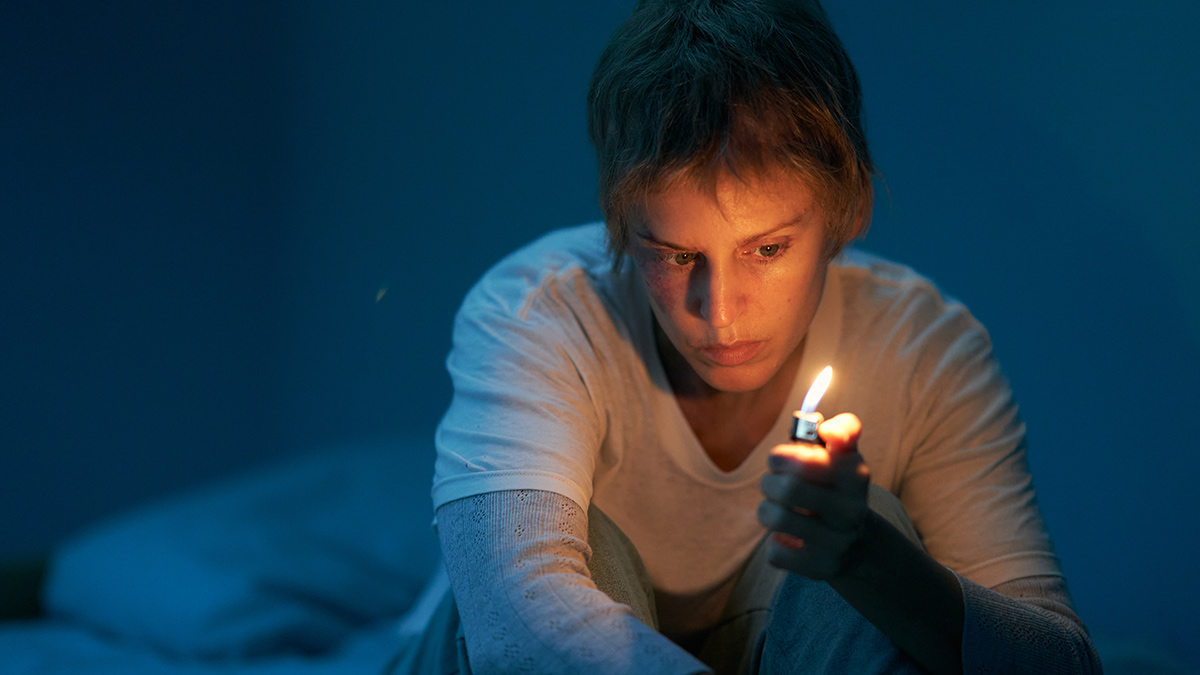 Connie (Denise Gough) after the incident

It quickly becomes apparent that it's unclear who is psychoanalysing who. A badly bruised, swollen, and frankly, frightening Connie (the result of three and a half hours in the make-up chair for Gough) senses that the prim and proper Emma also harbours a dark secret.
"In the same way that Emma is trying to open Connie up, Connie is digging away at Emma," Watson says. "In another life, these women would be friends. They have a similar way of looking at the world and a great empathy for suffering."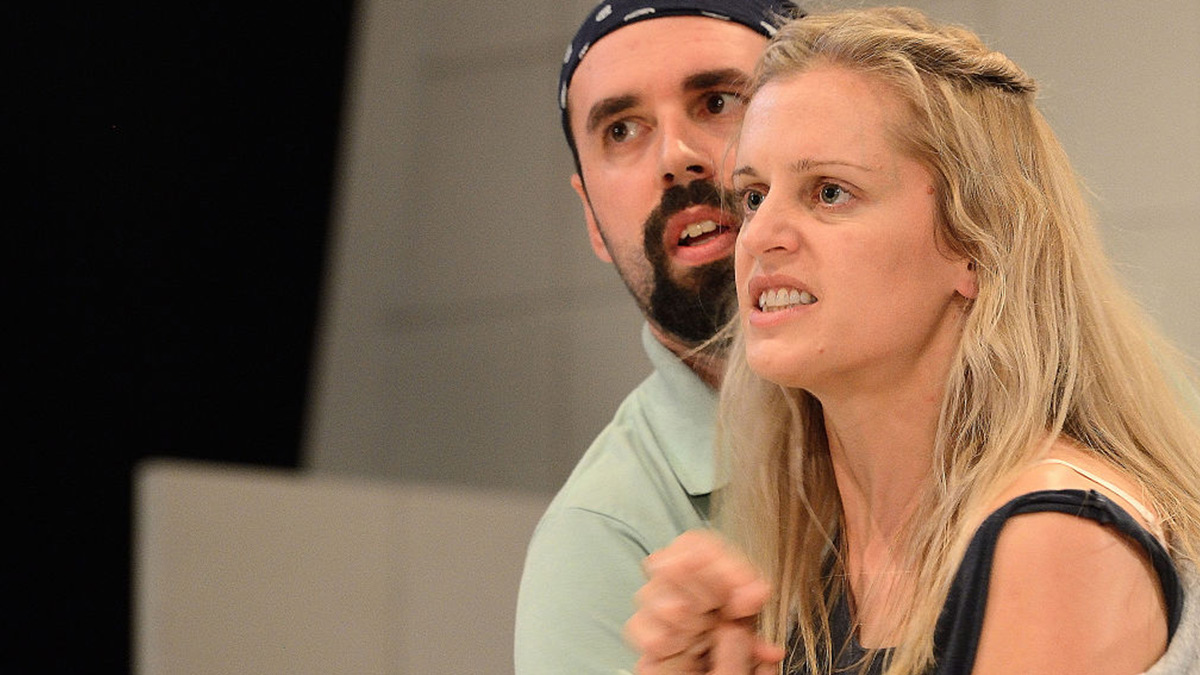 Gough played Emma, an actor who goes into rehab, in People, Places And Things

Watson, who starred in Appropriate Adult, about serial killer Fred West and his wife Rosemary, and Gough, who won an Olivier Award for her role as a recovering addict in the play People, Places And Things, are no strangers to suffering for their art.
Both actors say comedy is a lot "scarier" than the heavier material, with Watson describing the lengthy dialogue scenes as a "relief" and Gough calling them "an exhale". Similar to Line Of Duty's dense interrogations, the conversations in Too Close follow the nuances of Emma and Connie's interactions, which are held up by strong acting and peppered with flashbacks (featuring a radiant, long-haired Connie as opposed to the wounded woman with a pixie cut in front of us).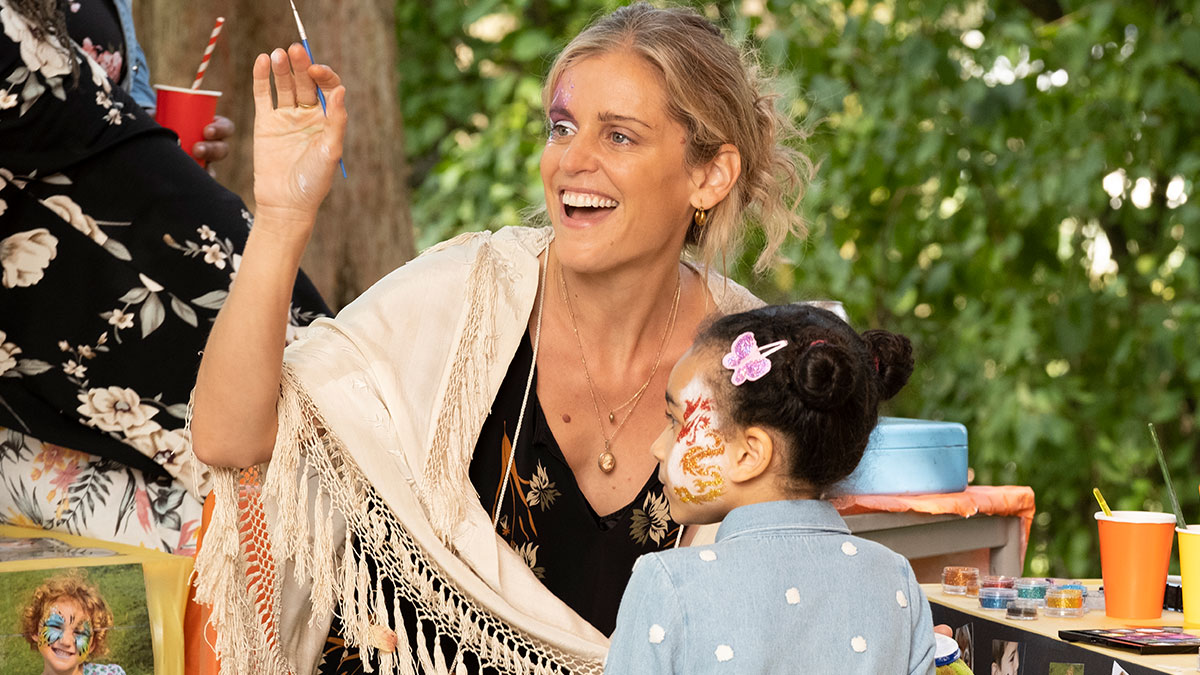 Connie before the incident

Watson calls these scenes the "absolute bread and butter of what acting is". She adds, "It's all down to you. It's all on your face, your expression. You can really tell whether you're getting it right or not, because it either feels real or it doesn't. If you're faking it, it's the worst feeling in the world."
They make the show feel more like a play than a series, according to Salaman, which is of course second nature for Gough, who also won an Oliver Award for her role in Angels In America. She finds it easier on stage to leave her character behind, because "you're spat out at the end and the audience breaks the spell", but she feels "energised" rather than deflated taking on these challenging parts.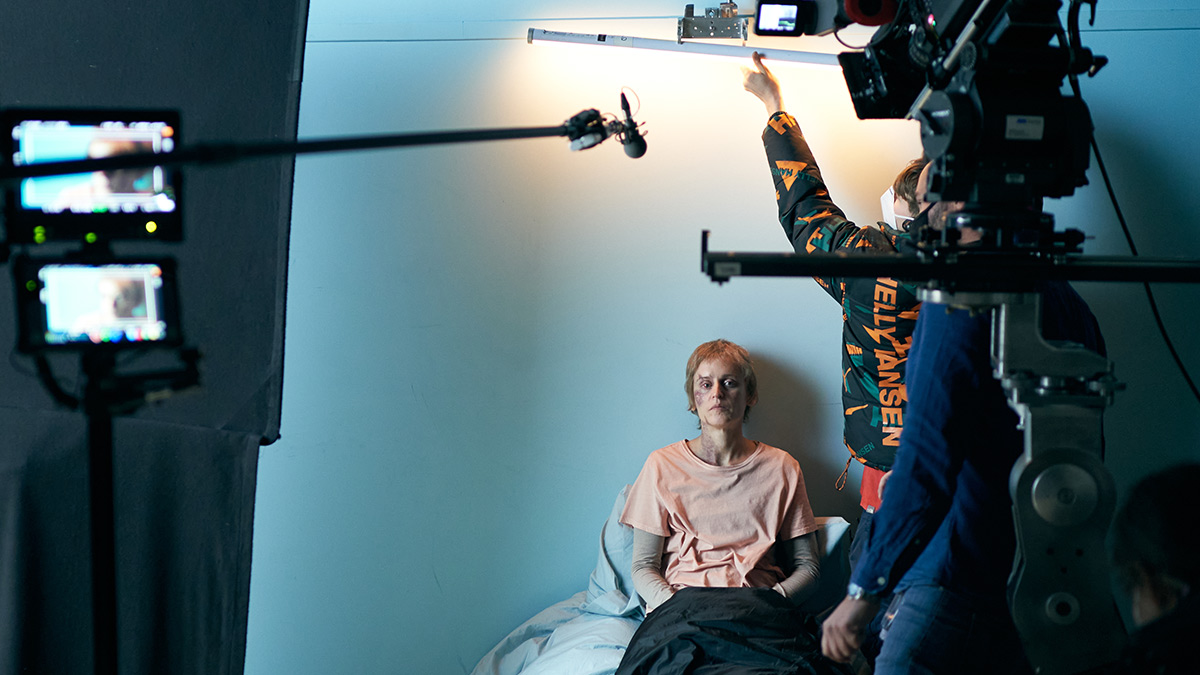 Gough gets into character

"I love it. I wouldn't have it any other way," she says. When I get to sit opposite a brilliant playmate, it's so enjoyable to me. The better the actor opposite you, the better you are."
Your opinion of both women will fluctuate as the series continues, which makes the narrative change constantly, depending on whose "side" you're on. As we're so used to seeing female characters that are designed to be likeable, it's refreshing to be introduced to Connie and Emma, who sort of… aren't. Why? Because, Salaman explains, "they don't care whether you like them or not".
When is ITV's Too Close on TV?
Too Close airs on ITV HD (CH 103/113) at 9pm across three consecutive nights, with the episodes screening from Monday 12 April to Wednesday 14 April. It is also available in Apps & Games > ITV Hub.
TV channels: Channels, content and features available depend on your chosen package. Channel line-ups and content are subject to change at any time and to regional variations.
HD: HD TV set, V HD Box, TiVo box or Virgin TV V6 connected with HDMI cables required for HD channels. Number of inclusive HD channels depends on package.
ITV HD is subject to regional variation. ITV HD is not available where STV HD or UTV HD is available.
Catch Up TV: Catch Up TV content available for up to 7 days or up to 30 days after broadcast, depending on content.
Interviews: Any opinions expressed in interviews are those of the interview subject and not those of Virgin Media.