Skip to main content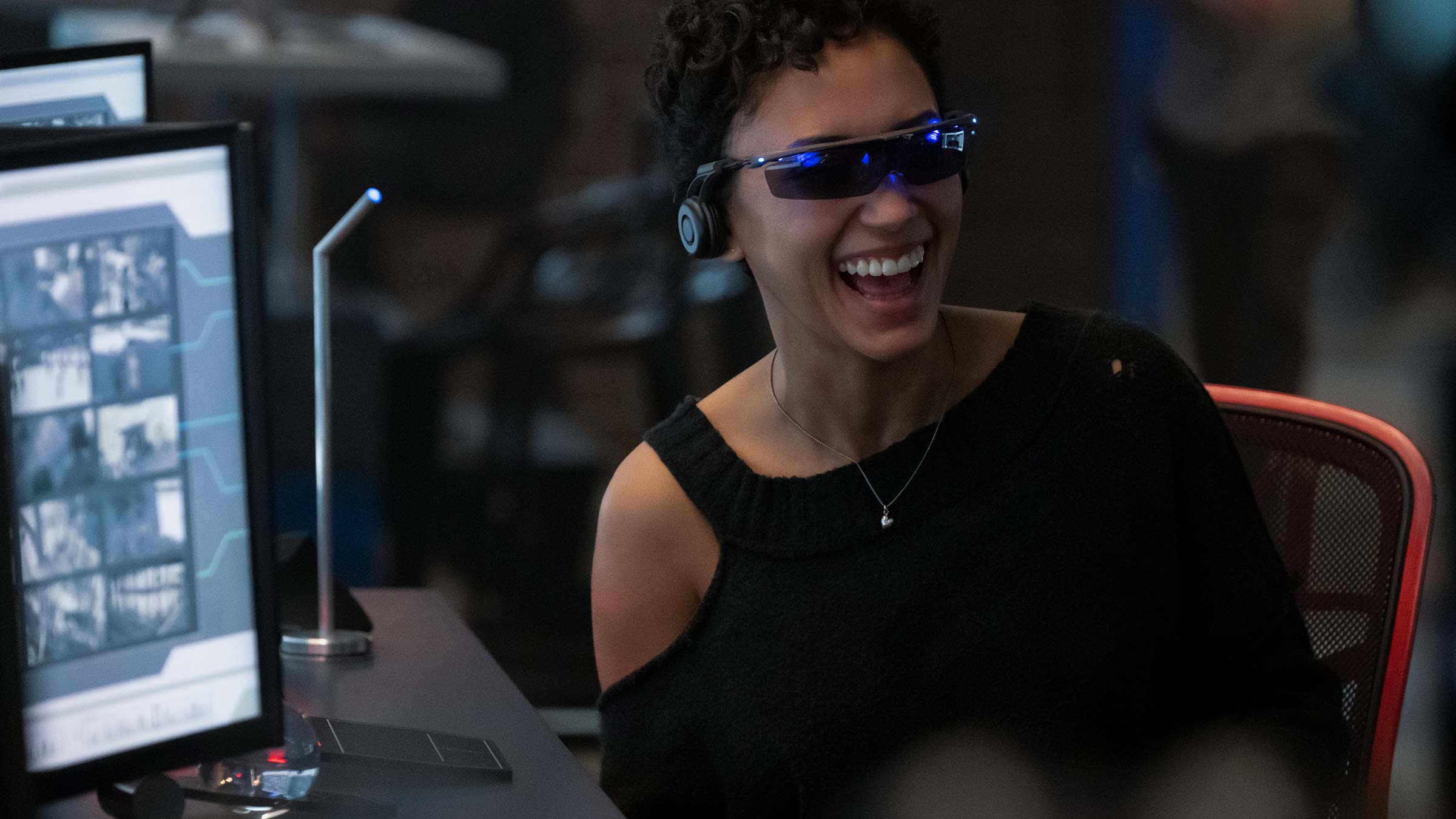 Greg Daniels, Emmy-winning writer of The Office and Parks And Recreation, returns with sci-fi comedy Upload, where "the best days of your life could be after it's over"
By Laura Rutkowski, Staff Writer
Even if you don't know Daniels by face or even by name, his work really does precede him. He's directed, written and executive produced some of the best, most quoted, most hilarious television series of all times. His latest show, Upload, looks to be no different.
Here's all the info you need to upload into your brain before the new series launches on Amazon Prime Video on Friday 1 May…
What's it about?
In 2033 (which is not that far from now if you think about it, *shudders*), "digital life extension" is a booming industry that rakes in $600 billion a year. There's no reason to die anymore, you simply "upload" yourself to a virtual playground. You'll live happily ever after in avatar form, but with your consciousness intact. It's gonna cost you, though – for the privilege and for those pesky in-app purchases.
The Horizen company's "Lakeview" is the crème de la crème of places to upload (terms and conditions apply), and that's where we find young, good-looking app developer Nathan Brown. A self-driving car accident forces him to make a choice between going under the knife or uploading. You see, you can't upload when you're dead.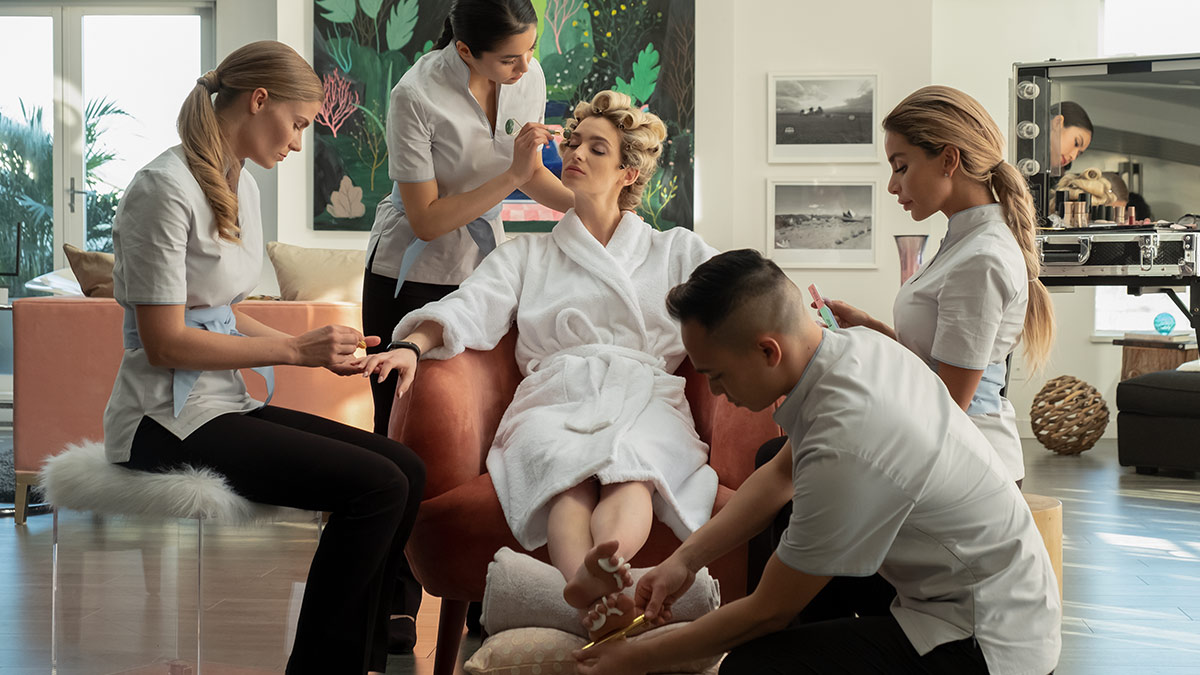 Ingrid (Allegra Edwards), er, grieves Nathan's death as she prepares for his funeral...

His self-obsessed girlfriend Ingrid Kannerman forces his hand and he's uploaded. With Ingrid paying for Nathan's stay in "heaven," will the couple prove to be a match made in heaven or hell?

What has Greg Daniels said about it?
Well, he wrote a letter! In it, he describes Upload as a "mix of sci-fi, mystery, romance and comedy genres". He continues: "Set in the near future, the show has satire about income inequality and environmental degradation, loss of privacy and our powerlessness before big tech companies, but it's essentially a character comedy about science and love attempting to beat death." Read the letter in full below.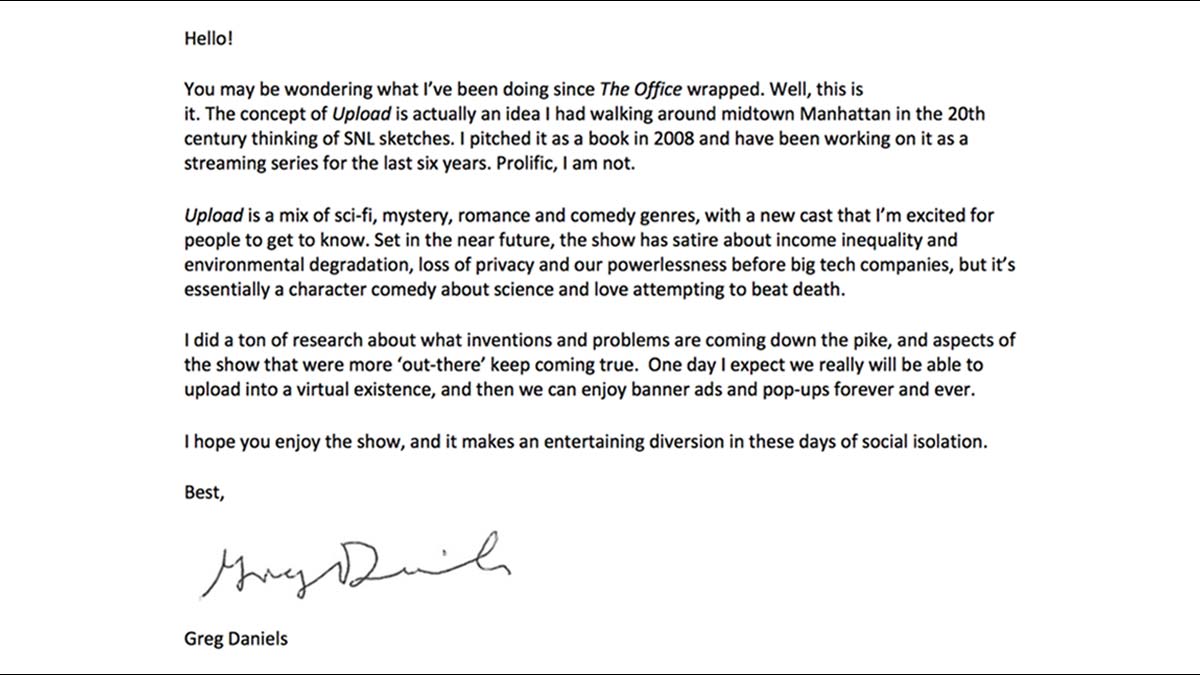 You'll love Upload if you liked…

Downsizing
Inception
The Good Place
The Final Cut
Snowpiercer
Black Mirror (it's like the "Nosedive," "San Junipero" and "The Entire History of You" episodes, but significantly cheerier)

How long are the episodes?
Episode 1 is 45 minutes, while the rest are about 25 minutes each. Perfectly snackable episodes for your lunch break – or whenever!

Who stars in it?
Robbie Amell (The Tomorrow People) stars as Nathan, with Allegra Edwards (New Girl) as his girlfriend Ingrid. Andy Allo (Pitch Perfect 3) plays Nora Anthony, Nathan's customer service "angel," who is a very real person living in New York City, creating uploads and assisting them with any questions or concerns they have while adjusting to life at Lakeview.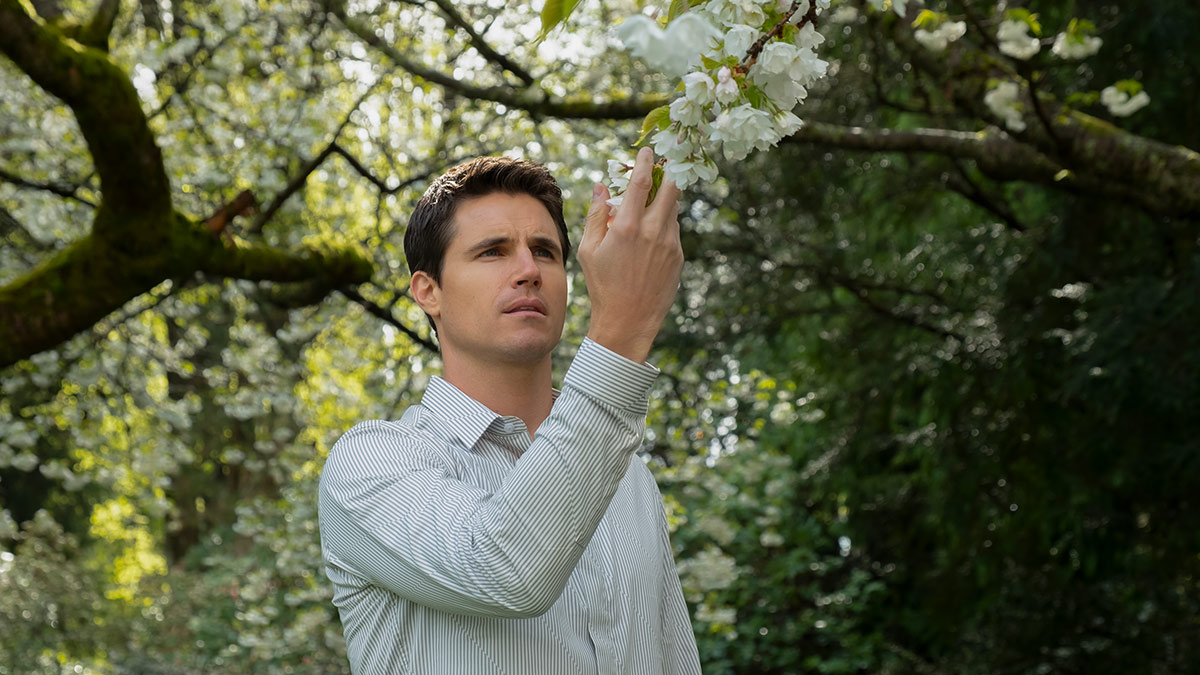 "What are these?," wonders Nathan (Robbie Amell).

Zainab Johnson (Last Comic Standing) is Aleesha Morrison Downey, who sits next to Nora at work and has her own Lakeview clients to look after, including Luke (Kevin Bigley, Sirens). Luke and Nathan quickly become friends.
Fans of The Office will also get an added kick out of seeing some familiar faces throughout the series. Another nod to Greg Daniels' previous work pops up in a scene where Nora is scrolling through memes, which we're very glad still exist in the future. They include The Office's Dwight and Parks And Recreation's Ron Swanson.
What tech can you expect?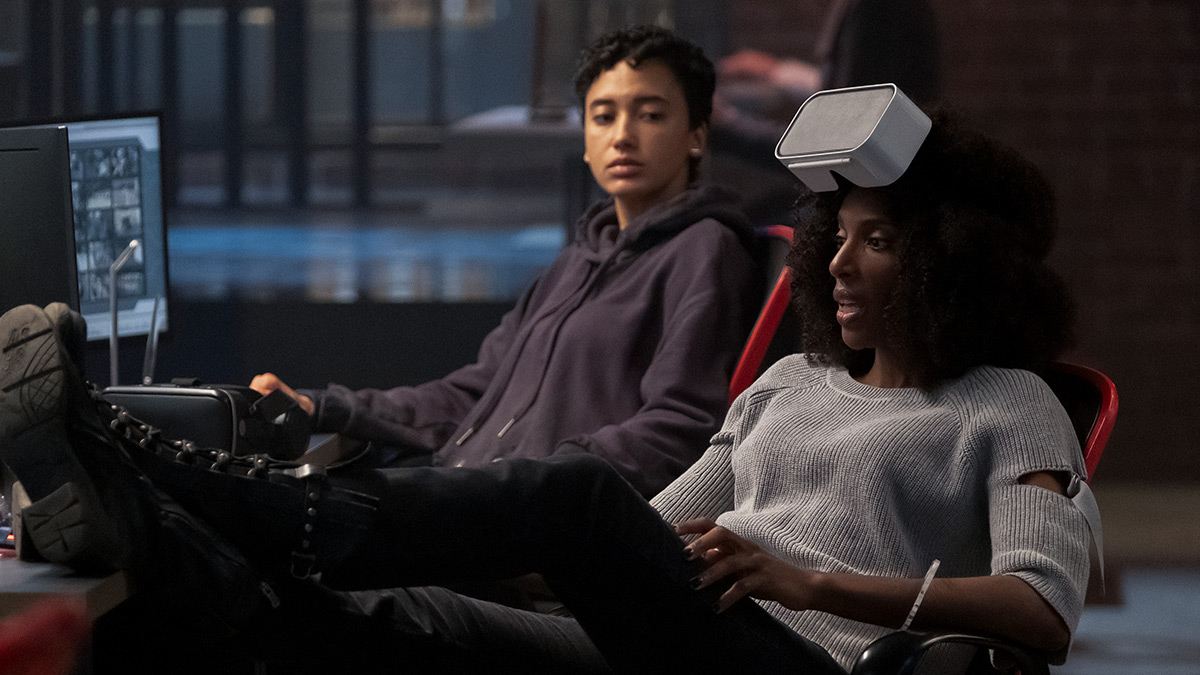 Nora (Andy Allo) and Aleesha (Zainab Johnson) are "angels" hard at work.

3D food printers, automated grocery stores and therapy animals (that talk) are all the norm in Upload. Self-driving cars, powered by AI, can be programmed to prioritise the passengers or the pedestrians. Everyone has a hologram phone, which they use by holding their hand out in the shape of an "L".
Dating apps are still a thing in the future, and Nitely is the hottest one. You "rate" your sexual partners out of five stars, so future matches can browse your, er, review and be impressed (or not) – like Tripadvisor for people. Oh, and you can attend your own funeral. Meta.
What else do we have Greg Daniels to thank for?


When is Upload on Amazon Prime Video?
Find the 10-episode series in Apps & Games > Prime Video from Friday 1 May.

How to watch Amazon Prime Video with Virgin TV
Prime Video is available to all Virgin TV customers with a V6 box, powered by TiVo®. Simply sign up to Amazon Prime Video via their website, and you can log in on the box. And because Prime Video is fully integrated into TiVo®, you can search without even going into the app. Just select Search & Discover from the Home menu and type in the name of the show or movie you're after.
TV channels: Channels, content and features available depend on your chosen package. Channel line-ups and content are subject to change at any time and to regional variations.
Amazon Prime Video: Amazon Prime subscription required at extra cost. 18+. Click here for T&Cs.