Skip to main content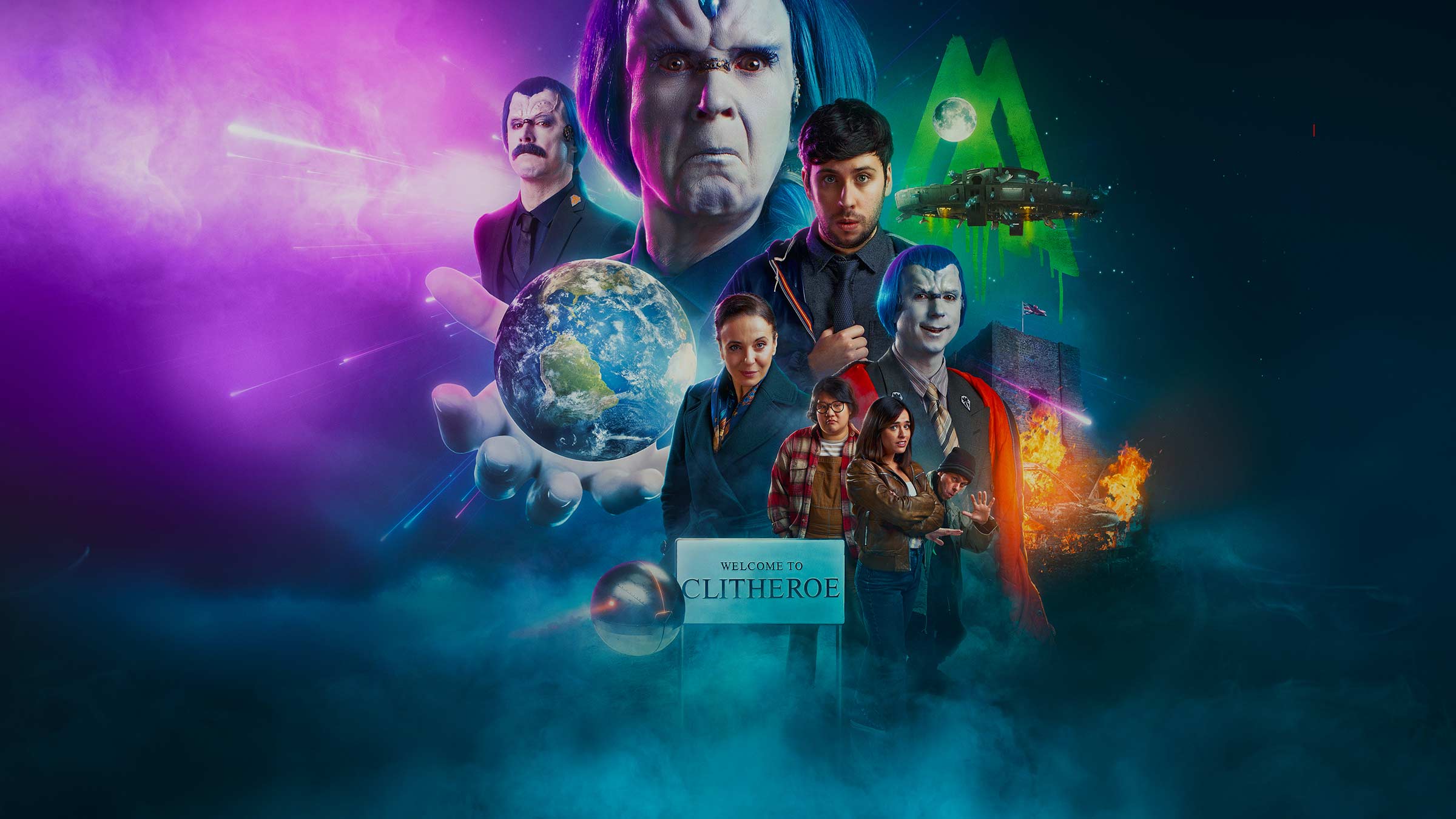 Six weeks after aliens have invaded Earth, humankind and its new masters seek common ground in a comedy of intergalactic errors
By Jon Billinge, Staff Writer
The truth is out there… and, as it turns out, it's blue-haired, more than a little awkward, and prone to jettisoning disagreeables out of airlocks.
Indeed, this is the reality that befalls Earth in We Are Not Alone following an alien invasion in which scores have died, and the world's leaders have been replaced by a series of deep-space dictators.
But all is not quite lost; you can still go to the pub after all. And if you're lucky, you'll still have a job to go to, albeit with the caveat that if you now get fired, you will probably be done so into deepest, darkest space.
Airing on Dave, this feature-length TV special from writers Ben Willbond and Laurence Rickard (Ghosts, Horrible Histories) explores how we might navigate life under extraterrestrial terms, and if indeed the idea of intelligent life out there might a bit of a stretch.
Read on to learn all about the show, including plot details, best bits and what it was like to play a formidable alien entity whose very name sends shivers through human digestive systems (seriously).
What's the plot?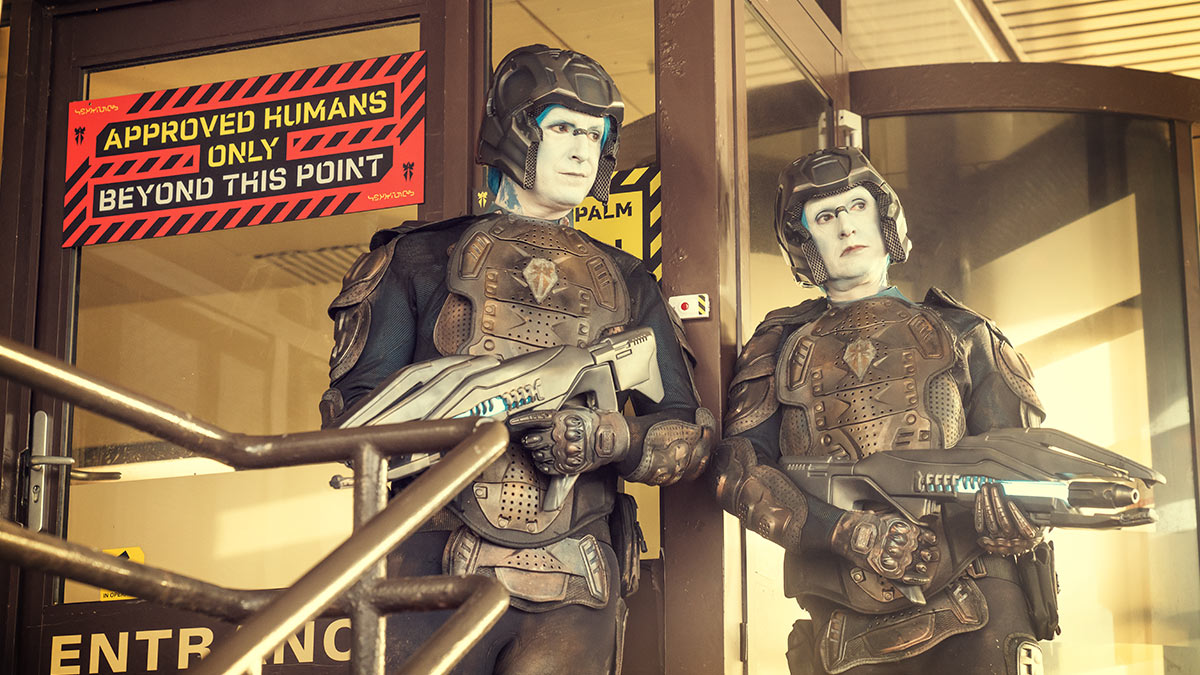 Set six weeks after the Gu'un have invaded Earth, we open to a planet conquered, a population cowed and an economy in disarray. Writer Laurence Rickard explains:
"Usually, aliens have tried to invade and we have found a way of fighting them off. But our story begins with, "OK, they have won. None of our attempts to stop them in any way succeeded." The aliens are going, "OK, we now run this place."
"Rather than it being about Earth trying to fight off the aliens, this is about the aliens going, "We are now in charge." And it turns out that it's a nightmare."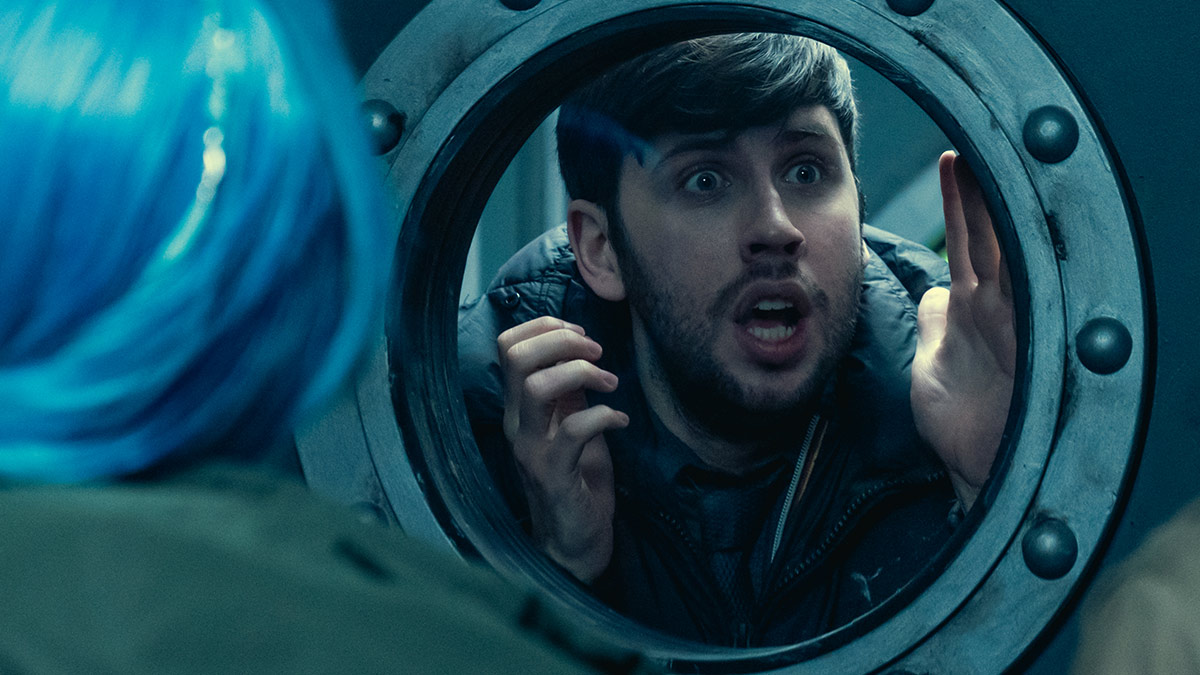 Concerned their grip on power is faltering, the aliens wage a campaign to help assuage fears and improve their image in the public eye. Enlisting the help of junior account exec Stewart (Declan Baxter), they're soon brewing tea for office workers, handing out £20 notes and bearing wide smiles everywhere they go. But their violent and domineering ways are never quite back of mind, leading to a series of rather unfortunate events.
All is not lost for humanity, however, as a band of rebels have formed the Anti-Alien Alliance (AAA) in a bid to stop them. But when they can't even get their logo right (is it two big As or three little As joined together?), perhaps it's best not to count on them...
Who's in it?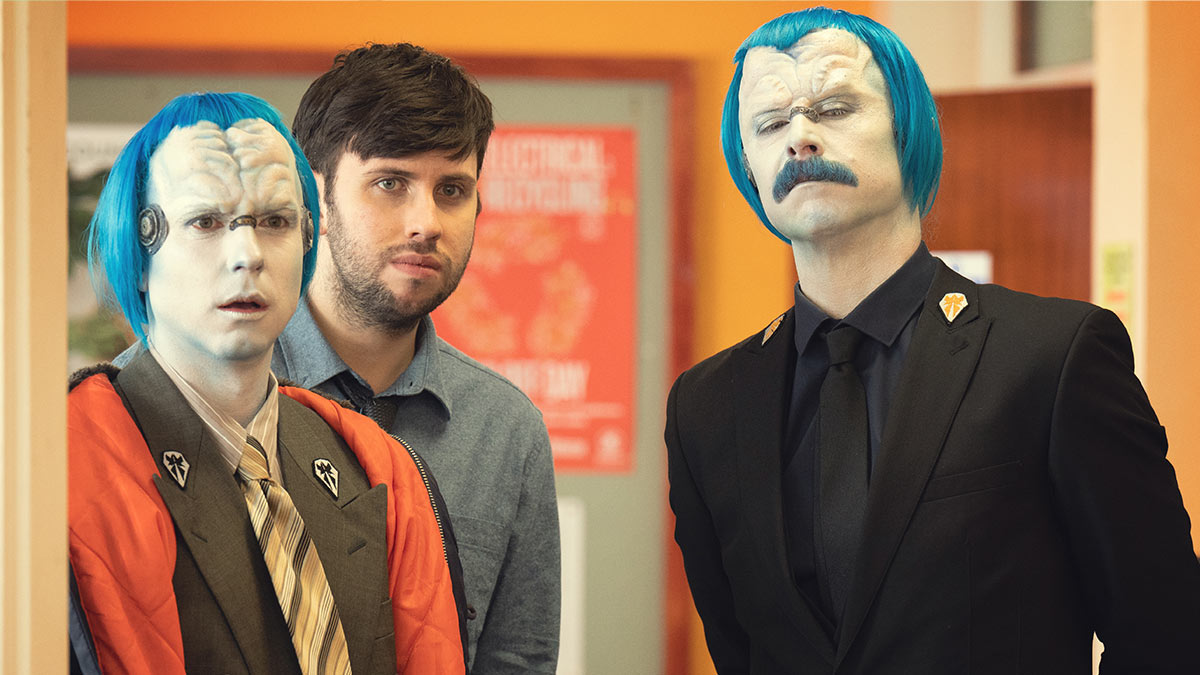 A whole host of stars, both human and comedian, make up the cast. Vicki Pepperdine (We Hunt Together), Mike Wozniak (Man Down) and Joe Thomas (The Inbetweeners) comprise the alien representatives for Britain, while the aforementioned Baxter plays the unlucky soul drafted into their employ.
Amanda Abbington (Sherlock) and Bruce Mackinnon (The Larkins) play Greives and Wade, the co-heads of the AAA, with Mackinnon's Wade harbouring a particularly deep resentment of the aliens following their demolition of his home country New Zealand. "Only the edges!" claims an exasperated alien. "That's where all the people live!" Stewart points out.
Georgia May Foote (Coronation Street) rounds out the cast as pub owner Elodie. Love-struck Stewart had been on the verge of admitting his true feelings for her, but alien invasions have a tendency to interfere with matters of the heart.

Where is it set?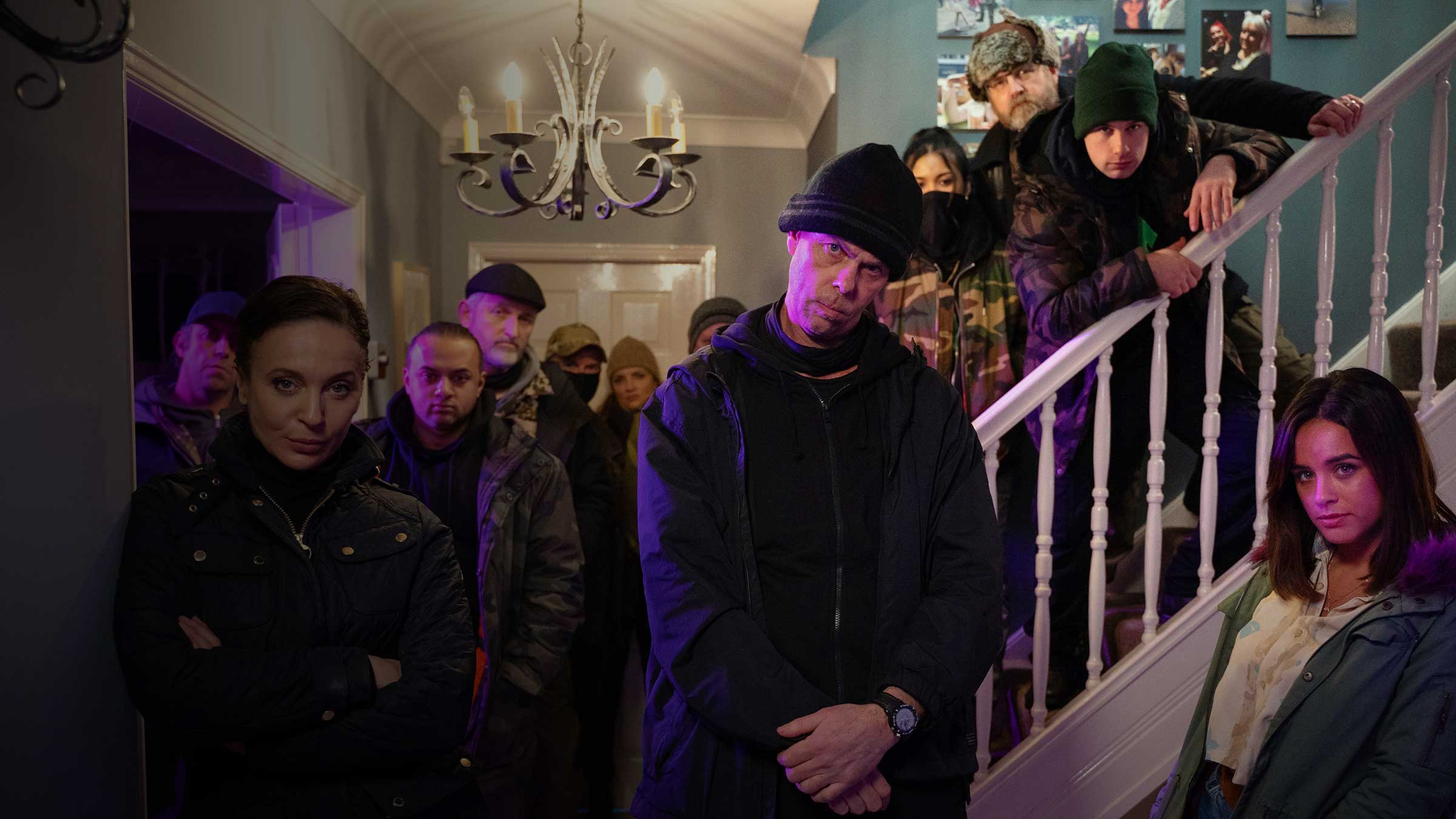 The aliens have deemed it most logical to base their operations at the heart of each location they've invaded across the globe. And the centre of the UK? Sorry London, it's not you but fair Clitheroe that's now the central hub. Because it's literally right in the middle of the map. So therefore makes the most sense. Right?
When is Dave's We Are Not Alone on TV?
We Are Not Alone airs on Dave HD (CH 127) at 9pm on Monday 28 November.
TV channels: Channels, content and features available depend on your chosen package. Channel line-ups and content are subject to change at any time and to regional variations.
HD: HD TV set, V HD Box, TiVo box, Virgin TV V6 box or Virgin TV 360 box connected with HDMI cables required for HD channels. Number of inclusive HD channels depends on package.
Interviews: Any opinions expressed in interviews are those of the interview subject and not those of Virgin Media.
Image credit: We Are Not Alone © UKTV/James Stack/Paul Husband