Skip to main content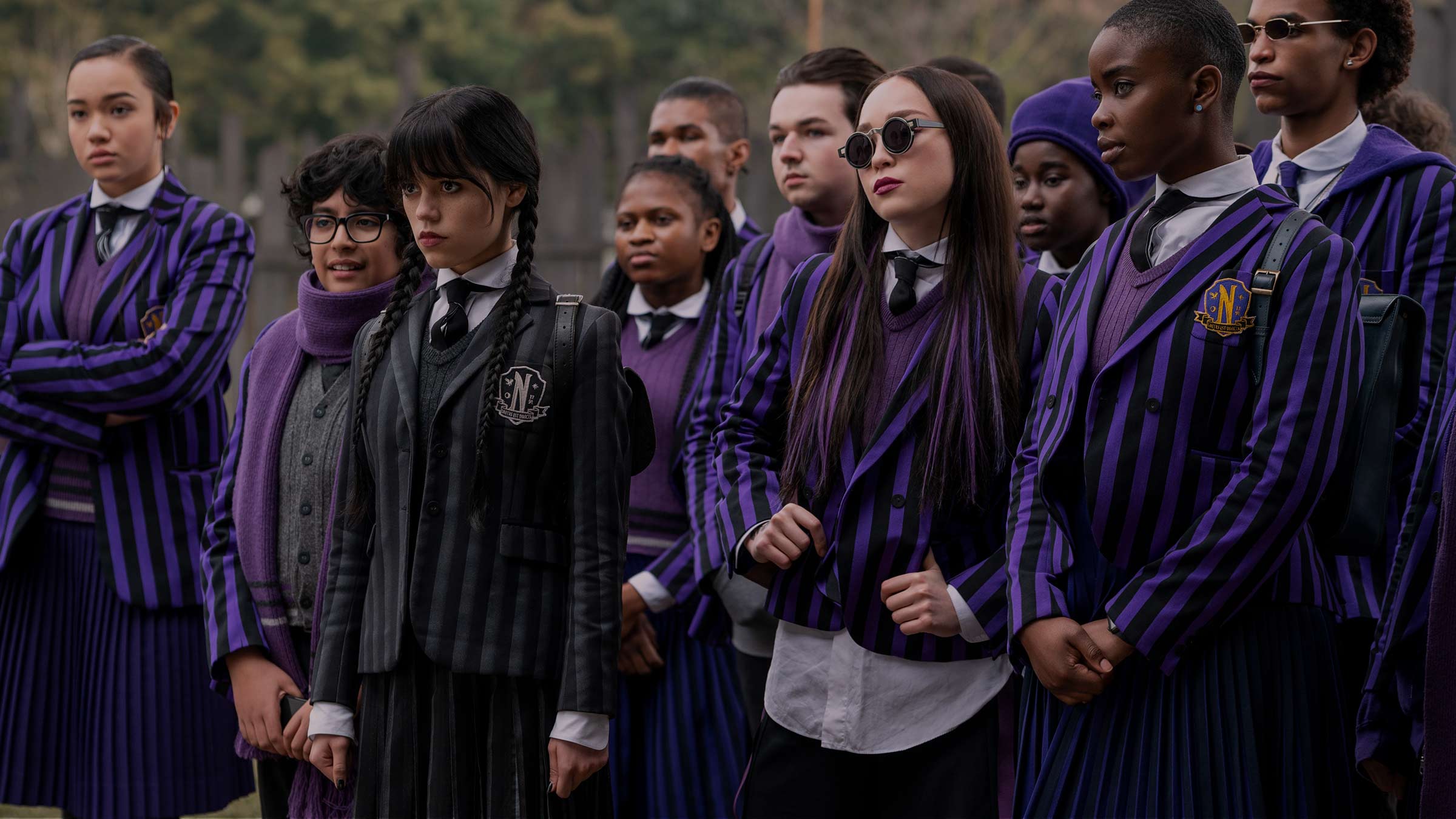 As Netflix's new Addams Family spin off Wednesday hits screens, we rank the best and worst of TV's teens
By Virgin TV Edit
The Addams Family became a cultural phenomenon when the film adaptation of the original 1960s series was released back in 1991. No Halloween since has gone by without someone donning a long black wig à la Morticia, a set of black pigtails like Wednesday's or even just a pale face and serious amount of kohl eyeliner Uncle Fester-style, to pay homage to this fabulous fictional family.
And now, prepare to click along with those iconic finger snaps from the theme tune, as the family returns to our screens in new Netflix series Wednesday, centring around the dark and devious daughter of the brood.
It's the brainchild of Smallville creators Miles Millar and Alfred Gough, who recruited director Tim Burton to bring his whimsical and eccentric aesthetic to the project. And the result is a match made in TV heaven.
In Wednesday, Jenna Ortega (2022's Scream) takes on the titular role, famously played by Christina Ricci in the 90s flick. No longer a child, Wednesday is now a brooding teenager grappling with both her burgeoning psychic abilities and the challenges of high school.
But her pigtails and penchant for the macabre remain unchanged. As the teaser (below) shows, a rather gruesome incident involving a water polo team and some bloodthirsty piranhas sees her expelled from her usual school and sent to the Nevermore Academy – a boarding school for outcasts and monsters, and the place where her parents first met.
While navigating new and complex relationships at Nevermore, she also becomes drawn into efforts to stop a killing spree that's been terrorising the local town and solve a supernatural mystery her parents were embroiled in 25 years ago. And we thought our school days were tough!
Catherine Zeta Jones (Ocean's 12) takes on the role of vampish family matriarch Morticia, oozing gothic glamour with her long black locks. Her husband Gomez Addams is played by Luis Guzmán (The Birthday Cake), while newcomer Isaac Ordonez plays son Pugsley.
The identity of the actor playing Uncle Fester was kept a closely guarded secret, with fans speculating it might be Tim Burton's close friend Johnny Depp. But US comedian Fred Armisen (Eurotrip) scooped the role and even shaved his head to play the character. Talk about commitment!
But Wednesday isn't not the only TV teen causing trouble on our screens… Before you settle in to enjoy some seriously dark comedy, take a look at our chart of top TV teens, spanning the good, the bad and the downright wicked. Click on each character's face to find out more:
When is Netflix's Wednesday on TV?
All episodes of Wednesday are available to stream in Apps & Games > Netflix from Wednesday 23 November.
How to watch Netflix with Virgin TV
You can find everything you need to get the best out of Netflix with Virgin TV here.
Netflix: Netflix subscription required at extra cost.