Skip to main content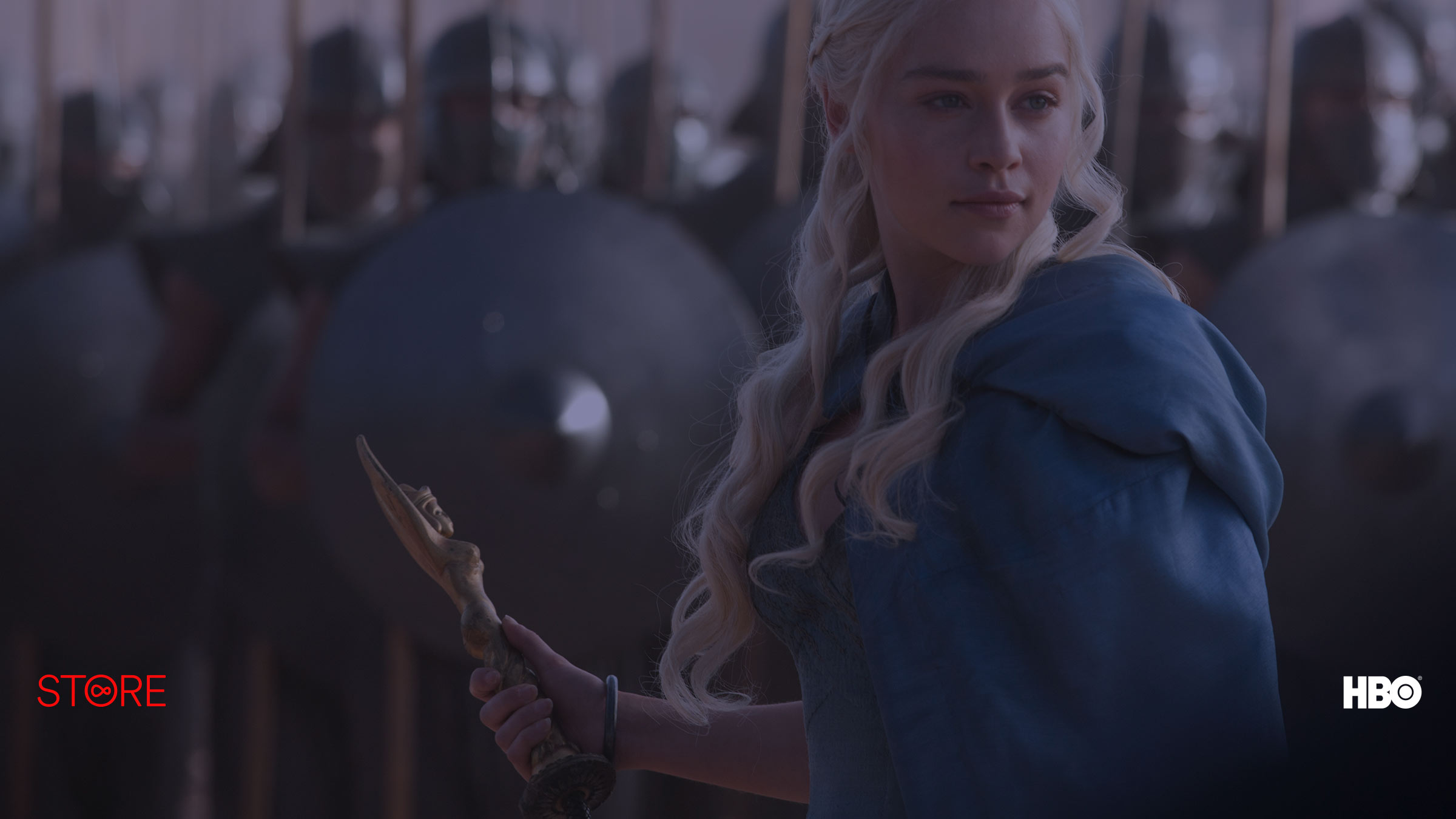 All seven seasons of the global phenomenon are now available to buy on the Virgin Media Store – that's almost 70 hours of the action-packed Box Set to binge on right now...
Buy Game Of Thrones seasons 1-7 in the Virgin Media Store
While murder, bloodshed and dragons don't altogether sound like a chilled-out evening of entertainment, we promise if you give Game Of Thrones a chance you'll be vying for blood after every unexpected turn of events.
You don't need to be a fantasy fan to be sucked in by this record-breaking, award-winning drama. Game Of Thrones is, ostensibly, a political show about nine noble families vying for control, in the mythical setting of Westeros. It's got an eclectic cast – from the likes of Jim Broadbent to Jason Momoa (Justice League) – but its greatest asset is its ability to make your jaw hit the floor. The only thing about this show that isn't surprising is how regularly it features in critics' and audience's "best TV shows of all time" opinion polls.
It's hard to believe anybody has made it to 2018 without having someone insist they "OMG-absolutely-drop-everything-right-now" and watch the HBO blockbuster – but for those of you who need a little more convincing, here are 10 reasons why you should get stuck in as soon as possible…
1. It has an incredible cast
While many of Game Of Thrones' most-loved stars shot to fame when the show first aired in 2011 (Kit Harington, Sophie Turner, Maisie Williams), the show has also had its fair share of big names throughout the seven seasons. Sean Bean (The Lord Of The Rings), Michiel Huisman (Nashville) and Aidan Gillen (The Wire) all hold major roles. Five of the show's biggest names now earn $500,000 for every episode (Emilia Clarke, Kit Harington, Peter Dinklage, Lena Headey and Nikolaj Coster-Waldau). Anything worth investing that much in has GOT to be worth watching, right?
2. The budget is insane
While we're on the subject, the budget for each of the final six episodes of Game Of Thrones is $15 million. Expect dragons, wolves, gigantic armies and fleets of magnificent ships – plus lots of battles. The CGI budget for the final season is bigger than ever before – and Game Of Thrones is already renowned for its incredible cinematography. If you start watching now, you can catch up ahead of the final season's release in 2019.
3. Everyone you know watches it
Another reason you're probably going to want to catch up before the final season hits screens is so you can join in with the relentless Game Of Thrones chat that will take over the world for six weeks. Even if you have been abstaining from watching GOT to avoid getting caught up in the mass hysteria, aren't you even a little bit curious? Wouldn't you like just a small amount of input next time all your mates reminisce over the Red Wedding?
4. It's a lesson in letting go
Game Of Thrones is well known for its gruesome and often tragic deaths. Without wanting to ruin your GOT experience with spoilers (seriously, avoid Twitter forever once you start watching) – it's best not to get too attached to your favourite characters. Or any characters. In fact, just don't get attached to anything – or anywhere – in Westeros.
5. It has dragons
Even if you've never watched a single episode of Game Of Thrones - you probably know the show involves dragons. Emilia Clarke (Me Before You) plays the "Mother of Dragons" and any scene containing her and her trio of fire-breathing beasts is arguably the best thing on TV. Canadian cinematographer Robert McLachlan was behind eight of the show's most stunning episodes – many of which see the dragons in their full glory – and has garnered more than a dozen award nominations, including two Emmys, for his work.
6. You will never look at families in the same way again
Game Of Thrones explores familial relationships in almost every episode. From the loyal Starks to the too-close Lannisters, families play a key role in the series. In fact, each family is fighting for either its own or another's claim to the Iron Throne. This juxtaposes familial love with a desire for power – with often devastating consequences. It also makes great television, with complex characters and near-constant surprises.
7. You can never guess what's coming next
One thing you can rely on with Game of Thrones is an element of surprise. From sudden deaths to shocking alliances, you never know what's coming up. The TV series is based on the A Song Of Ice And Fire novels by George RR Martin, but the show has now overtaken the novels and the creators have a huge task tying up all the loose ends in just six episodes. This is sure to result in hairy ends for some of our favourite remaining characters ­– prep the tissues before you get stuck in.
8. It's surprisingly funny
For a TV show full of murder and betrayal, Game Of Thrones is surprisingly full of laughs. Some of the best-loved characters - namely Tyrion Lannister (Peter Dinklage, X-Men: Days Of Future Past) and Bronn (Jerome Flynn, Ripper Street) – pack the puns in each and every episode. We guarantee you'll laugh out loud (between tears) most episodes.
9. It has won ALL the awards
Game Of Thrones became the most awarded show in Emmy history last year after winning 38 out of 110 nominations at the prestigious ceremony. To date, it has won a total of 212 awards out of an amazing 612 nominations. Dinklage alone has been nominated for 40, and won 7.
10. There's only one season left
Game Of Thrones is finishing forever after the final six episodes air in 2019. After eight years of it captivating the world we will wave goodbye to our favourite families, the world of Westeros and find out whether Winter is really coming. Get started right now. Trust us, you won't regret it.
Not heard about the Virgin Media Store?
It's the place where you can buy hundreds of ace films and TV Box Sets. Want to know more about how to order these top movies and series? Then read our full story here.
How to use it
First, set up your account quickly and easily at virginmediastore.com. Once that's done, if you have a Virgin TV V6 box powered by TiVo® you can buy and watch hundreds of films and TV Box Sets via the Virgin Media Store app on your box. Alternatively, if you're not a V6 customer you can buy and watch via the Virgin Media Store website and do everything through that. Simple!
Image credits: Game Of Thrones © Home Box Office, Inc. All rights reserved.
Virgin Media Store: Separate terms and conditions apply to the Virgin Media Store service. DVD included for movie purchases only. Purchases must be made on the website or set top box. Compatible device & browser required. Virgin TV V6 box required to buy and watch via set top box – Store is not available on older boxes. Max 5 registered devices. Max 2 devices can stream content simultaneously. Stream and download in UK only.