Skip to main content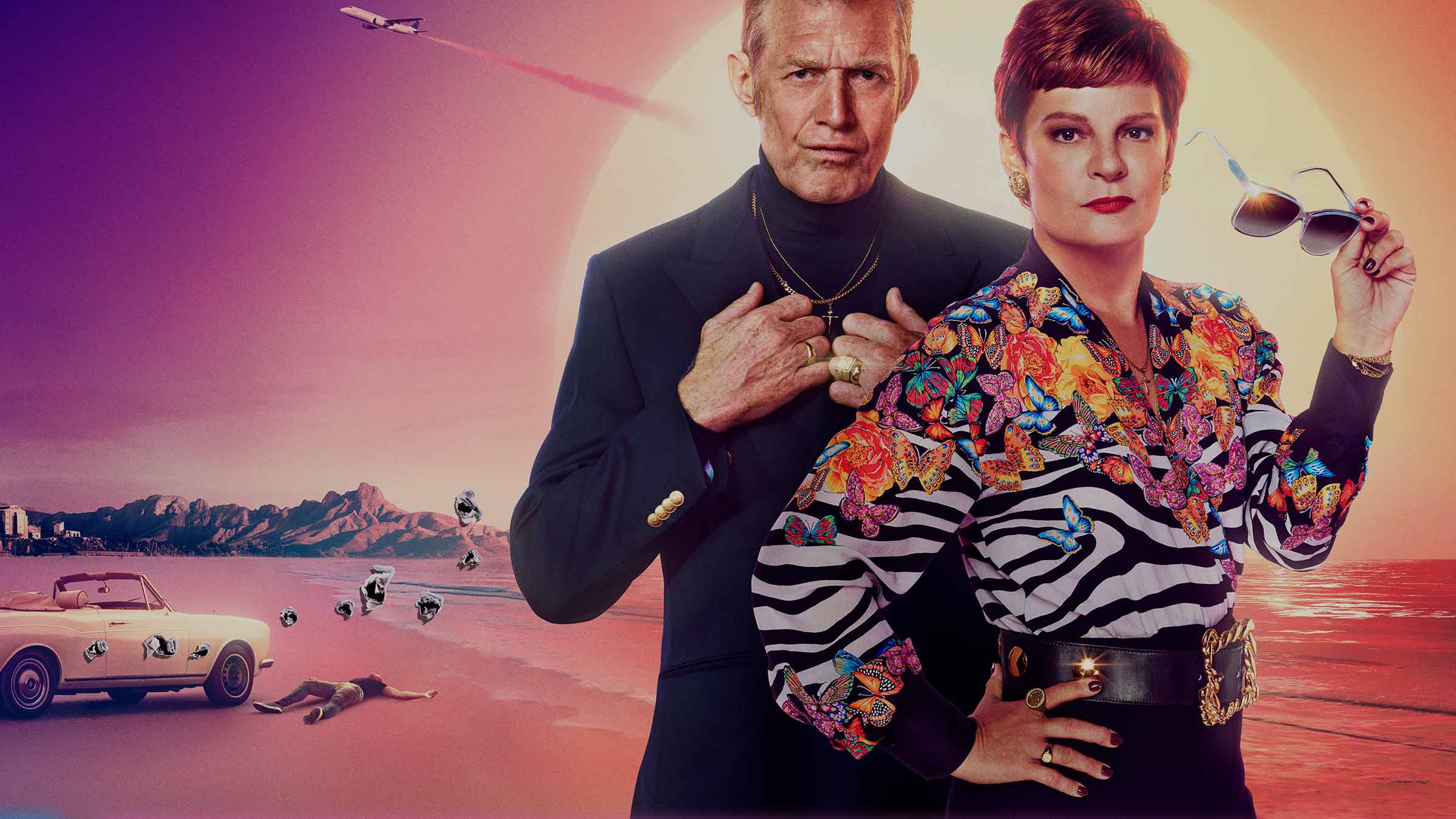 Jason Flemyng, Martha Plimpton and Dougray Scott star in Sky Max's new crime drama A Town Called Malice – sunshine, sin and a brilliant soundtrack
By Chris Miller, Feature Writer
The title alone is enough to get you humming a classic 80s tune – and there's plenty more where that came from. Over eight episodes, A Town Called Malice brings you an epic story of betrayal, obsession, violence and power struggles, all set to an absolutely banging soundtrack that superbly evokes the 20th century's most garish decade.
You might come for the music but you'll stay for the compelling story, amazing scenery and brilliant cast. Want to know more? Of course you do…
What's the story?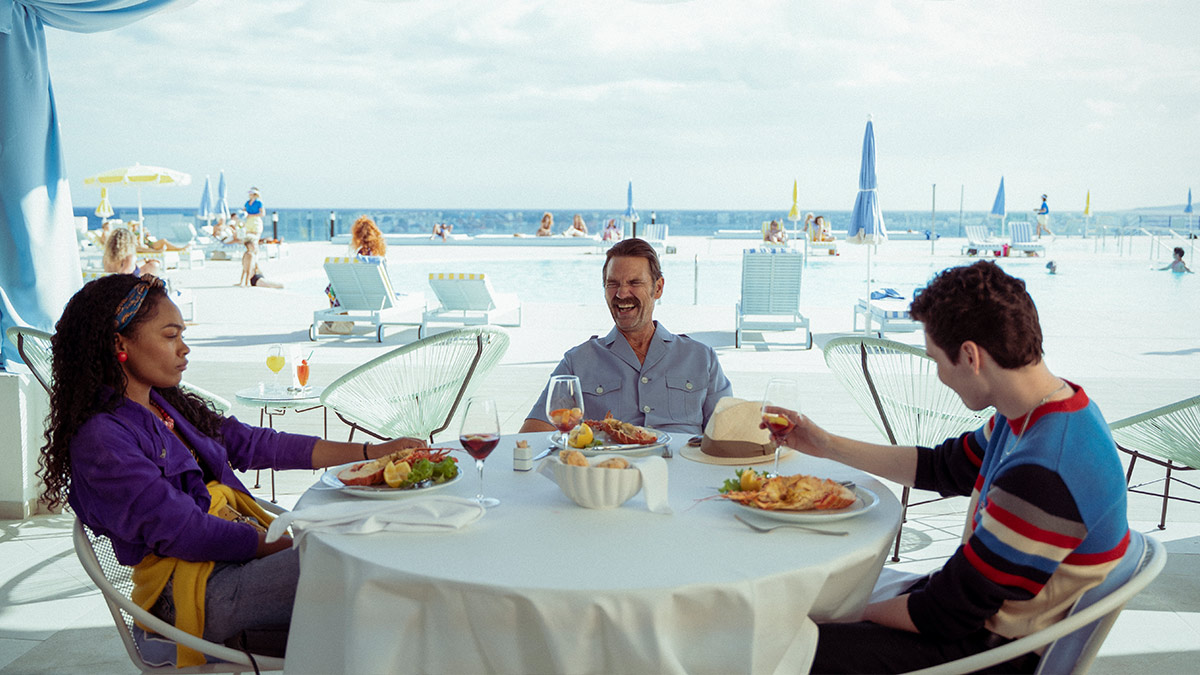 The ironically named Lords are a family of south London gangsters who've fallen on hard times, and they leap at the opportunity to hotfoot it out of Britain and head for Spain's Costa del Sol. Once there, they find it's fertile ground for reviving their criminal enterprises – this is the period in which the area gained the nickname "Costa del Crime" – and fighting their way back to the top of the food chain. Or at least having a bit more money in their pockets.
But inevitably, there are those who don't welcome their presence or their activities on the sunny shores of the Mediterranean. And even if they can see off their enemies, not every member of the family is sure they can trust the others.
Who's in it?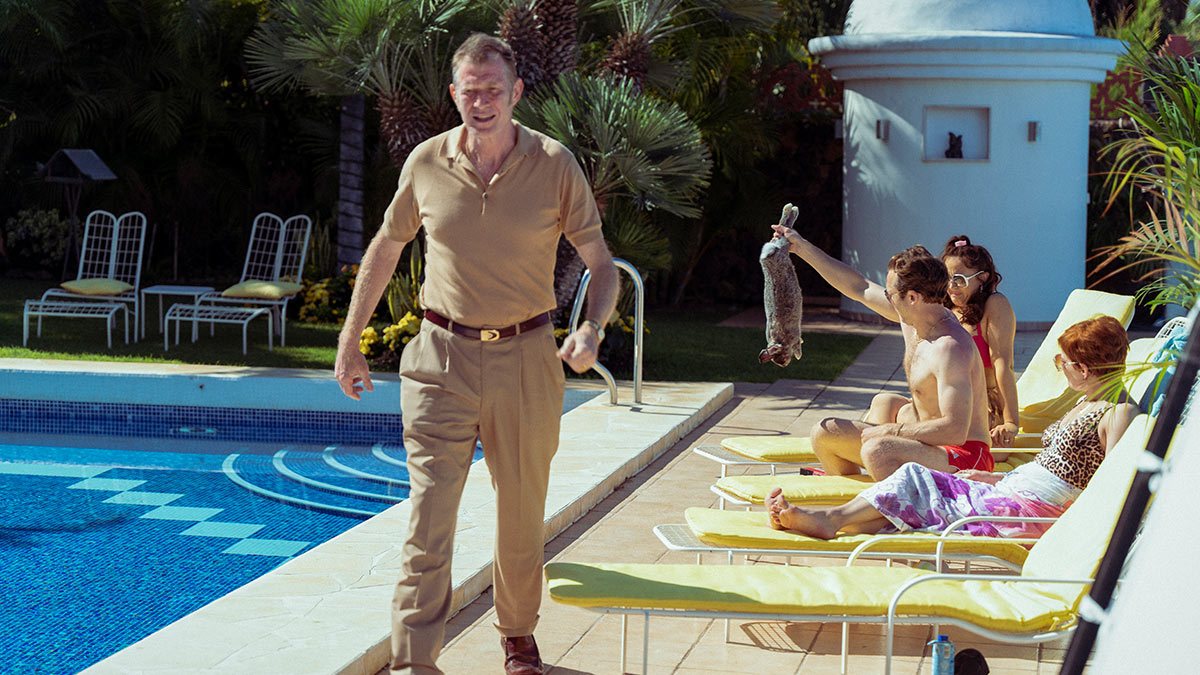 Patriarch Albert Lord is played by Jason Flemyng, who's long been familiar to fans of British gangster films thanks to his roles in Lock Stock And Two Smoking Barrels, Snatch, Welcome To The Punch and Layer Cake. He's also been in the likes of X-Men: First Class, The Curious Case Of Benjamin Button and recent hits Military Wives and Boiling Point. His brother Tony, who offers the clan a safe haven in Spain, is played by Dougray Scott, a memorable villain in 2000's Mission: Impossible II and with more action movies like Taken 3 and Hitman on his resumé.
Arguably the series' biggest casting coup is Martha Plimpton, not least because she's famous for celebrated 80s films including The Goonies and Parenthood. The US star plays Mint Ma Lord, a strong woman who loves her family and will stop at nothing to see them back on top again.
Albert and Mint Ma's son Gene (Jack Rowan, Born To Kill) has been trying to leave the criminal life but – isn't it always the way? – gets pulled back in. He and girlfriend Cindy (Tahirah Sharif, The Haunting Of Bly Manor) have a volatile relationship but would do anything for each other. Gene's brothers Leonard (Lex Shrapnel, Harlots) and Kelly (Daniel Sharman, Medici) are varying degrees of dangerous – but neither is as terrifying as next-generation thug Anthony (George Jacques, The Serpent Queen).
Who's behind it?
The series' creator, writer and executive producer is Nick Love, the British writer/director who gave us such films as The Football Factory, Outlaw and The Sweeney. He's also the man behind The Business, the 2012 film starring Danny Dyer as a working-class Londoner involved with the criminal fraternity on the Costa del Sol. It's clear Love knows his subject well – but he's taken a somewhat different approach with A Town Called Malice.
"A big part of our world is music: music shapes the world, the characters and their experiences," Love says. "Across the series there are occasions where characters break into song and dance, blurring the lines between reality and fantasy, inviting the audience to step into the POV of our most striking and sometimes our most heinous characters. Music is a key component in telling our story."
What else did the makers do to recreate the 1980s?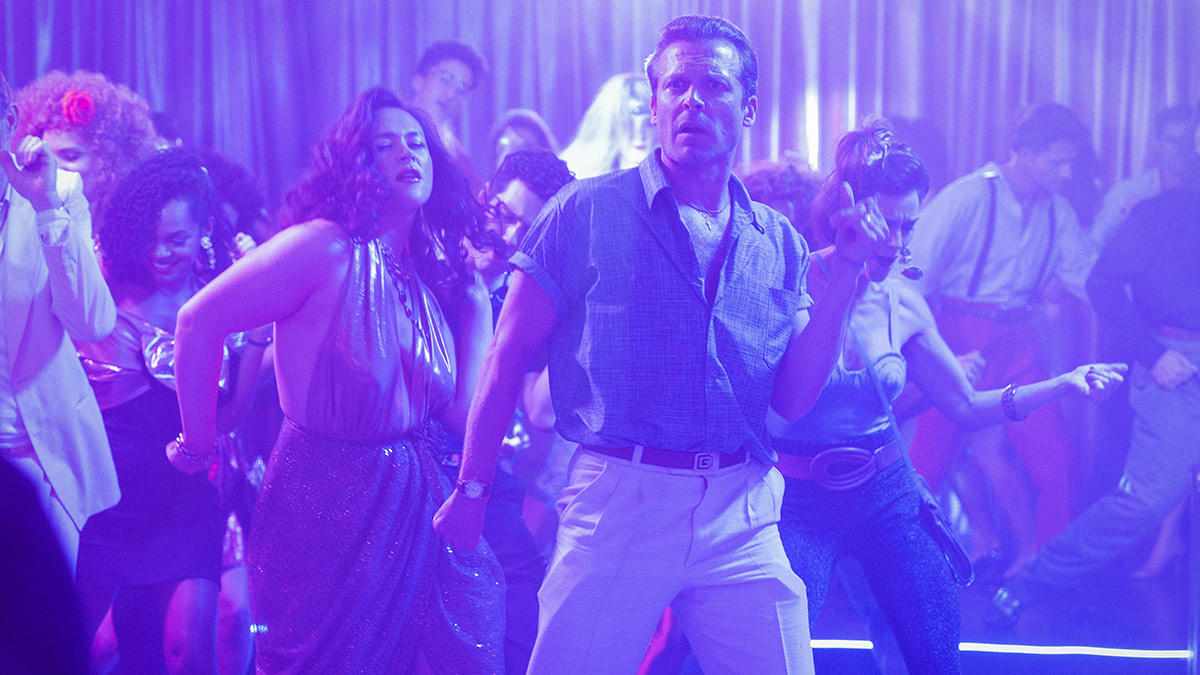 They avoided mainland Spain, for a start. "Filming in Tenerife, which is less built up than the modern-day Costa del Sol, gave us the opportunity to recreate the 1980s setting more authentically," Love says. "But given the historical context, it wasn't just a stylistic choice. The backdrop of our neon-lit beach clubs, palm trees and sun-kissed coastlines represents a playground of opportunity for anyone with aspirations of reinvention."
Love also worked closely with the costume designer, Molly Emma Rowe, to get the look of the clothes just right. "There is an entire community of fans of Nick's work, collectors and archivists of all things Casual. They were all incredibly generous with their time and knowledge around the early 80s sportswear looks," Rowe says. "We used a lot of Cerruti, Farah and Gabicci, and I scoured vintage dealers all over Europe. For me it was imperative to include some really iconic labels such as Thierry Mugler, YSL, Janice Wainwright, Gianfranco Fèrre, and I also sourced period fabrics and designed and made a lot of the costumes too."
Each episode shares its name with a song – and Sky Max has released an episode-by-episode tracklisting of all the songs you can hear in A Town Called Malice. Is your favourite 80s track here?
Episode 1


"Ma Baker" – Boney M
"Mirror Mirror (Mon Amour)" – Dollar
"I Want To Know What Love Is" – Foreigner
"I Could Be Happy" – Altered Images
"Going Underground" – The Jam
"I Fought The Law' – The Clash
"True" – Spandau Ballet
"Video Killed The Radio Star" – The Buggles
"Relax" – Frankie Goes To Hollywood
"Original Sin" – INXS
"White Wedding" – Billy Idol
"Sweet Dreams (Are Made Of This)" – Eurythmics
"D.I.S.C.O." – Ottowan
"Hold The Line" – Toto
"Sunday Girl" – Blondie
"Town Called Malice" – The Jam
Episode 2


"The Great Pretender" – Freddie Mercury
"Rio" – Duran Duran
"Lil Devil" – The Cult
"Mickey" – Toni Basil
"Just Can't Get Enough" – Depeche Mode
"Tainted Love" – Soft Cell
"Give It Up" – KC & The Sunshine Band
"Everybody Wants To Rule The World" – Tears For Fears
"Back In Black" – AC/DC
"Daddy Cool" – Boney M
"Rebel Yell" – Billy Idol
"Avalon" – Roxy Music
"Shout" – Tears For Fears
Episode 3


"Kayleigh" – Marillion
"Two Tribes" – Frankie Goes To Hollywood
"Our House" – Madness
"Blue Monday" – New Order
"Smalltown Boy" – Bronski Beat
"Waiting For A Girl Like You" – Foreigner
"Mirror Man" – The Human League
"Love Is A Battlefield" – Pat Benatar
Episode 4


"In The Air Tonight" – Phil Collins
"Kings Of The Wild Frontier" – Adam & The Ants
"Let's Go All The Way" – Sly Fox
"Only You" – Flying Pickets
"Fade To Grey" – Visage
"Sunny" – Boney M
"Everything I Own" – Ken Boothe
"Do The Conga" – Black Lace
"Alive And Kicking" – Simple Minds
"Call Me" – Blondie
Episode 5


"Rudy, A Message To You" – Dandy Livingstone
"Chase The Devil" – Max Romeo
"54-46 Was My Number" – Toots & The Maytals
"The Chase" – Giorgio Moroder
"Karma Chameleon" – Culture Club
"Hungry Like The Wolf" – Duran Duran
"Cruel Summer" – Bananarama
"Maneater" – Hall & Oates
"Jump (For My Love)" – The Pointer Sisters
Episode 6

"Eyes Without A Face" – Billy Idol
"I Ran" – A Flocks Of Seagulls
"Money" – The Flying Lizards
"Girls Just Wanna Have Fun" – Cyndi Lauper
"Everybody's Got To Learn Sometime" – The Korgis
"I'm Still Standing" – Elton John
Episode 7


"Teenage Kicks" – The Undertones
"Relax" – Frankie Goes To Hollywood
"Video Killed The Radio Star" – The Buggles
"Mirror Mirror (Mon Amour)" – Dollar
"(I Just) Died In Your Arms Tonight" – Cutting Crew
"Ghost Town" – The Specials
"Sunglasses At Night" – Corey Hart
Episode 8


"The Jean Genie" – David Bowie
"London Calling" – The Clash
"I Want To Know What Love Is" – Foreigner
"Planet Earth" – Duran Duran
"I'm Not In Love" – 10cc
"Making Plans For Nigel" – XTC
"Never Tear Us Apart" – INXS
"Fly Me To The Moon" – Frank Sinatra
"Too Shy" – Kajagoogoo
"Vienna" – Ultravox
"Livin' On A Prayer" – Bon Jovi
"We Don't Have To Take Our Clothes Off" – Jermaine Stewart
"The Sun Always Shines On TV" – A-ha
When is Sky Max's A Town Called Malice on TV?
A Town Called Malice begins on Thursday 16 March at 9pm on Sky Max HD (CH 111). Episodes will also be available in Catch Up > Channels > Sky Max.
TV channels: Channels, content and features available depend on your chosen package. Channel line-ups and content are subject to change at any time and to regional variations.
HD: HD TV set, V HD Box, TiVo box, Virgin TV V6 box or Virgin TV 360 box connected with HDMI cables required for HD channels. Number of inclusive HD channels depends on package.
Catch Up TV: Catch Up TV content available for up to 7 days or up to 30 days after broadcast, depending on content.
On Demand: Content available to view depends on TV package. Time limits apply for viewing chargeable On Demand content – see virginmedia.com. Once purchased, all chargeable On Demand content must be viewed within 48 hours. Premium channels and upgrades must be kept for at least 30 days.