Skip to main content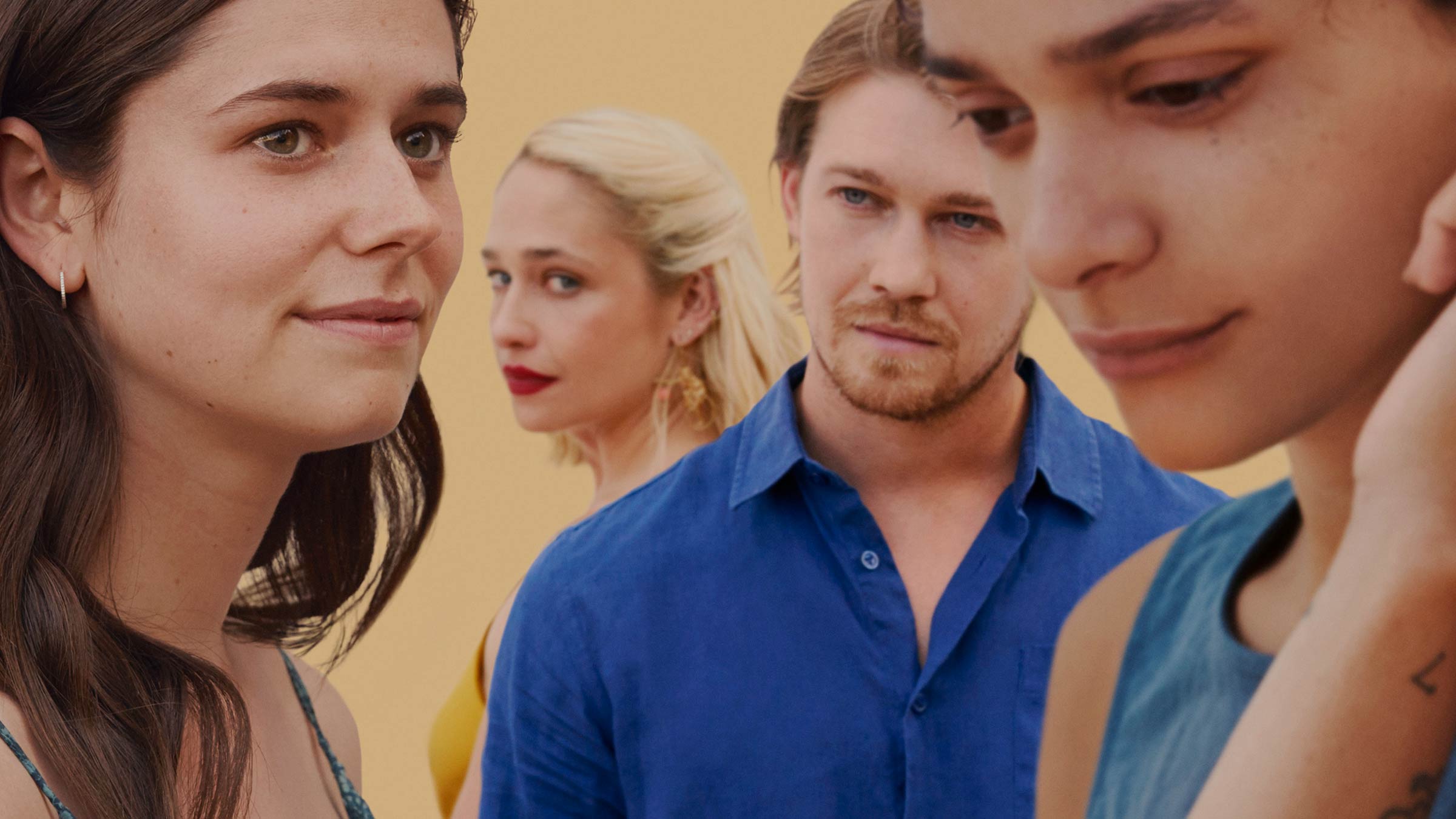 Everyone's talking about Conversations With Friends, BBC Three's new adaptation of a novel by Normal People author Sally Rooney. Here's what you need to know

By Chris Miller, Writer
In spring 2020, many of us found ourselves with a lot more TV-watching time than usual, and one of the biggest hits from that time was Normal People. BBC Three's 12-part adaptation of Sally Rooney's 2018 novel was the show everyone was talking about, thanks partly to its frank and intimate sex scenes – but it was also an acutely observed and fascinating study of love, class, communication and mental health.
It made stars of its lead actors Daisy Edgar-Jones, soon to be seen in the big-budget adaptation of the novel Where The Crawdads Sing, and Paul Mescal, who appeared alongside Olivia Colman and Dakota Johnson in the Oscar-nominated The Lost Daughter. Normal People's success meant it was only a matter of time before we saw more Rooney adaptations come to the screen – and this week Conversations With Friends comes to BBC Three and BBC iPlayer.

Here's everything you need to know about the new series…
Is Conversations With Friends a sequel to Normal People?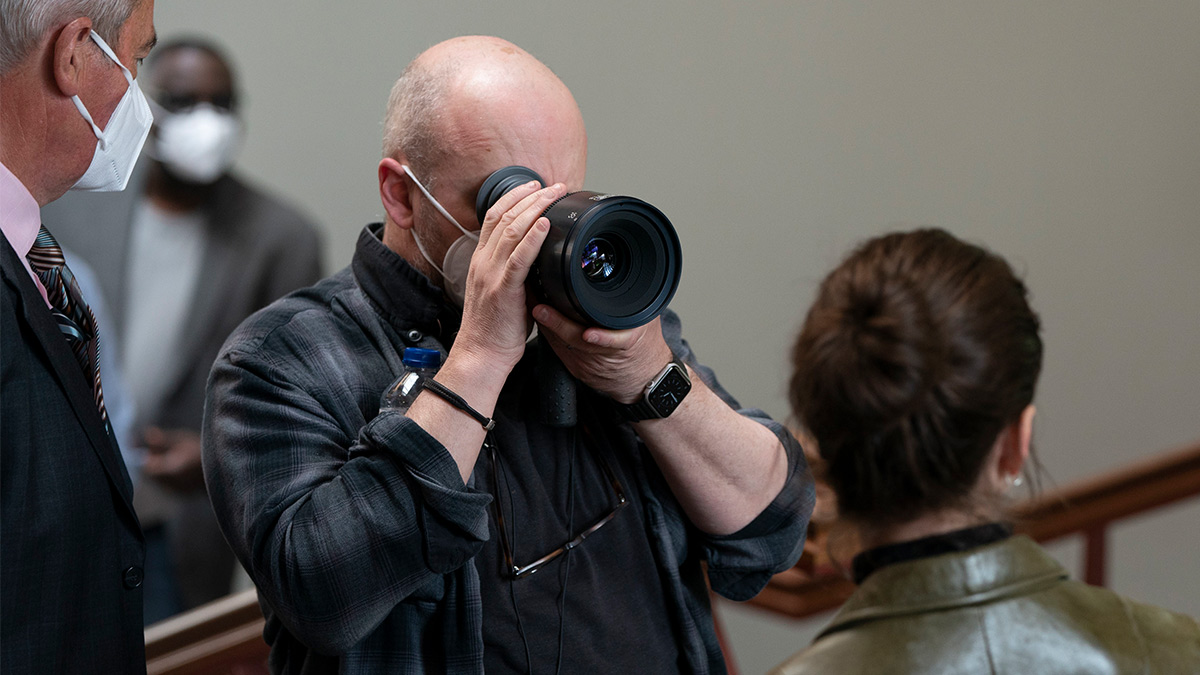 Conversations with lens… Director Lenny Abrahamson, who also made Normal People and the Oscar-winning Room, on the set of Conversations With Friends.
It's not. In fact, the book came out before Normal People – it was Rooney's debut. As director and executive producer Lenny Abrahamson explains, it was in development for a screen adaptation early on. "Element Pictures had optioned Conversations With Friends before Sally Rooney published Normal People and were developing it as a feature film. I was taken with the book and loved the idea of doing it as a TV series, and through doing the work on Normal People, it made us realise the best way to do Conversations With Friends was also through a TV series."
There is some continuity from the previous production, though. As well as the return of Abrahamson (who shares directing duties with Leanne Welham this time), writer Alice Birch, who co-scripted Normal People alongside Rooney herself, also worked on the script for this series. Like Normal People, it's a 12-part series of 30-minute episodes, and it explores relationships between people trying to find their place in the world. But the characters and setting are completely different.
So what's this one about then?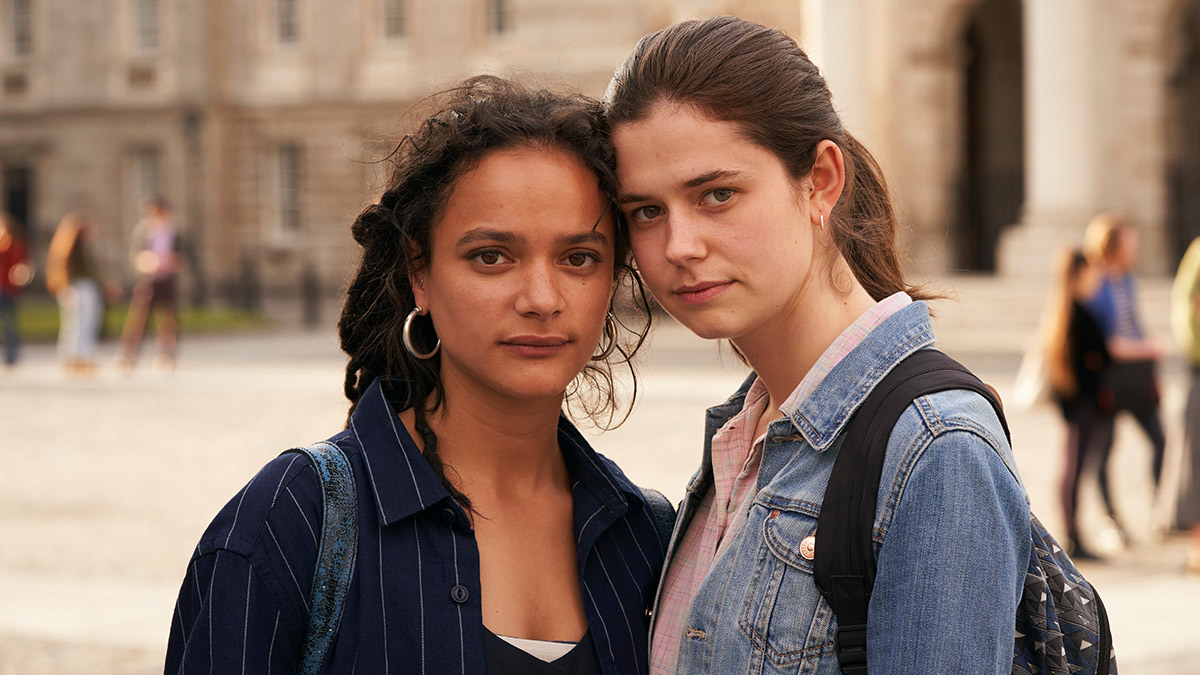 BFFs Bobbi (Sasha Lane, left) and Frances (Alison Oliver) have a close but volatile relationship.
It's the story of twentysomethings Frances (Alison Oliver) and Bobbi (Sasha Lane). Formerly girlfriends, now best friends and flatmates, they're smart, sharp young women setting out on their literary careers in Dublin. While performing poetry, they meet writer Melissa (Jemima Kirke) and her actor husband Nick (Joe Alwyn), and the four soon become enmeshed in all sorts of surprising ways – sexual and otherwise.
"It is asking questions about what forms healthy relationships can take and challenging traditional ideas of what a successful relationship is," says Abrahamson. "It questions monogamy and how a person could love more than one other person in a way which is ethical. It's also about the self-absorption in all of us as we hit early adulthood; in the effort to discover who you are, it is easy to lose the simple truth that it's in your relationships with others that you find yourself."
So it's a bit like Normal People – a coming-of-age story with sexy bits?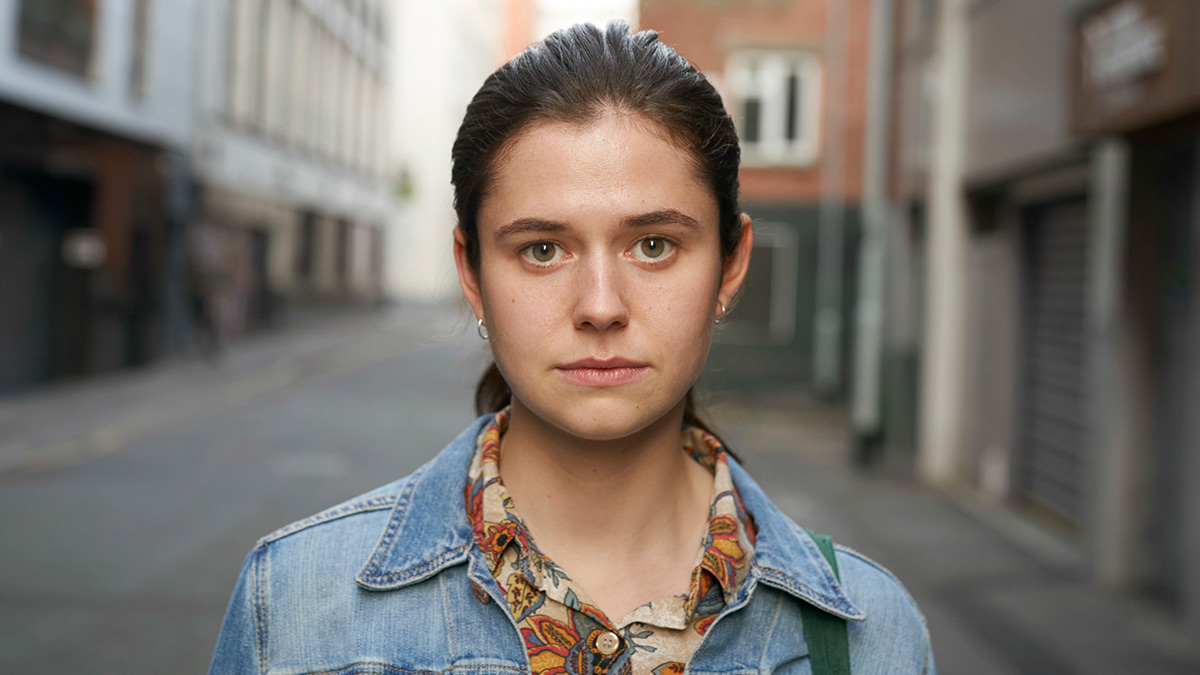 Frances is clever and talented, but she still has a lot to learn about herself.
Well… yes. "It's more of a coming-of-age story than anything else but that story is told through these relationships [Frances] has with Bobbi, Nick and Melissa," Abrahamson says. Compared with Normal People, he says, "it's a messier and complicated story which doesn't give easy solutions or conclusions."
The central character of Frances is complex: cerebral, witty, sympathetic though not always likeable, it's clearly a role Oliver relished. "She's stuck in a lot of patterns of behaviour, and there's a lot of change happening within her relationships with Bobbi, her dad, her own identity and changes within her body that she's having to figure out," Oliver says. "She has to confront her own vulnerabilities and defences, and confront life in a sense, which is something she's always trying to avoid. It's a tricky time for her, but it's very compelling to observe because to me, it feels very real and relatable."
Kirke says Rooney's depiction of human emotions and relationships is what makes Conversations With Friends so compelling. "She creates this visceral experience of anxiety, awkwardness, confusion and shame… The story lies in the mundane comings and goings, their everyday conversations. A lot can be told through the way someone cooks a meal or says hello. I also appreciated that not all the characters were all good or bad. No one's a villain here, no one's in the wrong or the right. It's a book that really lives in the grey area of relationships."
"It's asking questions and challenging our ideas on how we're able to love, exist and relate to people and be in all different kinds of relationships," says Alwyn. "Not just in the conventional ways we're used to. It's pushing boundaries of those relationships." What you should take away from that is that yes, there are sexy bits – and like Normal People, this production employed intimacy coordinator Ita O'Brien to choreograph the intimate scenes and ensure everyone was comfortable.
Where is Conversations With Friends set?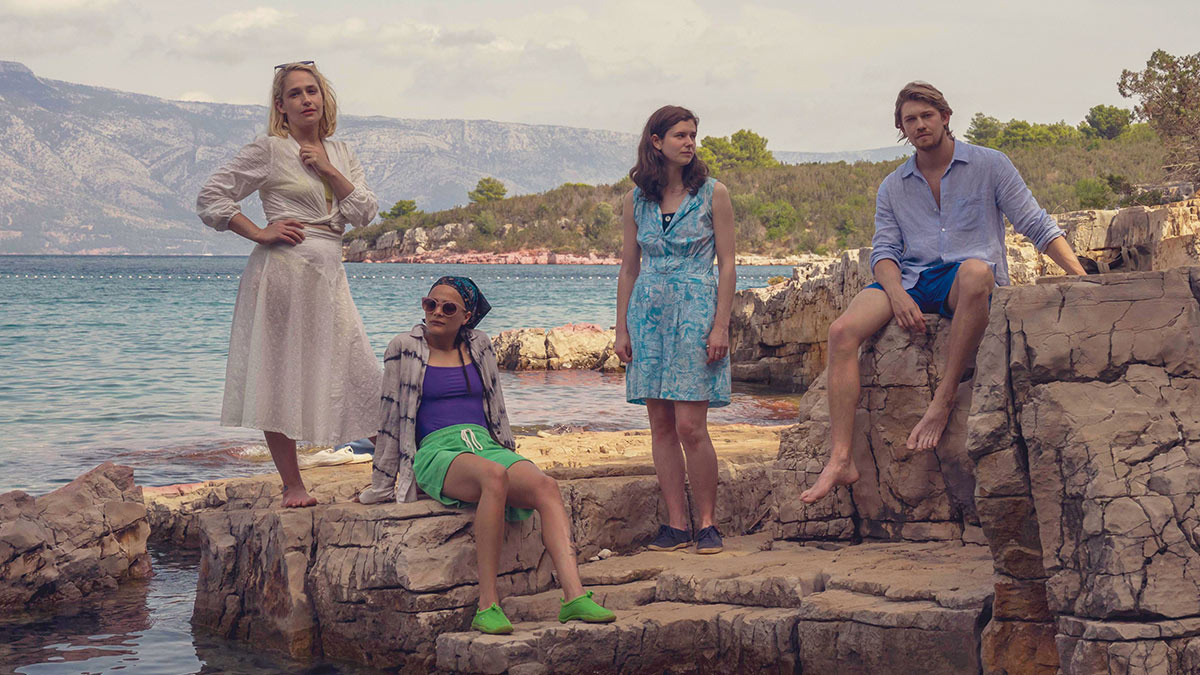 The characters go on a trip to the Adriatic coast and stay in a house together, leading to heightened tensions…
While Normal People was split almost equally between the characters' home town in Sligo and their student life in Dublin, this is set largely in the Irish capital, where all the characters live and work. Filming took place in Dublin and the town of Bray to the south, as well as in Northern Irish locations such as Ballycastle. There's another parallel with Normal People here: some of that series' most dramatic revelations occurred at a villa in Italy, whereas this time the plot gets juicy when the characters spend time at a holiday home in Croatia (changed from France in the novel).
Where do I know the cast from?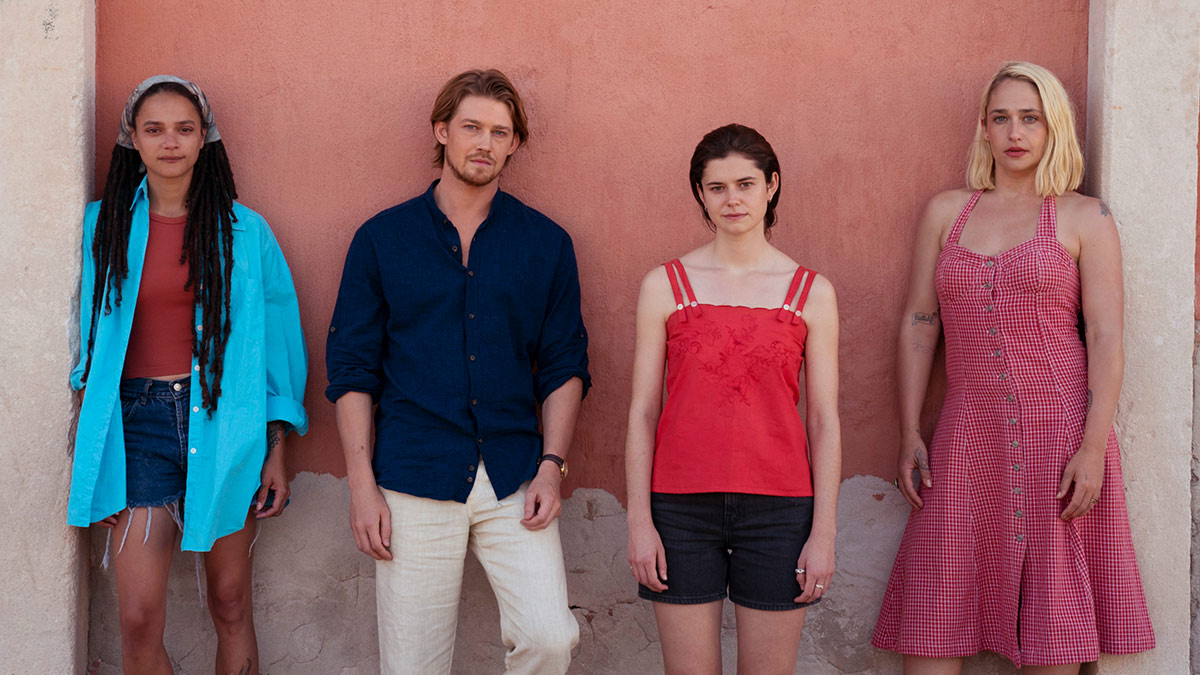 It's good to talk… Left to right, Sasha Lane, Joe Alwyn, Alison Oliver and Jemima Kirke.
Jemima Kirke has appeared in indie films like Tiny Furniture and The Little Hours but recently she's made a splash in a couple of Netflix series: in Maniac alongside Emma Stone and as the new headteacher in the third season of Sex Education. Sasha Lane is also an indie darling, getting her big break in the cult hit American Honey, and she was also in the 2019 comic book movie Hellboy and the US remake of Channel 4's Utopia.
Joe Alwyn is recognisable from his supporting roles in movies such as The Favourite, Mary Queen Of Scots and Harriet, so no doubt he appreciated being able to wear modern clothes on this job! Other well-known faces in the cast are Tommy Tiernan (Derry Girls), who plays Frances's father, and New Zealand actor Kerry Fox, who made her mark in the 90s with films like An Angel At My Table and Shallow Grave. However, Alison Oliver, in the lead role of Frances, is a complete newcomer.
When is BBC Three's Conversations With Friends on TV?
Conversations With Friends starts on BBC Three HD (CH 107/157) at 10pm on Sunday 15 May. All episodes will be available from that date in Apps & Games > BBC iPlayer.
TV channels: Channels, content and features available depend on your chosen package. Channel line-ups and content are subject to change at any time and to regional variations.
HD: HD TV set, V HD Box, TiVo box, Virgin TV V6 box or Virgin TV 360 box connected with HDMI cables required for HD channels. Number of inclusive HD channels depends on package.
Catch Up TV: Catch Up TV content available for up to 7 days or up to 30 days after broadcast, depending on content.
Interviews: Any opinions expressed in interviews are those of the interview subject and not those of Virgin Media.
Image credits: Conversations With Friends © Element Pictures/Enda Bowe