Skip to main content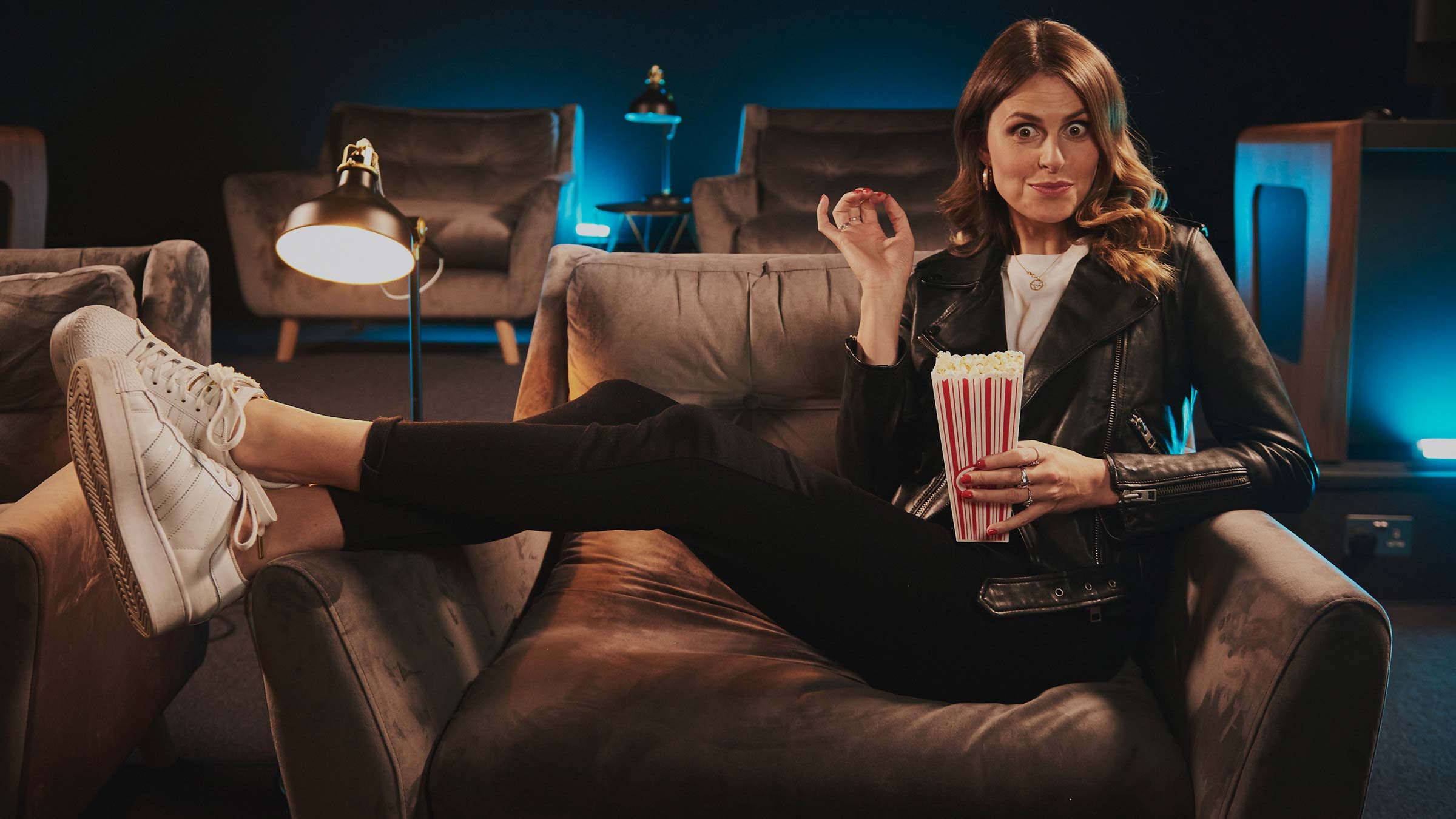 Make a date with Lovestruck High, Let's Make A Love Scene, The Ultimatum and many more reality series (a lot of them island-based)
By Laura Rutkowski, Senior Staff Writer
Looking to commit to a new reality dating show? Think of us as your television matchmakers, because we have some series we'd like to introduce you to that are bound to tick all the boxes on the box.
They're all great catches, so we have no doubt you'll want to spend the evening with each of them – but these won't be one-night stands. You'll want to call them back the next day and the next and the next. Read the cheeky bios and then decide which profiles you would swipe left or right on…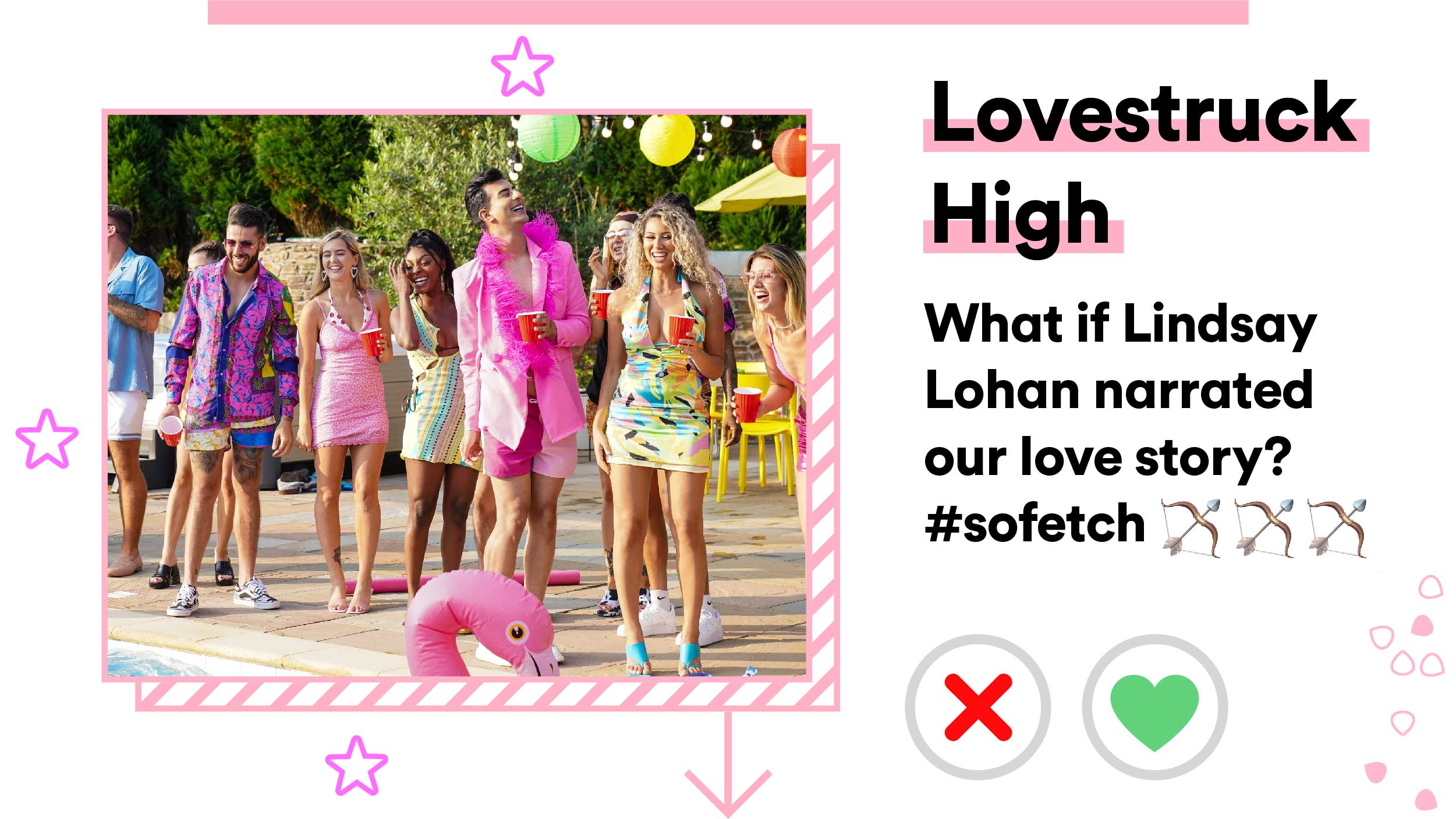 Find it in Apps & Games > Prime Video from Wednesday 18 May
Prime Video's first original dating show places 15 Brits in an American high school, where they'll try to secure a date for prom in the hopes of being crowned Prom King and Queen – and $100,000 (about £80,000). It's like Sex Education, but with way more of the former than the latter. True, they will attend classes, but their main aim will be to get an A+ in luuuurve.
Rewatching Mean Girls umpteen times will hopefully come in handy for the class of 2022, especially because the series is narrated by none other than Lindsay Lohan, everyone's eternal Spring Fling Queen.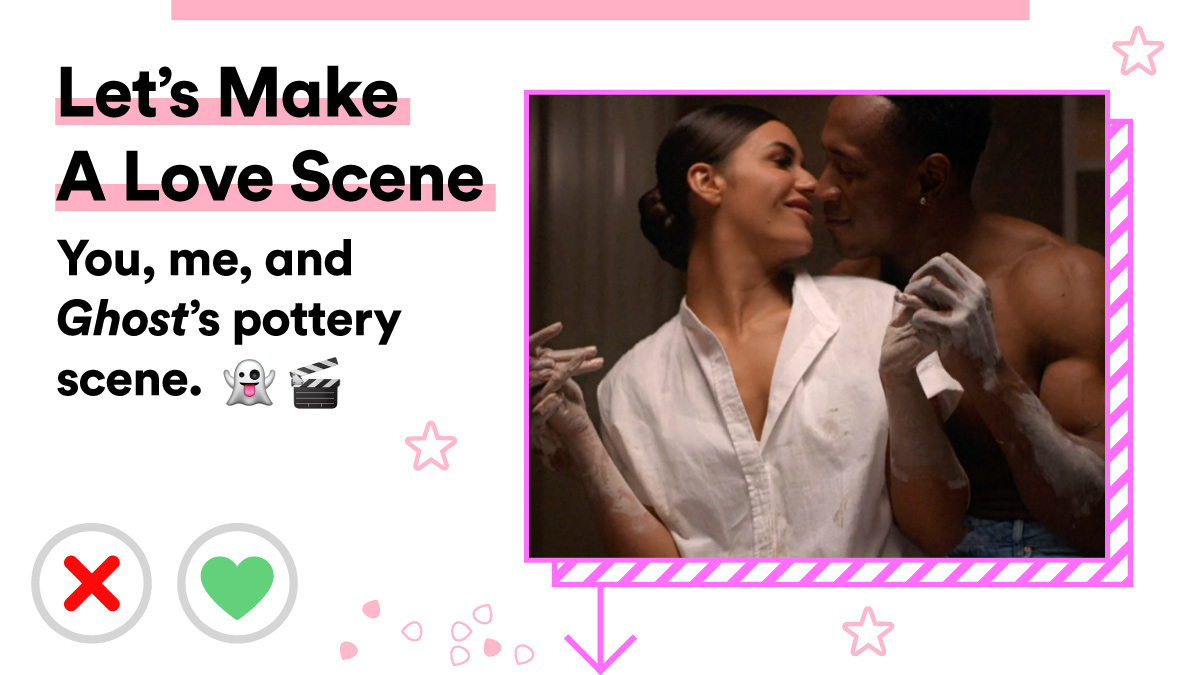 Friday 13 May, 10pm, Channel 4 HD (CH 104/141). Find both episodes in Apps & Games > All 4 from Friday 13 May
This is certainly a new take on the genre as a single guy and a single girl act out famous Hollywood sex scenes with three complete strangers. Maybe kissing in the rain à la The Notebook or just standing in a red room filled with naughty Fifty Shades Of Grey… um… things can lead to lasting love.
After watching their scenes, they choose one person to go on a date with to test their on-screen chemistry in the real world. Comedian Ellie Taylor presents, with intimacy coordinator Rufai "Roo" Ajala and acting coach Emma Crompton on hand to oversee the process.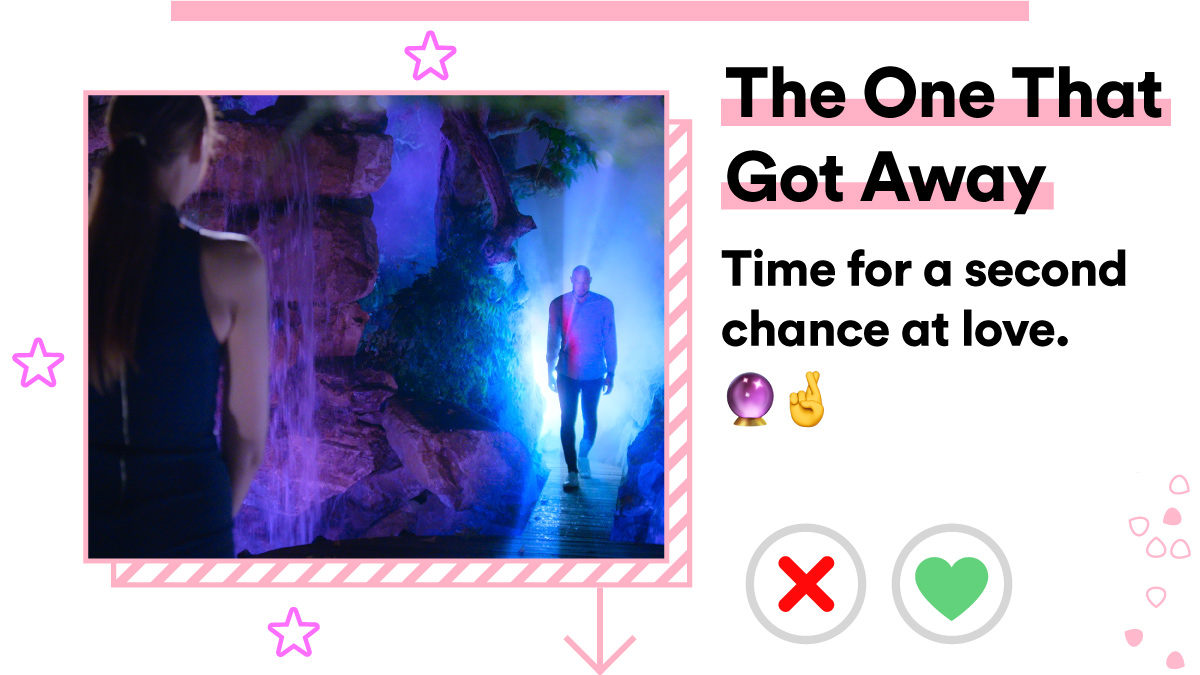 Find it in Apps & Games > Prime Video from Friday 24 June
If you've read The Midnight Library by Matt Haig, which examines the millions of choices we make in our lives and the ripple effects they have, you're bound to enjoy The One That Got Away. Six people are given the chance to explore "what if?" as people from their past return to give things another shot. It's a romantic notion, but will they reunite with the one that got away or ultimately embrace being single with renewed perspective?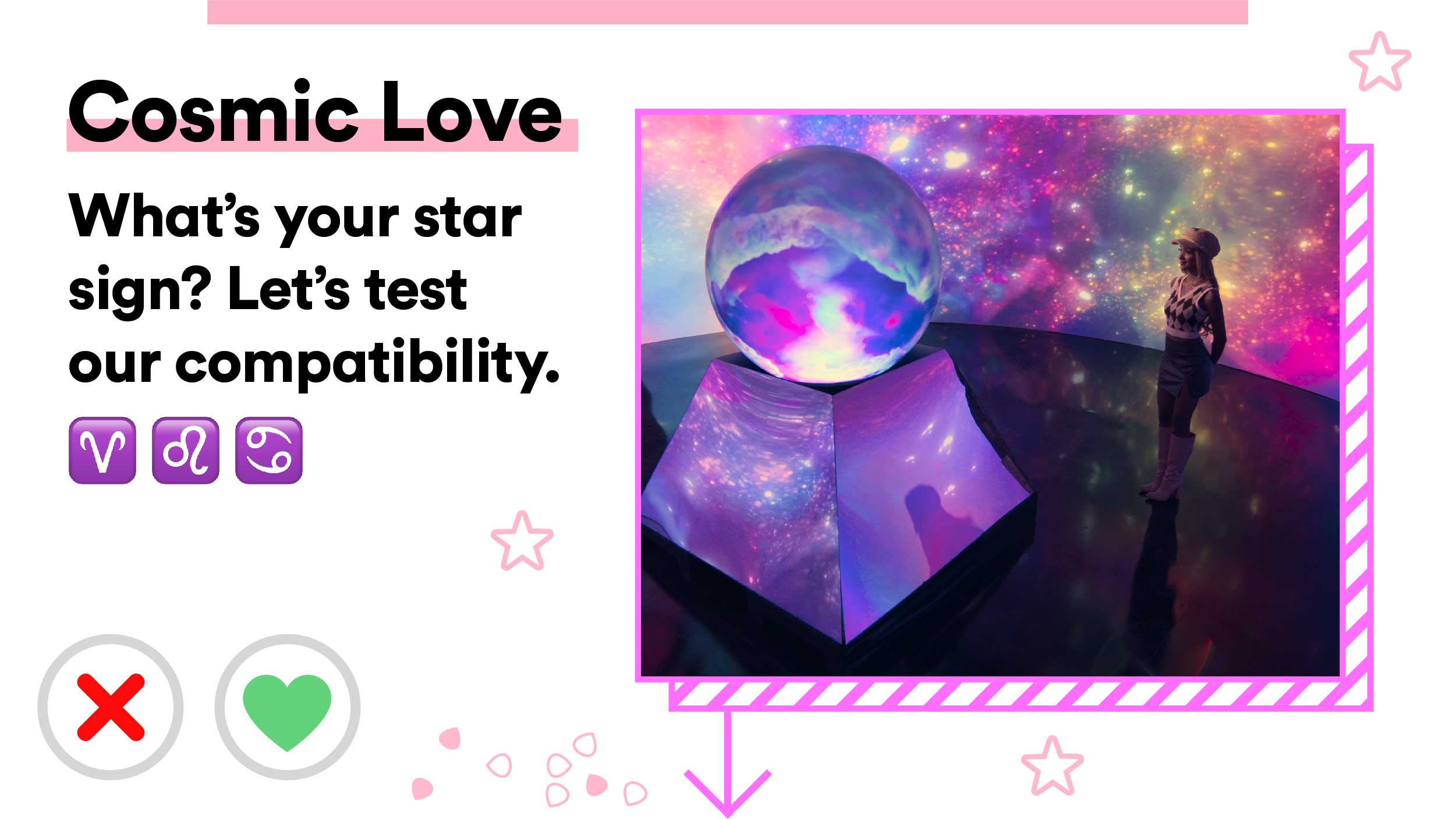 Find it in Apps & Games > Prime Video from August
We've probably all checked our zodiac compatibility with potential partners, but whether we abide by it or completely disregard it is a completely different story. Astrologers and authors Ophira and Tali Edut, also known as the AstroTwins, guide four individuals on a retreat run by the Astro Chamber, a giant mystical orb. At the end of the social experiment, they have to decide whether they'll marry their perfect astrological match and see whether the stars truly align.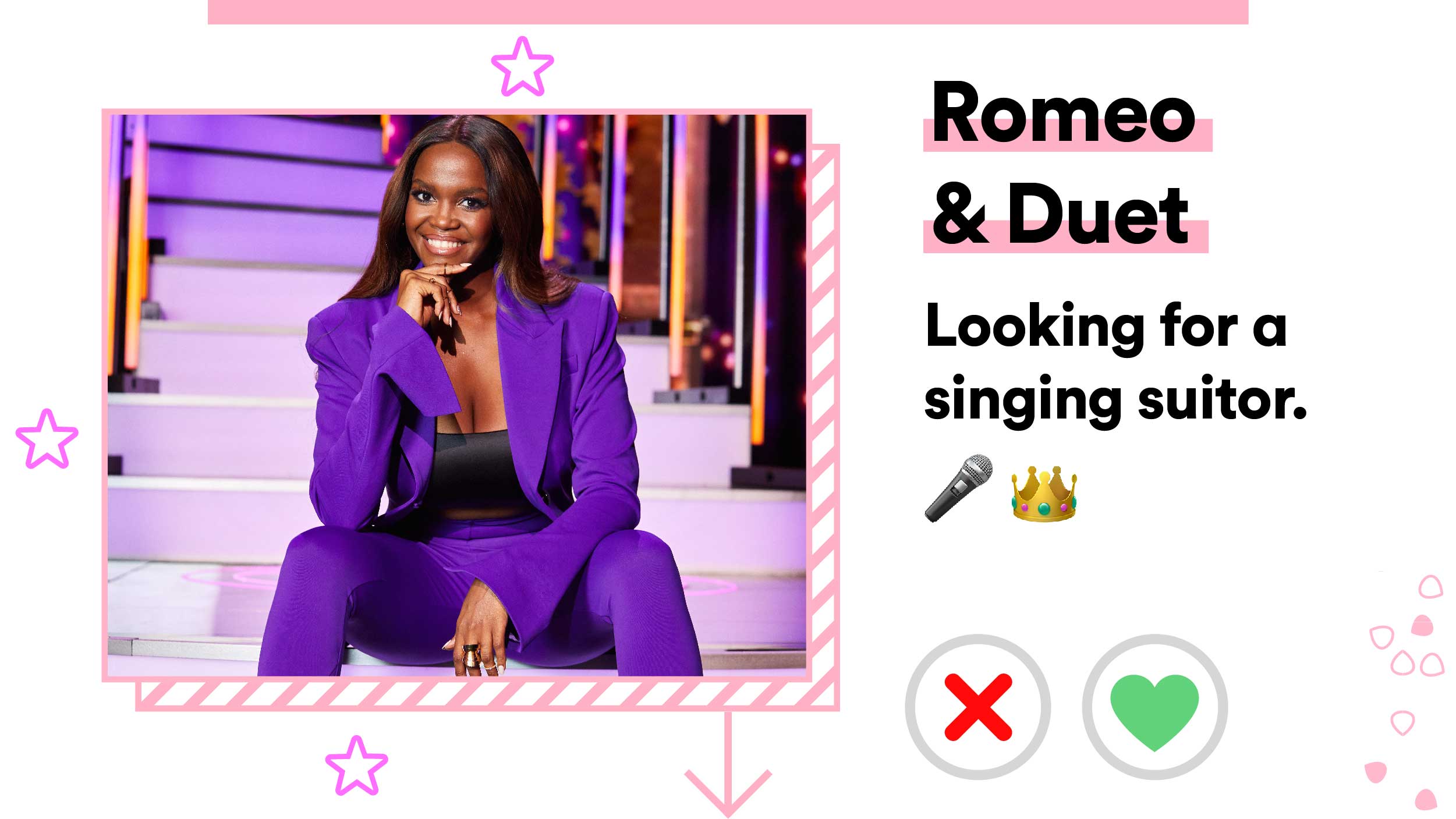 Find it in Apps & Games > ITV Hub
Strictly Come Dancing's Oti Mabuse presents this dating show, where potential suitors must woo each other Shakespearean style – with a serenade. Singletons stand on a balcony while four individuals they can't see sing to them. If they like what they hear, they choose their Prince or Princess Charming and go on their first date, which is a duet rehearsal. The audience then votes for their favourite couple and the winners go on to have their second date to see if true love can blossom.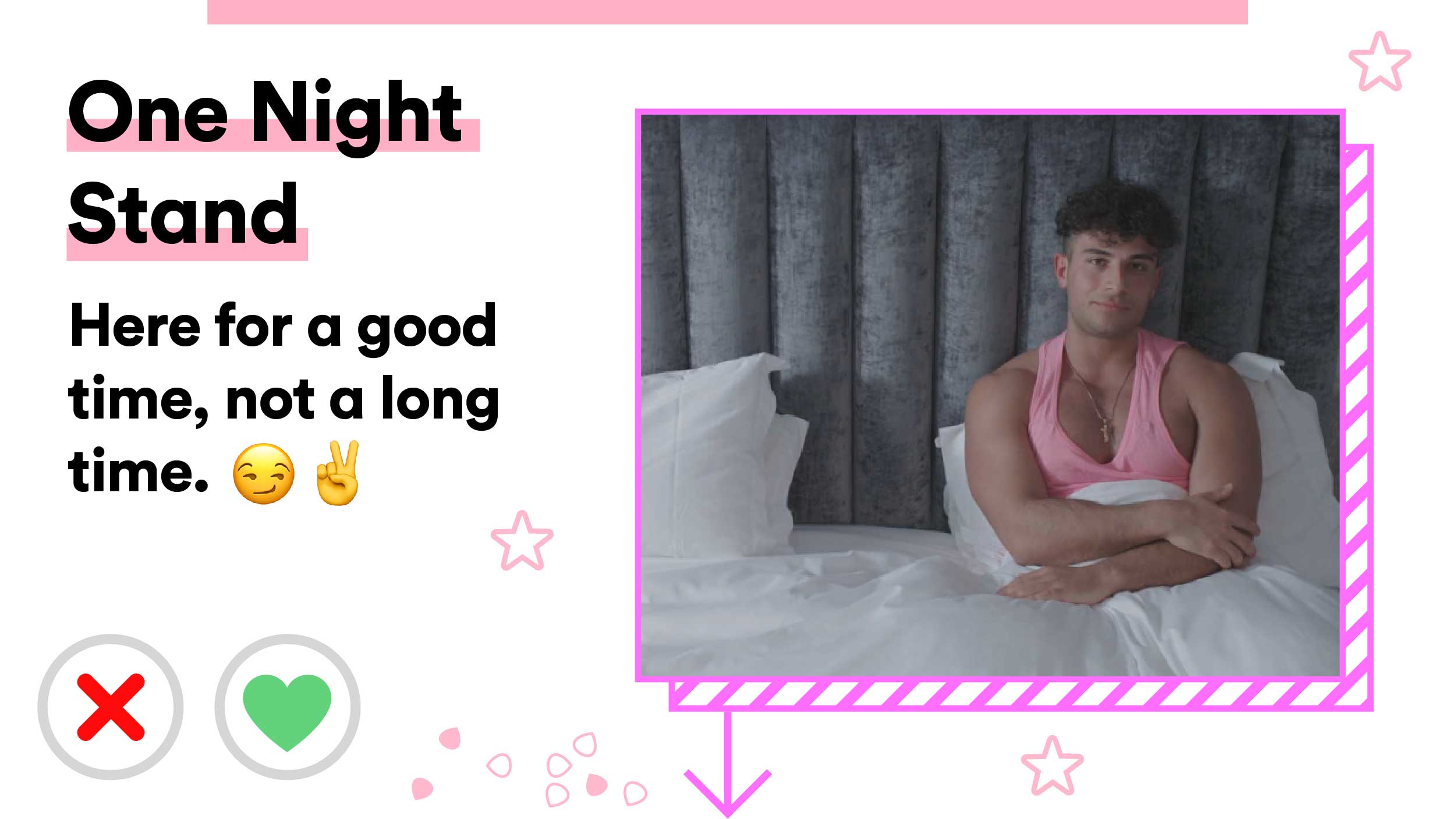 Find it in Apps & Games > All 4
One-night stands are usually contained to one evening for a reason. Maybe the person "forgot" to take your number, you kicked them out before they could finish their toast, or you both just parted ways platonically – but what if you met up for a second time? Perhaps there's something there, perhaps there's not… These singletons are about to find out what could have been with their former flames, if they can overcome the awkwardness.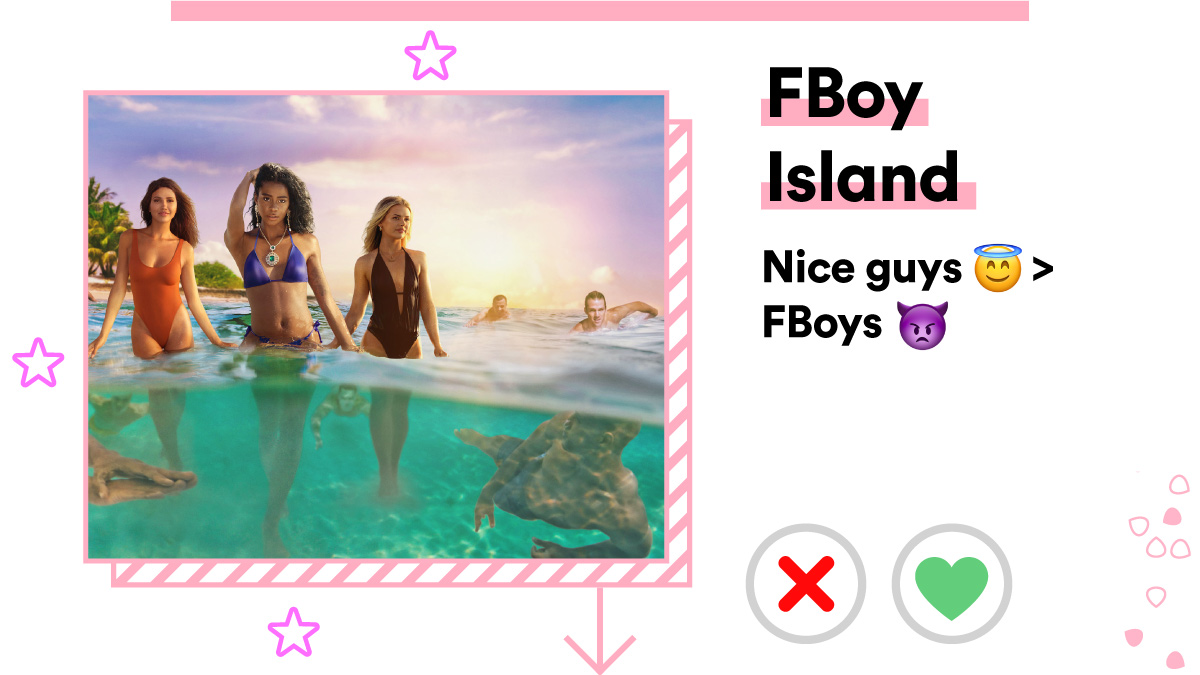 Find it in Apps & Games > BBC iPlayer
Three women are tasked with sorting the 12 self-confessed nice guys, who are looking for a relationship, from the 12 who identify as FBoys, who want to win the $100,000 (about £80,000) prize if they stay until the end. Three men are chosen to be eliminated at the end of each episode, but can a leopard ever really change its spots? We'll find out in this TV show that sounds suspiciously like a creation from whoever thought of 30 Rock's MILF Island… except, FBoy Island is very, very real.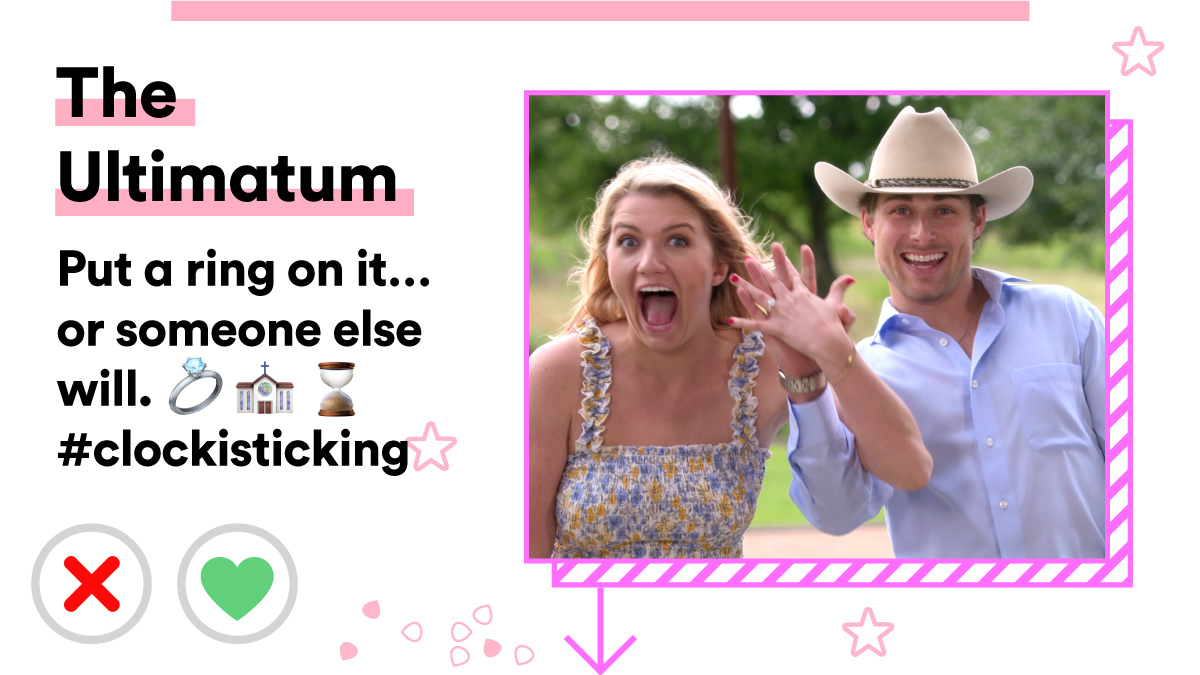 Find it in Apps & Games > Netflix
The Ultimatum, from the genius creators of Love Is Blind, is possibly the most bingeable of the lot. Any premise that begins with an ultimatum is inviting drama from the get-go – in this case, it's where one partner in a long-term relationship (well, ranging from one-and-a-half to two-and-a-half years *cough*) is pushing for marriage, while the other isn't ready.
Each person chooses someone from a different couple to move in with during a "trial marriage," before testing out the same with their original other half. Who will seal the deal with a proposal or the sound of wedding bells? It's pure trash from start to finish, and we mean that as a compliment.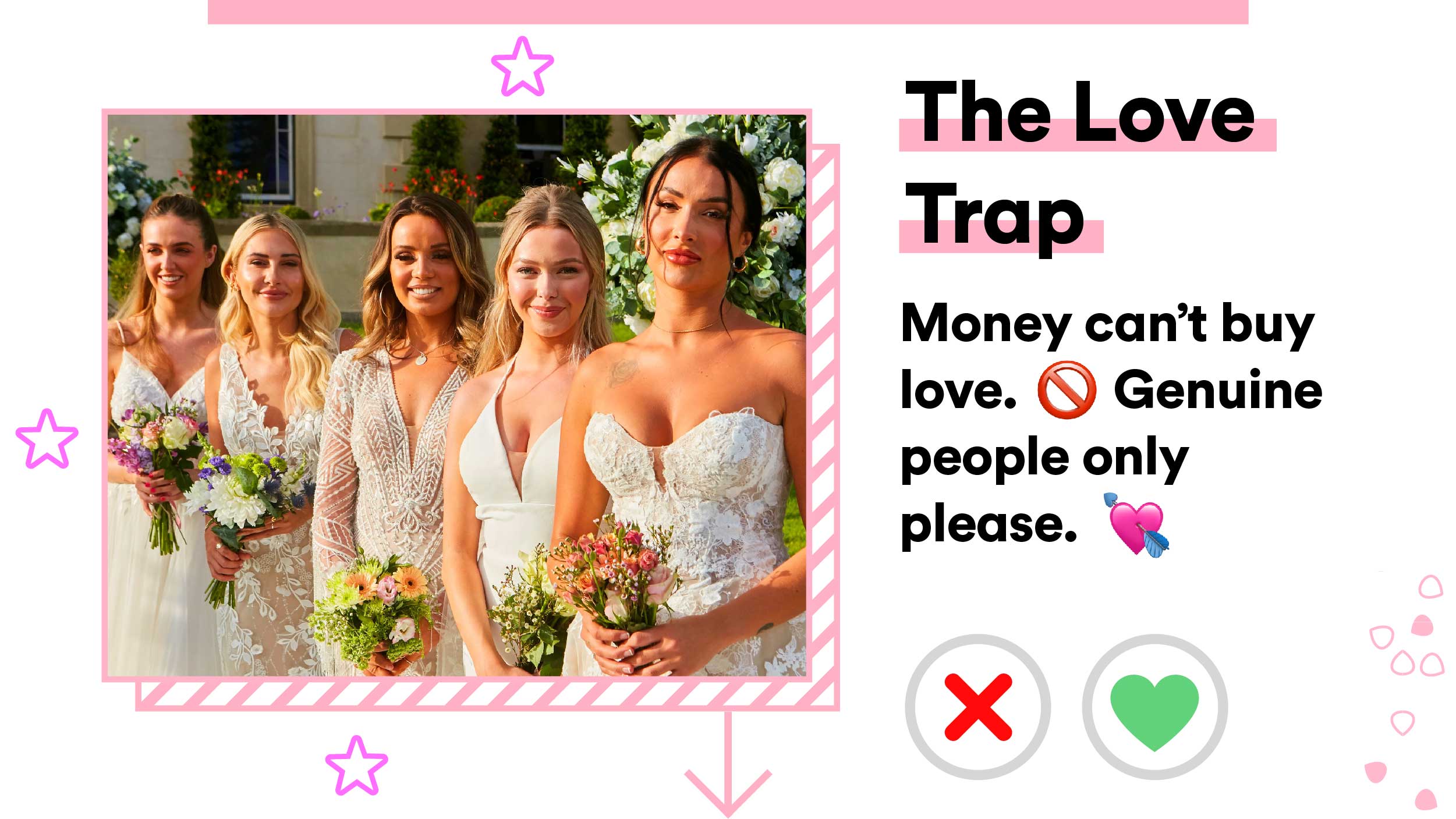 Find it in Apps & Games > All 4
In The Love Trap, hosted by Joel Dommett, a group of women all compete to win the affections of one man, but they're not all single – some of them are just in it for the cash prize. Each week, the man has to decide who's genuine, and here's where the literal trap bit comes in… the one he decides to boot off will be dumped through a trap door! Brutal…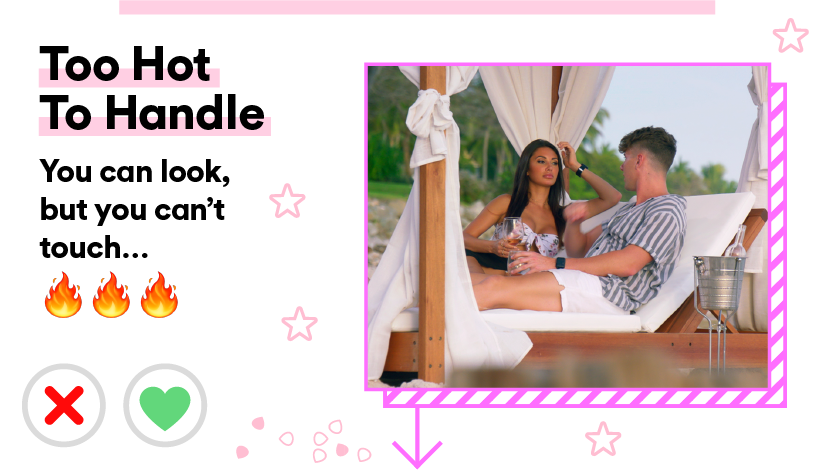 Find series 1-3 in Apps & Games > Netflix
Hot people land on a hot island ready to get hot and heavy, but then they're told they're not allowed to touch each other. Well, they are, but it means money is deducted from their shared money pot of $100,000 (about £80,000) with each sexual act. Virtual assistant Lana gives them a slap on the wrist (not literally, they could just unplug her) when things get too frisky – a kiss costs the group $3,000 (about £2,400). Will the hotties be able to keep their hands to themselves or will they simply say, "put it on my tab?"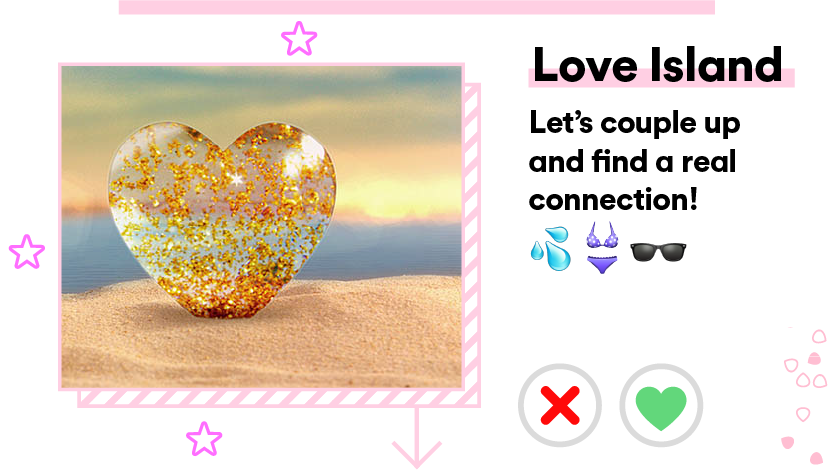 Find series 1-7 in Apps & Games > ITV Hub
We've got a text and it says that Love Island is BACK this summer, baby! Let us cool off in the fridge for a second and sexily eat some fruit! PHEW, is it hot in here or is it just the latest batch of sizzling singletons coming to spice up our lives? The new series is rumoured to start in June. Only Love Island could keep us indoors when the sun is shining, but we would not miss this for the world. Laura Whitmore and Iain Stirling, do your thang.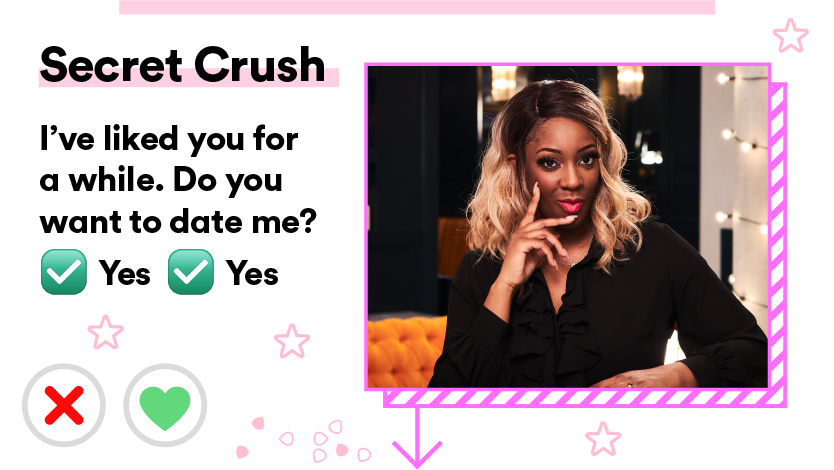 Find it in Apps & Games > ITV Hub
Confessing your undying love to someone on national television is a bold move, and one that may or may not pay off in Secret Crush. The crushee (this sounds wrong, but roll with it) knows that there is a crusher (also very, very wrong) out there who likes them, but they have no idea who it is until they reveal their feelings on camera during a date. If you thought school was cringey (passing your crush a note or having your friend tell them you fancy them through fits of giggles before running away), this is a whole other level of OMG.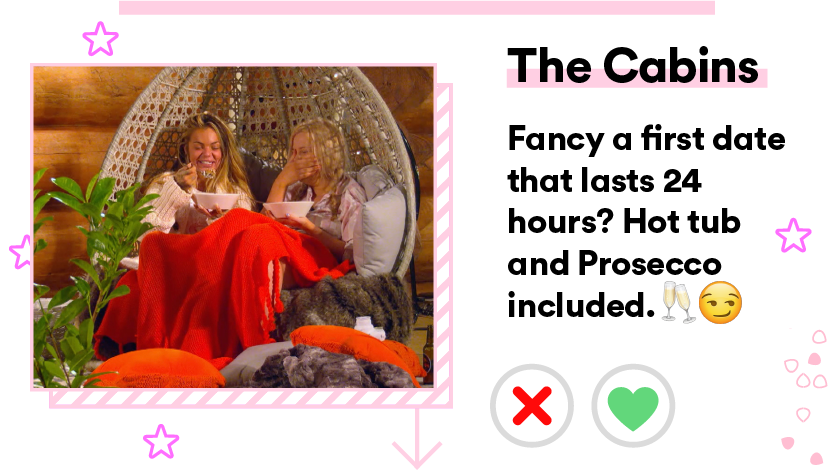 Find series 1 & 2 in Apps & Games > ITV Hub
Matched couples meet for the first time at their holiday home – a cabin located in picturesque Cumbria. After spending a full day together, and navigating the awkward sleeping arrangements conversation (will one be confined to the pull-out bed or will they both share the bed-bed?), they decide whether to "check in" for another night or to pack their bags. Unlike Love Island, there are same-sex couples, which is a much-needed upgrade, and no opportunities to leave their partner for someone new.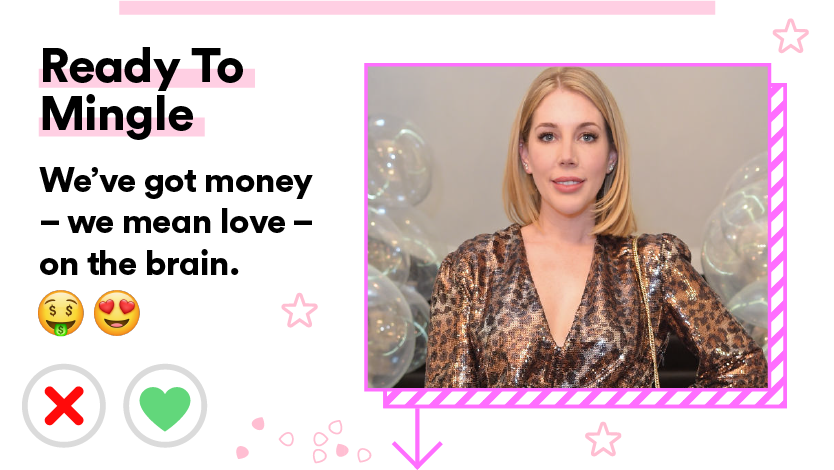 Find it in Apps & Games > ITV Hub
Comedian Katherine Ryan hosts this dating game show, which is The Bachelor, but with bad intentions. While one single girl hunts for her Mr Right, 12 male suitors (some single, some taken) attempt to win her over for the chance to win a cash prize. For those who are already loved up, their partners give them helpful hints on how to make it to the finish line (so their boyfriend can spend the money on an engagement ring – duh). Let the love games begin…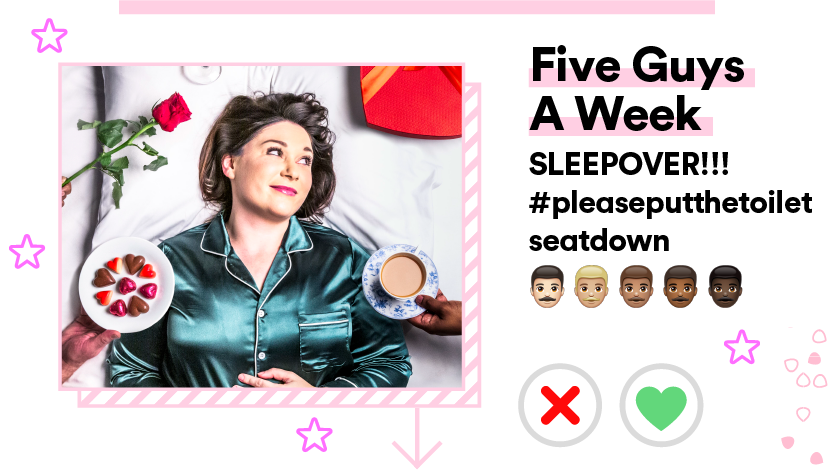 Find series 1 & 2 in Apps & Games > All 4
In each episode, a different woman welcomes five men to live with her for a week in her home (yes, her ACTUAL home). She whittles them down to two until a dinner for three ultimately decides who is the third wheel and will have to pack their bags. This pre-COVID concept might seem a little strange now, especially because of the lack of personal space (and hand sanitiser), but it's a fascinating study in human behaviour, particularly peacocking.
Check out our interview with Tara from episode one of series 2, and suitor Chris, who tried to woo her with a chocolate tart, here.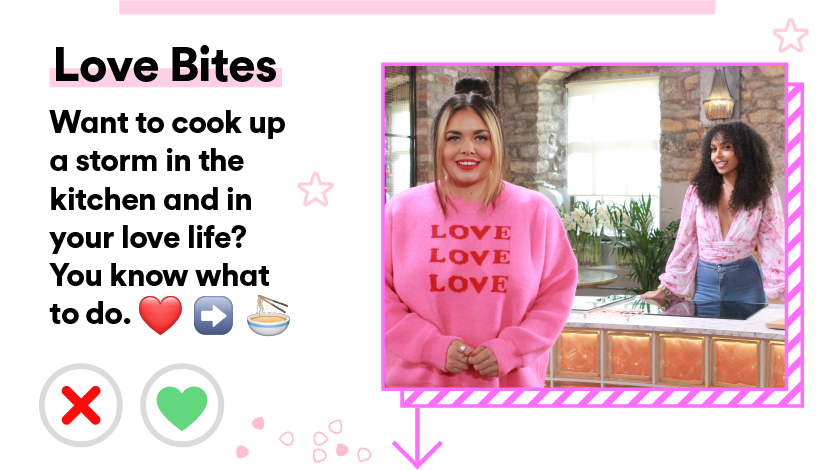 Find it in Apps & Games > ITV Hub
Love Bites is a blend of Dinner Date and Ready Steady Cook, where three individuals cook a three-course meal side by side using the same ingredients to wow their date. The singleton then chooses one of them to date based on their culinary skills alone. Just like Dinner Date, we know the food doesn't really matter – it's all about how things heat up outside of the kitchen.

Watching Scarlett Moffatt present is part of the fun too, as she giggles her way through explaining the dishes and advises when not to eat something, like a piece of suspiciously pink chicken. Hey, we never said the participants could cook well.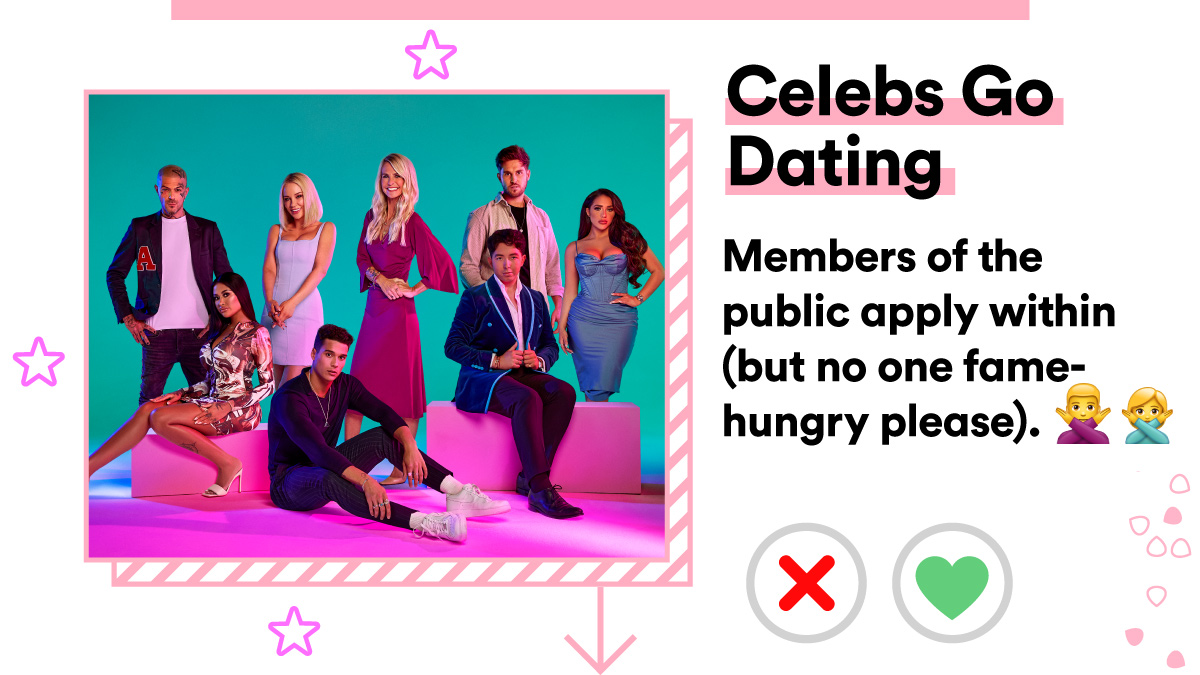 Find series 1-9 in Apps & Games > All 4
Dating experts Paul C Brunson and Anna Williamson, assisted by the ever-lovely senior client coordinator Tom Read Wilson, help famous faces on their quest to find someone they truly click with – and we don't mean with other celebs, but with "normal" people like us.
The show has even adapted with the times, with Celebs Go Virtual Dating sending the stars on video dates and socially distanced meet-ups, and Celebs Go Dating: The Mansion placing them in bubbles with their potential matches. Rob Beckett's narration is what keeps people coming back for more as he dishes out sarcasm and witticisms as he roasts the daters – and occasionally roots for them.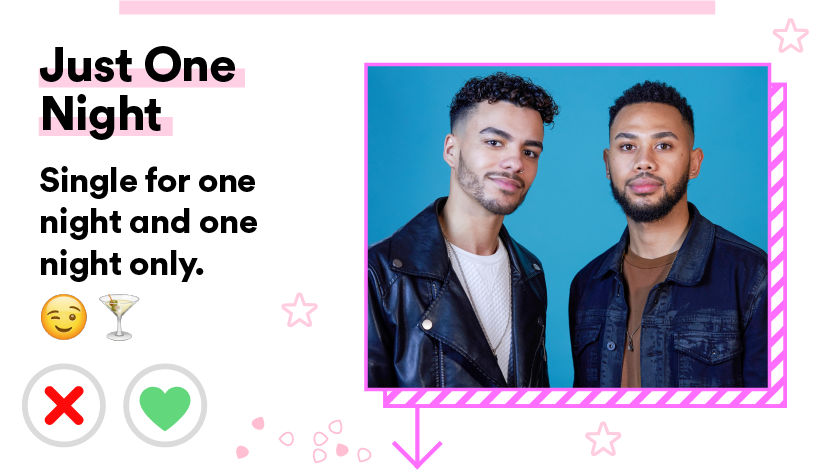 Find it in Apps & Games > BBC iPlayer
In snackable 25-minute episodes, couples put their relationships to the test by each going on a date with someone else. Will this make or break the couples at a crossroads? Find out when they regroup the next day for a date debrief and one big decision.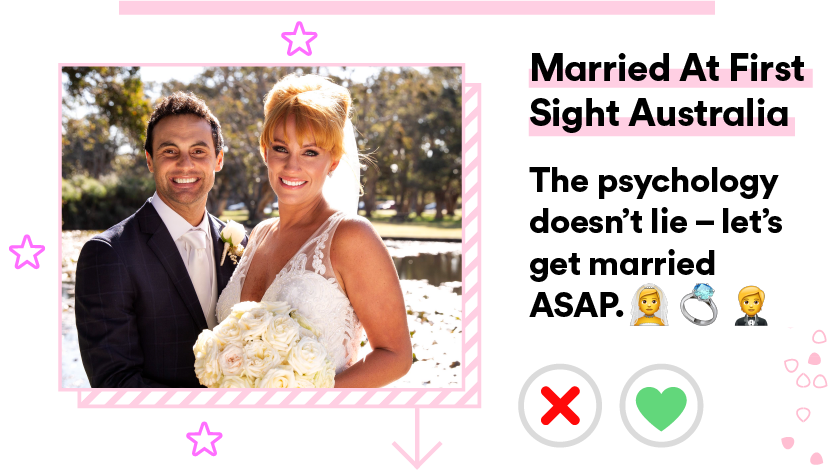 Find series 4-9 in Apps & Games > All 4
The UK version pales in comparison to the Aussie edition – we just don't do it like they do Down Under! Nothing united our nation during lockdown like Married At First Sight Australia series 6. What a time that was…
Experts put people together based on compatibility factors and then the couples meet for the first time at the wedding ceremony (which is NOT legally binding in the Australian version) – exchanging names and then vows. They have eight weeks to bond and get to know each other, while enduring several relationship tests like living together and meeting friends and family.
At the end of each week, a commitment ceremony takes place, where each member of the couple decides to stay or leave. If one of them decides to stay and one of them decides to leave, they must still continue trying to make it work for another week until the next ceremony.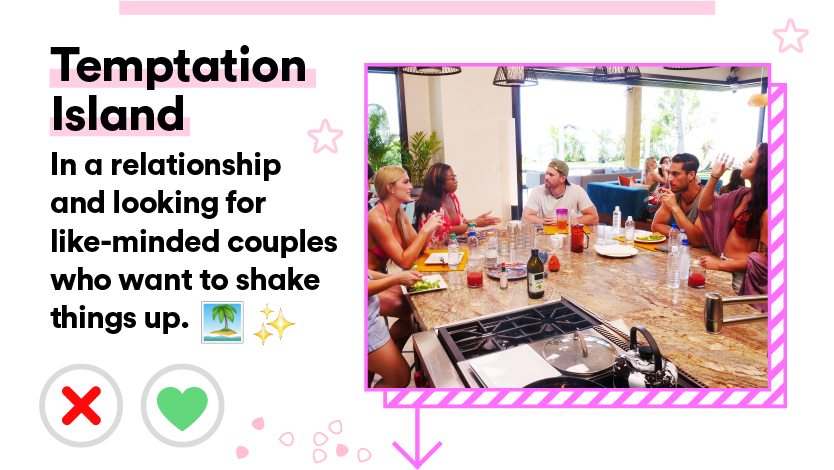 Find series 3 in Apps & Games > All 4
This format promises more drama than you can shake a coconut at. Couples arrive very much together and talk about being on the same page about "testing" their relationship or going on a "journey" so they can come out "stronger than ever." It sounds good in theory, but this TV show, which is essentially just the Casa Amor bit of Love Island (in other words: the best bit), typically spells disaster for the couples.
The pairs travel to the Hawaiian island of Maui, where they separate and begin living with a group of singles of the opposite sex to see whether they'll be tempted. They're also shown out-of-context videos of their significant other in situations that can easily be misinterpreted. At the end of the series, they regroup to decide whether to stick it out, split up or even leave with someone else! Somehow, we think Ross' excuse of "We were on a break" isn't gonna cut it here.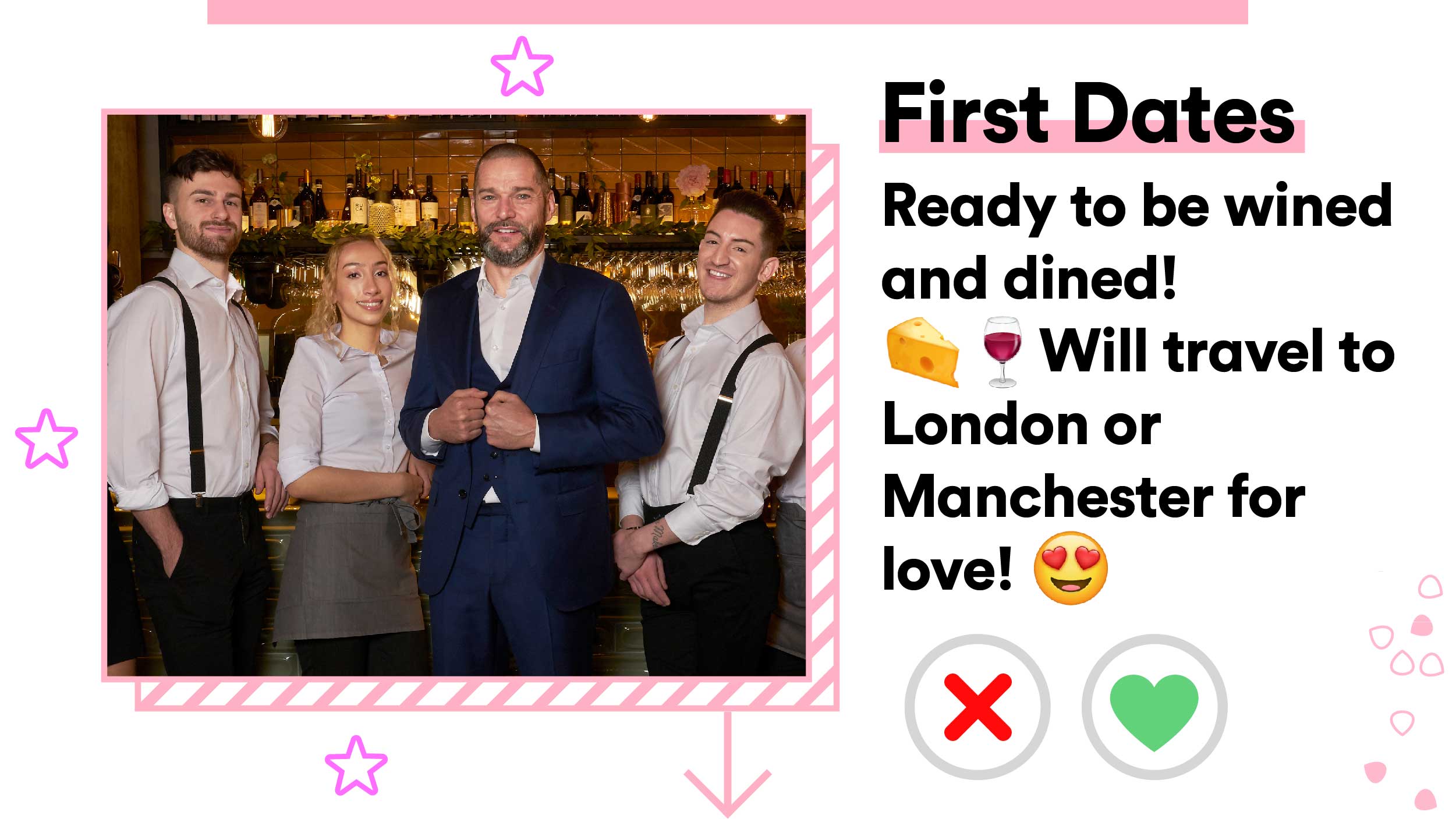 Find First Dates series 1-18 in Apps & Games > All 4. Find Teen First Dates series 1 & 2 in Apps & Games > All 4. Find First Dates Hotel series 1-6 in Apps & Games > All 4
The show, which has been warming our hearts since 2013, pairs lovers in London's Paternoster Chop House and Manchester's The Refinery, with maître d' Fred Sirieix on hand to play cupid as diners, young and old, search for a romantic spark. Previous couples have gone on to get engaged and married, and there's even been a First Dates baby! Prepare for all the warm and fuzzy feelings.
TV channels: Channels, content and features available depend on your chosen package. Channel line-ups and content are subject to change at any time and to regional variations.
HD: HD TV set, V HD Box, TiVo box, Virgin TV V6 box or Virgin TV 360 box connected with HDMI cables required for HD channels. Number of inclusive HD channels depends on package.
ITV HD is subject to regional variation. ITV HD is not available where STV HD or UTV HD is available.
Catch Up TV: Catch Up TV content available for up to 7 days or up to 30 days after broadcast, depending on content.
On Demand: Content available to view depends on TV package. Time limits apply for viewing chargeable On Demand content – see virginmedia.com. Once purchased, all chargeable On Demand content must be viewed within 48 hours. Premium channels and upgrades must be kept for at least 30 days.
Netflix: Netflix subscription required at extra cost.