Skip to main content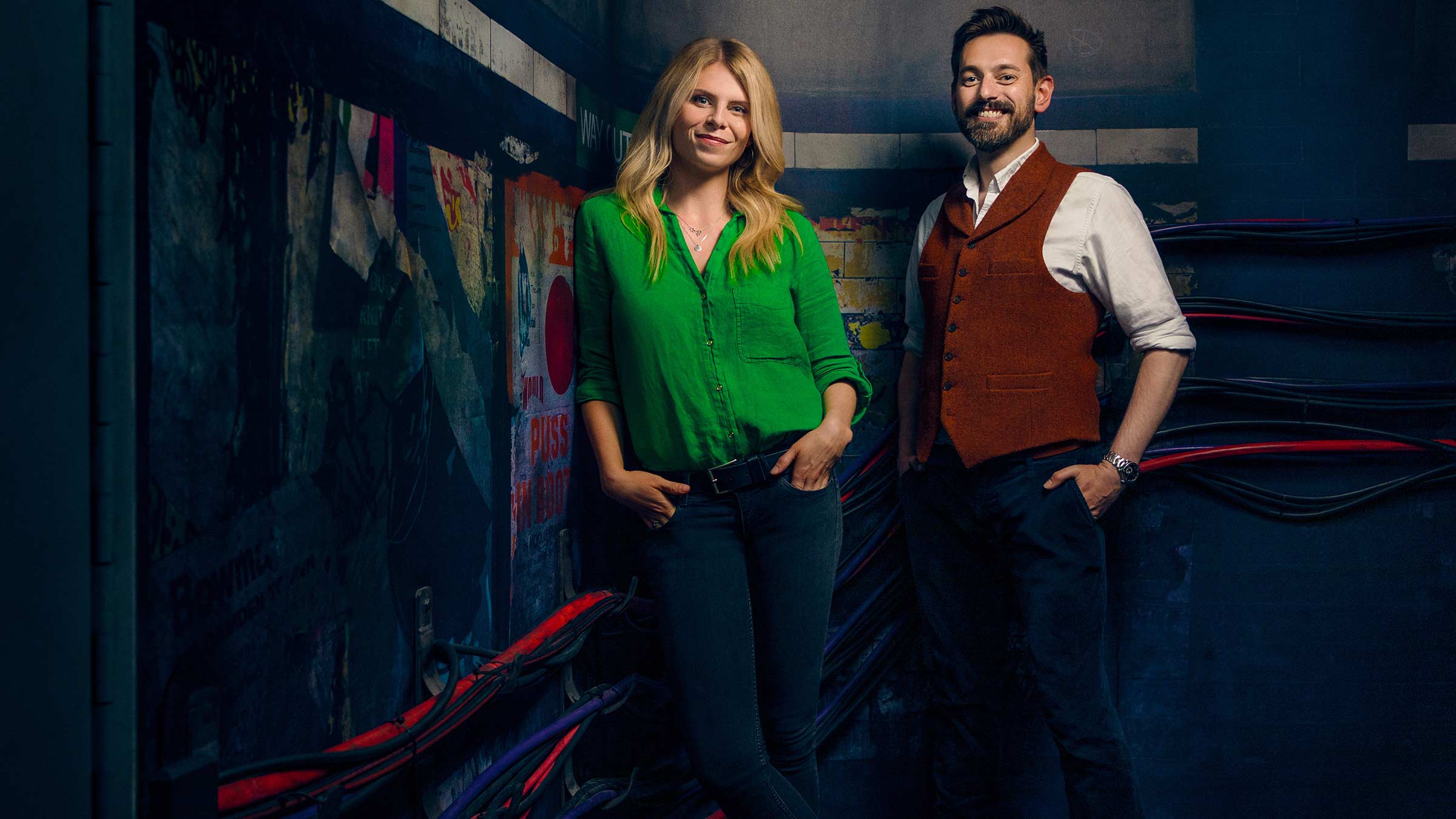 We speak to presenters and London Underground aficionados Tim Dunn and Siddy Holloway ahead of series 2 of Yesterday's most-watched show
By Laura Rutkowski, Senior Staff Writer
As railway historian Tim Dunn and the London Transport Museum's Siddy Holloway appear on Zoom, they're immediately on-brand – both with their London Underground roundel lightboxes in view. That's not all, Tim also shows us his Barman cushions… his Misha Black scarf that he wears on the show… and his coaster, featuring the roundel he designed, which can be found at Baker Street station.
Not to be outdone, Siddy holds up her Routemaster face mask. "I'm wearing the Routemaster socks today," Tim points out. "Ah, so we're matching!" Siddy laughs. The enthusiastic presenting pair, who are back for series 2 of Secrets Of The London Underground, really do live and breathe all things transport.
Their passion is infectious as they explore abandoned stations in London's vast and complex Tube network. "Our glee and our excitement is never put on," Tim says. "We're genuinely privileged to be in these places – we can't believe our luck. It's constant surprise after surprise."
The series is not just about discovering disused stations, but also what's waiting to be found at the London Transport Museum's depot in Acton. This facility houses more than 320,000 objects, including original works of art used for the museum's poster collection, vehicles, signs, engineering drawings and more.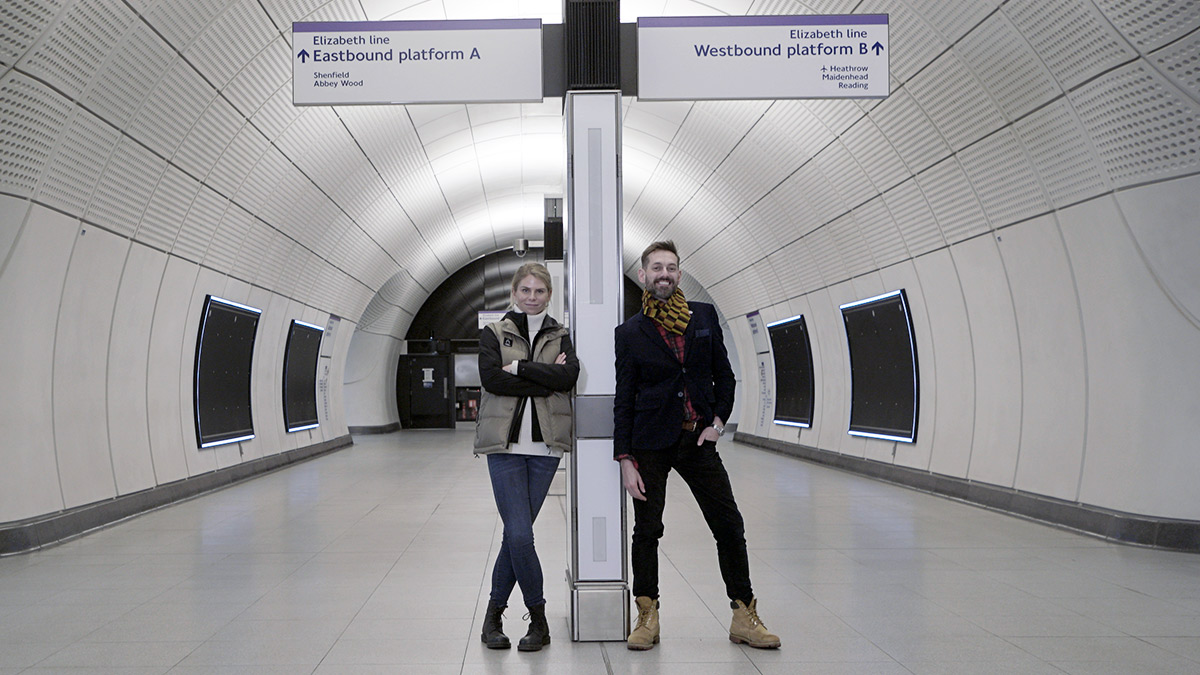 Ooh, shiny! Tim Dunn and Siddy Holloway check out the new Elizabeth line. Note Tim's Misha Black scarf…

Tim and Siddy are your knowledgeable, excitable guides as they let you in on little-known secrets around the network, examining everything from the Underground moquette ("the unique fabric we've got on our Tube seats, the patterns that are the backdrop to everyday London life", explains Tim) to why Tube users should actually appreciate their commute, even when the train is delayed, crowded or hot.
"We can often get frustrated with the running of the Tube, as with any system in the world. The Tube has been around for such a long time and is still serving us so well. It is actually mind-blowing," says Siddy.
We asked Tim and Siddy to reveal the secrets behind series 2 of Secrets Of The London Underground and they told us about Tube stations in the countryside, Second World War remains hidden deep below the surface, and the location that makes an appearance in The Batman…



Siddy Holloway: We went to Charing Cross on the first day of filming series 2. It's a really special place to me, because it's where we started Hidden London and it's the first station I was involved in bringing to the public.
Tim Dunn: In Charing Cross, we went through a secret door to the back of a building down a secret staircase and disappeared to this forgotten part of an extension of a branch line that was supposed to carry on but never got finished. It was terrific.



SH: [The disused station] Mark Lane blew me away – I'd never been there before. Opening that door and seeing those gorgeous emerald tiles was probably one of my favourite days of filming.
TD: I wasn't hosting this one, it was my day off, but I wanted to see Mark Lane so much that I met the crew, hid from the cameras, and explored around it. I was so excited.



SH: King William Street is the granddaddy of disused stations. Not many people actually get to go there because there are so many site restrictions – we were able to because it's the access point for the Bank upgrade project [a £700 million undertaking that involves a new section of railway tunnel and a new southbound platform on the Northern line]. We got to be right there in front of the new tunnel, which was literally cracking through!
TD: We could see how fast these guys were actually moving and how quickly they can construct a tunnel compared to back in the Victorian times.


SH: We had to wait until 1am [when the trains stop running] to do a track walk down the tunnel to get to Brompton Road. It looks like a set from a Benedict Cumberbatch Second World War film [Brompton Road was home to the Anti-Aircraft Division during the Second World War].
TD: Going in and seeing the maps on the walls with the pencil and pen marks of the workers of the Second World War is proper gold dust stuff.
SH: It should be turned into a museum, but it can't. It's just this extraordinary place that's forever preserved. It's been untouched for 80 years.



TD: London Bridge is my local station and I had no idea there were tunnels that run a mile underneath Borough High Street. That's what this programme does – it unlocks your normal station and tells you there's so much more to that place you thought you knew.
SH: Ongar used to be the location from which all of the distances of the Underground were measured, because it was the farthest point of the Underground. We got to go out of the city and into the country, in someone's back yard basically.



TD: King's Cross is a behemoth of a station, but there's actually another third of it underground that you don't know about. It's evolved over so many years. The tragedy of the King's Cross fire [where 31 people were killed in 1987] changed Tube practice across the network.
SH: It's recently gone through a modernisation process to improve access into the station for emergency services. That's a part of the Underground that we as passengers don't get to see, but it's reassuring to know it's there.
TD: I'm a huge fan of architecture, so Marlborough Road is another [disused] station I saw on my day off. It's like looking at an Italian-style sunken garden with ferns going over the top of it.



TD: I like to think about these Crossrail stations [Crossrail is delivering the Elizabeth line] as buried spaceships, because that's how they feel. Nothing will prepare you for your first Crossrail visit – and that is the power of great architecture. It's so bright and gleaming and white, and pristine and wonderful and huge. Everything is twice the size of a normal Tube station. You feel tiny.
SH: When we were first talking to executive producer Rob Dersley about [making] Secrets Of The London Underground, I took him to Angel to show him around. It was on that visit where he was like, "All right, this is something really exciting."



SH: We started the show in the middle of a field of cows!

TD: Normally Sid's got the keys, but this time around, I was train-splaining to her and showing her around my childhood stomping ground. Quainton Road is in the middle of nowhere, like Ongar. It was a little tramway that somehow got subsumed by London Transport.
SH: London used to be covered in trams up until the 1950s. Kingsway is a tramway subway that is smack-bang in the middle of central London. In The Batman, it acts as Batman's entry into the Batcave. You only see it for a split second, but immediately, I was like, "That's Kingsway!"

TD: Greenwich is a cathedral of power. Few people know that London has power stations still, let alone that the Tube network has a backup system in case there are blackouts and power cuts.
SH: There is a huge ventilation chamber system inside Notting Hill Gate. Notoriously, the Central line is rather warm in the summer. In the 60s, when they were rebuilding the station, they tried to mitigate this by building these networks of tunnels to cool it down. I felt like I was Indiana Jones in Raiders Of The Lost Ark, because it's so huge!




SH: Charley Monroe was the last signaller to operate the Edgware Road signal box when it closed in 2019 after being in operation from the 1920s. She is an encyclopedia on how important signalling is and the history of it. Signallers are basically the air traffic controllers of the entire London Underground network, but for trains, and it's a hugely important and difficult job to do.
TD: At Baker Street, we learnt about the staff canteen and the shooting range hidden behind the escalators. It just shows how innovative Tube designers and staff have always been about finding uses for all the spaces at their disposal.
When is Yesterday's Secrets Of The London Underground on TV?
Secrets Of The London Underground series 2 airs on Yesterday (CH 129) on Thursdays at 8pm, with the first episode screening on May 5th. It is also available for 30 days in Catch Up > Channels > Yesterday.
The ten-part series will subsequently air every week until Thursday 7th July.
TV channels: Channels, content and features available depend on your chosen package. Channel line-ups and content are subject to change at any time and to regional variations.
Catch Up TV: Catch Up TV content available for up to 7 days or up to 30 days after broadcast, depending on content.
Interviews: Any opinions expressed in interviews are those of the interview subject and not those of Virgin Media.
Image credit: Secrets Of The London Underground © UKTV / Brown Bob