Skip to main content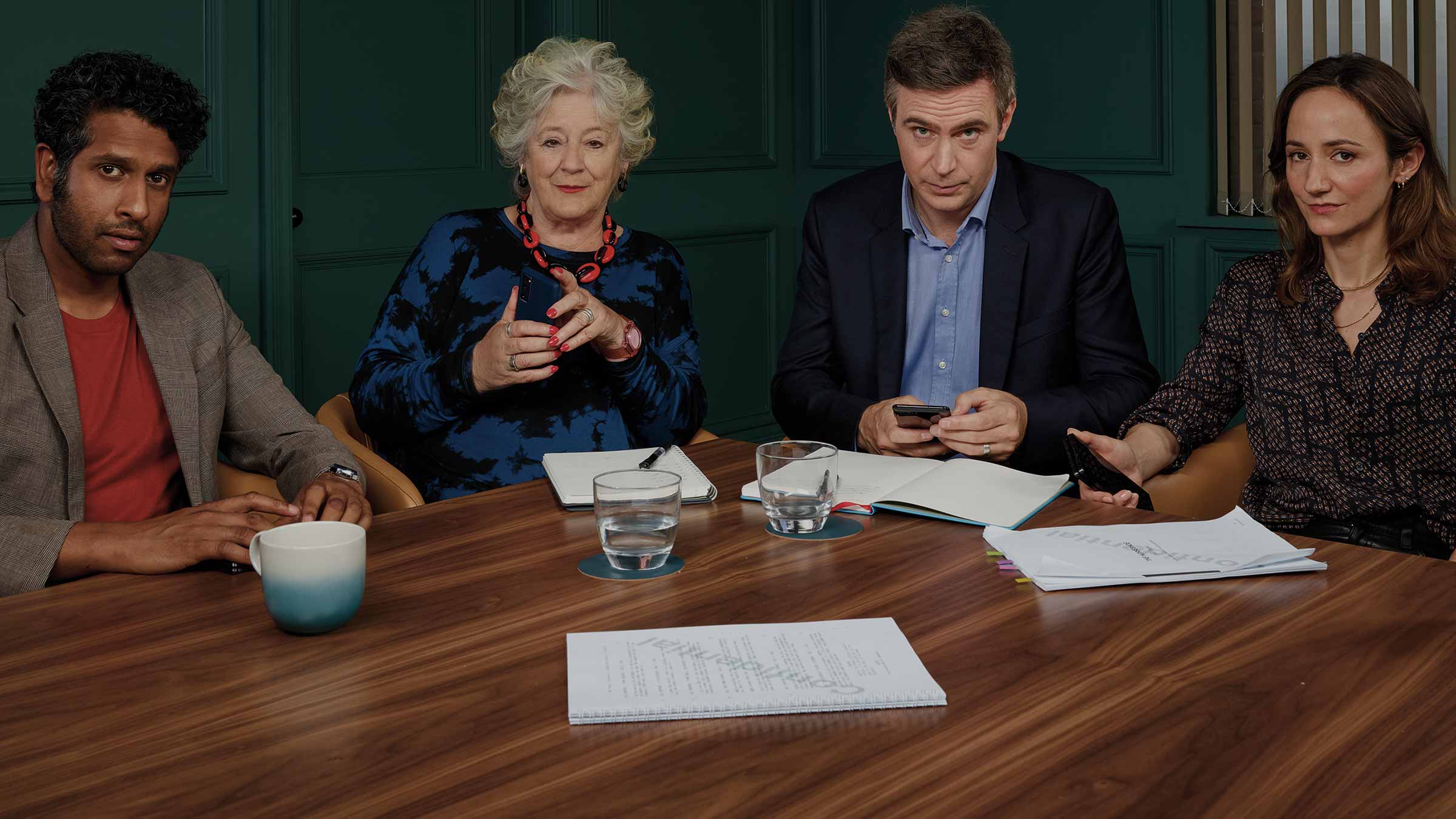 We spoke to the cast about Amazon Prime Video's British remake of lockdown hit Call My Agent!
By Laura Rutkowski, Senior Staff Writer
French series Call My Agent!, or Dix Pour Cent, which has been called "France's answer to The Office", is receiving an English language version called Ten Percent. The name comes from the amount agents receive from their clients' production deals.
Writer John Morton (W1A) lends his trademark wit and scathing one-liners to the series that trades Parisian talent agency ASK for London's Nightingale Hart.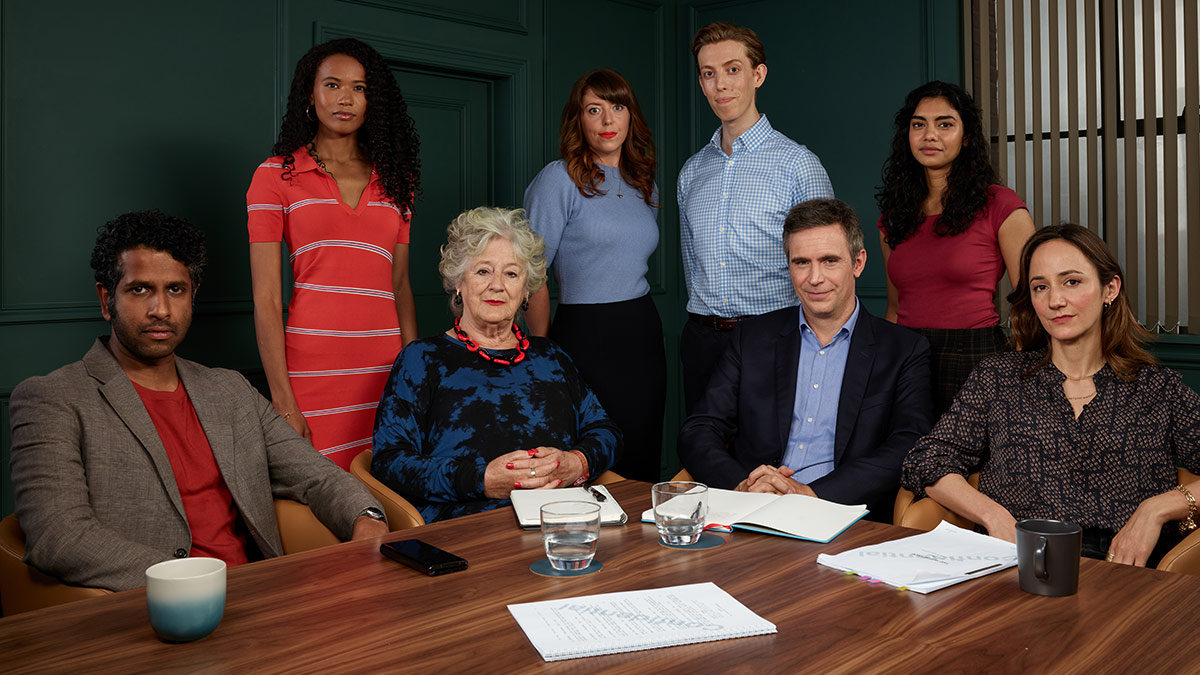 The Nightingale Hart team from left: Dan (Prasanna Puwanarajah), Zoe (Fola Evans-Akingbola), Stella (Maggie Steed), Julia (Rebecca Humphries), Ollie (Harry Trevaldwyn), Jonathan (Jack Davenport), Misha (Hiftu Quasem) and Rebecca (Lydia Leonard)
Jack Davenport (Pirates Of The Caribbean series), Lydia Leonard (Gentleman Jack), Maggie Steed (Chewing Gum), Prasanna Puwanarajah (Doctor Foster) and Jim Broadbent (The Duke) star as go-getting agents, with their sleep-deprived assistants played by Hiftu Quasem (Killing Eve), Rebecca Humphries (The Crown) and Harry Trevaldwyn (The Bubble). You'll easily be able to identify who their French counterparts are, as their job roles and personalities are left relatively intact, just with added sarcasm and fake niceties.
Instead of cameos from French cinema darlings, Ten Percent enlists an impressive roster of celebrities, including: Emma Corrin, Himesh Patel, David Harewood, Clémence Poésy, Helena Bonham Carter, Olivia Williams, David Oyelowo and Dominic West.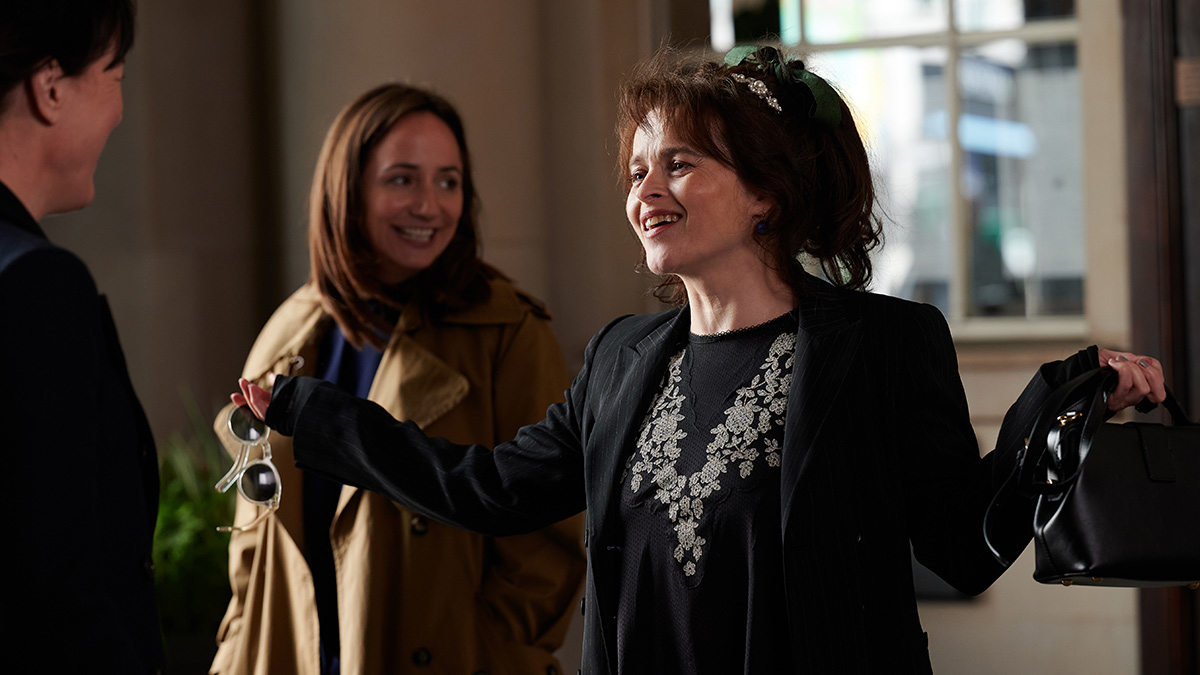 In the series, Helena Bonham Carter and Olivia Williams are offered the same part… cue crisis management
Ten Percent borrows, but makes British, the same storylines from Call My Agent!, certainly in the first two episodes, while also adding some new ones. Fragile egos, name-dropping (including coos of "Benedict" and "Orlando" down the phone) and messy love lives, here we come!
There's the actor who's told she's too old to play a part (Kelly Macdonald in this case – the cheek!); the receptionist who dreams of becoming a star; and the illegitimate daughter of one of the agency's head honchos who has wrangled herself a job at the agency. Awkward…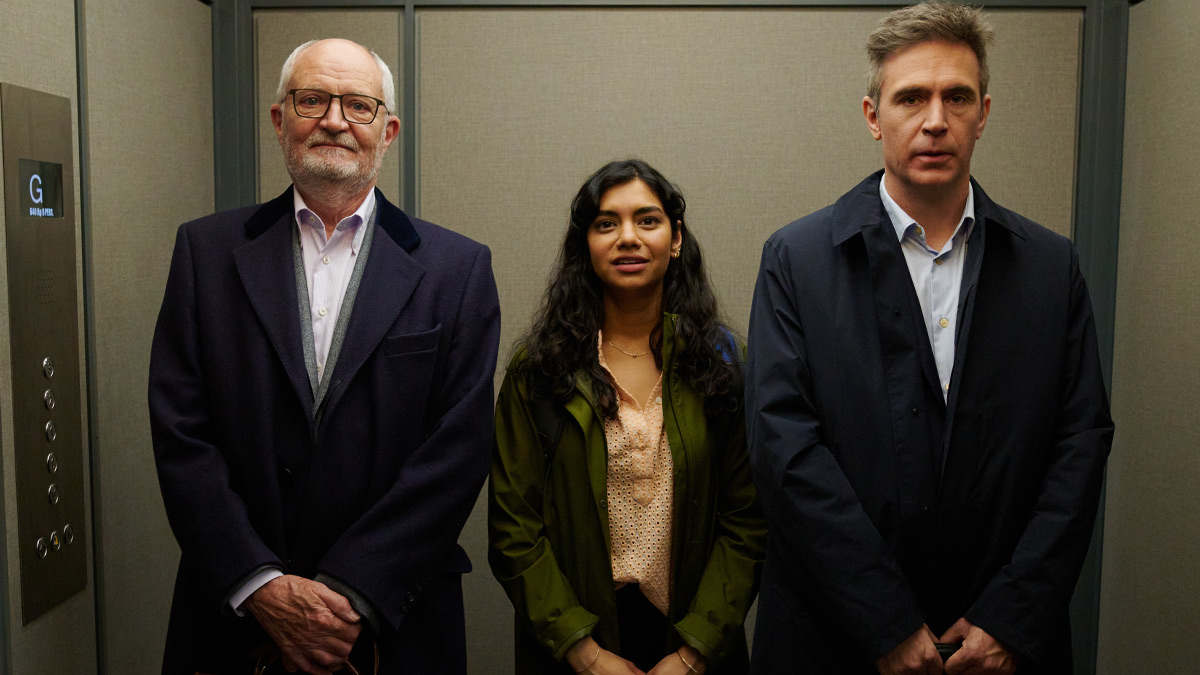 Richard Nightingale (Jim Broadbent, left), his son Jonathan and new recruit Misha enjoy the elevator music
After the sudden death of Nightingale Hart's founder, all employees are left scrambling to keep their clients happy – and ensure the agency survives.
We sat down with Ten Percent cast members Maggie Steed, Rebecca Humphries, Harry Trevaldwyn and Hiftu Quasem to discuss breaking character stereotypes, the innate Britishness of the series and hoping viewers "can't wait to get back to those kids in that office".



"I watched Call My Agent! all the way through lockdown. [Getting the part] was the most joyful piece of news I'd had for a very long time in those murky times.
I'd be very wary of Stella, but I love her. There are a number of older women agents who have been around the track a long time who everybody respects because they know the business so well. They're very powerful women, they've learnt in a man's world. There's one in particular that I know who's like that who's worked in my agency for a very long time, but I didn't consciously [play her].
John Morton is wonderful and he couldn't be anything else but British. His writing is so on the button. I am thrilled that someone like Simon Gould [a desperate out-of-work actor played by Tim McInnerny] is in the series. We've all been Simon Gould. There is always someone who is trying to make it and is constantly falling on their ass and messing up. It's a very recognisable person.
The agency is like a family. It's an extremely funny, chaotic world showing all these people coping with chaos, so it's very timely. I hope everyone will go, "I can't wait to get back to those kids in that office." I hope they'll grow to love us."



"During lockdown, everyone thought theatres were gonna be shut down forever and actors were never going to get any work again. I thought I'd have a bit of a rest learning about myself, working on myself... classic lockdown. I told my agent to not let anything come in for me unless it was something mad like Call My Agent! UK. Then the following week, I got an email saying, "Well, funny you should say that, here's Julia in Ten Percent."


My French-speaking and native French friends say Call My Agent! is the most French thing ever. It's from the gut and it's all so exclamatory, sexy and fierce. John has interpreted this and it's all still there, it's just behind this veneer of… professionalism. I didn't want to use the "r-word" [repression].
It was so exciting to be around each other and these celebrities. We were all sitting around this boardroom for this really long scene, which was so snippy and great. We were in the music of John's dialogue and then in walked Jim Broadbent and it was like, "Ah, oh my god!""



"This is my first TV project. Ten Percent came immediately after The Bubble. With my videos [comedy skits posted on social media], people can see my style of humour. They're kind of like a video CV and have been great for writing projects.
John and the casting director said that I was a much softer Ollie than they envisioned and I think that's because I understood him. In the casting breakdown, Ollie was literally every adjective under the sun: "He's flamboyant and vulnerable and aggressive."
There were a couple of times I didn't quite understand why Ollie was doing something. I'd ask John and he'd already have the most beautifully worded answer. He knew the characters inside and out. There'd always be reasons for it. It never felt superfluous or for comedy value. It always came from a really true and honest place. All the characters deal with things in a very traditional British passive aggressive way.
There have been so many camp assistants in romcoms that you're given such a restricted view of. Yes, Ollie is a camp assistant, but he is so realised. He's a very ambitious person. He's nuanced, he has wants and desires. He isn't just there to say pithy side comments."



"Misha is a very likeable character and relatable in many ways. She's very brave, but tries not to put her foot in it, but then inevitably ends up doing that. She embarks on this journey to fulfil her dream of becoming a talent agent and working in showbiz. Ten Percent captures the reality of the industry very well – and through a humorous lens. It's funny because it's surreal.
We were very much welcome to make these characters our own. I was always conscious of trying not to make Misha too naïve, because she's really intelligent and fiercely ambitious. She's new to the city and doesn't really know anyone, but she has her head screwed on. We've had our fair share of seeing young, naïve women on screen as the damsel in distress, like a deer caught in headlights."

When is Ten Percent on Amazon Prime Video?
Find all eight episodes of Ten Percent in Apps & Games > Prime Video from Thursday 28 April.


How to watch Amazon Prime Video with Virgin TV
Prime Video is available to all Virgin TV customers with a V6 box, powered by TiVo®. Simply sign up to Amazon Prime Video via their website, and you can log in on the box. And because Prime Video is fully integrated into TiVo®, you can search without even going into the app. Just select Search & Discover from the Home menu and type in the name of the show or movie you're after.
Amazon Prime Video: Amazon Prime subscription required at extra cost. 18+. Click here for T&Cs.
Interviews: Any opinions expressed in interviews are those of the interview subject and not those of Virgin Media.