Skip to main content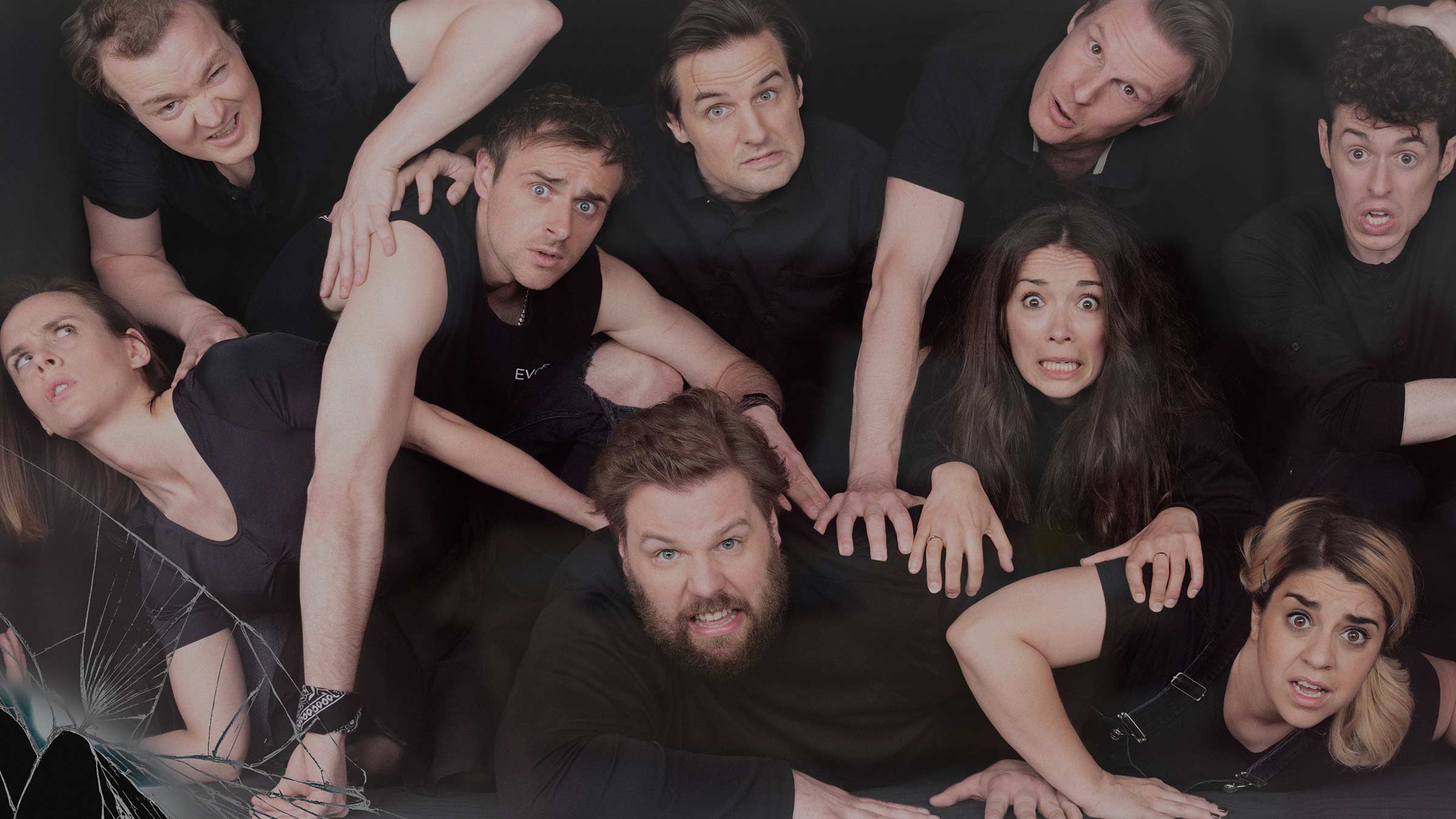 The show returns to the BBC for series 2 of perfect imperfection. We speak to Mischief Theatre Company on their wrong way up approach to showbiz and why we all need more silliness in our lives…
By Laura Rutkowski, Senior Staff Writer
We have been scheduled for a morning video interview with the comedy masterminds behind The Goes Wrong Show and the Mischief Theatre Company, but already there's an issue. For starters, co-founder Henry Shields is missing. Company director and co-founder Jonathan Sayer, meanwhile, is apologising for artistic director Henry Lewis, who will be two minutes late because he's making eggs using a temperamental pan.
You'd be forgiven for thinking it was all an elaborate set-up for the kind of chaos they regularly inject into their TV show and their live performances. Instead, we've simply caught them on the morning of Sayer's birthday, and he's being treated to a breakfast of scrambled eggs on toast. Even so, we're expecting Lewis, with Shields in tow, to burst into the room battling a pan fire any second.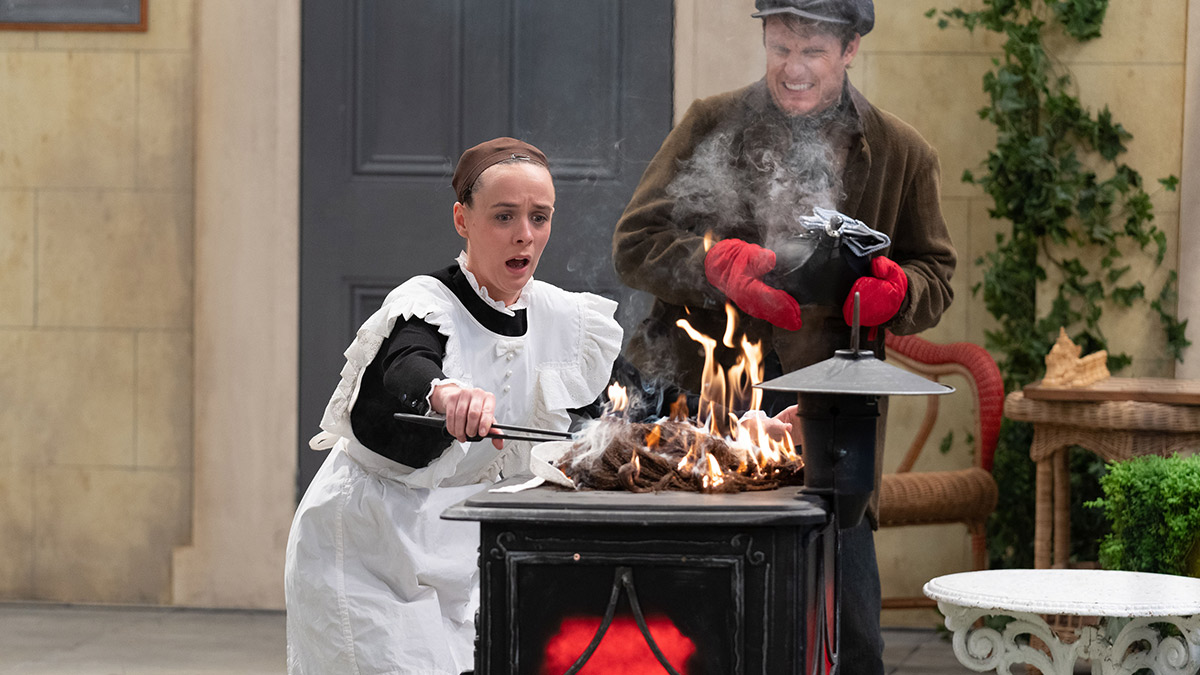 Series 2 kicks off with period drama "Summer Once Again," where things get off to a hair-raising start for Charlie Russell and Dave Hearn

"I just couldn't leave those eggs because it would have been a catastrophe," Lewis admits, now appearing on screen. Still, catastrophes (albeit curated ones) are exactly what these guys excel at. After success in the West End (and on Broadway) with shows like The Play That Goes Wrong, they created The Goes Wrong Show for the BBC. After a successful first series and some festive specials, it has returned for five more instalments.
It again features the fictional Cornley Polytechnic Drama Society putting on a "play of the week" to disastrous effect. Anything that can go wrong does go wrong; whether that's forgotten lines, faulty props or egos getting in the way. "Hopefully word's got round that it's supposed to go wrong," Lewis says.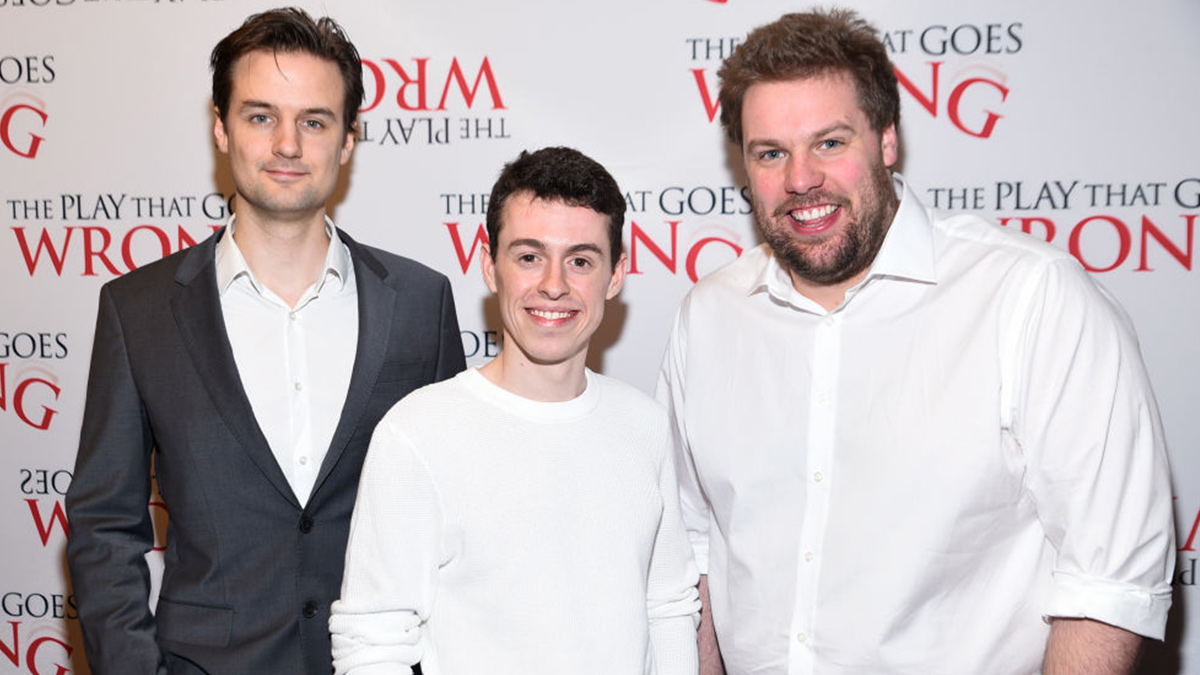 Movers and Mischief-makers: (from left) Henry Shields, Jonathan Sayer and Henry Lewis

Alongside the trio we're speaking with today, the regular cast (of both stage and television) also return: Charlie Russell, Dave Hearn, Chris Leask, Nancy Zamit, Bryony Corrigan and Greg Tannahill.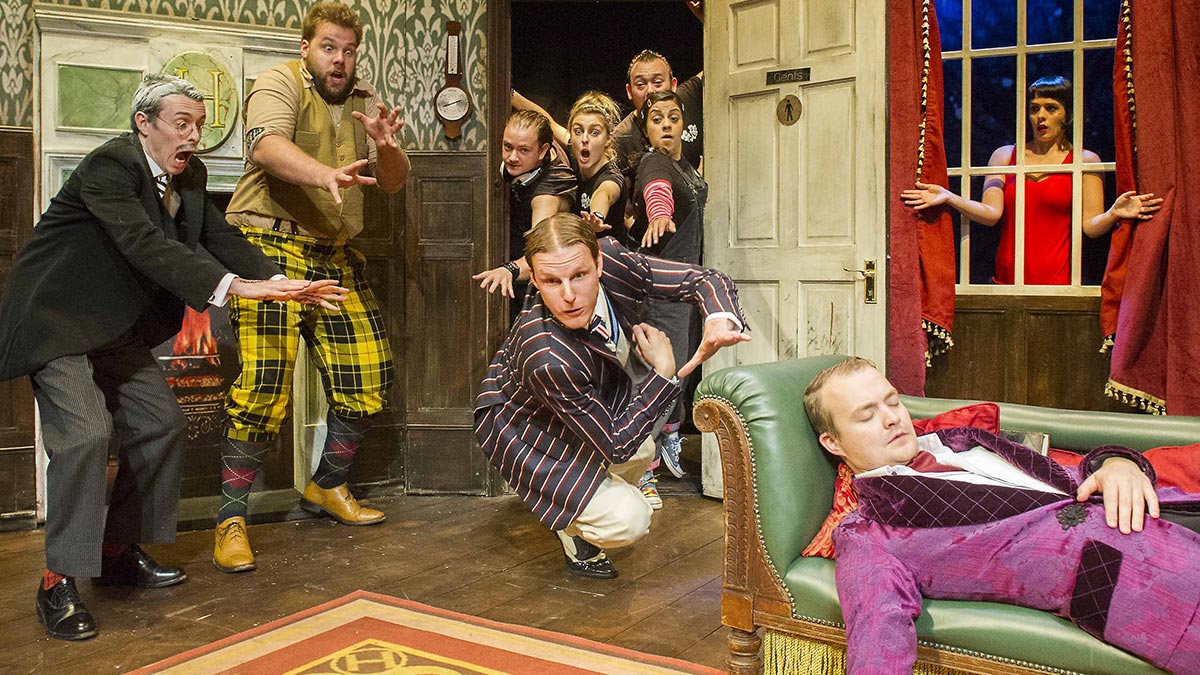 The original West End cast of The Play That Goes Wrong all feature in The Goes Wrong Show

This second series was very much a product of lockdown. Sayer, Lewis and Shields wrote the whole thing on Zoom, screen-sharing the script. "We were grateful to have the writing work because it meant that we had work," Sayer admits. "It's a terribly uncreative time to be trying to come up with stuff, but it gave us a bit of purpose and gave us a point to being creative, that episodes had to be written."
The three writers and creators behind the series met each other in their first year of drama school, at the London Academy of Music and Dramatic Art (LAMDA), and formed Mischief, which started out as an improv comedy company. "Henry Shields is very structured in the way he creates stuff. I'm not so structured, I just like very silly jokes all the time. Henry Lewis has very big, imaginative physical jokes and some of the more characterful stuff," Sayer says.
Their strong working relationship is abundantly clear as Sayer and Lewis finish each other's sentences and talk about a life-long friendship forged during embarrassing moments while at LAMDA. But Mischief are certainly not afraid of a little embarrassment – in fact, they've made a business out of it.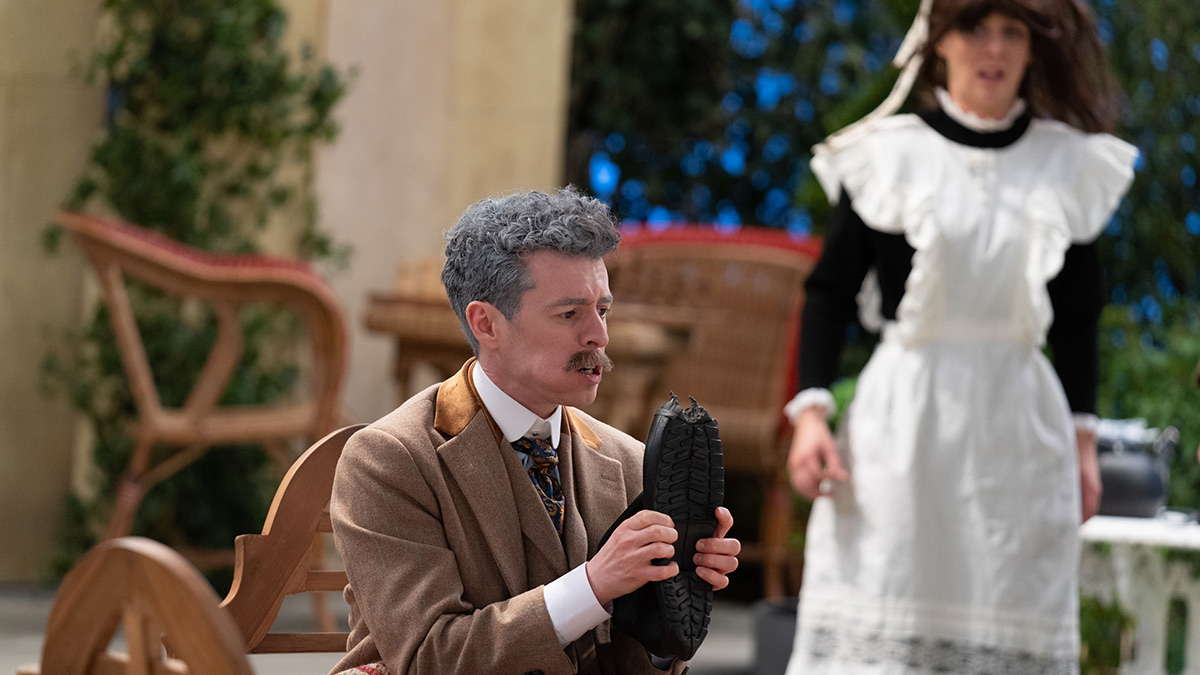 In The Gold Rush, Charlie Chaplin eats a boot made out of liquorice. In "Summer Once Again," Jonathan Sayer eats one made out of icing sugar


They are influenced by the likes of Charlie Chaplin, Laurel and Hardy and Buster Keaton, as well as Fawlty Towers, implementing slapstick gags that resonate with audiences young and old. The Goes Wrong Show has a two-week rehearsal period, where the director and the cast decide what does and doesn't work before they perform the episodes for a live studio audience.
It wasn't just this series that got them through lockdown. Another project for Mischief was Mischief Movie Night In, where the viewers suggest a movie genre, location and title for the cast to improvise and act out. It's typically run as a stage show, but when the pandemic hit, Mischief took it online, reaching people across 72 countries, with more than 8,000 households tuning in on New Year's Eve 2020 alone.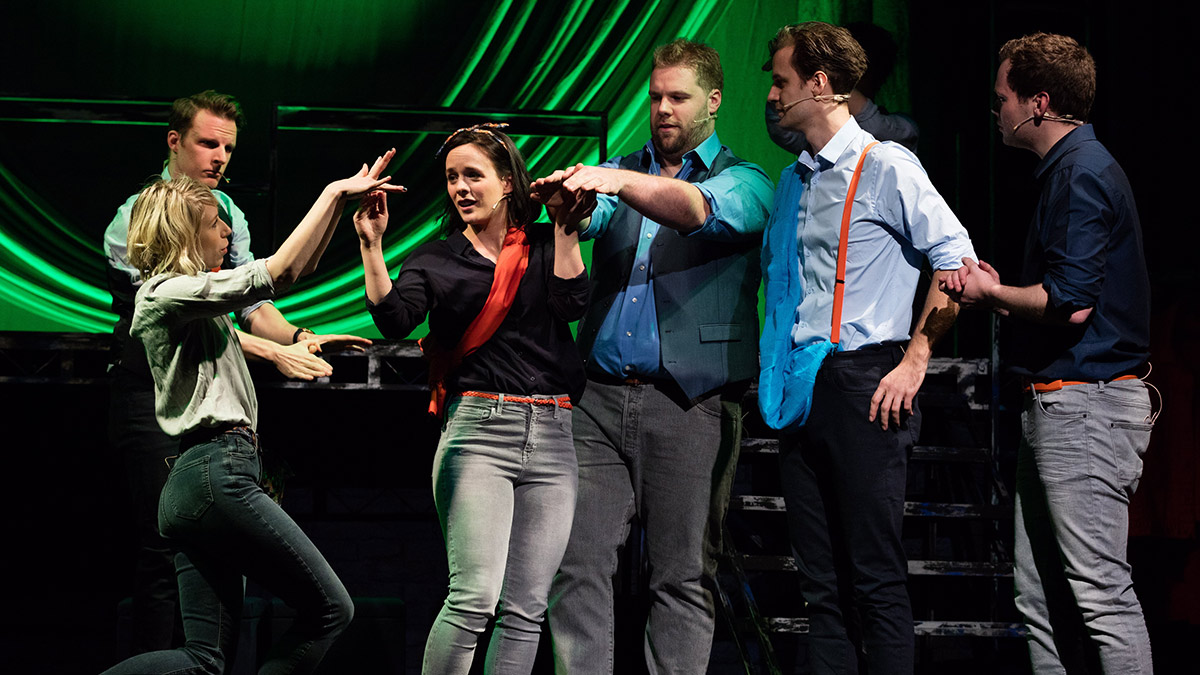 A quarter of a million fans laughed along with Mischief Movie Night In during lockdown

"I probably never laughed harder than in that hour and a half just because of the release of tension that came with it," Sayer says. Mischief Movie Night In has created an online community in the virtual audience. Since those shows, some fans have started meeting up in real life to see Mischief Movie Night in person. Someone even proposed (a woman to a man) during one of the live streams.


Twenty minutes into our conversation, Shields has entered the chat. "Sorry, I completely slept through my alarm."
He says they've had lovely messages from people who work in the NHS. "[They said] Mischief Movie Night In was something they watched in their lunch break while they were in the middle of dealing with all of the COVID stuff. That is very touching to know that we were helping in some tiny way to help people get through their day at the most difficult time. It's been incredibly rewarding."
The Play That Goes Wrong also recently celebrated its seventh birthday at London's Duchess Theatre. Despite a tough few years for the theatre industry, Sayer says the future is looking brighter. "It's really interesting that audiences have quite quickly gone back to see that show," he says. "People are so in need of silliness and escapism and just nonsense for the sake of nonsense."


Mischief have made us laugh in and out of lockdown – a time where, let's face it, we all needed cheering up more than ever. The chuckles keep coming during this series of The Goes Wrong Show, which gives us a family saga, a play by Shakespeare (Colin, not William), an American prison-break drama and a two-part Drama Festival that's more Disaster Festival.
If the Cornley Polytechnic Drama Society can go on with their shows, whatever problems they face, big or small, then so can we.
"I think our work has always been an unnecessary niceness," Sayer adds. "At the moment, we're a necessary niceness."
When is the BBC's The Goes Wrong Show on TV?
The Goes Wrong Show series 2 airs on BBC One HD (CH 101/108) on Mondays at 8.30pm, with the first episode screening on September 27th. The five-part series will subsequently air every week until Monday 25th October.
All episodes will be available in Apps & Games > BBC iPlayer from Monday 27 September.
TV channels: Channels, content and features available depend on your chosen package. Channel line-ups and content are subject to change at any time and to regional variations.
HD: HD TV set, V HD Box, TiVo box, Virgin TV V6 box or Virgin TV 360 box connected with HDMI cables required for HD channels. Number of inclusive HD channels depends on package.
Catch Up TV: Catch Up TV content available for up to 7 days or up to 30 days after broadcast, depending on content.
Interviews: Any opinions expressed in interviews are those of the interview subject and not those of Virgin Media.
Image credits: The Goes Wrong Show © Big Talk Productions / Gary Moyes and Mischief Screen Limited 2019 / Ben Blackall
The Play That Goes Wrong © ALASTAIR MUIR