Skip to main content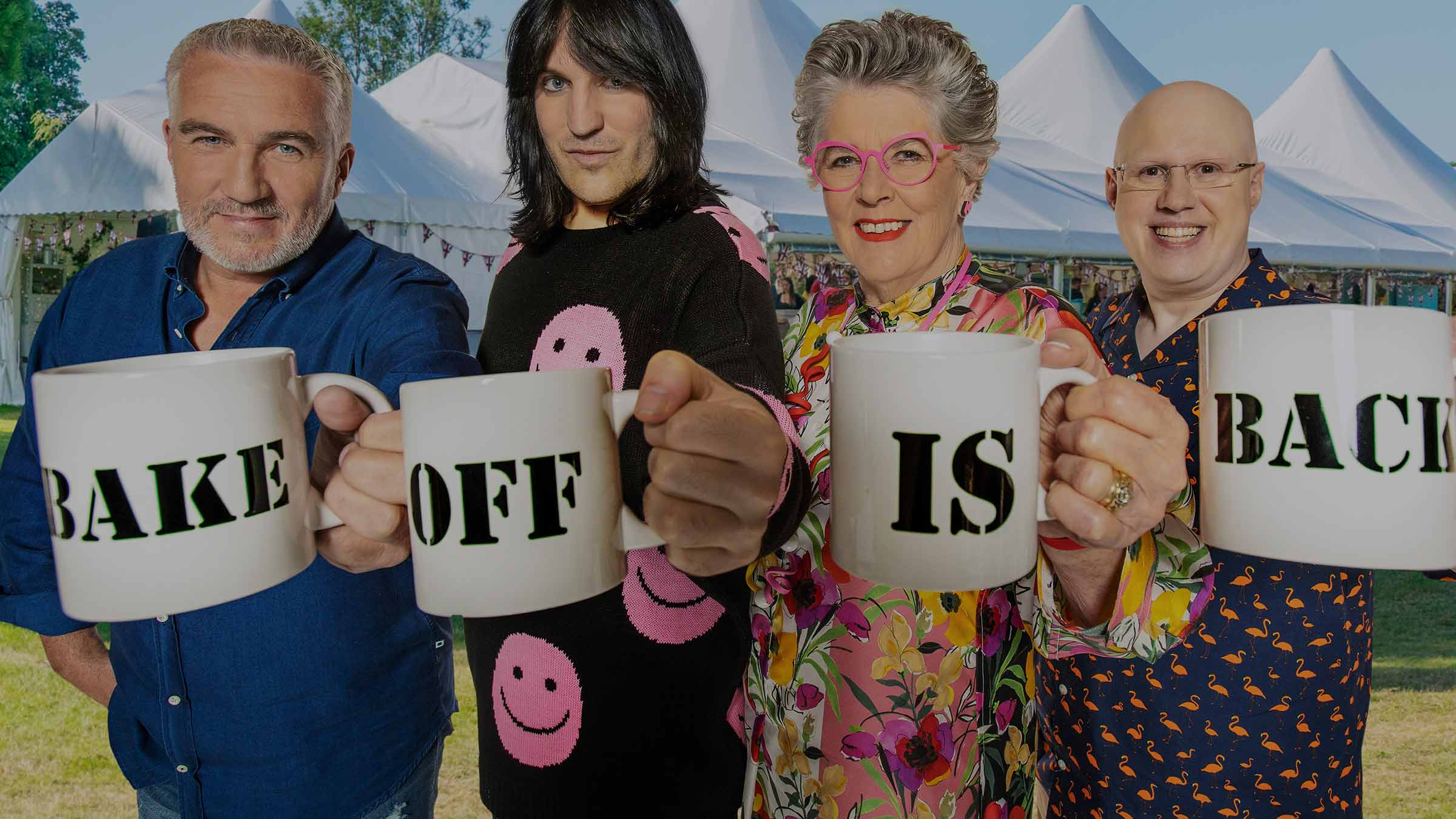 Loaf is in the air as everyone's favourite baking competition returns. With a new batch of bakers in the bubble, we rank the most OMG bits from previous episodes

By Laura Rutkowski, Senior Staff Writer
The tent is up, the gingham cloth is laid out, and Noel Fielding and Matt Lucas are armed with baking puns. Prue Leith has lined up all of her colourful glasses, ready to wear a new pair for each episode (with a matching necklace, naturally), while Paul Hollywood has perfected his steely gaze in the mirror and sanitised his Hollywood handshake hand.
The Great British Bake Off is here with 12 new contestants that might make up the best line-up yet. After all, lockdown has given them plenty of time to practise…
Meet the bakers
Amanda, 56, London, Met Police detective
Chigs, 40, Leicestershire, sales manager
Crystelle, 26, London, client relationship manager
Freya, 19, North Yorkshire, student
George, 34, London, Shared Lives coordinator
Giuseppe, 45, Bristol, chief engineer
Jairzeno, 51, London, head of finance
Jürgen, 56, Sussex, IT professional
Lizzie, 28, Liverpool, car production operative
Maggie, 70, Dorset, retired nurse and midwife
Rochica, 27, Birmingham, junior HR business partner
Tom, 28, Kent, software developer
This series is fit to bursting with 30 brand new challenges, with the first episode kicking off with Cake Week as the bakers attempt to make 12 perfect mini rolls in the Signature challenge. The Technical is a teatime classic, while the Showstopper requires them to create a cake that defies the laws of physics.
As the baking hopefuls step up to the cake, we rank the 11 best moments from previous series, rating what really took the cake and made us say, "Dough!"
11. John Whaite mistaking salt for sugar
Although John won series 3, during the Technical challenge, he made four rum babas (it's a type of cake – that's all you need to know), substituting one white substance for another. Needless to say, it was pretty inedible. Paul spat them out and Mary Berry didn't even try them. John has gone from rum baba to the Rumba as a contestant on the upcoming series of Strictly Come Dancing in the first all-male couple.




10. Candice Brown's lipstick choices
Candice stepped into the tent in week one wearing a deep plum-coloured lipstick, starting as she meant to go on. She continued to treat us – whether it was bright pink, mauve, fuchsia or "red for Bread Week". What shade she would opt for next became just as much of a talking point as what she would bake week-to-week. The eventual series 7 winner returned for a New Year's Day special to bake a lipstick cake, and it was even rumoured at the time that she was going to bring out her own lipstick line. If she's reading this, we're still interested!



9. The face cake Showstopper challenge
This was a true case of expectations versus reality, where bakers were asked to make a "cake bust depicting your personal celebrity hero" in series 11. We bring up Lottie Bedlow's coconut and lime Louis Theroux about five times a week, it doesn't even need any context. Theroux himself took to Twitter to say he was "very excited to be a cake. If only I could eat myself". Freddie Mercury, Tom DeLonge, David Attenborough, David Bowie – no stars were safe from these half-baked attempts. Repeat after us: they are just cakes, they cannot hurt me…



8. Sura Selvarajah knocking Dave Friday's cakes on the floor
"There's a fly in my cake!" Sura swatted one away during the pineapple upside-down cake Technical in series 11. Unfortunately, Dave's cakes also took a tumble as she waved her arms, knocking them over. Sura was then crowned the winner of the very same Technical, but she did shed a few tears for Dave's sake. It's all a bit dramatic this baking business!




7. Ruby Bhogal's cake collapsing

During the heatwave of 2018 in series 9, Ruby thought she could wipe the sweat off her brow and relax. She had completed her two-tiered chocolate, lemon and coconut cake for Vegan Week and was popping off to lunch with the other bakers. The heat and gravity proved to be too much as they looked on in horror as her top cake slid right off, leaving her with no choice but to present two separate, smashed, cakes that Prue called a "collapsed mess". Prue and Paul tend to go for substance over style, so their taste test wasn't altogether negative.


In series 4, Deborah Manger accidentally (or so she says) used Howard Middleton's custard in the trifle Signature challenge, and it certainly was no trifling matter! Deborah profusely apologised and offered up her own custard for him to use as then-host Sue Perkins said the switcheroo was "either a terrible error or the most incredible case of baking espionage I've ever seen". The show labelled Deborah's creation "Deborah's Tropical Trifle with Howard's Custard" and, expectedly, Twitter went wild, with the phrase "Poor Howard" trending.




5. Rahul Mandal's storage jar shattering
During the series 9 final, as if the stress levels weren't already high enough, the soaring temperatures caused a storage jar on Rahul's workbench to shatter, sending glass everywhere. His edible rock garden Showstopper was ruined as glass made its way into his cake mixture. The crew then had to clear away anything that could contain broken glass. Prue and Paul decided to give him an extra 15 minutes to finish and he only went on to win the whole bloody thing!




4. Prue accidentally revealing the series 8 winner on Twitter
Rookie error, Prue! Prue said she was "mortified" by the mishap, telling the Press Association that confusing time zones were to blame. "I'm in Bhutan," she said. "The time difference is massive. I thought that they got it six hours ago. I'm in too much of a state to talk about it." It's common sense to avoid social media if you're behind on an episode or two, but no one would have thought they needed to mute Prue Leith on Twitter!




3. Paul Jagger's bread lion
Bread Week is notoriously difficult and Paul Hollywood is a notoriously difficult man to please, but another Paul came for his bread master title in series 6. Paul Jagger created a bread lion, which judge Paul called "one of the best things I've seen in bread – ever"! He earned a Hollywood handshake and a special commendation. With white bread for the head, wholemeal for the tail and a body filled with figs and walnuts, the feline sent the internet into a frenzy. The memes quickly followed…




2. Nadiya Hussain's series 6 winning speech

It wasn't just Nadiya's eclectic facial expressions that won us over, but her emotional words as she clutched her well-earned cake stand trophy. "It's weird because I'm never proud of myself, but I'm actually really proud of myself," she said. "I'm never gonna put boundaries on myself ever again. I'm never gonna say "I can't do it." I'm never gonna say "maybe". I'm never gonna say, "I don't think I can." I can and I will." Nationwide, people were left in tears, including Mary Berry.


That brings us to the most shocking moment that really took the cake (or lack thereof) in Bake Off history, one that makes #Custardgate look like child's play. On the hottest day of 2014, the contestants were told to make a baked Alaska (ice cream and cake topped with browned meringue) for their Showstopper. Two of five refrigerators were broken, which meant they had to compete for freezer space. Diana Beard removed Iain Watters' creation from the freezer to make room for hers, leaving his out on the counter to melt.
He scooped it into the bin and presented the judges with… the bin. This led to his elimination and a lot of controversy. Those who were #TeamIain blamed Diana, but even Sue weighed in on the debate on Twitter. She posted: "Iain's Alaska was out of the freezer for 40 secs. That's it. No sabotage. 40 secs of normal temp would NOT be enough to reduce it to liquid." Sura's swatting in series 11 nearly matched up, but we've been waiting to gobble up the same level of high-stakes drama ever since. Come on, series 12!




When is Channel 4's The Great British Bake Off on TV?
The Great British Bake Off series 12 airs on Channel 4 HD (CH 104/141) on Tuesdays at 8pm, with the first episode screening on 21 September. It is also available in Apps & Games > All 4. Series 8-11 available now.
TV channels: Channels, content and features available depend on your chosen package. Channel line-ups and content are subject to change at any time and to regional variations.
HD: HD TV set, V HD Box, TiVo box, Virgin TV V6 box or Virgin TV 360 box connected with HDMI cables required for HD channels. Number of inclusive HD channels depends on package.
Catch Up TV: Catch Up TV content available for up to 7 days or up to 30 days after broadcast, depending on content.