Skip to main content
The UK Census 2021 is just around the corner, but unpaid carers risk missing out on vital government support if they aren't counted. Discover how we can make 2021 the year we #CountCarersIn
By Virgin TV Edit
Conducted once every ten years, the census gives everyone in the UK an opportunity to have their voice heard. The data that's collected has a real impact on the services that shape our communities, such as healthcare, education, transport and social care, and helps ensure underserved and under-represented communities get the help they deserve.

But a crucial gap has been identified, with many of the UK's unpaid carers (that is, anyone caring for someone with a physical or mental health condition or illness, or age-related problem) not identifying as such on the census.
With the number of carers today believed to be much higher than previous estimates suggest, millions of unpaid carers risk not being formally counted as such, which means the community at large risks losing out on the support it needs and deserves.
Thankfully, answering a specific question on the UK Census 2021 will ensure that the number of unpaid carers is recognised. Together, we can ensure government and local authorities know the true number of carers to provide more and better support and services. Read on to find out how.
How to identify as an unpaid carer
When filling in the UK Census 2021, go to question 24 (or question 22 in Northern Ireland). It will look like this: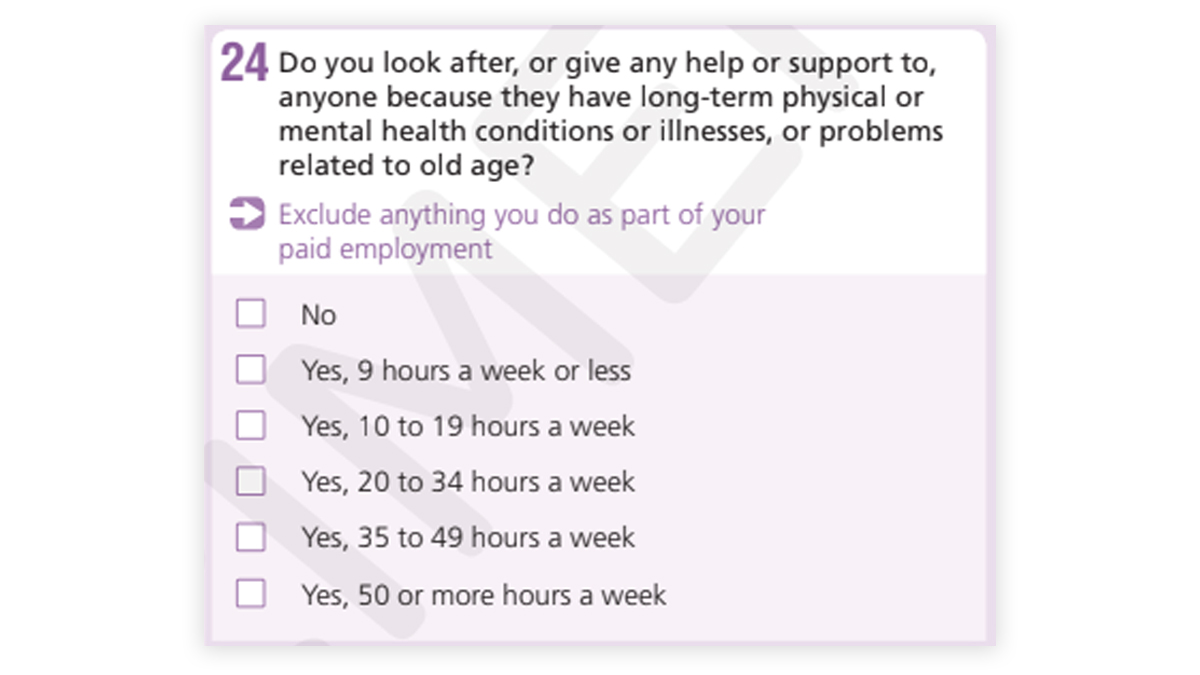 The question asks: "Do you look after, or give help or support to, anyone because they have long-term physical or mental health conditions or illnesses, or problems related to old age?" This question only relates to unpaid care provided. When answering the question, you will be asked to exclude any care you do as part of paid employment


If this applies to you, say "yes" and also note down how many hours of care you provide in the box
If you have any questions about filling out the census, you can get in touch with an advisor here.
Let's make 2021 the year we #CountCarersIn.
Virgin Media & Carers UK
Find out how we're teaming up with Carers UK to help build meaningful connections to help make life better for 1 million carers by the end of 2025.