Skip to main content
A limited-time offer for Virgin Media O2 customers
By Virgin TV Edit
From making Condé Nast Traveler's 2023 Hot List to sweeping the Cruise Critics Cruisers' Choice Awards, Virgin Voyages is making waves and bringing irresistible vacations on their luxuriously designed, adult-only ships.
Relaxing mornings at the gorgeous spa give way to lazy afternoons on the sunbeds at The Dock, as you sip a delicious cocktail while watching the waves go by. Or take in the sounds of the ocean on your own private balcony hammock, before heading to see entertainment created by some of the best producers in the world.
Dive into one (or all!) of the 20+ foodie-favourite eateries and restaurants, complete with incredible menus and unique experiences designed by a hand-picked Michelin-starred chef collective, all made to order using fresh ingredients. Perfectly cooked steaks or bottomless brunches. Mexico City-inspired fare or homemade pasta. Finish up with late-night bites and sweet delights. There's something for everyone. It's no wonder Virgin Voyages won best dining at sea from Cruise Critic users this year.
And aboard their lady ships, you'll explore dreamy destinations like Mykonos, Santorini, Split, Dubrovnik, Ibiza, Mallorca and more – with late-night stays or overnights on every Mediterranean itinerary. Sail out of Athens or Barcelona on these gorgeous seven-night adventures to see why setting sail the Virgin Way is truly transformative.
Their most exciting offer ever, for Virgin Media O2 customers like you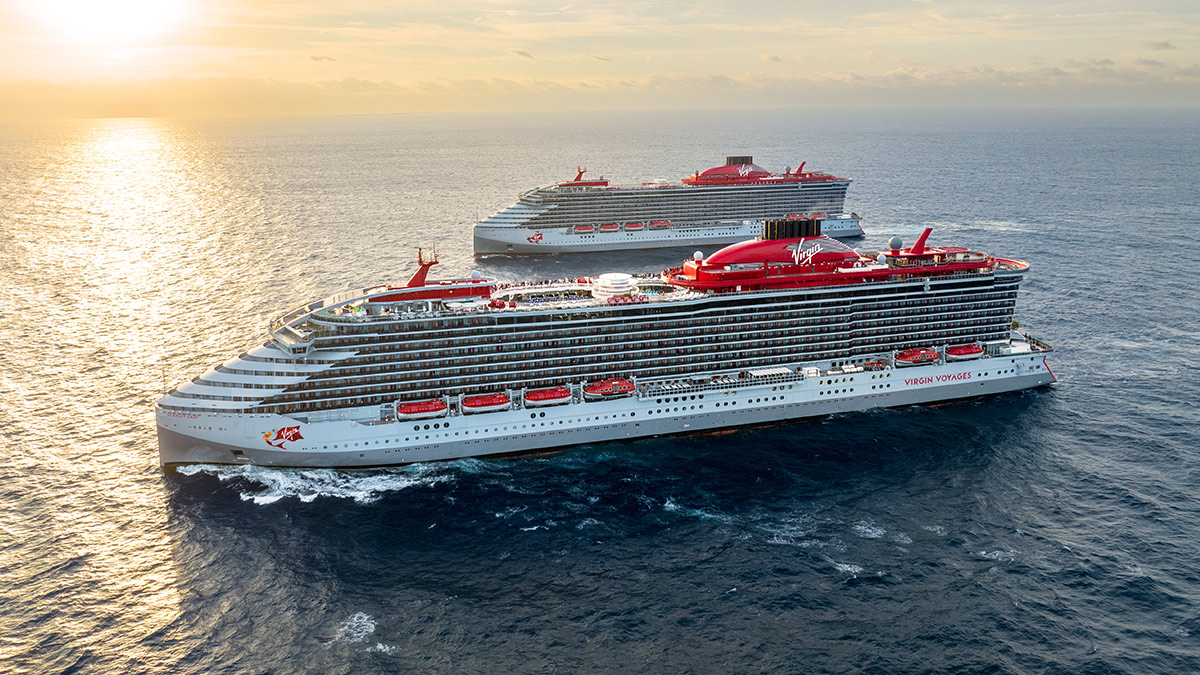 For a very limited time, when you book between 25 May and 31 May and sail out of either Barcelona or Athens this summer (any time before 27 August 2023), you'll get:
1. 75% off your second Sailor and $600 in free drinks
20% more than Virgin Voyages' current best offer running.
2. Automatic loyalty status (and all the perks that come with it)
Automatically become a Sea-Rover (elite loyalty status for 2023), getting access to perks like expedited boarding, exclusive cocktail events, free laundry service, and a bottle of Moët & Chandon Champagne. Plus, when you book your voyage, you'll get 500 Virgin points, thanks to Virgin Red.
3.) Luxury always included
20+ eateries with Michelin-starred chef-curated menus, premium entertainment, unlimited fitness classes, WiFi, and essential drinks, all included on every single voyage.
How to claim this offer
Step 1: Swim on over to here to find out more about this incredible offer.
Step 2: Head to virginvoyages.com and click "Plan Voyage." Choose any Mediterranean sailing through 27 August 2023, then select "The Sea Terrace" cabin from the Sea Terrace category options.
Step 3: Use access key VirginMediaO2 at checkout to unlock 75% off your second sailor and $600 in free drinks
Step 4: Once you've completed your booking, email virginlimitedtimeoffer@virginvoyages.com with your first and last name, booking number, email address, and your Virgin company details
Terms & conditions
75% off Second Sailor – Virgin Customer Exclusive Promo Terms & Conditions
25 May 2023 – 31 May 2023.
1. Offer Overview. These terms and conditions outline the "75% off Second Sailor – Virgin Customer Exclusive Promo" offer. This offer is for select active Virgin Group Company customers.
2. Eligibility / Caveats.
2.1 The "75% off Second Sailor – Virgin Customer Exclusive Promo" offer only applies to Voyage Fare, and does not include taxes and/or fees, transfers, shore excursions (that is, "Shore Things" in our marketing parlance) or any other add-ons. This offer is for bookings on an eligible voyage purchased between 12:01 a.m. AEST on 25 May 2023 through 11:59 p.m. AEST 31 May 2023. See Section 2.3 below for eligible voyages.
2.2 The "75% off Second Sailor – Virgin Customer Exclusive Promo" offer will be calculated as thirty-seven and a half percent (37.5%) off the voyage fare before any combinable discounts. At the time of booking, the Sailor must enter the given Access Key during checkout or call into Sailor Services to validate the Sailor's eligibility to receive the offer. Eligible cabin categories include the "The Sea Terrace" cabin.
2.3 Eligible Voyages. Eligible voyage dates are for 25 May 2023 through 27 August 2023 on Valiant and Resilient Lady. The offer is for select voyages and is not eligible for charter voyages. Voyages will depart from Barcelona or Athens.
2.4 The "75% off Second Sailor – Virgin Customer Exclusive Promo" offer will also include, on the eligible voyage only, one bar tab of $600 per cabin. Furthermore, the offer will include granting of Sea Blazer Loyalty Status to the primary sailor which provides Deep Blue Extras Loyalty Perks on the eligible sailing and any other booked and sailed voyages for the remainder of 2023 only. For details on Deep Blue Extras see virginvoyages.com. Virgin Voyages reserves the right to alter Deep Blue Extras Perks based on operational considerations at any time and does not offer compensation in the event of modifications. This offer may be combined with additional the Bar Tab promotional offers, and other select discount offers as defined.
The "75% off Second Sailor – Virgin Customer Exclusive Promo" offer is additionally not combinable with the following offers, promotions, discounts, or credits:
● The Solo Sailor 2023 Offer
● Contracted Circle Programs
● Casino Rates
● Interline Rates
● First Mate Rates
● Internal reduced rate programs
● Giveaway, Promotional, Reduced Rate, or Free Access Keys
● Any other previous offers
2.5 If a voyage is canceled with a "75% off Second Sailor – Virgin Customer Exclusive Promo" offer, Virgin Voyages' normal cancellation policies apply.
2.6 The commissionable Voyage Fare amount for Travel Agents (or "First Mates" in our branding voice) will be on the reduced Voyage Fare, after the 75% off Second Sailor – Virgin Customer Exclusive Promo" offer is applied.
3. These terms and/or eligible voyages are subject to change with or without notice.
Please note all discounts will be reflected as one lump discount on your confirmation email.
Virgin Red Terms & Conditions
Terms apply. 18+ UK and US residents only. Virgin Red membership required. Must be redeemed by 11:59pm on 31 October 2023. Bonus points can only be earned once per person. Virgin Points will be automatically credited to your Virgin Red account following redemption of your promo code. The offer is as stated and there is no cash alternative available. The reward is non-refundable, non-transferable and cannot be resold.