Skip to main content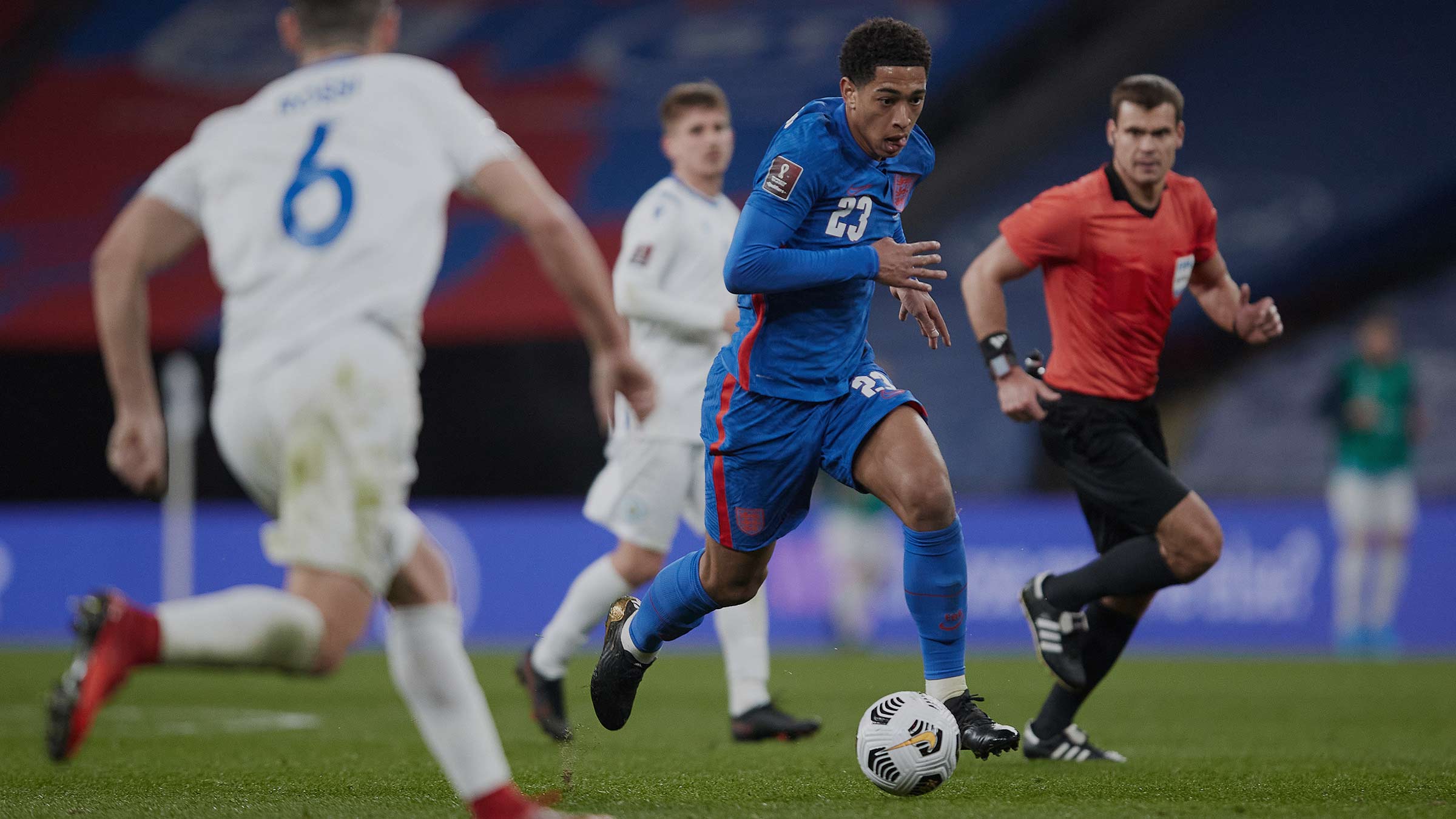 The European group winners will be decided this week – and we're highlighting some of the lesser-known footballers attempting to make their mark on the qualifiers…

By Chris Miller, Writer
It's maths o'clock in the qualifying for the FIFA World Cup 2022. This week sees the final round of group matches in Europe, and that means the next few days will involve an awful lot of counting on fingers as we all try to figure out which teams can qualify, when, and how.
England are top of Group I, and four points from their games against Albania and San Marino will mean they'll be in Qatar for certain. Wales can theoretically still qualify automatically, although to do so they must overturn a five-point gap to FIFA's number one-ranked team, Belgium. They're looking good for the play-offs, though: even if they finish third in Group E, they're still likely to get there as Nations League group winners. With us so far?
Scotland's route to automatic qualification was stymied by Denmark, who have already won Group F, but with two games to play Steve Clarke's side are four points clear of third-placed Israel. So they're odds-on not only to be in the play-off semi-finals but to secure home advantage. Unfortunately neither Northern Ireland nor the Republic of Ireland will be joining them: both struggled in tricky groups and have already been eliminated.
Heavyweights like France, Croatia, Spain and Euro 2020 winners Italy are expected to nail down their places in Qatar this week too. And since those teams and their medal-strewn stars already get plenty of attention, we thought we'd give a bit of prominence to the lesser-known footballers doing their best to cause some continental shocks…
Moldova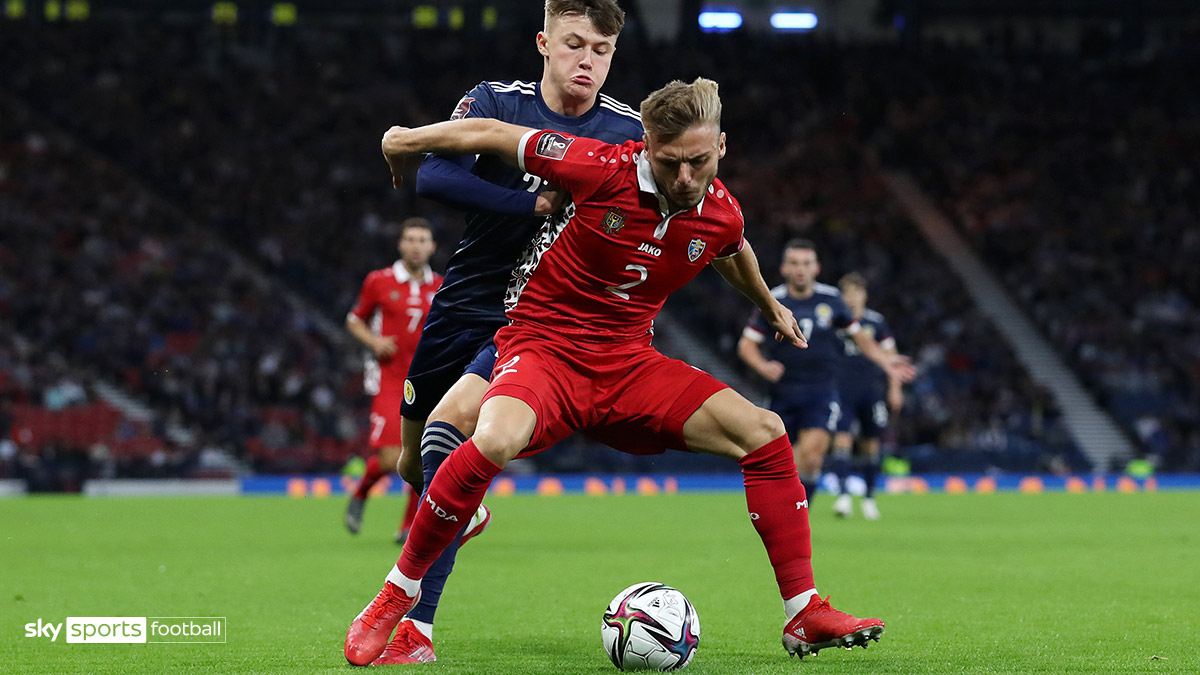 Moldova v Scotland, Friday 12 November, 5pm, Sky Sports Football/HD (CH 513/503)
How's their campaign been?
Tough. Moldova are the fourth lowest-ranked team in UEFA and have earned just a single point in their group games. Denmark put 12 goals past them over two games.

Key player
While few of their players have achieved much outside the Moldovan league, 23-year-old left-back Oleg Reabciuk has played in Portugal's top flight and is now a regular at Olympiacos, winning the Greek league with them last season.

Memorable results
Moldova's golden age came in the 1990s, when they beat both Georgia and Wales. The current generation's best recent result is a 1-0 win over Andorra in Euro 2020 qualifying.

How can Scotland win it?
With Reabciuk patrolling the Moldovan left flank, Scotland should have more joy down the other side where Liverpool's Andy Robertson and Arsenal's Kieran Tierney can create chances.

Fun fact
Moldova is home to the world's largest bottle-shaped building, a 28m tower in Tirnauca. Suitably enough, it houses a museum of alcohol.
Albania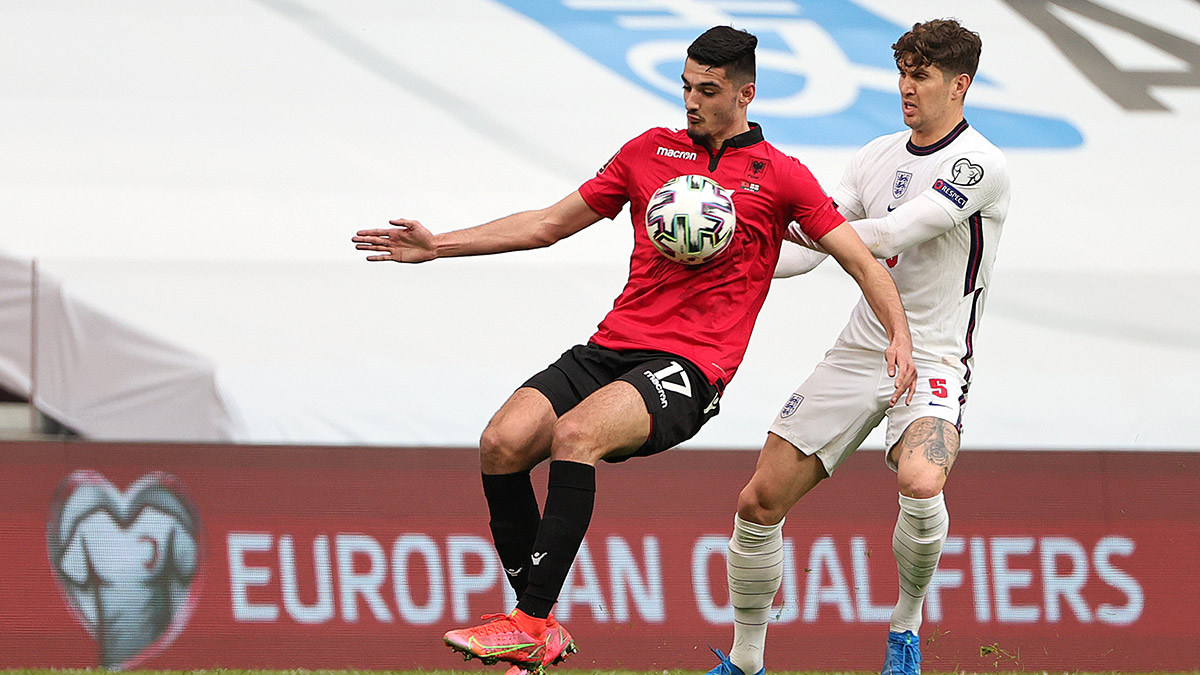 England v Albania, Friday 12 November, 7pm, ITV/HD (CH 103/113)
How's their campaign been?
Pretty good. So far they've outperformed their fourth-place ranking to sit third in Group I, beating Hungary twice and picking up nine points from four away games. They can still qualify, mathematically.

Key player
He's only 20, but Slough-born Armando Broja – currently on loan at Southampton from Chelsea – has made a big impact in his ten caps, scoring winning goals home and away against the Hungarians.

Memorable results
After qualifying for their first major finals in 50 years, Albania scored a euphoric 1-0 win over Romania at Euro 2016 – their first ever victory in a tournament.

How can England win it?
Patience. Albania packed their defence and central midfield when the Three Lions visited Tirana earlier this year, but relentless probing from Mason Mount, Phil Foden and co led them to a 2-0 victory.

Fun fact
Car ownership was banned for Albanian citizens until 1991. At that time there were just 7,000 cars in a country of three million people.
Belarus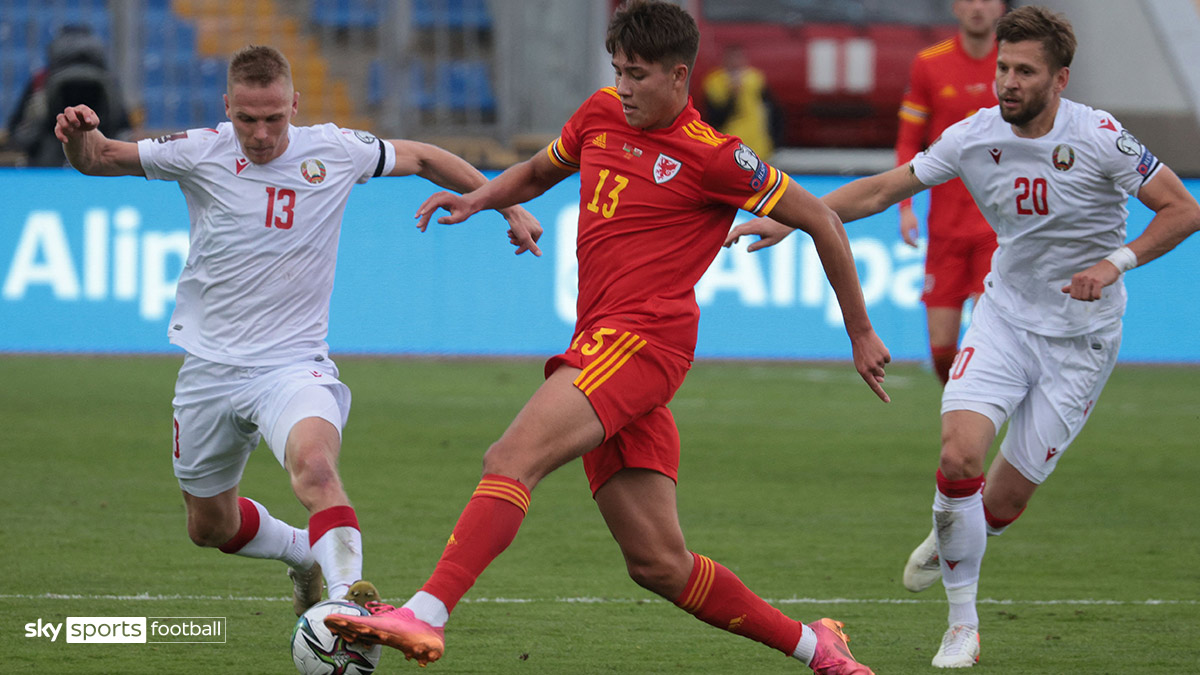 Wales v Belarus, Saturday 13 November, 7pm, Sky Sports Football/HD (CH 513/503)
How's their campaign been?
Grim. With just one win – at home to lower-ranked Estonia, who beat them in the return match – Belarus sit dead last in Group E.

Key players
Since the 2019 retirement of Belarus' greatest ever footballer, Alexander Hleb, stars have been thin on the ground. Their best current hopes are young attacking midfielders Pavel Sedko and Dzmitry Padstrelaw, who play their club football in Moscow.

Memorable results
Belarus registered a couple of shock friendly wins in 2016, beating Ireland in Dublin and Norway in Oslo. It's been slim pickings since, although there was a dramatic 86th-minute winner from Vitaly Lisakovich at Kazakhstan in last year's Nations League.

How can Wales win it?
We hesitate to say "Give it Gareth" but… Belarus were leading after an hour against Wales in September until a hat-trick from Bale, including an injury-time winner, helped Rob Page's team avoid an embarrassing defeat.

Fun fact
Belarus produces the world's largest dump truck, the 360-ton BelAZ-75710 – yours for a cool $10 million.
Kazakhstan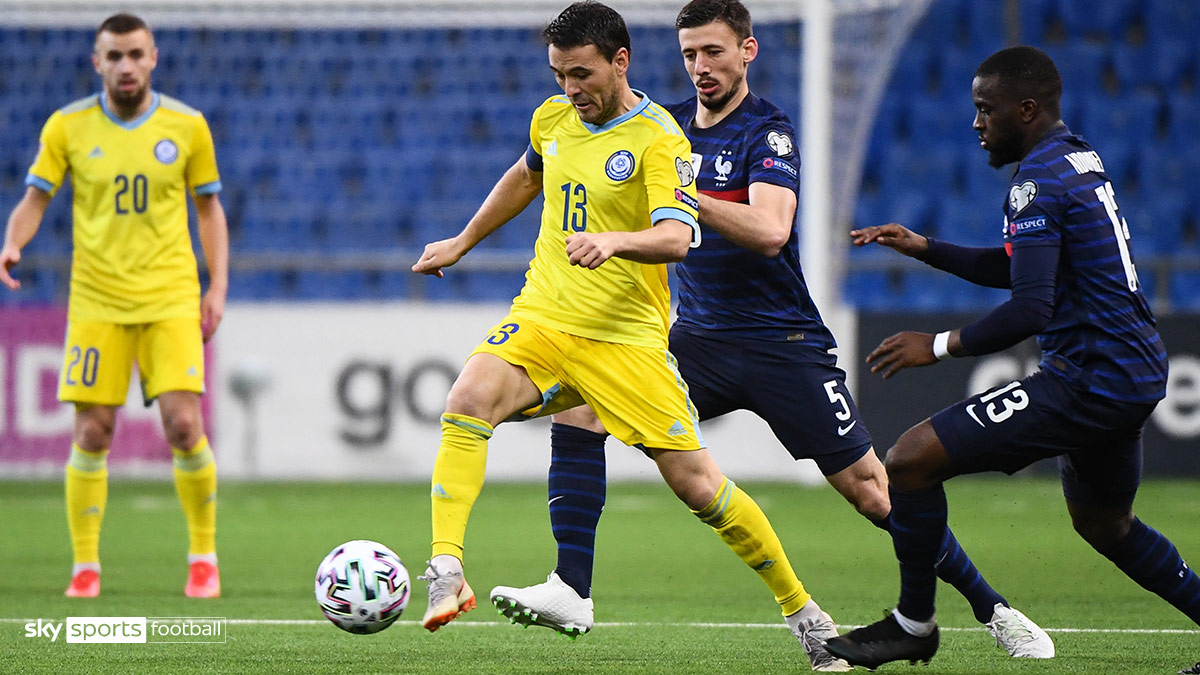 France v Kazakhstan, Saturday 13 November, 7.45pm, Sky Sports Football/HD – Red Button (CH 513/503)
How's their campaign been?
Up and down. Kazakhstan were drawn in a tough group, but having got two draws against Euro 2020 quarter-finalists Ukraine, they'll have been disappointed to lose home and away to Finland. They're well out of contention.

Key players
At just 23, winger Bakhtiyar Zaynutdinov is already his country's third highest scorer with eight goals, and has earned a move to top Russian club CSKA Moscow.

Memorable results
Scotland fans won't want (or need) to be reminded that the Kazakhs handed them a shock 3-0 defeat in Euro 2020 qualifying, though of course they bounced back to make it through to the finals.

How can France win it?
Be clinical. The world champions dominated possession when they visited Nur-Sultan in March, but in the face of some dogged defending they managed only an unconvincing 2-0 victory – and were grateful for an unfortunate own goal from Serhiy Malyi.

Fun fact
Ever wondered where in the world horses were first domesticated? You guessed it – Kazakhstan, about 6,000 years ago.
San Marino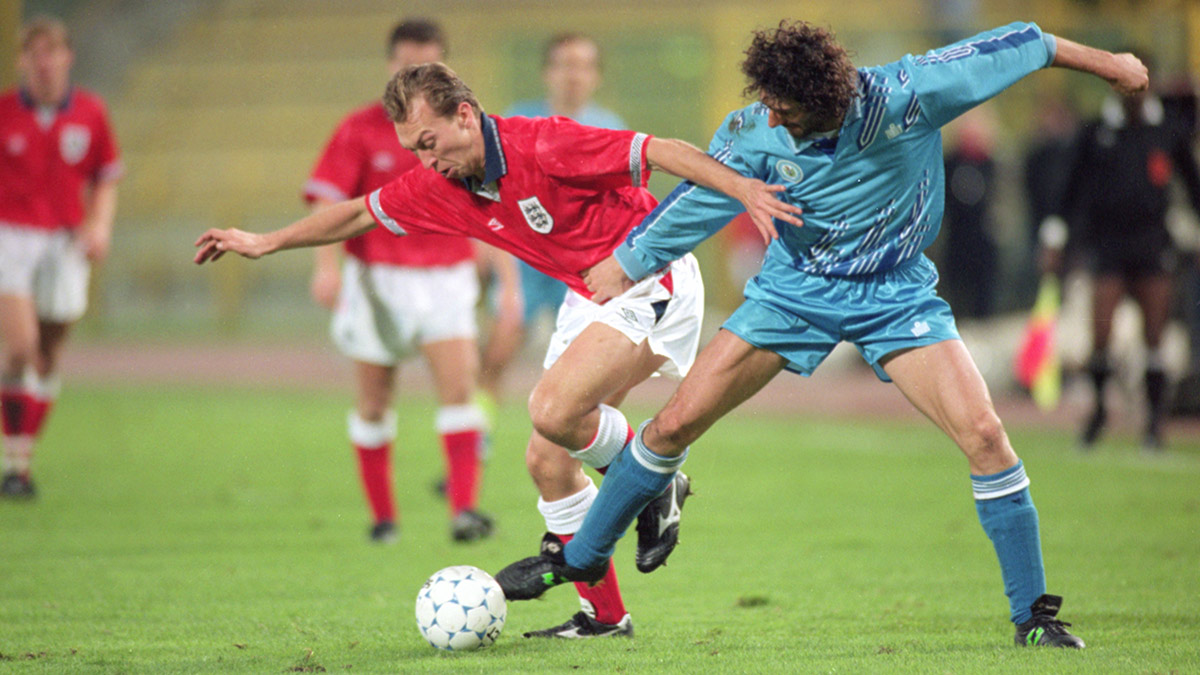 England v San Marino, Monday 15 November, 7pm, ITV/HD (CH 113/103)
How's their campaign been?
Predictable. The perennial worst team in the world have lost every game by a cumulative score of 32-1. In their defence, they do have a population roughly similar to that of Haywards Heath.

Key players
Veteran centre-back and captain Davide Simoncini is a 69-cap stalwart, while goalkeeper Elia Benedetti plays for Cesena in Italy's third tier. The back-up keeper is his cousin Simone. Like we said, small place.

Memorable results
This is an easy one: San Marino's sole international victory, a 1-0 win over Liechtenstein in 2004. Honourable mentions go to their pair of goalless draws last year against Liechtenstein (again) and Gibraltar, marking their longest ever unbeaten run.

How can England win it?
By turning up. England have scored at least five goals in every one of their seven matches against the Sammarinese, even if they did give Graham Taylor's team a scare in 1993 with a goal after 8.3 seconds… in a game that ended 7-1.

Fun fact
The tiny landlocked state has the oldest surviving written constitution and the oldest paid postal service in the world. Both date back to the first decade of the 17th century.
Watch on the go
Virgin TV customers who subscribe to Sky Sports can watch on the go with the Sky Sports app. Not only will you be able to take your Sky packages with you, but you get in-depth sports coverage, as well as exclusive videos and interviews. On iPad and Android tablets you can also access Sky Sports' cutting-edge second-screen functions. Download from the Apple app store for iPad or iPhone, or from Google Play.
Upgrade to Sky Sports now
Don't have Sky Sports? You can find out about our Sky Sports package and upgrade here.
TV channels: Channels, content and features available depend on your chosen package. Channel line-ups and content are subject to change at any time and to regional variations.
HD: HD TV required to view HD channels. Number of inclusive HD channels depends on package.
Premium channels (add-ons): 30 days' notice required to remove premium channels/packs. Sky Sports SD subscription required to take Sky Sports channels in HD.
Sky Sports HD channels: Sky Sports HD channels £7 per month when subscribing to Sky Sports SD channels.
Sky Sports apps: Only available via the Sky Sports websites or apps (for selected iOS and Android mobiles and tablets) to customers who subscribe to these channels. UK only. Maximum 2 devices. Only available on iOS 8 and above, and Android 4.x. Selected content may not be available to view. Separate terms and conditions apply to the Sky Sports apps and websites.