Skip to main content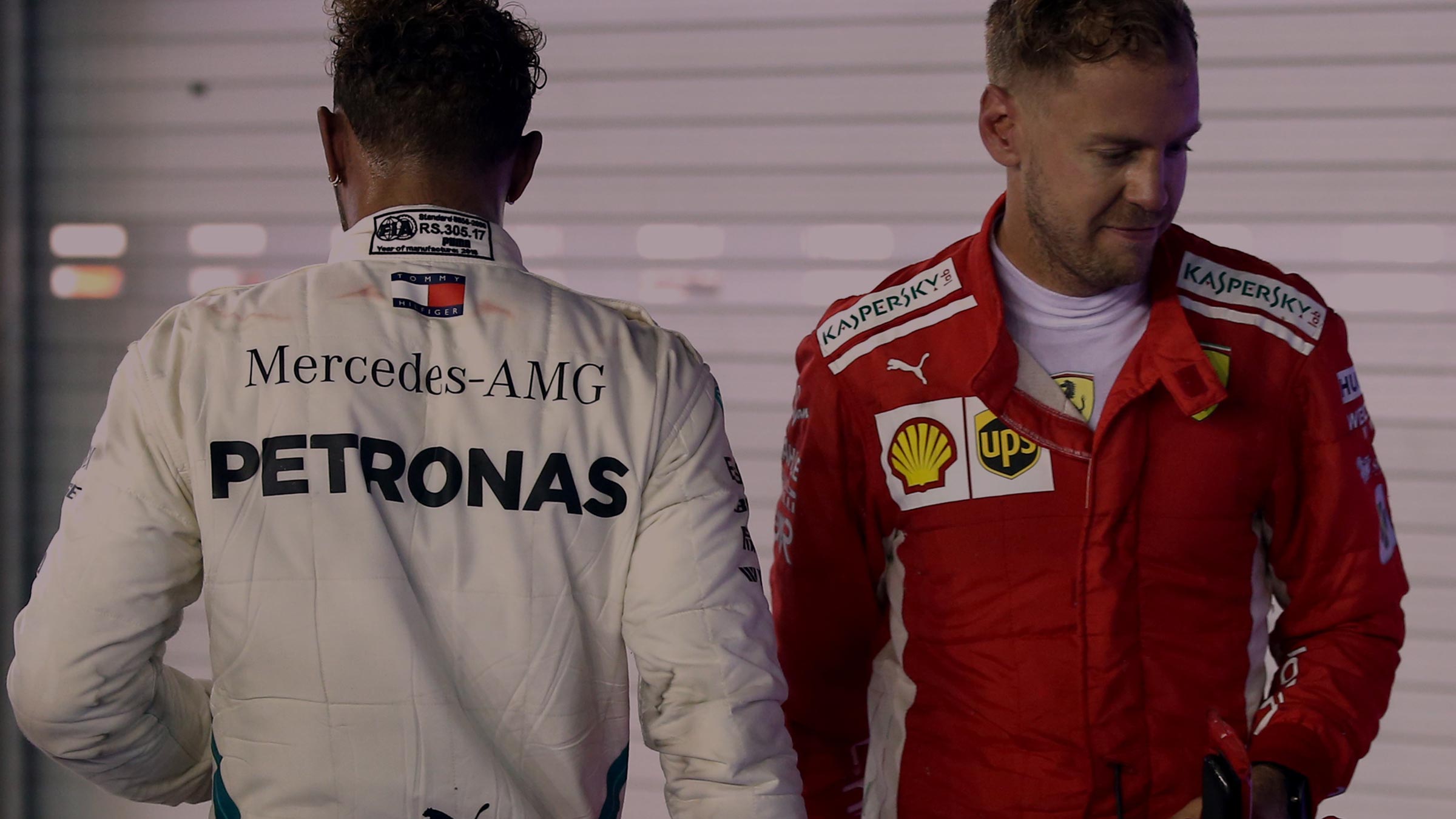 As the championship battle heads to the Lone Star State, we take a look at how this season's fierce rivalry compares to those from days gone by…
FORMULA ONE PIRELLI 2018 UNITED STATES GRAND PRIX, Sunday 21 October, 6pm, Channel 4/HD (CH 104/141) + 6.10pm, Sky Sports F1®/HD (CH 516/506)
Though the official state motto of Texas may be "Friendship", there'll be no love lost when the lights go out at the starting grid in Austin's Circuit of the Americas, as four-time world champions Lewis Hamilton and Sebastian Vettel resume their battle to claim a historic fifth crown.
After 17 gruelling races, thousands of laps and a number of incidents both on and off the track, there's little to separate Hamilton's Mercedes and Vettel's Ferrari, meaning that whichever of the two gets ahead in Texas, the other likely won't be far behind.
And while his commanding championship lead makes it look as though the title is Hamilton's to lose, there are plenty of points to race for, and as previous seasons have shown, anything can happen during the end-of-season run-in. With the title battle nearing its end and the pair's recent history of on-track bumps, tensions are high going into what will undoubtedly be another tight race.
But how does their rivalry compare to some of the others in the sport's long, illustrious history? Read on to find out…


Lewis Hamilton v Sebastian Vettel: 2010-present
From 2010's tight, four-way title battle to their duels in 2017 and 2018, these two have been closely matched for years. Despite a choice comment here or there, an occasionally awkward press conference and the odd on-track incident, there appears to be a surprising amount of respect between these two modern greats.
Lewis Hamilton v Nico Rosberg: 2013-2016

In their four seasons as teammates, these two childhood friends bumped, crumped and even threw a hat at one another as they battled for the title in their blisteringly quick Mercedes cars. Unsurprisingly, their friendship soon made way for a fierce, thrilling rivalry that captivated fans the world over.
Fernando Alonso v Sebastian Vettel: 2010-2012
While this rivalry wasn't as ferocious as the one described above in regards to on-track bumps, were it not for some miraculous comebacks from Sebastian Vettel and the Red Bull team, Fernando Alonso would have comfortably claimed the 2010 and 2012 world titles – despite driving what many felt was the inferior car. Much of Alonso's frustration seemed to stem from his apparent inability to better Vettel over a season, and probably a sense of sheer bafflement about how someone actually managed to beat him.
Michael Schumacher v Mika Häkkinen: 1997-2001
The rivalry between two of F1's coolest customers rarely reached boiling point, despite the on-track intensity the pair created when battling for the titles. In four breathtaking seasons, Häkkinen coolly clinched back-to-back championships in 1998 and 1999, before Schumacher duly did the same, winning in 2000 and 2001.
Ayrton Senna v Alain Prost: 1988-1993

If this classic rivalry were a curry, it's safe to say it'd be a Vindaloo with a liberal sprinkling of extra-hot chilli peppers. The ferocity of their 1988 and 1989 title fights was evident on and off the track, with both drivers publicly bad-mouthing one another at every opportunity and colliding on countless occasions. Miraculously, they made amends in the lead-up to Prost's retirement in 1993, and the Frenchman was even a pallbearer at Senna's funeral just one year later.
Nelson Piquet v Nigel Mansell: 1986-1987
Pairing a fiery, fiercely talented Brazilian with a stubborn, equally skilful Brit didn't quite go as well as team principal Frank Williams had planned. Piquet, angered by Mansell's inability to accept his "number two" status, frequently bad-mouthed both Mansell and members of Mansell's family in the press, making an already tense sporting rivalry unsavourily personal.
James Hunt v Nicki Lauda: 1976-77
From the first time the two lined up alongside one another on the grid, Nicki Lauda's unquestionable professionalism clashed with James Hunt's unquestionable lack of professionalism. Their historic 1976-championship battle (which Hunt won by one point) is the standout memory, especially given Lauda's remarkable recovery from a crash that left him with burns all over his body, and even in his lungs.
Stirling Moss v Juan Manuel Fangio: 1955-1957
Arguably the greatest driver never to win a world title, Stirling Moss's inability to clinch a championship was, quite simply, down to Juan Manuel Fangio's innate ability to drive exceptionally fast, with Moss coming second to Fangio for three of the Argentinian's then record-setting five championship wins.
FORMULA ONE PIRELLI 2018 UNITED STATES GRAND PRIX, Sunday 21 October, 6pm, Channel 4/HD (CH 104/141) + 6.10pm, Sky Sports F1®/HD (CH 516/506)


Watch on the go
Virgin TV customers who subscribe to Sky Sports can watch on the Sky Sports app, anywhere in the UK (or while temporarily in the EU) with a WiFi or mobile data connection. Not only will you be able to take your Sky packages with you, but you get in-depth sports coverage, as well as exclusive videos and interviews. And, also on iPad, you can access extra features, including Sky Sports' cutting-edge second-screen functions. Download from the Apple app store for iPad or iPhone, or from Google Play.
Upgrade to Sky Sports now
Don't have Sky Sports? You can find out about our Sky Sports package and upgrade here.
TV channels: Channels, content and features available depend on your chosen package. Channel line-ups and content are subject to change at any time and to regional variations.
HD: HD TV required to view HD channels. Number of inclusive HD channels depends on package.
Sky Sports: You must subscribe to Sky Sports in SD to take these channels in HD. Sky Sports News HD not included. Content available to view depends on TV package. Sky Sports available as an add-on for an additional monthly charge if not included in your package. Premium channels must be kept for at least 30 days.
Sky Sports app: Only available via the Sky Sports app (selected iOS and Android devices, on iOS 8 and above, and Android 4.x. UK only (or while temporarily in the EU) or website to customers who subscribe to these channels. Separate End User Licence Agreements and terms and conditions apply to the Sky Sports app and website. Selected content may not be available to view. Live streaming and On Demand available in UK (or while temporarily in the EU) with broadband, WiFi or 3G/4G only. Minimum 800 kbps recommended per device accessing the service. Maximum of 2 devices.
F1: The F1 Logo, F1, FORMULA 1, FIA FORMULA ONE WORLD CHAMPIONSHIP, GRAND PRIX and related marks are trade marks of Formula One Licensing BV, a Formula 1 company. All rights reserved.