Skip to main content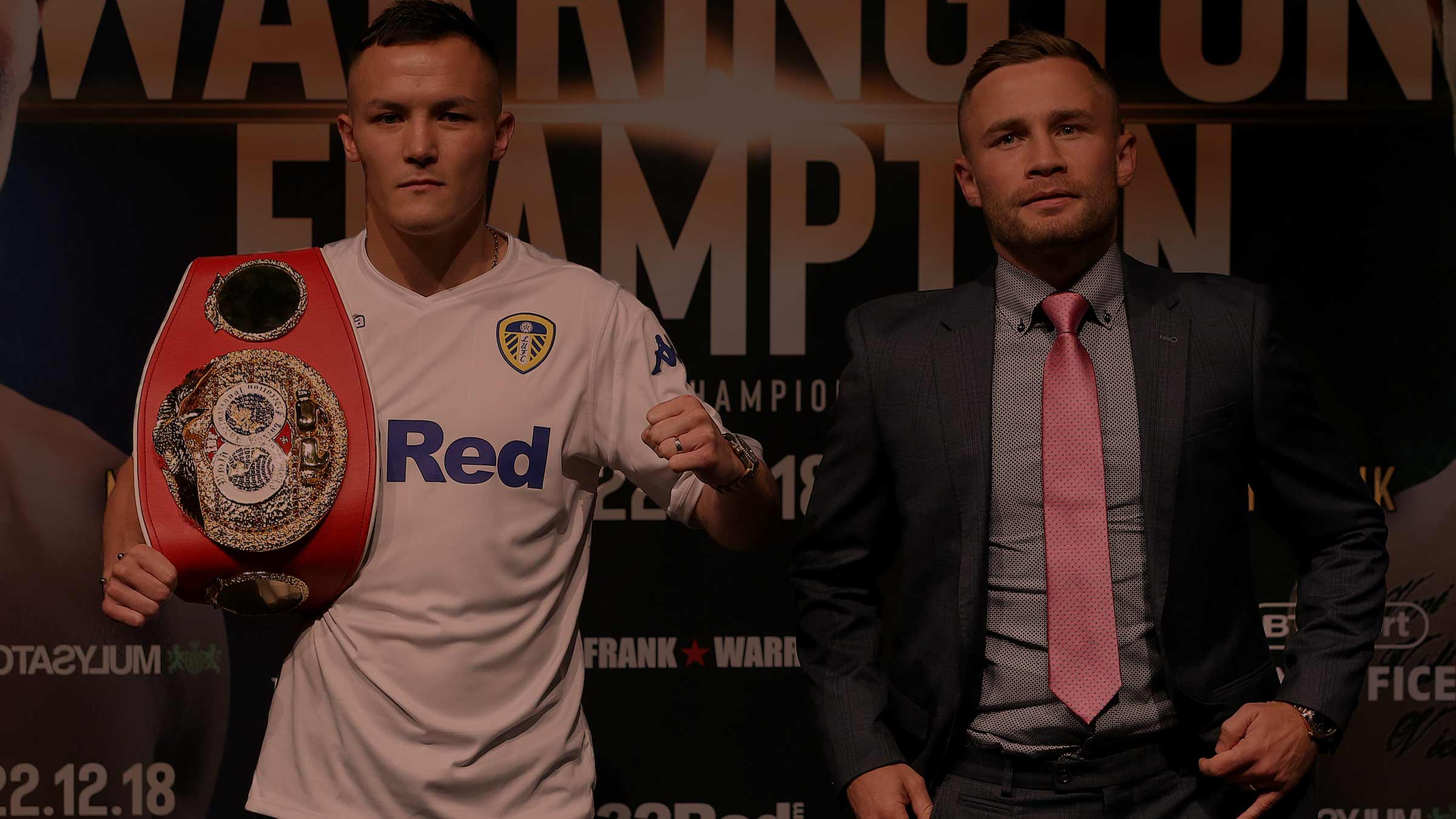 They say styles make fights. When a bullish Josh Warrington meets ring-craft master Carl Frampton this weekend, the clash of styles promises to make for an absolute blockbuster
Saturday 22 December, 6pm, BT Sports Box Office. £19.95 (HD only). Booking now open
The atmosphere had been refreshingly amicable since the announcement that Josh Warrington would defend his IBF Featherweight crown for the first time against previous two-time champion Carl Frampton. Then fight week arrived and the inevitable trash talk ensued.
Leeds-based Warrington has vowed that the fight will be Frampton's last hurrah, while the Belfast boy told the belt-holder to "wind his neck in" after a series of social media posts poked fun at Frampton's training methods. It's time to get this party started.
Nearly two years after losing his WBA title in a Las Vegas rematch with Leo Santa Cruz, The Jackal has his fists firmly fixed on a return to Sin City after coming through his three build-up bouts relatively unscathed.
At 32, Frampton has admitted that it's "big fights or no fights" from now on, suggesting that Warrington's threats may not be far from the truth. Frampton, who convincingly saw off Manchester's Scott Quigg in similar circumstances in 2016, is vehement that he doesn't intend to start his journey again. But while he has the experience, his opponent has the luxury of time.

Three years Frampton's junior, Warrington is a man on the rise. His defeat of a previously unbeaten Lee Selby at Elland Road in May proved that could hold his own among the elite. Now a successful defence against a man once revered as the greatest bantamweight on the planet should help him realise his ultimate goal – a unification bout with one of the division dynamos, Santa Cruz, Óscar Valdez or Gary Russell Jr.
Late attempts to get under Frampton's skin – a tactic neither man engaged in when the fight was confirmed three months ago – could be seen as a desperate attempt to gain an advantage over an opponent who has more convincing knockout power. Or it could simply be testament to Warrington's unwavering belief that his own ferocious style and superior reach will reign supreme on the night.
One thing's for sure, Manchester will be rocking come Saturday – and you can watch the drama unfold, "Sweet Caroline" and all, on BT Sport Box Office.
Here's how the competitors square up.
How to order
Go to Home > On Demand > Live Events. To view your booking, once purchased, go to On Demand > Live Events.
To purchase this event you must have a TiVo® box or Virgin TV V6 box, powered by TiVo®. Available in HD only.
Want more big fight action?
From blockbusting boxing bouts to wild nights of WWE wrestling and MMA matches from the UFC and beyond, it's all on our homepage…
HD: HD TV required to view HD channels. Number of inclusive HD channels depends on package.
BT Sport Box Office: This event can only be purchased/viewed on TiVo® and Virgin TV V6 Boxes. Available in HD only.
Repeats Sunday 23 December, 9am, 1pm, 5pm, 9pm