Skip to main content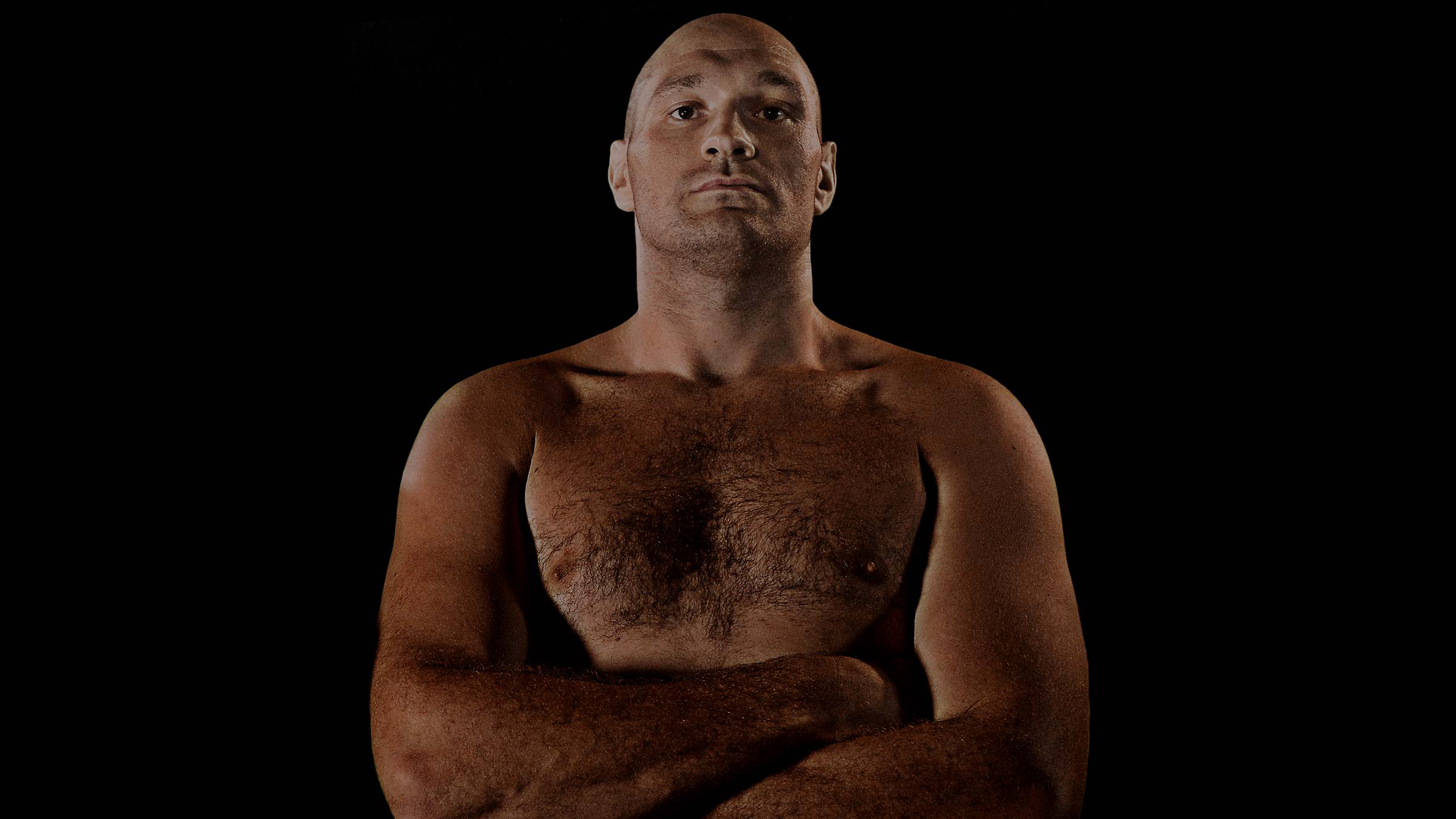 Can the Gypsy King reign supreme in the neon jungle of Las Vegas to set up an even bigger contest? Hell hath no Fury, because he's back doing what he does best…
Fury v Schwarz, from midnight, Saturday 15 June (early Sunday 16 June), BT Sport Box Office. HD only, £19.95. Booking now open
You might love him. You might loath him. But you cannot ignore him! Tyson Fury, the self-styled Gypsy King and lineal heavyweight champion is stepping back into the ring for his first outing of the year against up-and-coming (and unbeaten) German star Tom Schwarz at the iconic MGM Grand in Las Vegas.
The Tyson Fury show is rolling into town just six months on from his thrilling split draw against Deontay Wilder, which saw him regain his place among boxing's elite – a place that many thought he'd disappeared from for good. Here, he's chasing the 28th win of his stop-start career against the WBO intercontinental heavyweight champion. Here's how the two men stack up…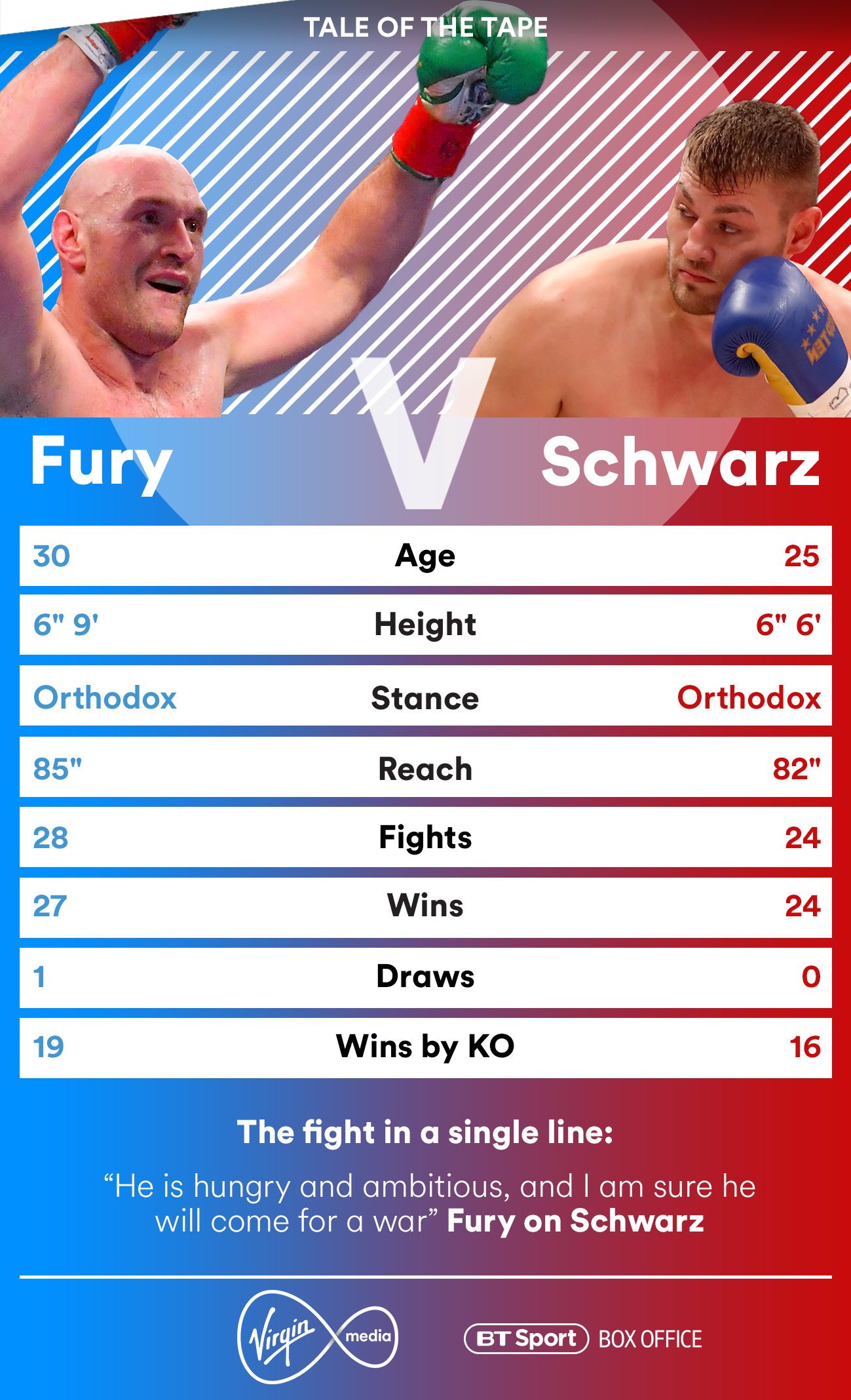 It has been a remarkable turnaround for the powerful Fury (who formerly held all the other heavyweight belts), largely thanks to his ability to switch from orthodox to unorthodox stance, which makes him difficult to predict and even harder to hit. Schwarz, meanwhile, has a powerful straight right hand that has earned him 16 KOs from 24 unbeaten fights, but is susceptible to counters with that tempting overexposed chin.
Fury is undoubtedly here to do battle – and we're not talking about Tommy Fury, Tyson's brother and a contestant on Love Island. Should Tyson get through his Las Vegas debut, the potential prizes are massive, with dust-ups against Dillian Whyte, Deontay Wilder and even Anthony Joshua (despite his surprise defeat at the hands of Andy Ruiz Jr) on the cards. Fury previously said Joshua should "grow a set of nuts" and do his talking in the ring.
AJ is just the latest boxer to feel his acid tongue. Ahead of the Schwarz fight on BT Sport Box Office, we look at some of Tyson Fury's best quotes down the years…
Tyson Says…
"Joshua is in my rear-view mirror. He's stuck in a certain year. The big fights ain't happening for him. He needs to grow a set of nuts and step up to the plate instead of talking about fighting the heavyweights. People are sick of hearing all the same stuff with him. Grow up and fight somebody."
That full AJ quote for your viewing pleasure. Essentially... actually, it needs no clarification, does it?
"From a heavy knockdown he then had two minutes 30 seconds to finish me and he couldn't. They can only beat Tyson Fury with a stick, while I am asleep!"
During his draw with Deontay Wilder last December, Fury was put down in the ninth before then – apparently – being knocked out cold in the twelfth. But he got up and carried on fighting until the final bell. Fury's withering verdict on his opponent's inability to finish was brutal.
"I'm just wondering if the bottom of Steve's boots have been sponsored. Because as there's going to be a lot of people watching around the world, I'd like to put my Twitter account on the bottom of them!"
Before he faced Steve Cunningham in April 2013, he got into – ahem – a lively exchange with the American.
"I picked him because he's an easy touch. He's a lemon and I'm gonna squeeze him nice and hard. I'm going to make lemonade out of him."
Deontay Wilder, again. This time in the press conference before the fight. That particularly press conference had to be called off. We can see why…
"You're boring, I want to rid you out of the heavyweight division. You have about as much charisma as my underpants – zero, none!"
There was certainly no love lost between Fury and Wladimir Klitschko leading up to their fight in October 2015.
"You've got grey hair like my trainer and like my manager. This is a young man versus an old man. You look old, you've got wrinkles in your face!"
Another ear-bashing for Wladimir Klitschko.
"In my opinion, he's a classless prima donna."
The David Haye versus Fury fight never came to fruition after being called off twice. Still, Tyson obviously has many kind words to say about Haye. Nah, we're just kidding, this is the kindest thing we could actually print!
How to order
Go to Home > On Demand > Live Events. To view your booking, once purchased, go to On Demand > Live Events.
To purchase this event you must have a TiVo® box or Virgin TV V6 box, powered by TiVo®. Available in HD only.
Want more big fight action?
From blockbusting boxing bouts to wild nights of WWE wrestling and MMA matches from the UFC and beyond, it's all on our homepage…
Interviews: Any opinions expressed in interviews are those of the interview subject and not those of Virgin Media.
TV channels: Channels, content and features available depend on your chosen package. Channel line-ups and content are subject to change at any time and to regional variations.
HD: HD TV required to view HD channels.
BT Sport Box Office: This event can only be purchased/viewed on TiVo® and Virgin TV V6 Boxes. Available in HD only.
This is a live event only and cannot be recorded. Price includes scheduled repeats.
Repeats on the hour from 9am to 12pm on Sunday 16 June.