Broadband speeds
At Virgin Media we understand your need for speed. You want to get online and get your stuff done fast. Nobody's got time for the spinning wheel of doom, and we do everything within our power to make sure you don't have to put up with it. But don't just take our word for it – below are all the stats, facts, figures and FAQs so you can see for yourself just what's going on...
Our typical broadband speeds for January 2019
Product

Average download Speed

Peak (8pm-10pm)

Average download Speed

Over 24 Hr

Average upload Speed

Peak (8pm-10pm)

Average upload Speed

Over 24 Hr

VIVID 50

53.6 Mbps
54.3 Mbps
3.0 Mbps
3.1 Mbps

VIVID 100

105.6 Mbps
107.8 Mbps
6.0 Mbps
6.0 Mbps

VIVID 200

207.4 Mbps
214.6 Mbps
11.9 Mbps
12.0 Mbps

VIVID 350

347.3 Mbps
356.2 Mbps
20.4 Mbps
20.6 Mbps
Source: Virgin Media Broadband Performance Panel powered by SamKnows, the broadband performance monitoring specialists. Typical speeds are recorded with a standard Ethernet cable. Maximum download speeds may sometimes be up to 110% of the product name speed.
About our monthly broadband speed report
As part of our commitment to transparency, we publish our average download and upload speeds on this page. The figures you see here are mean averages, which means we've totted up our speed figures for each fibre package and divided them by the number of households monitored by SamKnows that month.
As these are average speeds, they're not guaranteed. And it's also worth knowing that broadband speeds can be affected by things we can't control – like the website you're visiting, the number of people using your connection, or even your computer's specifications
Where do the speed stats come from?
The data comes from a broadband measurement panel made up of real Virgin Media customers spread out across our network. Powered by SamKnows, the broadband performance monitoring specialists, we run millions of tests per month to understand how our broadband is performing.
Ofcom's yearly review of UK broadband speeds is also carried out by SamKnows. Our testing mirrors the methodology used in Ofcom's review and can be found within section 2 of the annex here.
Speed you can rely on
Great internet experiences can move you, but only when your connection is truly great. Our cable's thicker copper core combined with quality insulation allows us to deliver average speeds of 362Mbps on our top tier, VIVID 350.
We own the entire network to your home which means we can measure the reliability of your connection from beginning to end – including your Virgin Media Hub.
Check out our handy table below to see how reliable our entire network has been.
| | |
| --- | --- |
| Time period | Reliability (from the internet to your Virgin Media Hub) |
| July 2018 | 99.95% |
| Year to date | 99.97% |
| Last 12 months | 99.98% |
Traffic Management
We don't apply traffic management to your download or upload activity. No matter which broadband service you take from us, we won't reduce your speed. So now you can download and upload as much as you like without worrying about traffic management slowing you down.
We implement some other reasonable traffic management measures across our network in order to comply with our legal obligations, ensure the integrity and security of our networks, make parental controls available to you and to provide you with the services you've asked us to provide. For more details on our traffic management and these other measures, please go to virginmedia.com/traffic.
VIVID 50
VIVID 100
VIVID 200
VIVID 350
Download speed
Average speed 54Mbps
Average speed 108Mbps
Average speed 213Mbps
Average speed 362Mbps
Upload
speed

Average upload speed 3Mbps

Average upload speed 6Mbps

Average upload speed 12Mbps

Average upload speed 21Mbps
Speed achievable by 50% of customers at peak times (8pm-10pm, Monday-Sunday).
About our advertised broadband speeds
From 23rd May 2018, the average speeds you see in our advertising are based on the speeds that 50% of our customers can get at peak times. Our peak times are between 8pm and 10pm, Monday to Sunday, when more people tend to be at home and online.
Unlike our reported monthly speeds, which use a mean average, this average is based on a median, or the mid-point between the fastest and slowest speeds on each of our fibre packages. The data for this comes from a broadband measurement panel made up of real Virgin Media customers spread out across our network. With the help of SamKnows, the broadband performance monitoring specialists (also used by OFCOM), we run millions of tests per month to understand how our broadband is performing
Don't forget, these are average speeds and not guaranteed. You should also bear in mind that broadband speeds can be affected by things we can't control – including the number of people using your connection, or the device you're using.
FAQ - Information about Speeds
1. Why isn't my broadband speed the same as the advertised speed?
Actual speeds may vary from the advertised speed of your product, particularly at peak times. Lots of different factors may affect the speeds you get, including your internal wiring, network capacity, device limitations, use of a wireless connection and the number of customers online and accessing any particular website at any one time. At peak times, high usage, e.g due to major sporting events, may cause congestion.
2. How do I ensure I'm getting the best possible broadband speed?
We've put together a handy guide to checking your broadband performance with some tips on how to ensure you're getting the most out of your service. You can find it here: Checking your Virgin Media broadband performance.
3. What if I'm still not happy with the speeds I'm getting?
If you are still not happy with the speeds you are getting, then you can find more advice and details of how to troubleshoot your connection here.
4. What is the Broadband Speed Code of Practice?
As a signatory to Ofcom's Voluntary Code of Practice on Broadband Speeds, we're committed to provide you with information about the speed you are likely to achieve when you contract with us for broadband services, the factors that may affect that speed and what to do if you think you are not receiving the speeds you expected.
Need more help?
Get helpful advice from the friendly community at our forums
Find out how to get in touch with us via web chat or by phone
Hub 3.0 testing – "fastest WiFi" claim substantiation
Hub 3.0 testing – "fastest WiFi" claim substantiation
What did we test?
Virgin Media offers the fastest widely available fixed line download speeds in the UK1 with an average of 362Mbps at peak times (8-10pm, Monday to Sunday) on our top tier, VIVID 350. We asked Farncombe, an independent third party, to put our Hub 3.0 through its paces to confirm that it's capable of delivering these ultrafast download speeds even over WiFi.
How was the testing carried out?
The testing was carried out in Farncombe's dedicated WiFi test house, a building representative of a typical furnished two storey family home in the UK. Sources of interference were kept to a minimum.
A tablet, a laptop and a mobile phone were used to test the Hub 3.0, recreating the mix of devices commonly found in people's homes. All were at least 802.11n and dual-band compatible. During testing all three were used simultaneously and in different rooms as if several people in the house were online at the same time.
1Based on Ofcom's March 2016 fixed line performance report.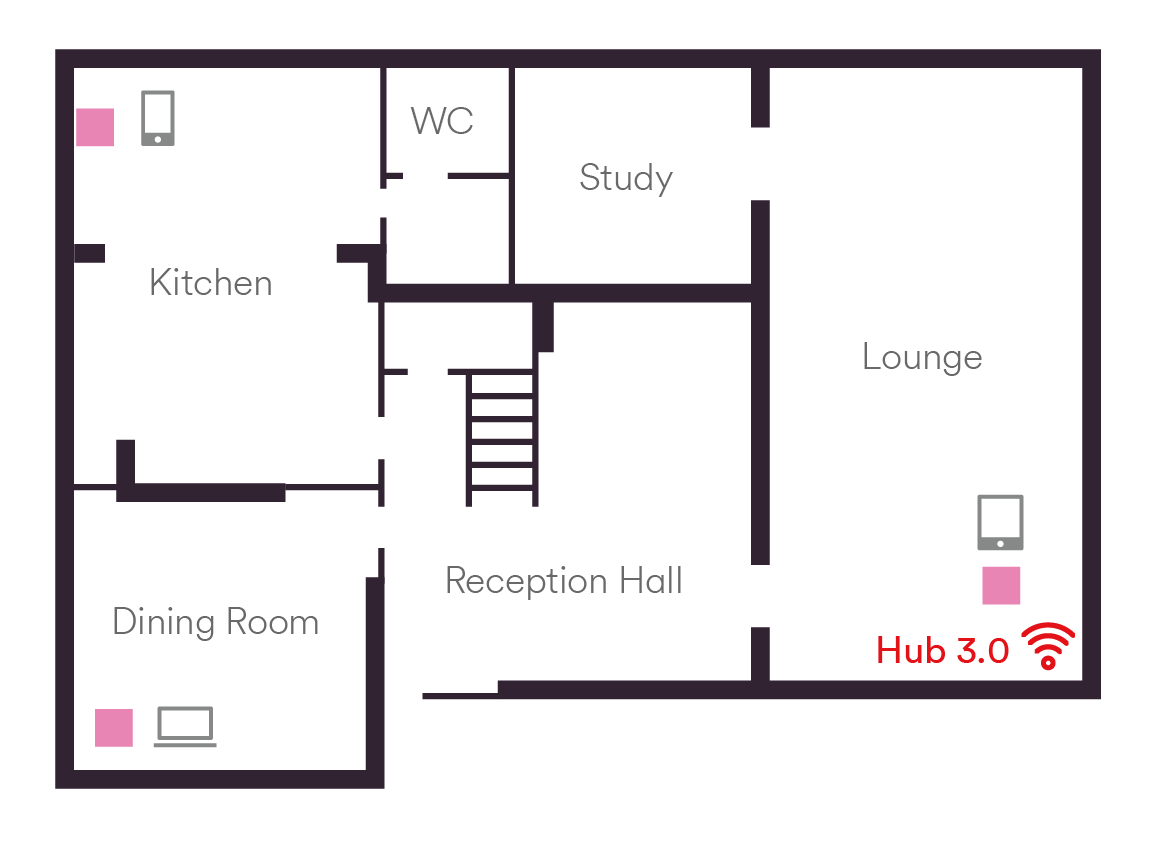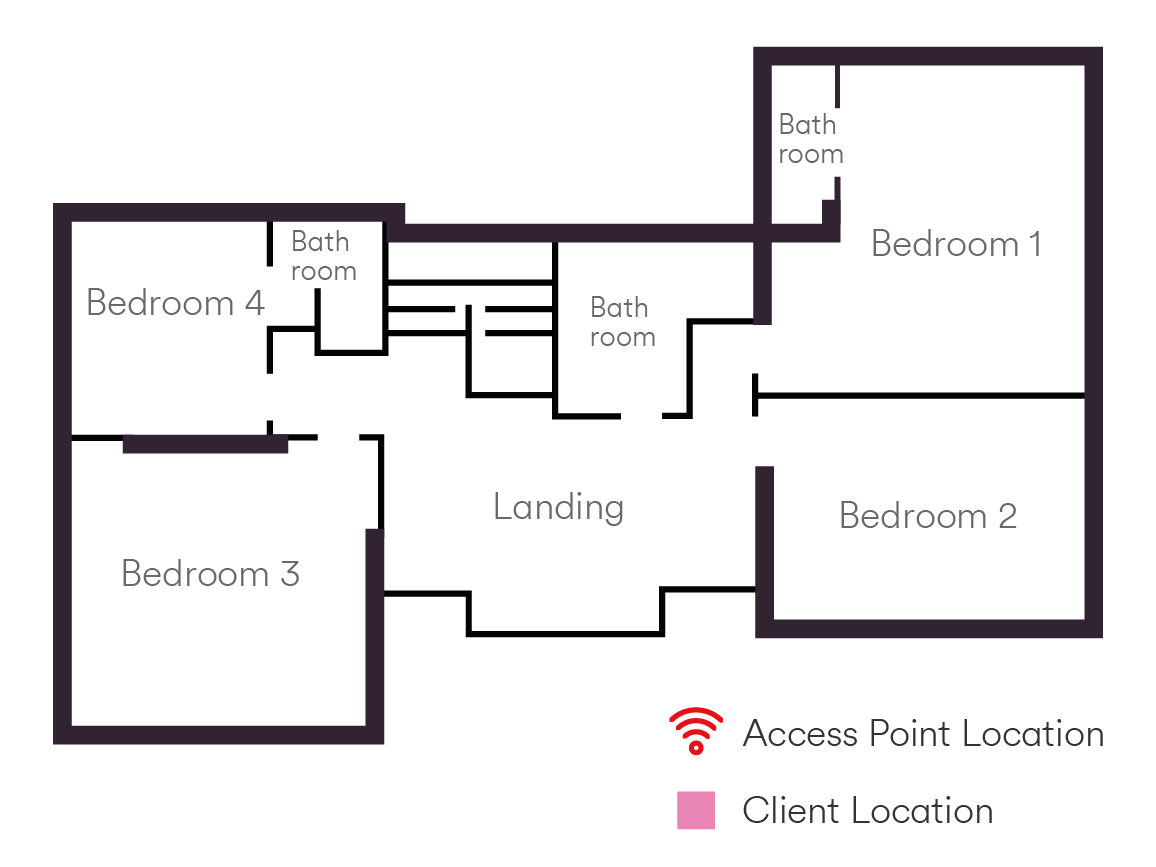 Floorplan of the test house, with the locations of the devices and Hub 3.0 highlighted
The Hub 3.0 was left on its default settings. The frequency bands (2.4GHz and 5GHz) on which each device connected to the Hub 3.0 were selected to correspond to how you're likely to find your devices connected at home: 2.4GHz for the device furthest from the hub and 5GHz for closer devices.
When you use WiFi to access the internet, the WiFi can only ever be as fast as the speeds delivered by your internet service provider into your home. Despite this, wireless speed testing is often carried out without taking the fixed line speeds associated with a particular provider into account.
Instead, for this testing, we limited the wireless throughput to reflect the download speeds our customers experience on average over 24 hours on the VIVID 200 package2. That way we could test the realistic end to end performance of the Hub 3.0 teamed up with our DOCSIS 3.0® network, rather than just the WiFi in isolation.
Traffic was generated using industry standard software, configured to limit the total throughput to 170Mbps.
2170Mbps, based on the 24h average download speed of Virgin Media's VIVID 200 package published on the Virgin Media website in October 2015. See the "Our speeds and SamKnows" section of this report.
What were the results?
Each measurement was taken over a period of one minute and was repeated three times. The table below shows the average throughput achieved by each of the devices over the measurement period along with the average total combined throughput delivered to all three.
Router

Channel

Band

Client

Location

Difficulty of location

Average downstream throughput (Mbps)

Combined download speed (Mbps)

VM Hub 3.0

36

5GHz

iPad Air

Lounge

'Easy'

80.013

170.614

36

5GHz

MacBook Pro

Dining room

'Medium'

48.051

6

2.4GHz

Samsung S4

Kitchen

'Hard'

42.550
Results of the simultaneous usage throughput testing
Conclusion
In our testing Hub 3.0 was able to deliver the full 170Mbps of bandwidth wirelessly, shared between the three devices. Not only do Virgin Media offer the fastest widely available fixed line download speeds in the UK, but this testing shows that Hub 3.0 is able to deliver those speeds over WiFi.
Our speeds and SamKnows
The fixed line speed data used as the basis for this testing comes from a broadband measurement panel made up of real Virgin Media customers spread across our network. In partnership with SamKnows we run millions of tests per month to understand how our broadband is performing.
The table below shows the results from this panel for October 2015.
| | |
| --- | --- |
| Advertised download speed (Mbps) | Measured average speed over 24 hour period (Mbps) |
| 50 | 51.81 |
| 100 | 97.18 |
| 200 | 170.05 |
'Our speeds' test results from October 2015, displayed at virginmedia.co.uk/ourspeeds at the time
CableLabs is the owner of the DOCSIS 3 trademark.
More broadband products
More broadband products
Hows this for the trophy cabinet?
With us, you can rest assured that you're with the fastest widely available broadband provider in the land... but you don't have to take our word for it - uSwitch agree...
The legal stuff
Prices may change at any time during the contract.
New customers only. SERVICES ONLY AVAILABLE IN VIRGIN MEDIA NETWORK AREAS. Subject to survey, network capacity and credit check. A minimum period applies to the services, please check basket for details.
What is a minimum period? When you take a service from us you will be agreeing to commit to taking that service for a minimum amount of time (e.g. 12 or 18 months). We call this a minimum period, minimum term or minimum commitment period but they mean the same thing. Please check your basket for details of the minimum period that applies to the services you have chosen.
What if I cancel or move home? If you cancel during the minimum period you may need to pay an Early Disconnection Fee, including where you move to a property outside of the Virgin Media Network area – this is because you will be asking to cancel your services early. The Virgin Media network does not cover all of the UK – please use our post code checker by clicking here to check availability. You can find out more details on the Early Disconnection Fee and process by visiting the Legal Stuff section of the website here. For the full terms and conditions please click here.
VIVID 350 Availability: Available in selected areas only - use our postcode checker to see if available in your area yet.
Installation: Engineer installation fees may apply on certain packages or bundles (starting from £40 for standard install).
Five times faster: Based on fastest widely available advertised average download speeds (average speed 362Mbps for VIVID 350 vs average speed 67Mbps for BT Superfast Fibre 2 Unlimited and 63Mbps for Sky Fibre Max).
Set up Fee: There is an activation fee of £25.00.
2 £70 upfront cost includes £25 activation fee, £45 one-off flexi fee and delivery to store via Click & Collect. For optional home delivery, add £5.
51% of Virgin Media customers surveyed said they were 'very satisfied' with broadband service reliability versus Sky (44%), BT (44%) and Talk Talk (32%).
99.98% network uptime in past 12 months: For further details see http://www.virginmedia.com/shop/broadband/speeds.html
BT charge up to £129 charge for faults inside of home boundary (including kit out of warranty)
Payment: For those joining Virgin Media, if you pay by any other means than Direct Debit, you'll be charged a payment handling fee of 13p per month, made payable to Virgin Media Payments Ltd. If you would like paper bills, the fee is £1.75 a month for cable and £1.50 a month for mobile. Further terms and conditions apply. See sections below for more Legal Stuff.
Remedies: If you have experienced a problem with Virgin Fibre caused by Virgin Media's failure to exercise reasonable care and skill in providing Virgin Fibre to you then legal remedies are available including the right to require a price reduction by an appropriate amount. For more information about when legal remedies are available to you visit https://www.citizensadvice.org.uk/
Netflix: Netflix subscription required at extra cost.
Netflix Streaming: Source: https://ispspeedindex.netflix.com/country/uk/. Netflix ISP Speed Index compares performance of major ISPs and lists the average prime time bitrate for Netflix content streamed to Netflix members during a particular month for major ISPs. Virgin Media leading ISP for past 12 months.
Separate contracts apply to your cable and mobile services.
Please note standard charges apply, please check with your network operator for rates.
For details about how much it costs to call our team from a Virgin Media home phone, visit virginmedia.com/callcosts. Call costs from other networks and mobiles vary.
† TV channel subject to regional variation.