Skip to main content
Apple has revealed its latest iPhone range to the world's waiting eyes, and you get the iPhone 11 series on Virgin Mobile
Apple iPhone 11, iPhone 11 Pro and iPhone 11 Pro Max, from £33
The cloak of secrecy has been lifted, because Apple has finally revealed its latest batch of remarkable smartphones: the iPhone 11, the iPhone Pro and the iPhone 11 Pro Max, which are available from Virgin Mobile. And boy, remarkable is a staggering understatement.
The new range is Apple's best yet, featuring more cameras than ever (including three on the back of the Pro models), a new batch of dazzling colours and a processor that has been updated to be faster while consuming less power. That means you can do more and charge less!
Virgin Media customers can get the iPhone 11 on Virgin Mobile's exclusive Truly Unlimited plan – meaning unlimited data, minutes and texts.
Read on to find out more about the high-tech features and capabilities onboard these new phones.
Never take a bad photo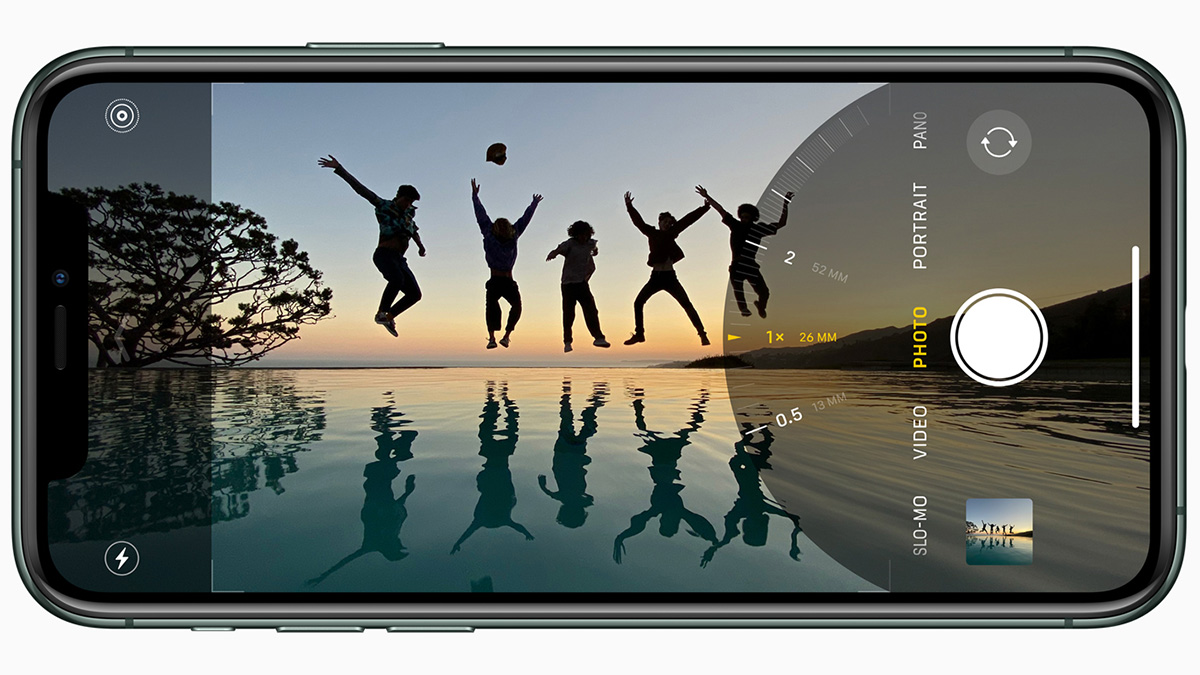 All three models have the all-new dual-camera system, containing the latest Ultra Wide camera that lets you capture four times more action, even if it's outside the frame. Night mode brightens your shots automatically in low light, without the need for a flash, while portrait mode and Smart HDR make everyone look insta-ready – #NoFilterNeeded.
Three is the magic number
The iPhone 11 Pro and iPhone 11 Pro Max deliver the same Wide and Ultra Wide cameras as standard, but these premium models also give you a third Telephoto camera. This triple-threat snapping system delivers a combined four times optical zoom range for more framing options than Rankin and David Bailey combined.
Slow-mo your selfie
Banish boring selfies to the early noughties. Now, it's all about the slofie. Thanks to the 12MP TrueDepth camera, you can slow down your selfie, because everything looks cooler in slow-mo (just ask the Reservoir Dogs gang). Plus, if don't just want your face in frame, turn your iPhone 11 to landscape mode and it will automatically zoom out to fit more in.
Videos? Make movies instead
With all these fancy cameras, your videos are naturally going to be lit. All of the models (and all of their cameras) shoot in ultra-crisp 4K video at 60fps. And with the Ultra Wide camera, you can snap four times more action, so it's perfect for capturing your cat chasing a leaf outside. Plus, when you zoom in, the audio zooms too. Meow!
Water clever feature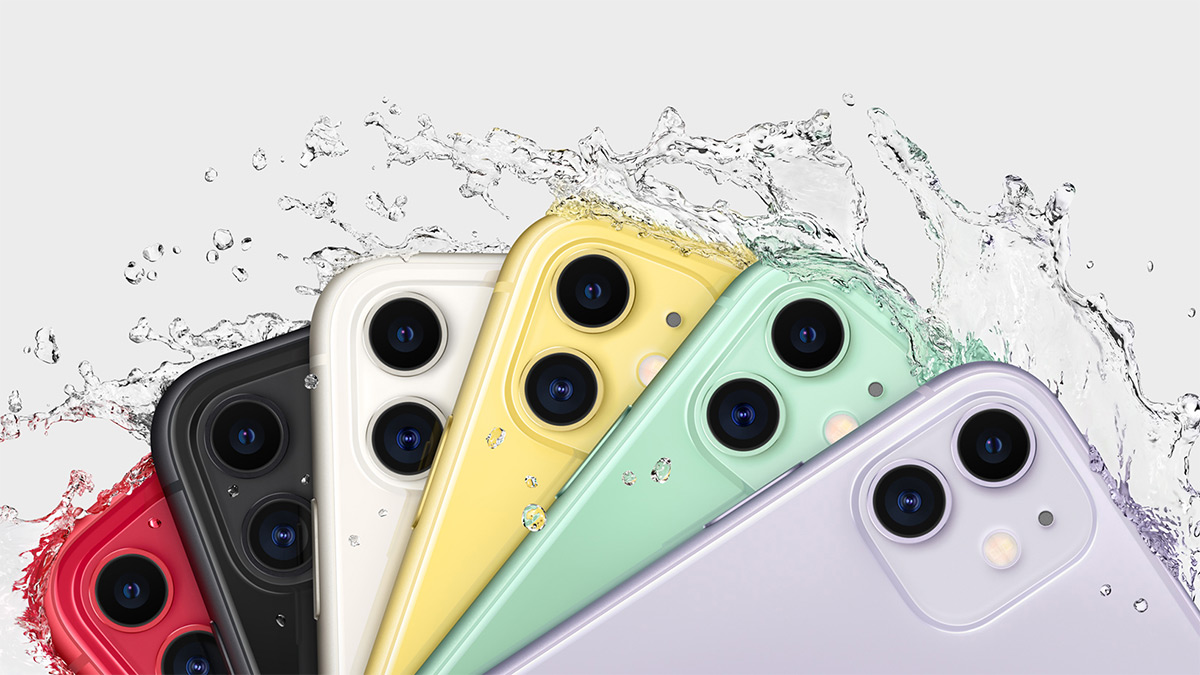 The iPhone 11 is water-resistant up to two metres for up to 30 minutes – double the depth the iPhone XR can withstand, while the iPhone 11 Pro gives you up to four metres for up to 30 minutes. The phones also have the toughest glass used in a smartphone, so they are absolutely made for the trials of modern life.
All-day battery life
Your days of walking around looking for plug sockets are over. But when your phone does run out of juice, you can charge it up in double-quick time. Plus, the premium models have even more battery power. The Pro Max has the longest battery life ever in an iPhone, with up to five hours more than the iPhone Xs Max, while the Pro gives you up to four hours more than the iPhone Xs.
Choose your style
Remember when phones only came in black… or really dark grey? Not anymore! Make a splash with one of the iPhone 11's six dazzling colours (purple, yellow, red, green, black and white), or choose from four glorious finishes (gold, space grey, silver and midnight green) for the Pro models. Whatever you choose, you'll have the best finish since Manchester City v Spurs in the Champions League.
And there's plenty more
There's so much crammed into these phones, including Wireless Charging, faster Wi-Fi (up to 38 per cent faster with Wi-Fi 6), Face ID to unlock your phone at a glance and a range of storage capacity options and screen sizes.
Find out more about the iPhones and the rest of the Apple range of phones on Virgin Mobile right here. You can also order the new iPhone 11, iPhone 11 Pro and iPhone 11 Pro Max.
There's even more with Virgin Mobile…
On Virgin Mobile, customers can enjoy a host of benefits with their sparkling new iPhone, including 99% 4G population coverage, superfast 4G speeds and free WiFi on your mobile at more than 3.5 million hotspots across the UK. You can also change your data allowance up or down every month.
And remember!
You can opt to add spending caps to your contract to ensure that no nasty surprises make their way into your bill, helping you take control of costs outside your mobile plan's allowance. To add an extra layer of reassurance, you'll receive an SMS alert when you approach your spending cap, and another if your limit is reached.
Spending Caps: In line with EU Legislation, spending caps are now available to all pay monthly customers who have joined or re-contracted with Virgin Media on or after 24 September 2018. See spending Cap Policy at virginmedia.com/legalstuff.
Phones subject to availability. Each July your airtime plan will increase by the Retail Price Index (RPI) rate of inflation announced in April of that year. We'll give you 30 days' notice of the exact increase. Plans include UK calls to UK landlines (01, 02, 03) & UK mobile networks. Calls & texts to mobiles in Jersey, Guernsey and Isle of Man are not covered by your inclusive monthly usage allowance. UK texts and data only. Speeds experienced will vary by device and location. Further Legal Stuff applies – see virginmedia.com/legalstuff for details.