Skip to main content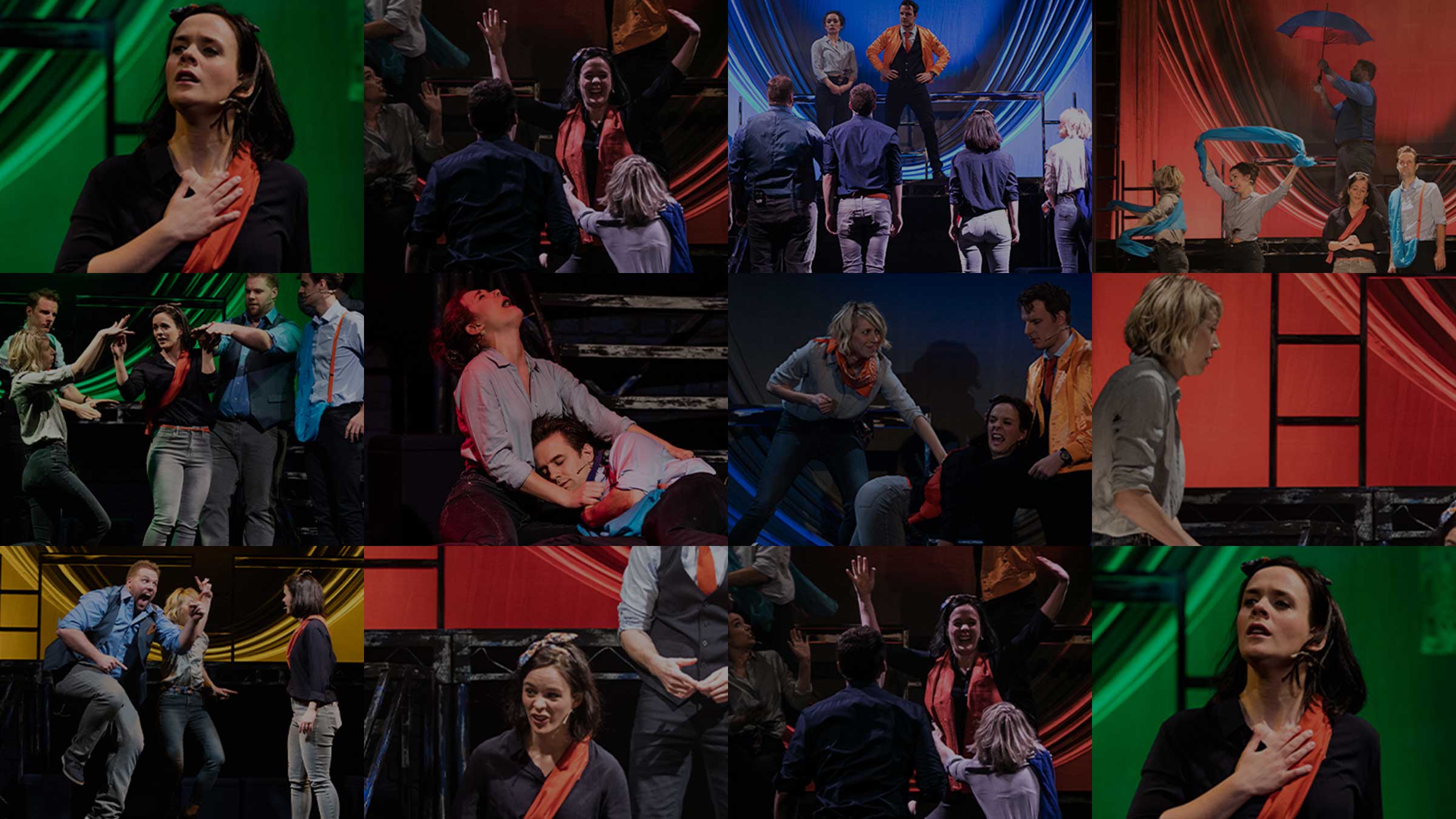 Here are 15 ways to immerse yourself in theatre, dance, opera, art, literature and more – and you don't even need to leave your home!
By Laura Rutkowski, Staff Writer
Perhaps you had a theatre ticket for a show that has now been cancelled, or you wanted to check out an art exhibition that's been postponed. But instead of being disappointed, we can help support the arts in a different way.
Here are just a few of the many ways you can view your favourite shows, exhibitions and places, through documentaries, virtual tours, videos and more. With this intimate look at cultural events so rarely experienced, you'll feel as though they've been curated or created just for you – because great moments are no less great when they're viewed from home.
1. Mischief Movie Night In
At the end of December 2020, thousands of households enjoyed the post-Christmas lull and even New Year's Eve with the Mischief Theatre Company. Forced to suspend their performances of Mischief Movie Night at the Vaudeville Theatre due to the pandemic, the clever team behind The Play That Goes Wrong and The Goes Wrong Show adapted and brought us Mischief Movie Night In.
These live-streamed performances, which cost only £10 (£15 for a participation ticket, where they will pick your brain), are back by popular demand from Saturday 23 January to Sunday 31 January. On Sunday 14 February, a Valentine's Day romcom is promised in this completely improvised show that is different every single time. Oh, and did we mention the genre, location and movie title are all up to you? Those with participation tickets will provide their preferences over video, while others can tweet in their suggestions. If you need a good laugh, this is where you'll find it.

2. Natural History Museum: World Of Wonder
Thursday 7 January, 8pm, Channel 5 HD (CH 105). Also available in Apps & Games > My5
London's Natural History Museum has closed its doors to the five million people that visit each year – for now. This four-part documentary series provides an exclusive tour of the museum's curiosities. Of the 80 million items, only a portion are on display, with some too valuable to exhibit. Do you know what the name of the giant blue whale skeleton is called that looms large behind the museum's front door? Hope. That's enough to set us off crying again (it doesn't take a lot these days).

3. Landscape Artist Of The Year
Wednesday 13 January, 8pm, Sky Arts/HD (CH 123/156). Aso available for 30 days in Catch Up > Channels > Sky Arts
Stephen Mangan and Joan Bakewell offer a breath of fresh air with the return of the painting competition show. Out of thousands of applicants, 36 artists have been chosen to create paintings of Britain's historic houses, rural scenes and modern cityscapes, in just four hours. If painting is a hobby you've picked up recently, why not place a chair in front of uh… your window and have a go at your own landscape? Thankfully, yours won't be judged by art historian Kate Bryan, independent curator Kathleen Soriano and award-winning artist Tai-Shan Schierenberg.

4. Andrew Lloyd Webber's The Show Must Go On
This aptly named channel saw a lot of us through during the first lockdown, with one of Lord Andrew Lloyd Webber's hit musicals airing every Friday. They included Joseph And The Amazing Technicolour Dreamcoat, The Phantom Of The Opera and Jesus Christ Superstar. It's now back with a bang – tune in on Friday 8 January at 7pm for Michael Ball's Heroes concert, featuring big hits from musical theatre legends, including Lloyd Webber, Claude-Michel Schönberg and Stephen Sondheim. He also belts out crowd-pleasing tunes from Frank Sinatra, Billy Joel, Tom Jones and more.
5. National Theatre Live
Find it in Catch Up > Channels > Sky Arts
Enjoy two productions from the National Theatre – Shakespeare's Twelfth Night, featuring Tamsin Greig as Malvolia, a female version of Malvolio; and Jane Eyre, a brilliant rendition of Charlotte Brontë's novel.
You can also rent brilliant productions for three days, including Mosquitoes, War Horse and Othello, on the National Theatre's website from as little as £4.99. British Sign Language and audio described versions are also available. On Monday 11 January, National Theatre At Home returns with the pantomime Dick Whittington, which you can stream on the theatre's YouTube channel.
6. David Walliams' #AudioElevenses
In March 2020, beginning with The Terrible Triplets, David Walliams (Gangsta Granny) released one free audio book a day for children. He also recorded extracts from his books and posted them every day at 11am. As of today, he's dusting off his reading voice to share snippets once again, starting with The Boy In The Dress.


During its temporary closure, the Vienna State Opera (Wiener Staatsoper) is offering free streaming of recordings from its digital archive every day at 7pm.
Here's what's coming up:

Thursday 7 January – Die Walküre (The Valkyrie), 2016
Friday 8 January – Giselle, 2018
Saturday 9 January – Věc Makropulos (The Makropulos Affair), 2015
Sunday 10 January – Siegfried, 2016
Monday 11 January – Don Carlo, 2015

Find it in Apps & Games > BBC iPlayer
Uncle Vanya, starring Toby Jones, Richard Armitage, Roger Allam and Rosalind Eleazar, opened to five-star reviews in January 2020, but performances had to be halted in March due to the pandemic. In this special version of the stage show, produced during lockdown and filmed without an audience, you can enjoy the magic from home. With a storyline that follows a family living together on an isolated estate, this adaptation of Anton Chekhov's work couldn't be more timely.

Duncan MacMillan's Lungs, which was performed and streamed live for The Old Vic to 69 countries in summer 2020, returns with the recorded version of the live show. Watch it from Wednesday 27 January to Friday 29 January at 7.30pm (it's even showing at the usual theatre time!) for just £10 or £15. While socially distanced, Claire Foy and Matt Smith play a couple who question whether to start a family when the world is practically on fire. What place does a baby have among global warming, overpopulation and political unrest? You can also buy tickets for the recorded version of Brian Friel's live show Faith Healer, showing from Wednesday 20 January to Friday 22 January.

10. Matthew Bourne's The Red Shoes
Find it in Apps & Games > BBC iPlayer
Trailblazing choreographer Matthew Bourne's dance adaptation of the 1948 film The Red Shoes and the Hans Christian Andersen fairy tale is truly breathtaking. The red shoes in question, worn by Victoria Page (Ashley Shaw), often pop against black-and-white backdrops as she must choose between her dedication to dance and her desire to love.
There's a particularly clever performance within a performance. Boris Lermontov is played by the legendary Adam Cooper, who returned to New Adventures, Bourne's company, after more than 20 years for the role, and Julian Craster is played by Dominic North, who has appeared in many New Adventures productions. This production is a recording of the stage performance at Sadler's Wells.

11. Smithsonian National Museum of Natural History, US
Although the Washington, DC museum is closed at the moment, its collections are available to view 24/7, so people all over the world can explore artefacts and novelties that are housed in the huge space. Browse exhibits, which include African Voices, the Bone Hall and David H Koch's Hall of Human Origins.
12. The Louvre, Paris
The world-famous museum opens its doors to visitors with virtual tours of the Egyptian Antiques, the Galerie d'Apollon and the Remains of the Louvre's Moat, plus many more. Leonardo da Vinci's Mona Lisa is loving all of the attention (but she's used to it by now).
13. The Vatican, Rome
Witness the Pope's home as you've never seen it before for an unrivalled up close and personal tour. Choose from seven options, where you can bask in 360-degree views of the Sistine Chapel, the Chiaramonti Museum and Raphael's Rooms.


14. Blind Man Roams the Globe podcast
BBC reporter Peter White, who has been blind since birth, explores cities including San Francisco, Washington, DC, Budapest and Marrakesh. He illuminates the smells and sounds of these bustling places and talks to the locals during the half-hour podcasts. Get ready to be transported from your living room to somewhere else entirely.


15. Yellowstone National Park webcams
The picturesque Yellowstone National Park, located in the western United States, has nine webcams dotted around its vast expanse. Eight of them are static and refresh every 60 seconds, while one live streams video of the geyser Old Faithful and other geysers throughout the Upper Geyser Basin. Old Faithful usually erupts about a dozen times a day, so keep an eye out, and if you're lucky, you might also see some moose, bison or bears roaming the area.
Speaking of wildlife, there are plenty of ways to see your favourite furry (or not so furry) friends with live cams at Edinburgh Zoo, Dublin Zoo, San Diego Zoo and Melbourne Zoo, plus many more!
How to watch YouTube on Virgin Media
If you have a TiVo® box or Virgin TV V6 box, powered by TiVo®:
Press Home on your remote
Select Apps & Games
Select All Apps
Select YouTube




How to listen to BBC Sounds on Virgin Media
If you have a Virgin TV V6 box, powered by TiVo®:
Press Home on your remote
Select Apps & Games
Select All Apps
Select BBC Sounds


Stay connected
From handy show recommendations to little WiFi wins, we're bringing together a few things to help make more time at home feel a bit easier.
TV channels: Channels, content and features available depend on your chosen package. Channel line-ups and content are subject to change at any time and to regional variations.
HD: HD TV set, V HD Box, TiVo box or Virgin TV V6 connected with HDMI cables required for HD channels. Number of inclusive HD channels depends on package.
Catch Up TV: Catch Up TV content available for up to 7 days or up to 30 days after broadcast, depending on content.