Skip to main content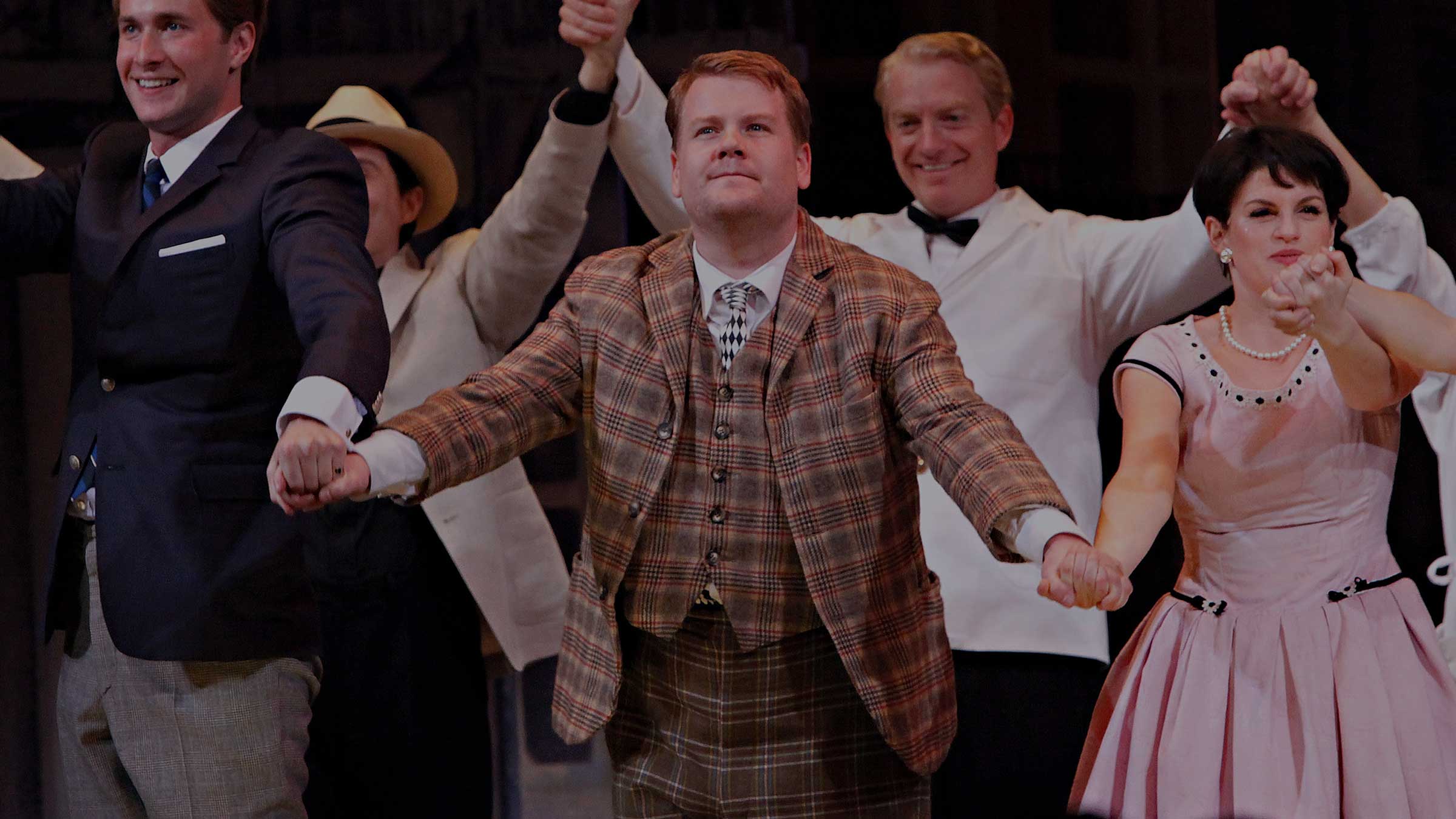 Here are 15 ways to immerse yourself in theatre, dance, opera, art, literature and more – and you don't even need to leave your home!
By Laura Rutkowski, Staff Writer
Last night, the Olivier Awards were meant to take place, but due to recent events, the ceremony that celebrates theatre had to be cancelled. Instead, ITV aired the next best thing, Olivier Awards: The Greatest Moments.
That's exactly what we wanted to highlight today: that great moments are no less great when they're viewed from home.

Perhaps you had a theatre ticket for a show that has now been cancelled, or you wanted to check out an art exhibition that's been postponed. But instead of being disappointed, we can help support the arts in a different way.
Here are just a few of the many ways you can view your favourite shows, exhibitions and places, through documentaries, virtual tours, videos and more. With this intimate look at cultural events so rarely experienced, you'll feel as though they've been curated or created just for you.
1. Soup Cans & Superstars: How Pop Art Changed The World
Find it in Catch Up > Channels > BBC iPlayer
If you want to brush up on your Pop Art knowledge, watch this documentary to learn about its key figures, including Andy Warhol and Roy Lichtenstein. The Warhol exhibition at the Tate Modern closed just days after it opened, but fans are still able to take advantage of all it has to offer.
Today, the Tate has launched a video tour, led by Gregor Muir, director of Tate's Collection of International Art, and Fiontán Moran, assistant curator. Let them take you around the first Warhol exhibition at the Tate Modern for almost 20 years, including Warhol's famous Campbell's Soup Cans. Another video will be released on 13 April about the Aubrey Beardsley exhibition at the Tate Britain.
2. Arena – Kusama: Infinity
Find it in Catch Up > Channels > BBC iPlayer
Yayoi Kusama: Infinity Mirror Rooms is an exhibition hopefully due to open at the Tate Modern in May, so why not spend this time getting to know the woman behind the art? By choice, the 91-year-old lives in Seiwa Mental Hospital in Japan, where she's from, and still produces art from there.
Polka dots, or "infinity nets" as Kusama calls them, are her signature style, and were created directly from her hallucinations. Her Infinity Mirror Room installations, which she first created in 1965, are truly astounding pieces of work. They involve mirrored rooms filled with objects that seemingly go on forever and ever.

3. Andrew Lloyd Webber's The Show Must Go On!
Every Friday at 7pm, you can watch one of Lord Andrew Lloyd Webber's hit musicals, which will be available for 48 hours on this aptly named channel. Last Friday, things kicked off with Joseph and the Amazing Technicolour Dreamcoat, starring Donny Osmond. On Good Friday, tune in for Jesus Christ Superstar (with Mel C as Mary Magdalene, Tim Minchin as Judas and Ben Forster as Jesus).
You can also look forward to "the most important one", according to Lloyd Webber – his disaster musical By Jeeves.

4. Phoebe Waller-Bridge's Fleabag play
In 2019, Phoebe Waller-Bridge returned to the stage to perform her hit show, which first debuted in 2013. When tickets went on sale at Wyndham's Theatre, they were snapped up in an hour. Now's your chance to watch the genius one-woman show online – and help support a good cause. Donate what you can, from £4 to £250, with proceeds going towards charities including the National Emergencies Trust, NHS Charities Together and Acting for Others.
A Fleabag Support Fund will provide grants of £2,500 to freelancers working in the UK theatre industry who are unable to work due to the pandemic. Waller-Bridge said: "I hope this filmed performance of Fleabag can help raise money while providing a little theatrical entertainment in these isolated times… now go get into bed with Fleabag!" You can also catch Fleabag the series on BBC iPlayer.

5. National Theatre At Home
One Man, Two Guvnors, with James Corden, has already amassed more than two million views since it was uploaded last Thursday. Each Thursday at 9pm, a new show is released, and is free to watch! This is thanks to the cast and crew of the various plays, who have made this possible by waiving their rights.
Check out what's next on the schedule:
9 April: Jane Eyre by Sally Cookson
16 April: Treasure Island by Bryony Lavery
23 April: Twelfth Night by William Shakespeare
6. Patrick Stewart's #ASonnetADay
Who wouldn't want to hear Sir Patrick Stewart's dulcet tones as he reads one of Shakespeare's 154 sonnets a day?
7. Royal Opera House's #OurHouseToYourHouse

The Royal Opera House has created a schedule of free broadcasts and live content so audiences can enjoy ballet and opera in their home every Friday at 7pm.
Here's what's coming up:
10 April – Così fan tutte, The Royal Opera, 2010
17 April – The Metamorphosis, The Royal Ballet, 2013
24 April – Gloriana, The Royal Opera, 2013
1 May – The Winter's Tale, The Royal Ballet, 2014

8. Sadler's Wells Digital Stage
The programme was launched on 27 March, World Theatre Day, with an online screening of Deluxe by BalletBoyz, the first in a series of Facebook premieres. Sadler's Wells Theatre said its aim is to "keep you entertained and connected through dance, wherever you are in the world while our live stages are dark", with dance performances and online activities.
These include Family Dance Workshops, designed for children aged two to six, and the Company of Elders Workshops, designed for over 60s.
9. David Walliams' #AudioElevenses
As of 23 March, beginning with The Terrible Triplets, David Walliams (Gangsta Granny) has been releasing one free audio book a day for children. He's going to share 30 in total, with each story available for 30 days. Walliams is also recording extracts from his books and posting them every day at 11am.
Elsewhere on Twitter, Josh Gad, who voices Olaf in Frozen, has started his own book club on social media called the #GadBookClub. Since 13 March he has been reading one of his favourite stories each night, including Shel Silverstein's The Giving Tree.
10. One Day In…
While travel plans are put on hold, become an armchair traveller with 360-degree virtual tours to places including Berlin, Bangkok, Sydney and Jerusalem. Get lost in these brilliant cities and take in the commentary that tells you all you need to know about the history behind these iconic spots.
11. Smithsonian National Museum of Natural History, US
Although the Washington, DC museum is closed at the moment, its collections are available to view 24/7, so people all over the world can explore artefacts and curiosities that are housed in the huge space. Browse exhibits, which include African Voices, the Bone Hall and David H Koch's Hall of Human Origins.
12. The Louvre, Paris
The world-famous museum opens its doors to visitors with virtual tours of the Egyptian Antiques, the Galerie d'Apollon and the Remains of the Louvre's Moat, plus many more. Leonardo da Vinci's Mona Lisa is loving all of the attention (but she's used to it by now).
13. The Vatican, Rome
Witness the Pope's home as you've never seen it before for an unrivalled up close and personal tour. Choose from seven options, where you can bask in 360-degree views of the Sistine Chapel, the Chiaramonti Museum and Raphael's Rooms.

14. Blind Man Roams the Globe podcast
BBC reporter Peter White, who has been blind since birth, explores cities including San Francisco, Washington, DC, Budapest and Marrakesh. He illuminates the smells and sounds of these bustling places and talks to the locals during the half-hour podcasts. Get ready to be transported from your living room to somewhere else entirely.

15. Yellowstone National Park webcams
The picturesque Yellowstone National Park, located in the western United States, has nine webcams dotted around its vast expanse. Eight of them are static and refresh every 60 seconds, while one live streams video of the geyser Old Faithful and other geysers throughout the Upper Geyser Basin. Old Faithful usually erupts about a dozen times a day, so keep an eye out, and if you're lucky, you might also see some moose, bison or bears roaming the area.
Speaking of wildlife, there are plenty of ways to see your favourite furry (or not so furry) friends with live cams at Edinburgh Zoo, Dublin Zoo, San Diego Zoo and Melbourne Zoo, plus many more!
How to watch YouTube on Virgin Media
If you have a TiVo® box or Virgin TV V6 box, powered by TiVo®:
Press Home on your remote
Select Apps & Games
Select All Apps
Select YouTube



How to listen to BBC Sounds on Virgin Media
If you have a Virgin TV V6 box, powered by TiVo®:
Press Home on your remote
Select Apps & Games
Select All Apps
Select BBC Sounds


Stay connected
From handy show recommendations to little WiFi wins, we're bringing together a few things to help make more time at home feel a bit easier.
TV channels: Channels, content and features available depend on your chosen package. Channel line-ups and content are subject to change at any time and to regional variations.
HD: HD TV set, V HD Box, TiVo box or Virgin TV V6 connected with HDMI cables required for HD channels. Number of inclusive HD channels depends on package.
Catch Up TV: Catch Up TV content available for up to 7 days or up to 30 days after broadcast, depending on content.