Skip to main content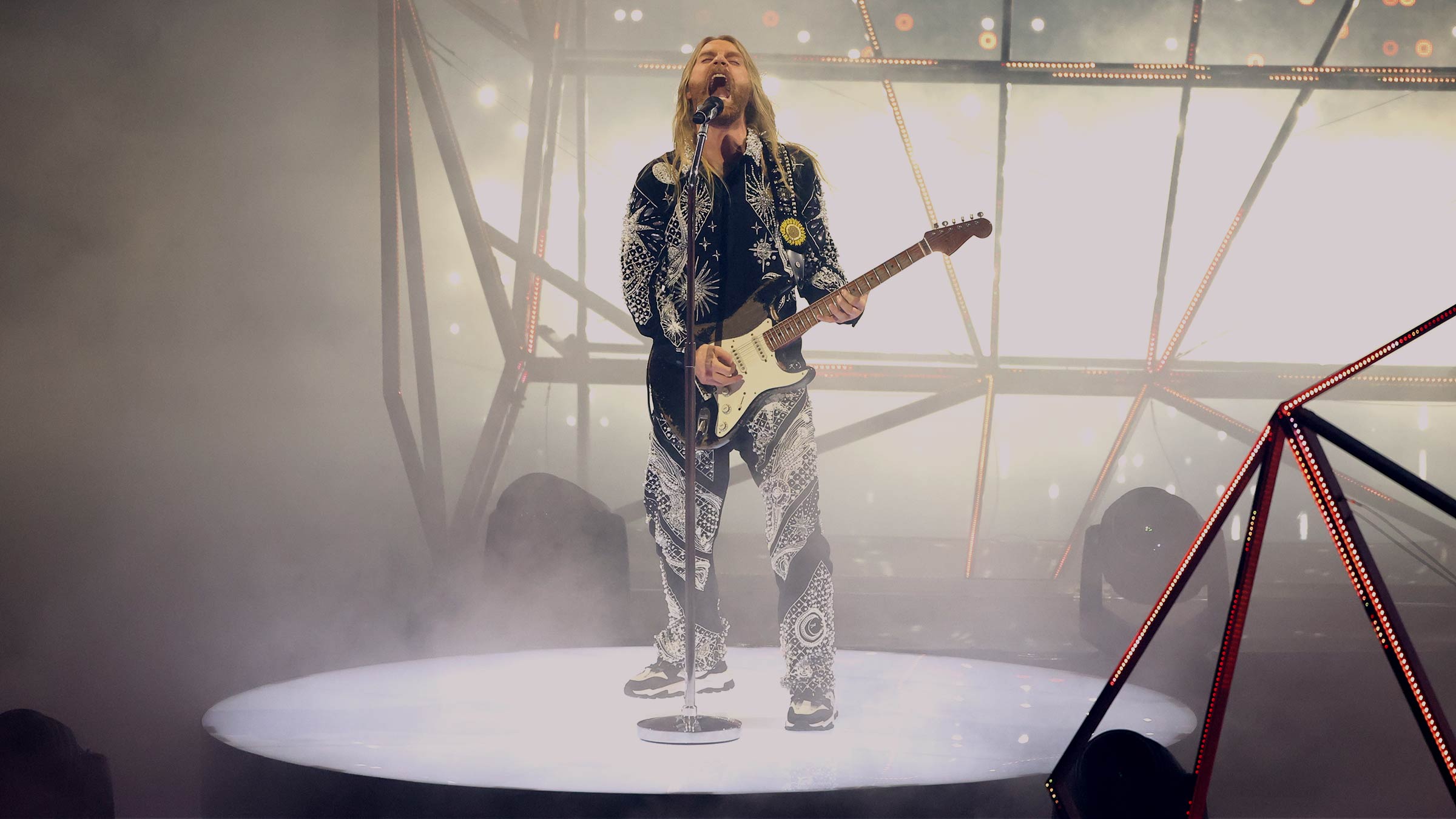 They're the moments that bring us all together, that strike an emotional chord with the entire nation. That's what telly can do – and it definitely did in 2022
By Virgin TV Edit
As the world slowly returned to something resembling normality in 2022, we were able to enjoy each other's company again. But as well as shared times IRL, there were plenty of moments when the country was brought together by TV.
Millions of us all enjoying the same shows – whether live or on catch up – and sharing the same emotions. Telly made us laugh, it made us cry, it made us scared, it made us roll our eyes, it made us feel slightly sick – as a nation. That's the wonder of telly.
Explore more:
This year brought some incredible TV series (the very best of which you can find here to enjoy over Christmas), but it also provided many memorable individual moments.
We've gone through the calendar and picked our favourites – see how many you can remember.
January
Kicking off the year, Potterheads were in their element when the Harry Potter cast reunited for a one-off special retrospective about the incredible film franchise. Daniel Radcliffe, Emma Watson and Rupert Grint discussed the roles that changed their lives with frankness and charm.

Viewers were left in tears after bidding farewell to Ricky Gervais' After Life, which hit Netflix for its third and final season in January, including a heartbreaking, life-affirming moment during a hospital visit.

Gervais also left viewers crying with laughter when he managed to get his canine co-star to howl on a segment with Lorraine. Basically, A Very Good Boy.

Philip Schofield and Rochelle Humes were forced to apologise after struggling to contain their laughter when a viewer opened up to resident therapists the Speakmans about her bizarre fear of custard. Yes, a fear of custard. As to whether she is scared of jelly as well, it's a conversation not to be trifled with…

BBC One's Four Lives dramatised the stories of four murder victims in east London. As Sarah Sak, the mother of Anthony Walgate, Sheridan Smith gave an emotional speech about police incompetence that left viewers moved.

ITV drama Trigger Point opened with an explosive first episode, with shockingly tragic consequences after a bomb detonated in a rigged van. The entire series left us a gibbering wreck until the New Year.

Emotions also ran high in EastEnders when Peggy Mitchell, played by the late Barbara Windsor, made a return to Albert Square in a flashback scene.
February
The BRIT awards showcased some of the very best of British musical talent, including a surprise duet between Ed Sheeran and rockers Bring Me The Horizon.
But it was rapper Dave, a winner for Best Hip Hop/Grime/Rap Act, who stole the show with a pyrotechnical performance featuring Giggs, Ghetts, Meekz and Fredo. Goosebumps.

In scenes slightly more baffling, Joan Collins was evidently bemused by Michelle Williams' reveal on The Masked Singer. Either Joan's not a Destiny's Child fan, or she was expecting to see the other Michelle Williams, from The Greatest Showman.

There was an epic prison brawl in Prime Video's Reacher, with retired military cop Jack Reacher taking on half a dozen convicts in the shower. They might have had numbers on their side, but Reacher's arms are the size of redwoods.

This Is Going To Hurt showcased the hard-hitting realities of working for the NHS, and viewers were left heartbroken when Shruti's struggle with relentless shifts and a lack of support resulted in tragedy.

And The Chase threw up some comedy gold when viewers realised the team of contestants shared the names with a certain TV family…
March
We were all clutching our pearls when Bridgerton returned to our screens for a second series and served up sizzling chemistry between Kate Sharma (Simone Ashley) and Anthony Bridgerton (Jonathan Bailey).

Bailey also left TV fave Alison Hammond hot under the collar when he cosied up to her on the This Morning sofa to discuss the show's intimate scenes.

Then it was time for the Academy Awards, and it was the slap heard around the world when Will Smith took to the stage and hit Oscars host Chris Rock following his joke about Smith's wife. Even now, it's still hard to fathom this happened.
Meanwhile, the business hopefuls of The Apprentice panicked for a different reason when they realised their labels for baby food were… a little inappropriate.
April
BBC News Shaun Ley sneezed during a broadcast, leading the internet to pay tribute to his many past attempts to suppress one.

There were handshakes all round in The Great Celebrity Bake Off For Stand Up To Cancer. And Sir Mo Farah won the hearts of the nation again, this time for his baking antics.

Emma Willis's elephant biscuits resembled something a lot naughtier…

And Annie Mac's pronounciation of "kneading" left everyone scratching their heads.
May
UK viewers had got used to "nil points" at the Eurovision Song Contest, but we reckoned without Sam Ryder. The shaggy singer wowed the crowds with his song "Space Man" and scored a highly creditable second place behind Ukraine.

Fans bade a tearful farewell to the Pearsons family in This is Us as matriarch Rebecca took to her death bed and children Randall, Kate and Kevin faced the reality of life without their parents.

The Circle returned with some very famous faces… Mel B and Emma Bunton of the Spice Girls to be exact!

Jennifer Lopez proved just what a hard-working star she truly is in her Netflix documentary Halftime. In the lead-up to her memorable 2020 Superbowl halftime show, the star took cameras behind the scenes to prove just how much goes into her performances.

Taskmaster showed us once again why it's one of the all-time best British comedy shows, returning this year for series 13 and 14. One of our fave moments was when Chris Ramsay had to compete in a rather rude sausage task.

The first part of Stranger Things season 4 was released and unlocked a new fear in us all when Vecna began possessing the residents of Hawkins before killing them using his supernatural powers.

And Max's dramatic graveyard scene introduced a whole new generation to Kate Bush's classic "Running Up That Hill".
June
By summer, everybody's favourite dating show Love Island had returned to screens for some hot and heavy drama. And although bombshell Ekin-Su Cülcüloğlu and Italian stallion Davide Sanclimenti ended up winning the show, who could forget Davide's public proclamation to his paramour? "You're a liar and an actress!" he vented, before telling her, in no small terms, where to go.

Indeed, Davide had some pretty belting one-liners throughout the entire season.

Another highlight was Ekin-Su's awkward rendition of "Twinkle Twinkle Little Star", later remixed with Indiyah's recorder solo from the talent show to create a hit summer banger...

Much-loved comedy Derry Girls kicked off its momentous third and final season with a cameo from one of Northern Ireland's very finest. The final feature-length episode was one of the finest bits of telly to air this year.

BBC iPlayer's underrated romantic comedy drama Love Life managed to cover 2020 in just 25 minutes, including social distancing, quarantine relationships, hoarding toilet paper, home baking and wiping down surfaces. Phew!

It also showed the real-life impact of the Black Lives Matter movement, as Marcus (William Jackson Harper) quit his job in protest of his company's performative allyship. Go Marcus!

The Outlaws made a triumphant return for season 2, with Stephen Merchant receiving plenty of praise from viewers. Who could forget that ending?

The Boys raised eyebrows and more with one of the raunchiest episodes of telly ever. "Herogasm" is definitely going down in history.
July
The final episodes of Stranger Things season 4 were all kinds of epic, but perhaps the most epic of all was Eddie's guitar solo in the Upside Down, as the teens of Hawkins strove to do what the adults couldn't and bring Vecna's reign of terror to an end.

Football finally came home for England as the Lionesses roared their way through to the final of the European Championships and emerged victorious with a 2-1 extra-time win over Germany.

We no longer needed good Neighbours… or did we? The long-running soap came to an end on Channel 5 with a star-studded finale featuring Jason Donovan, Kylie Minogue and Natalie Imbruglia to name but a few. It was sad to say goodbye… but in a comeback to rival Kylie's with "Can't Get You Out Of My Head", the show returned from the dead thanks to Prime Video – where you'll soon be able to view all the episodes from the soap's 37 years plus a brand new series.

This Morning featured the professional cuddler, who charges £75 for a hug. There was a point in 2020 when we had finished our 203rd banana bread that we would have paid double for that...

August
Trainwreck: Woodstock 99 detailed the shocking tale of the 1999 music festival that quickly descended into flames and disaster. Amid the chaos, it was also a fascinating snapshot of a time just before the internet and mobile phones became pervasive throughout western society.

Better Call Saul landed for its final season and viewers finally saw the story wrap up almost seven years on from the show's pilot episode.
September
A nation fell into mourning when Her Majesty the Queen passed away. This is the historic moment that the news was broken on BBC One.

More than 28 million people tuned in to watch her funeral.
The big white tent was open for business in the 13th season of The Great British Bake Off. And our beloved host Noel Fielding had to deal with some harsh rejection.

Strictly kicked off in style, and actor Will Mellor was soon wowing fans with his snake-like hips. Sadly, the same could not be said for former footballer Tony Adams, who caused a different sort of storm with his dad moves…

Ru Paul's Drag Race UK was back for its fourth season and, as ever, the guest judges certainly delivered. From Joanna Lumley to Alison Hammond, we really were spoilt for choice.

Speaking of Alison Hammond, the This Morning fave celebrated 20 years on the show with a huge celebration and some very famous faces.
Comedian turned consumer champion Joe Lycett made headlines when he appeared to mock Liz Truss, who was about to take office as Prime Minister, following her interview on new BBC show Sunday Politics.
Gogglebox's Giles and Mary didn't mince their words when watching Stacey Dooley unveiled on The Masked Dancer.
Lewis Capaldi misheard what Naga Munchetty was asking him on BBC Breakfast.

This Morning made international headlines when it unveiled the show's "Spin to Win" game that encouraged the public to compete to have their energy bills. From the reaction online, it never returned.
October
The Lord Of The Rings fans were left astonished as The Southlands were transformed forever, revealing the birth of Mordor following a horrifying volcanic eruption.

The ending may have divided viewers but there's no denying that Netflix's The Watcher was absolutely compelling TV. Although anything with Jennifer Coolidge gets our vote to be honest.

It was a day of mixed emotions in the Ghosts household, as Mary (Katy Wix) was "sucked off" to heaven – the paranormal equivalent of winning the lottery.

Married At First Sight UK is never short on drama but this season saw heartache and betrayal when Whitney and Matt started a steamy affair behind their partners' backs – and confessed their love for each other just days later.

Jodie Whittaker said goodbye to her role as the Thirteenth Doctor after three rollercoaster series of Doctor Who. Ncuti Gatwa had been announced as her successor – but when she regenerated following a fatal shot from The Master, fans were treated to a surprise return of the Tenth Doctor David Tennant. Or rather confusingly, now the Forteenth Doctor David Tennant.

Newsnight decided to sum up Liz Truss's short-lived stint as PM to the backdrop of Rihanna's "Take A Bow"…
November
Louis Theroux's new interview series saw him come face to face with some top stars. Our favourite moment was his banter with Judi Dench.

When the hotly anticipated season 5 of Netflix's The Crown – bringing the story up to the 1990s – finally dropped in November, it introduced a whole new generation to #Tampongate.

And jaws dropped when viewers saw Elizabeth Debicki's startling resemblance to Princess Diana, particularly during the reconstruction of her infamous Panorama interview.

At the FIFA World Cup in Qatar, former player turned pundit Alex Scott defiantly wore a One Love armband on Match Of The Day, showing support to the LGBTQ+ community around the world in ways that current players felt they could not.

The Addams Family spin-off Wednesday was a huge hit for Netflix, and star Jenna Ortega blew everyone away with her dance scene.

Ant and Dec returned made a triumphant return to the Australian jungle after a couple of years in Wales, with plenty of surprises in store for I'm A Celeb viewers including the show's first-ever royal (sort of – rugby player Mike Tindall is married to the King's niece) and MP Matt Hancock, who ruffled a few feathers after he was interrogated by his new campmates.
Hancock was later stung by a scorpion and attacked by a snake, much to the amusement of viewers and his fellow campmates.
But he made it to the final and took part in the legendary Cyclone challenge with Tindall, footballer Jill Scott and actor Owen Warner.

Ultimately, though, it was Lioness Jill Scott who was crowned Queen of The Jungle 2022 as her wit, natural camaraderie and relentlessly positive nature made her the nation's sweetheart. Aw.

When Taskmaster returned for a second 2022 series (you're spoiling us!), we were left in fits of giggles after Fern Brady's legendary performance of trying to whistle.

Over on Strictly, Hamza had the audience and judge Motsi Mobuse in tears with a beautiful dance that paid tribute to his African heritage.
Professor Brian Cox and actor Brian Cox were both booked on BBC Breakfast for the same show and admitted the matching names caused chaos at the hotel when it came to check-in.

Sky News made the mistake of asking a Wales fan for their reaction to the team's loss against Iran in the FIFA World Cup. One quick word summed it up rather coarsely.
December
Helen and Gorka wowed Strictly audiences with their incredible Couple's Choice dance, where it's fair to say that Helen took centre stage.

But it was Hamza who won over the nation with his accomplished moves and kind spirit to scoop the glitterball trophy – supported by the brilliant Jowita.

England fans saw their team sadly knocked out of the World Cup in the quater-finals by France. It wasn't in a penalty shoot-out, but somehow the Three Lions find it hard to let a tournament pass without penalty pain…

Football may not have come home but after a pulsating final against France, Argentina emerged victorious. We couldn't help but shed a tear when Lionel Messi, newly crowned as the best player of the tournament (and almost certainly of all time), was reunited with his wife and kids.

It feels like Alison Hammond is responsible for more of these moments than anyone. This month she was reunited with Harrison Ford on This Morning, more than five years on from their first viral meeting.

New BBC One show The Traitors quickly cemented its place as one of the best reality shows on TV. And one of the most WTF moments was when Wilf turned on Alyssa. We're still shook…

Meghan and Harry's explosive Netflix documentary finally aired and allowed the couple to tell their side of the story. Amid all the acrimony, though, our favourite part was seeing Harry react as we all would to a text from Beyoncé.
TV channels: Channels, content and features available depend on your chosen package. Channel line-ups and content are subject to change at any time and to regional variations.
HD: HD TV set, V HD Box, TiVo box or Virgin TV V6 connected with HDMI cables required for HD channels. Number of inclusive HD channels depends on package.
Catch Up TV: Catch Up TV content available for up to 7 days or up to 30 days after broadcast, depending on content.
Image credits: Eurovision Song Contest © Jim Dyson/Getty Images