Skip to main content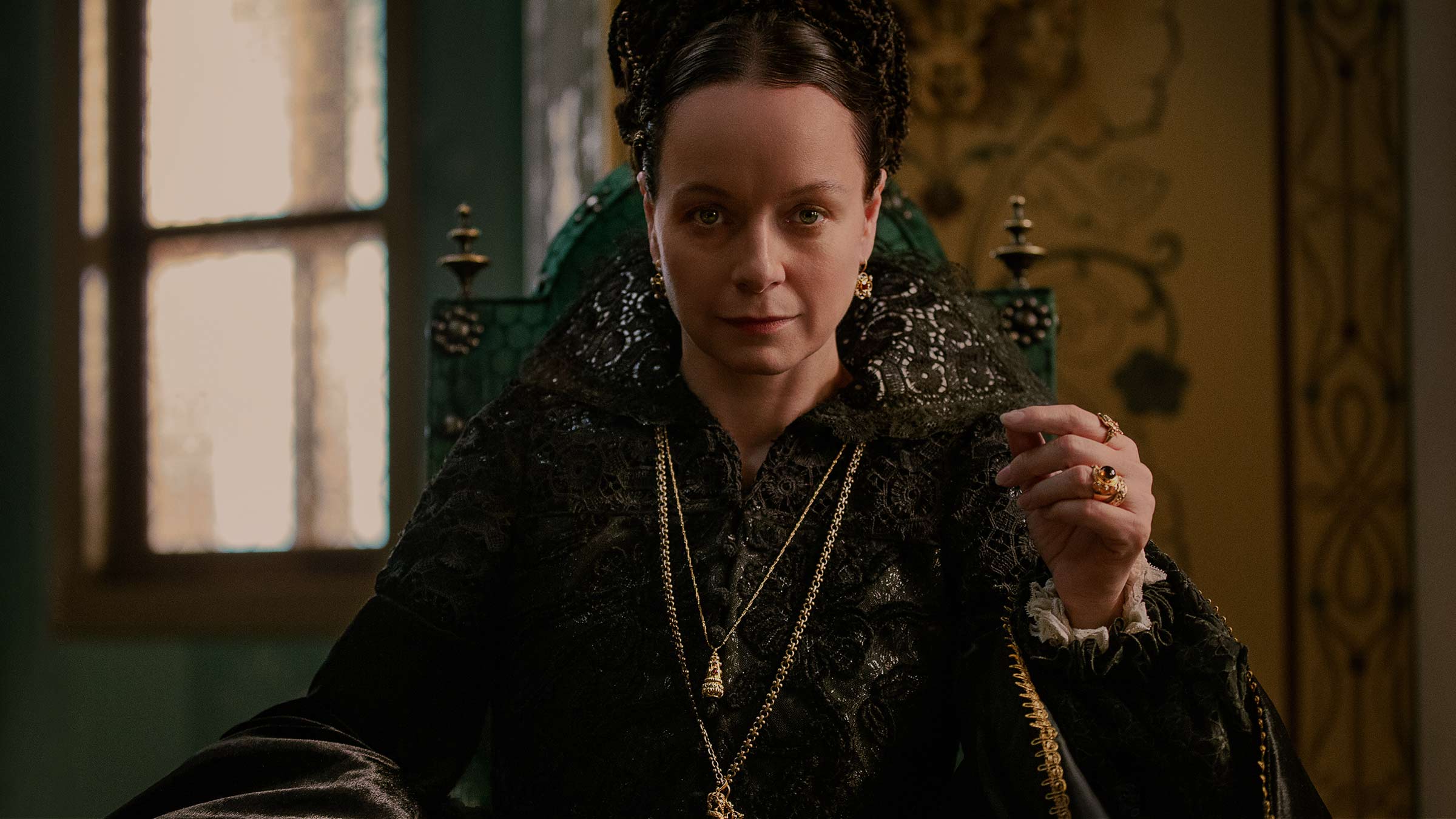 Sit back and enjoy some great shows on demand with episodes of 10 brilliant dramas from LIONSGATE+, at no extra cost
By Virgin TV Edit
Winter is drawing in, and that means the sofa is the best place to be. Throw in a comfy blanket, a fluffy cat (nature's greatest hot water bottle) and some quality TV, and you've got the perfect evening in.
Unfortunately we can't help you with the blanket or the feline, but we've got you covered on the telly front – and this month we're giving you even more with a drama treat, on us.
Throughout the whole of November, Virgin Media customers with a Virgin TV V6 box, powered by TiVo®, Virgin TV 360 box or Stream from Virgin Media can enjoy the best of LIONSGATE+ with 10 exciting titles to get stuck into, at no extra cost.
It's to celebrate STARZPLAY becoming LIONSGATE+. It's the same premium entertainment you've come to love, only with a different name.
Whether you're a fan of period dramas, political thrillers or gritty true crime, there really is something for everyone. And with the days getting shorter and the nights getting colder, there's no better time to settle on that inviting sofa and get stuck into some brilliant TV.
Should you like what you see, you can use the Upgrade App on your Virgin TV to upgrade to LIONSGATE+ through your Virgin set-top box at just £5.99 a month.
Here's a run-down of the exciting LIONSGATE+ shows you can sample this month.
The Serpent Queen
Find it in Box Sets > LIONSGATE+
Samantha Morton (Minority Report) is captivating in this brilliant period drama as the French queen Catherine de' Medici. An outcast for many reasons, such as being Italian in a French court and a commoner among royals, Catherine is looking forward to her son's coronation and spilling the secrets of her story to her new maid.
Despite her reserved exterior, we learn the monarch has a sharp sense of humour, which Morton delivers with impeccable ease. This gripping saga offers a glimpse inside 1500s Europe, when royal courts were no strangers to contention and controversy, with betrayals, poisonings and passionate love.
The Great
Find it in Box Sets > LIONSGATE+
This is not your average period drama. Delivered with a wicked sense of humour and an abundance of delicious filth, it stars Elle Fanning (Maleficent) as a young Catherine the Great, a hopeless romantic who travels to Russia in the 18th century to marry Peter III of Russia (Nicholas Hoult, The Favourite). But instead of a fairytale, she discovers her husband is nasty and selfish. Feeling hopeless, she decides another possible path is to take the throne for herself.
The White Queen
Find it in Box Sets > LIONSGATE+
This is a tale of love, deception, greed and lust and told through the eyes of three women who are all intent on power. It's set in 1464, which history buffs may know as a time in England before the Tudors when influence was split between the rival houses of York and Lancaster. Within those families, Elizabeth Woodville (Rebecca Ferguson, Doctor Sleep), Margaret Beaumont (Amanda Hale, Catastrophe) and Anne Neville (Faye Marsay, You, Me And Him) all manipulate and twist history for their own personal gain and quest for the throne.
The White Princess
Find it in Box Sets > LIONSGATE+
This historical mini-series takes us back to 15th-century England and the end of the Wars of the Roses, after the events portrayed in The White Queen. Before she became mega-famous as Villanelle in Killing Eve, Jodie Comer plays Elizabeth of York, the niece of Richard III and wife of Henry VII. Elizabeth, or Lizzie as she is known to others, feels trapped her arranged marriage to Henry – the couple share little more than mutual antipathy. But when she falls pregnant, she realises the leverage the potential new heir gives her. This was Comer's first international TV role and you can see the talented star was already shining bright.
The Spanish Princess
Find it in Box Sets > LIONSGATE+
A further sequel to The White Queen and The White Princess, this miniseries centres around Catherine of Aragon (Charlotte Hope, The Nun), the Spanish princess who later became the first wife of Henry VIII (Ruairi O'Connor, The Postcard Killings). Catherine travels to England to meet her betrothed: Arthur, Prince of Wales, heir apparent to Henry VII. But their marriage is short-lived when Arthur dies, leaving the destiny of the throne uncertain. To secure her safety, she sets her sights on his younger brother, Prince Harry. Catherine may have been one of the few Tudor wives to keep her head but there are still plenty of dramatic twists and turns to come.
Becoming Elizabeth
Find it in Box Sets > LIONSGATE+
The Tudors have inspired many great TV series in recent years. And given their dramatic history, it's no surprise. This series charts a tumultuous period for the royals, beginning shortly after the death of King Henry VIII, as his young daughter Queen Elizabeth I (Alicia Von Rittberg, Fury) becomes a pawn in a series of political games. She's torn between her Catholic sister Mary and Protestant brother Edward, while her safe haven living with her stepmother Catherine Parr (Jessica Raine, Call The Midwife) may not be as sheltered as she first thought.
The Girlfriend Experience
Find it in Box Sets > LIONSGATE+
If you are looking for a binge-worthy series, this is just the thing. It tells the story of Christine Reade, a young law student who funds a lavish New York lifestyle by working as a high-end escort. She specialises in a service called "the girlfriend experience", which offers clients both physical and emotional satisfaction. The lead role is played by none other than Elvis Presley's granddaughter Riley Keough, who proves talent really is in her blood.
Seduced: Inside The NXIVM Cult
Find it in Box Sets > LIONSGATE+
This compelling true crime series serves as a forum for India Oxenberg – daughter of Dynasty star and Serbin royal Catherine – to tell her story of abuse within the infamous NXIVM cult. Based in Albany, New York, NXIVM was a multilevel marketing company, founded in 1998 by self-proclaimed genius Keith Raniere, that presented itself as a self-help group. In reality, it was a front for sex trafficking. This gripping four-part series will have you hooked from the get-go, charting the journey from indoctrination to enslavement and finally freedom.
Ambitions
Find it in Box Sets > LIONSGATE+
This slick and sexy drama series explores the politics, power, and passion of one of America's new urban meccas in Atlanta. The drama centres on an intense rivalry between Stephanie Carlisle (Robin Givens, Kimi), the mayor's wife and a career-driven attorney, and Amara Hughes (Essence Atkins, Coins For Love), who was formerly her friend but has since become her rival both professionally and personally. Think Dallas and Dynasty for a new generation – fewer shoulder pads but just as much drama and deceit.
Harlots
Find it in Box Sets > LIONSGATE+
This period drama boasts an impressive cast of names. Samantha Morton, who also stars in the new The Serpent Queen on LIONSGATE+, stars as Margaret Wells, who runs a brothel in 1760s London with the aim of securing a better future for her daughter. Lesley Manville (Ordinary Love) plays Lydia Quigley, Margaret's fierce competition who's described as the Lady Macbeth of brothel owners. Blending emotional scenes with sharp wit, the series is bold, brash and brazen in its depiction of sex work in the 18th century.
TV channels: Channels, content and features available depend on your chosen package. Channel line-ups and content are subject to change at any time and to regional variations.
HD: HD TV set, V HD Box, TiVo box or Virgin TV V6 connected with HDMI cables required for HD channels. Number of inclusive HD channels depends on package.
Catch Up TV: Catch Up TV content available for up to 7 days or up to 30 days after broadcast, depending on content.
On Demand: Content available to view depends on TV package. Time limits apply for viewing chargeable On Demand content – see virginmedia.com. Once purchased, all chargeable On Demand content must be viewed within 48 hours. Premium channels and upgrades must be kept for at least 30 days.
LIONSGATE+: LIONSGATE+ is a premium On Demand service available on Virgin Media. LIONSGATE+ shows a wide range of movies and TV Box Sets, including a number of Original series, many of which premiere the same day as the US. It costs £5.99 a month to subscribe to the service.
STARZPLAY rebranded to LIONSGATE+ on 29 September. Apart from the change to the name, there is no other change to the service for customers.
STARZPLAY subscribers should go to Box Sets > LIONSGATE+ to find shows ready to enjoy.
For any Virgin TV customers who currently don't have access to LIONSGATE+, use the Upgrade App on your Virgin TV to upgrade through your Virgin set-top box.
Please note this is not an app. Content is available to view in the On Demand area. All customers can search and click on the content, but as with other premiums, they can only view once they have subscribed.