Skip to main content
Virgin Media cheapest place to watch Premier League football

29 July 2019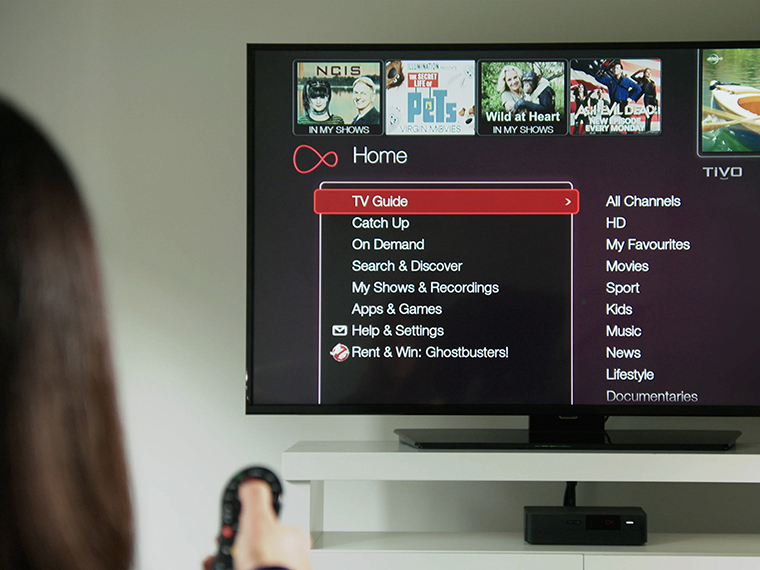 On Virgin Media football fans can watch Premier League, UEFA Champions League and Europa League football on Sky Sports, BT Sport and Amazon Prime Video in one place

New customers will pay just £65 per month to watch all of the action – £463 cheaper than Sky over the duration of 12 months
Virgin Media bundles come loaded with ultrafast connectivity – perfect for streaming matches on Amazon Prime Video in December
Virgin Media is the new home of televised football, boasting the cheapest prices and the most convenient way to watch all of the Premier League, UEFA Champions League and Europa League action in one place.
With players on the usual transfer merry-go-round this summer, savvy football fans will be contemplating their next move to ensure that they can watch all the football from Sky Sports, BT Sport and Amazon Prime Video in the easiest and cheapest way possible next season.
How does Virgin Media's pricing compare to Sky, BT and TalkTalk?
Virgin Media's Bigger+Sports bundle is currently priced at just £65 per month for new customers and is home to all Sky Sports channels in HD as well as BT Sport in HD and 4K Ultra HD.
This is the cheapest like-for-like deal – including broadband and landline calls – currently available for football fans with average monthly costs for Sky £103.58, TalkTalk £95.66 and BT £86.68. Over a period of 12 months, Virgin Media customers could make huge savings of £463 when compared to Sky*.
BT Sport in 4K Ultra HD and Amazon Prime Video on Virgin Media
With Virgin Media, football fans can watch BT Sport's Premier League and UEFA Champions League and Europa League matches in 4K Ultra HD, which isn't currently available on Sky. Also not available on Sky is the Amazon Prime Video app which Virgin Media recently added to its TV platform.
It means that football fans can watch Amazon's two rounds of Premier League fixtures in December – including the Merseyside derby between Liverpool and Everton and Manchester United vs Tottenham – through their set top box. And with Virgin Media's ultrafast broadband connectivity, football fans can stream multiple matches in confidence while other family members never need to worry about gaming, streaming or video chatting at the same time.
All the football in one place
With the Premier League and UEFA Champions League and Europa League matches appearing across three different platforms, Virgin Media is the most convenient way for football fans to view all the action in a single place.
This means that customers have the complete convenience to access all matches on their TV using one remote.
Virgin Media customers can also watch sport on the move. The Virgin TV Go app has BT Sport fully integrated and, to watch live matches from Sky, customers can simply download the Sky Sports app and login using their 'My Virgin Media' details.
Virgin Media's Bigger+Sports bundle also comes with Eurosport and ESPN in HD as well as FreeSports which includes a range of other sporting events such as athletics, golf, rugby, snooker and winter sports.
David Bouchier, Chief Digital Entertainment Officer at Virgin Media, said: "Sports fans looking for their football fix next season need to look no further than Virgin Media. We're, once again, bringing all of the football to Virgin TV in a single place with the cheapest UK packages all underpinned by our unrivalled ultrafast broadband.
"With the addition of Amazon Prime Video to our TV platform, as well BT Sport's Ultra HD 4K channel and Sky Sports, Virgin TV remains the home of televised football."
ENDS
Note to editors
The comparison is on like-for-like TV, broadband and phone packages from Virgin Media, Sky, BT and TalkTalk.
The cost per month is inclusive of existing offers and SD/HD channels. It doesn't include set up, installation and delivery charges.
*Virgin Media only offers 12 month contracts whereas Sky, BT and TalkTalk offer 18/24 month terms
Price comparison does not include Amazon Prime Video
Table of pricing: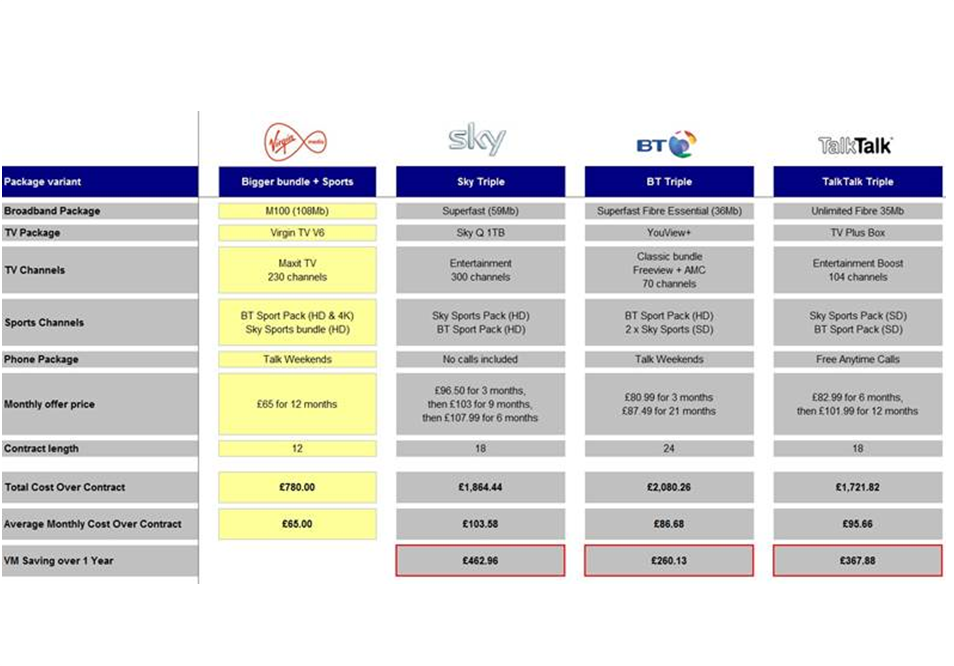 Virgin Media's Bigger+Sports TV bundle is priced at £65 per month. It includes all Sky Sports channels in HD as well as BT Sport in HD and 4K Ultra HD. It also comes with over 260 channels, 100Mbps broadband and landline weekend calls.
For More information, visit https://www.virginmedia.com/shop/bundles