Skip to main content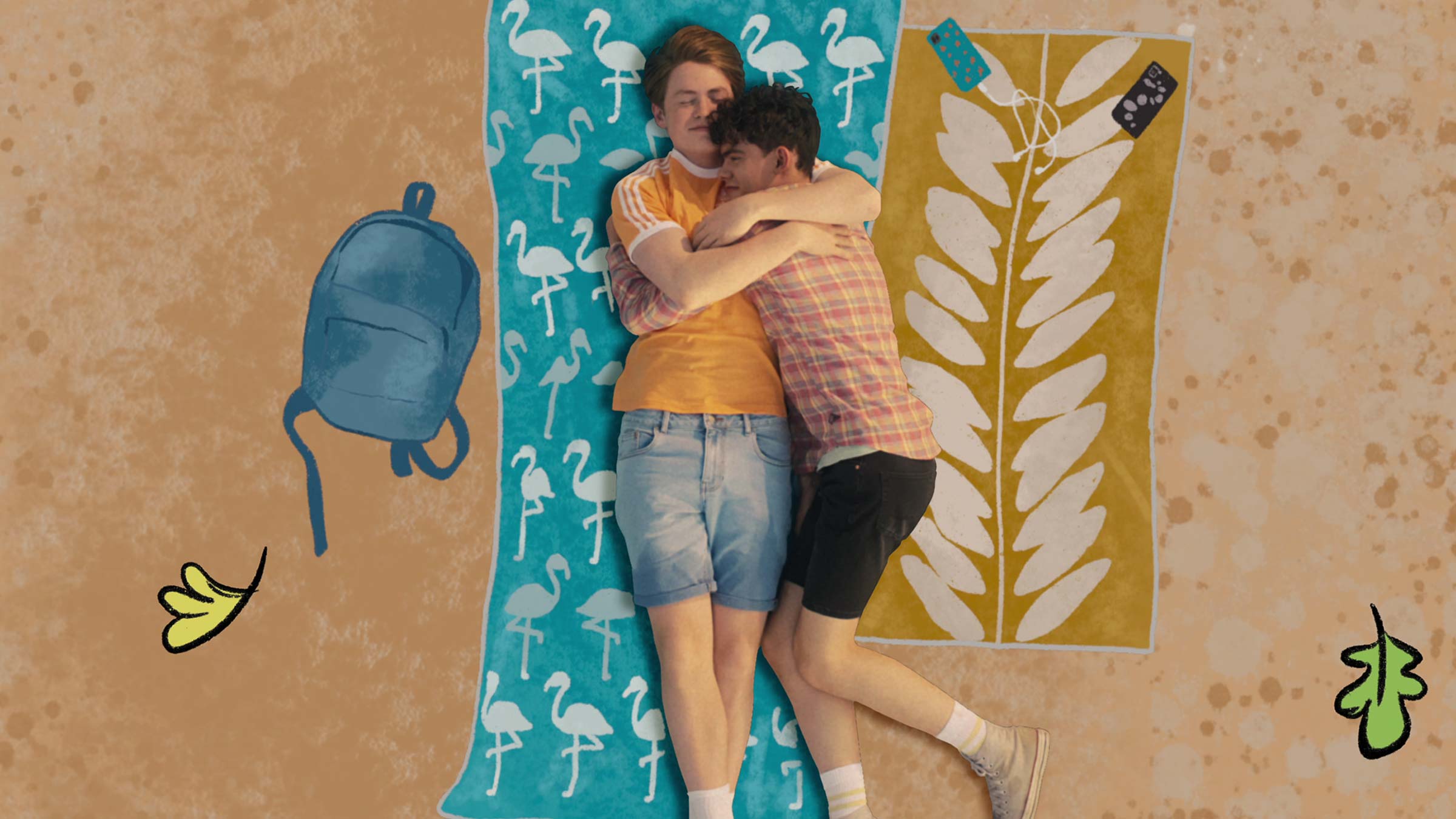 Featuring bomb disposal experts, Irish schoolgirls, coming-of-age stories and a thief, his wife and a canoe, the best telly of 2022 (so far) can be streamed on Virgin TV right now

By Simon Ward, Content Editor
Whoever added the "add to queue" button is both a genius and a little bit cruel. Because while it's handy to line up shows to watch in an orderly fashion with the lofty idea you'll systematically work your way through the list, the reality is you'll skip that queue more than you'd like. And being British, skipping queues is an afront to our very identity.
Part of the reason is our time is limited. We want to know that what we're watching is good, and ideally great. So, let's ditch the algorithm (which is messed up anyway by that one time you "accidentally" watched six episodes of Selling Sunset) with our list of the best TV shows (so far) in 2022 that are guaranteed to rock your world.
And don't worry, while you're working your way through this list of prestige comedy and drama, we won't tell anyone it was 20 episodes of Selling Sunset…
Bookmark this page as we'll update it throughout the year for 2022's best telly.
Best TV Shows January 2022
Four Lives
Stream it in Apps & Games > BBC iPlayer
The true-life story of how four young men's lives were taken by Stephen Port (Stephen Merchant), and their loved ones' fight for justice. Writer Neil McKay worked closely with the families to tell this story, and it features a towering performance from Sheridan Smith.
Screw
Find it in Apps & Games > All 4
Nina Sosanya (Teachers) and Jamie-Lee O'Donnell (Derry Girls) lead this darkly hilarious drama series set in a prison, told through the eyes of the people who work there. The true definition of a comedy-drama with some proper laugh out loud moments.
Ozark: Season 4
Find seasons 1-4 in Apps & Games > Netflix
The latest in a long line of prestige TV dramas, Ozark is sensational with an esteemed cast to match (Jason Bateman, Laura Linney and Julia Garner to name just three). The Emmy-winning series about money laundering ends with this brilliant final season.
The Tourist
Stream it in Apps & Games > BBC iPlayer
Jamie Dornan stars as a man who wakes up in the Australian outback; hurt, alone, but alive. The only problem is he can't remember who he is, or what he's running from. Even worse than that, someone wants him dead. Gripping drama to catch up on.
Trigger Point
Stream it in Apps & Games > ITV Hub
Line of Duty with bombs? It's a lazy comparison, but with Jed Mercurio on exec producing duties, Vicky McClure as the star and enough tension to make you explode, it's not so far off. McClure plays a bomb disposal expert trying to stop an escalating terror campaign.
Anne
Stream it in Apps & Games > ITV Hub
Dealing with the aftermath of the Hillsborough disaster, where 97 people lost their lives, this tells the story of the families' exhausting fight for justice through the eyes of Anne Williams (Maxine Peake). A drama that will stick in your mind for a long, long time.
Toast Of Tinseltown
Stream it in Apps & Games > BBC iPlayer
Steven Toast is back! And this time, he's relocated to Hollywood. But will it mean that he'll finally find success? Don't count on it. We thought we'd seen the last of Matt Berry's wonderful comic creation, but this new series is a welcome return.
Cheer: Season 2
Find seasons 1 & 2 in Apps & Games > Netflix
One of the most popular series ever on Netflix, telling the story of the Navarro College cheer squad and their journey to success, this second series deals with both the aftermath – and terrible fallout – from their sudden stardom, while introducing a rival cheer team. Enthralling.
Hotel Portofino
Stream it in Apps & Games > BritBox
Set in the 1920s on the Italian Riviera, Natascha McElhone is Bella Ainsworth, the daughter of a wealthy industrialist who runs a plush hotel where every whim is taken care of. But with a fiendish whodunnit mystery woven throughout, it's not all cocktails and canapes.
The Responder
Stream it in Apps & Games > BBC iPlayer
Martin Freeman doing a Scouse accent sounds like a casting director without Stephen Graham's phone number. But give it 30 seconds, because Freeman entirely and believably disappears into this policeman on the brink in Liverpool. The Responder is one of 2022's very best.
After Life: Series 3
Find series 1-3 in Apps & Games > Netflix
Ricky Gervais has never done a third series of anything – until now. After Life has been a huge hit around the world across its run, and it now draws to a close here. For anyone scared of watching, here's one spoiler: don't worry, the dog doesn't die. Phew!
Best TV Shows February 2022
Inventing Anna
Find it in Apps & Games > Netflix
Featuring the greatest accent ever committed to modern TV, this story is about how Anna Delvey/Sorokin, a fake German heiress to a non-existent fortune, managed to grift, con, and convince New York's elite. From Shonda Rhimes (Scandal, Bridgerton), it's a wild ride.
Peaky Blinders: Series 6
Stream series 1-6 now in Apps & Games > BBC iPlayer
It all comes down to this for the series about a Birmingham gang that triggered at least one man in your life to regularly wear a flat cap. What does fate have in store for their fierce boss Tommy Shelby (Cillian Murphy), and will his past finally catch up with him?
The Teacher
Stream it in Apps & Games > My5
Some actors never miss, and Sheridan Smith is one of those. The Teacher was a sensational drama with Smith playing Jenna Garvey, a troubled teacher whose already chaotic life falls apart when she is accused of having sex with her pupil. Unmissable.
Reacher: Season 1
Find it in Apps & Games > Prime Video
The first attempt at putting Lee Child's best-selling book series on the screen didn't go well. In the books, Jack Reacher is a man mountain with arms the size of trees. Tom Cruise was not Jack Reacher. But Alan Ritchson meets the brief, and then some. Brutal brilliance.
This Is Going To Hurt
Stream it in Apps & Games > BBC iPlayer
Adam Kay adapts the best-selling diaries of his time as a junior doctor on an NHS labour ward in this sensational, raw, funny, painful series. Ben Whishaw (A Very English Scandal) plays Adam, but it is Ambika Mod's Shruti who steals the show.
The Curse
Find it in Apps & Games > All 4
If comedy did the equivalent of a rock supergroup, then The Curse is it. Bringing together the stars of King Gary and People Just Do Nothing makes for comedy gold in this 80s-set crime caper as a gang of unprepared East London crooks try to pull off a heist.
Chloe
Stream it in Apps & Games > BBC iPlayer
A gripping thriller that feels like it may have slipped under the radar. Correct that wrong immediately. The Crown's Erin Doherty plays Becky, a woman who obsesses over influencer Chloe. But what happens when the outsider is pulled inside?
Magpie Murders
Stream it in Apps & Games > BritBox
Based on the bestseller by Anthony Horowitz, Conleth Hill (Game Of Thrones) is author Alan Conway in this BritBox Original. His editor, Susan Ryeland (Lesley Manville, Mum), can't wait to read his latest novel in his famous Atticus Pünd series. But Alan is missing...
Best TV Shows March 2022
The Ipcress File
Stream it in Apps & Games > ITV Hub
Harry Palmer was a spy doing realism when James Bond was doing jetpacks. Joe Cole takes on the reluctant spy made famous by Sir Michael Caine in the movie of the same name. This adaptation of Len Deighton's novel is a classy, moody, and atmospheric affair.
Mood
Stream it in Apps & Games > BBC iPlayer
Like Fleabag, Mood was a one-woman play before its TV transfer. But that's really where the lazy comparisons end. Nicôle Lecky (who writes and stars) plays Sasha, an aspiring musician who gets pulled into the seductive world of influencers and social media.
The Boys: Diabolical
Find it in Apps & Games > Prime Video
When Prime Video released The Boys­­ – a twisted take on the world of superheroes, and the people trying to stop them – it was an immediate hit. This brilliant animation, set in that same world, is well worth your time, with actors reprising their roles for this series.
The Witchfinder
Stream it in Apps & Games > BBC iPlayer
Put Daisy May Cooper and Tim Key together with the writers behind Alan Partridge, and the result was always going to be special. But this exceeds even those high expectations. Set in 1645, a pompous witchfinder (Key) suspects a villager (Cooper) of witchcraft. Gold.
Our House
Stream it in Apps & Games > ITV Hub
Martin Compston and Tuppence Middleton star in this immersive thriller based on Louise Candlish's novel. When a woman arrives home one day, she's horrified to find her house has been mysteriously sold. A twisting plot that'll keep you guessing until the final episode.
Bloods: Series 2
Find series 1 & 2 in On Demand
The first series of Bloods – the paramedic comedy from star and creator Samson Kayo – earned him a BAFTA nomination. And rightly so. Incredibly, series 2 is even better. His oversharing partner Wendy (Jane Horrocks) continues to steal every scene.
Peacemaker: Season 1
Find season 1 in On Demand
Spinning off from James Gunn's The Suicide Squad, and following that film, John Cena brings antihero Peacemaker onto the small screen to brutal effect. Peacemaker fights for peace at any cost. And he'll kill anyone who gets in his way. Very, very gory.
Bridgerton: Series 2
Find series 1 & 2 in Apps & Games > Netflix
One of the biggest shows on the planet returns for a new run. While the mystery of Lady Whistledown has been solved (at least for us viewers), all eyes focus on new romances as we follow Anthony Bridgerton (Jonathan Bailey) and his quest for love.
Holding
Stream it in Apps & Games > ITV Hub
Based on Graham Norton's debut novel of the same name, Conleth Hill plays a local police sergeant in small-town Ireland. But his days of phoning it in are numbered when the body of a long-lost local legend is found, and he must finally do some actual police work.
Sanditon: Series 2
Find series 1 & 2 in Apps & Games > BritBox
Set in a seaside resort on the cusp of dramatic change, the series sees Charlotte (Rose Williams) return to Sanditon, where she is soon thrust into a world of secrets, intrigue and possibly love. From screenplay supremo Andrew Davies (Colin Firth's Pride And Prejudice).
Best TV Shows April 2022
Taskmaster: Series 13
Find series 1-13 in Apps & Games > All 4
An incredible cast for series 13 brings us Chris Ramsey, Ardal O'Hanlon, Judi Love, Bridget Christie, and Sophie Duker. As ever, Greg Davies and "Little" Alex Horne marshal and keep a watchful eye over proceedings. As guaranteed a way to laugh as anything on this list.
Gentleman Jack: Season 2
Stream series 1 & 2 now in Apps & Games > BBC iPlayer
Suranne Jones returns as industrialist Anne Lister and, once again, scribe Sally Wainwright uses Lister's real-life diaries as its source. It's now 1834 and Lister is married to Ann Walker. But her refusal to keep a low profile is suddenly more dangerous than ever.
The Thief, His Wife And The Canoe
Stream it in Apps & Games > ITV Hub
Based on the real account of how John Darwin faked his death to avoid bankruptcy is one of the dramas of the year. Eddie Marsan (John) and Monica Dolan (his wife, Anne) are sensational as the leads, but Karl Pilkington as DC Phil Bayley very almost steals the show.
Derry Girls
Find series 1-3 in Apps & Games > All 4
The most staggering thing about the final series of Lisa McGee's hit comedy about a group of schoolgirls living through The Troubles in Northern Ireland is that this final series is its best yet. Its mix of hilarity and pathos is never less than perfectly pitched. Faultless.
Life After Life
Stream it in Apps & Games > BBC iPlayer
Based on the critically acclaimed novel by Kate Atkinson, it tells the story of Ursula Todd – a woman who experiences an endless cycle of birth, death, and rebirth. Starring Thomasin McKenzie and Sian Clifford, it's a wonderful story set against a changing 20th century.
Better Call Saul: Season 6
Find seasons 1-6 in Apps & Games > Netflix
The sixth and final season of the Breaking Bad prequel has finally arrived as the action brings us closer to the start of the OG series and Walter White (Bryan Cranston) and Jesse Pinkman (Aaron Paul) – both of whom reprise their roles in this last hurrah.
Russian Doll: Season 2
Find seasons 1 & 2 in Apps & Games > Netflix
It was a tall order to come back for a second season. Russian Doll ended its first run in a near-perfect manner, but the good news is that the Groundhog Day-style comedy-drama from Amy Poehler, Leslye Headland and Natasha Lyonne (who also stars) is still great.
Inside No. 9: Series 7
Stream series 1-7 now in Apps & Games > BBC iPlayer
How do Reece Shearsmith and Steve Pemberton do it? Series 7 of the acclaimed, BAFTA-winning comedy is still as fresh as its first series. Guest stars in this series include League Of Gentlemen collaborator Mark Gatiss, Diane Morgan, and Sophie Okonedo.

Chivalry
Find it in Apps & Games > All 4
Steve Coogan and Sarah Solemani's comedy-drama could have gone spectacularly wrong in this near-the-knuckle look at romance and gender politics. But the closer it goes to the edge, the funnier and sharper it becomes. A seriously excellent piece of TV.
Heartstopper: Season 1
Find it in Apps & Games > Netflix
One of the most talked-about, celebrated shows of the year is well worth your time. Based on Alice Oseman's graphic novels, Charlie and Nick discover their unlikely school friendship might be something more. A timely, outstanding coming-of-age story.
Noughts + Crosses: Series 2
Stream series 1 & 2 now in Apps & Games > BBC iPlayer
Set in an alternative history where Black "Cross" people rule over white "Noughts," Sephy (Masali Baduza) and Callum (Jack Rowan) embark on a romance not just forbidden, but dangerous to them both. Series 2 picks up with them both on the run.
Ten Percent: Series 1
Find it in Apps & Games > Prime Video
Remaking a beloved series is a tall order, especially one as good as Call My Agent. But that's what they've done here in this British adaptation, and they've nailed it. Fans of W1A (the show has been adapted by W1A creator John Morton) will be especially pleased.
Best TV Shows May 2022
Conversations With Friends
Stream it in Apps & Games > BBC iPlayer
Few TV shows in the history of the platform have shone as brightly as that of Normal People – the TV adaption of Sally Rooney's second novel. The good news is that her first novel Conversations With Friends, while different, will delight all Marianne and Connell fans.
Love Life: Season 2
Stream seasons 1 & 2 now in Apps & Games > BBC iPlayer
After Anna Kendrick's dive into modern dating in Love Life – something we all assumed was a one-off thing – this second season is a joy. This time we follow Marcus Watkins (The Good Place's William Jackson Harper) from his first romance to his last. Perfect.
How to watch Amazon Prime Video with Virgin TV
Prime Video is available to all Virgin TV customers with a V6 box, powered by TiVo®, and a subscription to the service. Simply sign up to Amazon Prime Video via their website, and you can log in on the box. And because Prime Video is fully integrated into TiVo®, you can search without even going into the app. Just select Search & Discover from the Home menu and type in the name of the show or movie you're after. Virgin TV 360 customers can also find Prime Video shows and launch the app with voice search.
How to watch Netflix with Virgin TV
If you have a TiVo® box or Virgin TV V6 box, powered by TiVo®:
Press home on your remote
Select Apps & Games
Select All Apps
Select Netflix
If you're already a Netflix subscriber, you can also access the app through Search & Discover or by pressing Red on channel 204. Just sign in with your existing login and start watching. And you'll only have to log in the first time you use it.
If you're new to Netflix, then you'll need to subscribe to use the app. The easiest way to do this is by going to netflix.com/virginmedia. You can also subscribe using the Netflix app in Apps & Games.
TV channels: Channels, content and features available depend on your chosen package. Channel line-ups and content are subject to change at any time and to regional variations.
HD: HD TV set, V HD Box, TiVo box, Virgin TV V6 box or Virgin TV 360 box connected with HDMI cables required for HD channels. Number of inclusive HD channels depends on package.
Catch Up TV: Catch Up TV content available for up to 7 days or up to 30 days after broadcast, depending on content.
Netflix: Netflix subscription required at extra cost.
Amazon Prime Video: Amazon Prime subscription required at extra cost. 18+. Click here for T&Cs.